Happy Birthday this week to Lewa Abebayo, Rohan Bagai, Jessie Concannon, Mark Cunningham, Alexander Dikeocha, Glasford Jones, Simon Keene, Morgan Miorandi, Ted Ntibazonkiza, Emily Rodriguez, Richard Samuel, Kenan Stephens, Luca Stubbs and Aimi Weightman
Downloads – The following documents can be viewed, downloaded or printed
SBH 2016-2017 Winter Fixture Card and  Information Sheet, which include Cross Country, Road Relays and Indoor (Lee Valley) fixtures – http://sbharriers.co.uk/fixtures-results/fixture-cards/
Southern Cross Country Relay Results –    southern-relays-u13g     southern-relays-u13b     southern-relays-u15g     southern-relays-u15b     southern-relays-u17w     southern-relays-u17m     southern-relays-u207m
NICOLE CARA – Congratulations to NICOLE who has been awarded the England Athletics Volunteer of the Year for the London Region.  She will be presented with her award at the Institute of Sport, Exercise and Health on Tottenham Court Road in Central London on Wednesday 16 November.
SOUTHERN CROSS COUNTRY RELAY CHAMPIONSHIPS – Took place last Saturday at Wormwood Scrubs, on a bright day, and a very firm course.
Our Young Athletes continued their excellent start to the season, with our dominant Under 17 Men's team producing yet another outstanding victory. The team of HAMZA KADIR, GEORGE GROOM and ELLIOT DEE ran away from the opposition to finish 1 minute 25 seconds ahead of Reading. Our Under 13 Boys team of SAMUEL GREENSTEIN, LUCA STUBBS and DYLAN MICHEL won a well-deserved Silver Medal, Under 13 Girls and Under 17 Women finished 5th, Under 15 Boys 8th and Under 15 Girls 14th. 
Many thanks to KENNY GROOM for another set of excellent photographs. Apart from these I have another 25 which I will create a separate document, which can be found directly below this newsletter
Under 13 Girls – 3 x 2000m 5th (24.09) Leg 1 SYDNEY ALLEN (8.10), Leg 2 AIMI WEIGHTMAN (7.55), Leg 3 ELENA RONCARATI (8.04), the fastest leg was by Maisie Collins of Herne Hill Harriers (7.22). Team result 1st Herne Hill Harriers (23.11), 2nd Chiltern Harriers (23.29), 3rd City of Norwich (23.34), 5th SBH (24.09) – 28 teams finished.
ELENA, SYDNEY and AIMI celebrating following their excellent performance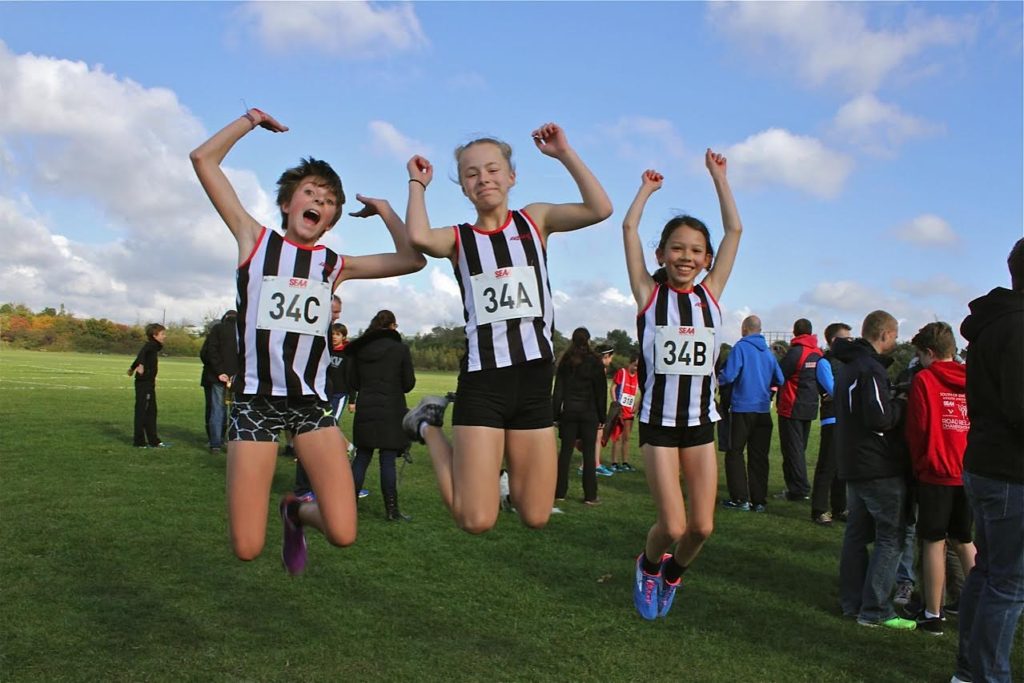 Under 13 Boys – 3 x 2000m Won the Silver Medal (22.07) Leg 1 SAMUEL GREENSTEIN (7.29), Leg 2 LUCA STUBBS (Equal 9th fastest time of the race 7.19), Leg 3 DYLAN MICHEL (Equal 9th fastest time of the race 7.19), Incomplete team Leg 1 LEO RONCARATI (8.21), the fastest leg was by Jaden Kennedy of Herne Hill Harriers (6.48). Team result 1st Herne Hill Harriers (21.19), 2nd SBH (22.07), 3rd Poole (22.28) – 29 teams finished. 
Under 15 Girls – 3 x 2000m 14th (23.54) Leg 1 SCARLETT KENT (8.14), Leg 2 MIA GROOM (8.02), Leg 3 SOPHIA STAAB (7.38), the fastest leg was by Charlotte Buckley of Thames Valley Harriers (7.13). Team result 1st City of Norwich (22.15), 2nd Walton (22.18), 3rd Thames Valley Harriers (22.37), 14th SBH (23.54) – 36 teams finished.
Under 15 Boys – 3 x 2000m 'A' Team 8th (21.15) Leg 1 MITTIO MOHAMAMMADIAN (7.09), Leg 2 FREDDIE SHIRET (7.05), Leg 3 DANIEL GREENSTEIN (7.01), 'B' Team 17th (23.54) Leg 1 MATTIE HARRIS (7.29), Leg 2 CONOR O'KEEFE (8.22), Leg 3 MATTHEW MCATEER (8.03), the fastest leg was by Dominic McDougall of Windsor, Slough, Eton & Hounslow (6.26). Team result 1st Chiltern Harriers 'A' (20.29), 2nd Bracknell (20.44), 3rd Chiltern Harriers 'B' (20.49), 8th SBH 'A' (21.15), 17th SBH 'B' (23.54) – 21 teams finished.
Under 17 Women – 3 x 2500m 5th (27.39) Leg 1 LIDIA KYRIACOU (10th fastest time of the race 8.50), Leg 2 SARAH BUTLER (8.58), Leg 3 KAYLA MICHEL (9.51), the fastest leg was by Kirsty Walker of Reading (8.12). Team result 1st Herne Hill Harriers (26.10), 2nd Reading (26.51), 3rd West Suffolk (27.02), 5th SBH (27.29) – 12 teams finished. 
Under 17 Men – 3 x 3000m Won the Gold Medal (30.46) Leg 1 HAMZA KADIR (The fastest time of the race 10.07), Leg 2 GEORGE GROOM (3rd fastest time of the race 10.22), Leg 3 ELLIOT DEE (2nd fastest time of the race 10.17), Incomplete team Leg 1 JOE CHOTT (11.36), Leg 2 NATHAN TADESSE (12.20). Team result 1st SBH (30.46), 2nd Reading (32.11), 3rd Bracknell (32.37) – 16 teams finished.
HAMZA in a free for all at the start of the race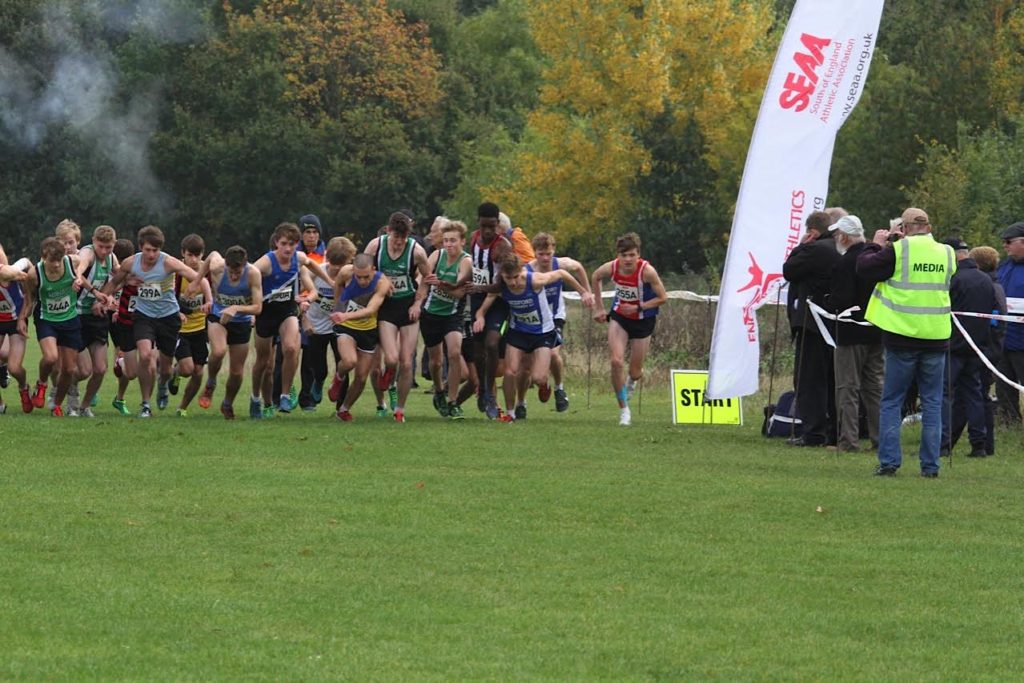 GEORGE heading for the final handover to ELLIOT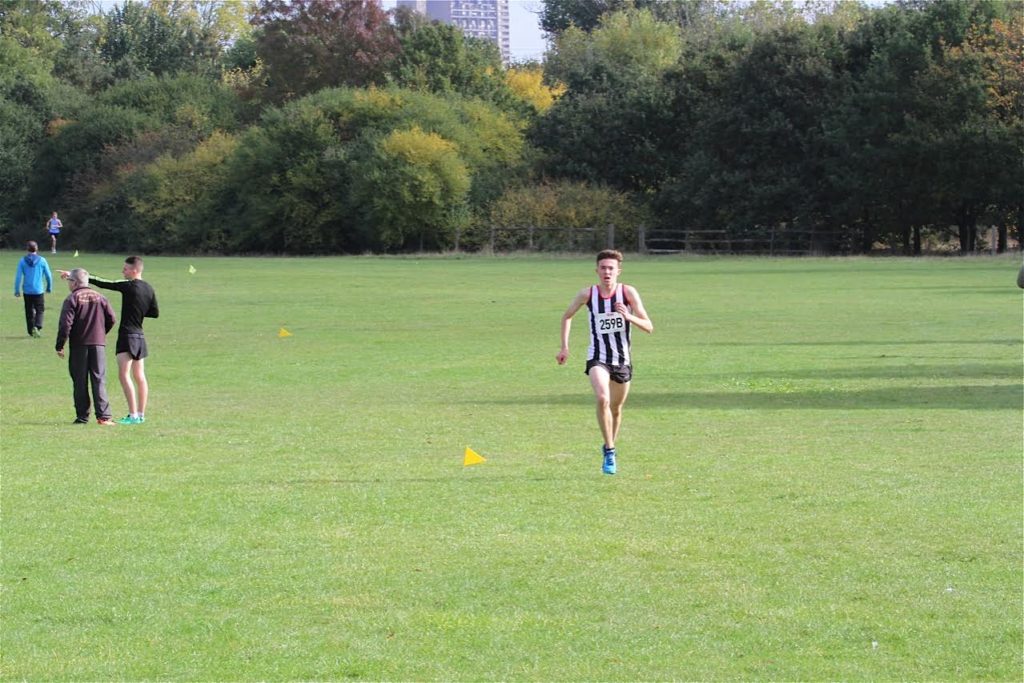 ELLIOT acknowledging the applause as the team became Southern Champions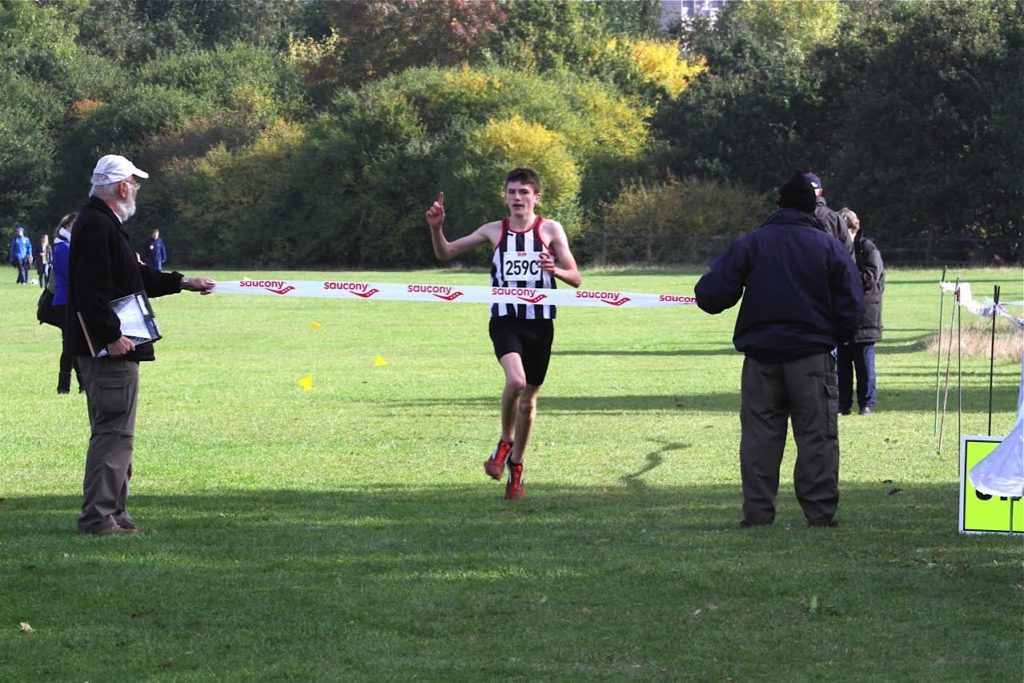 Under 20 Men – 3 x 3000m Incomplete team Leg 1 OLIVER GREENSTEIN (12.16), Leg 2 KHALID-ALI AHMED (10.34), the fastest leg was by Will Perkin of Chiltern Harriers (10.16). Team result 1st Chiltern Harriers (31.30), 2nd Windsor, Slough, Eton & Hounslow (31.41), 3rd Bedford & County (32.22) – 4 teams finished.
HAVE YOU LOST A BLACK WATCH – This was found in the SBH tent at the Southern Cross Country Relays, if it is yours please contact me.
VIRGIN MONEY LONDON MARATHON, SUNDAY 23 APRIL 2017 – It's that time of year again with the London Marathon just 6 months away. The club has been allocated 2 places.  These places are for active club members that were unsuccessful in the ballot.  Places will be allocated based on issues such as length of membership, participation for the club in recent years etc.  To apply for one of these Club places you will need to send proof of application/rejection to our Club Secretary, Phil Cunningham by email to billylow@ntlworld.com by Monday 7 November at which time a decision will be made by the Club Officers.
HALL OF FAME CLASS OF 2016 – Some of the Greats of Athletics through the years joined coaches, officials and other volunteers from clubs across England at the 9th annual England Athletics Hall of Fame and National Volunteer Awards night sponsored by Track & Field Tours, Sweatshop and in partnership with the AAA.
As well as the new inductees to the England Athletics Hall of Fame, the night also saw volunteers from across the country honoured in the National Volunteer Awards to celebrate their dedication and service to the sport
The following athletes and people who have made an outstanding contribution to the sport were inducted into this year's Hall of Fame: Judy Oakes, Peter Radford, Joyce Smith, Bud Baldaro, Kriss Akabusi, Ron Roddan and Tokyo Men's 4x400m Relay Team (Roger Black, Derek Redmond, John Regis, Kriss Akabusi, Ade Mafe, Mark Richardson)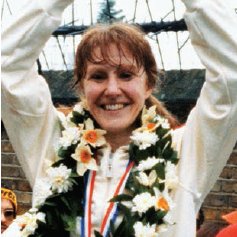 Other athletes may have clocked faster times and claimed more titles, but nothing compares with Joyce Smith's record of sustained top-class achievement in a career of such prodigious length. As a teenager in 1956 she gained her first international badge, as reserve for the England cross country team. In 1980, aged 43, she became the world's third fastest ever marathon runner! Joyce represented Britain at 800m, set UK records at 1500m, broken a world record and won a European bronze medal in the 3000m, and scored great international victories at cross country and marathon running.
For several years she was content to be a club runner, and with the birth of Lisa in 1968 she could have decided that, at 30, her racing career was over. On the contrary, she excelled by placing third in the 1971 International Cross Country Championship.  She became the first British winner of the women's International cross country title and made the Munich Olympic team at 1500m, setting a UK record of 4:09. In 1974 she improved her UK 3000m record to 8:55.53, took the bronze medal at the European Championships and was voted UK woman athlete of the year by the British Athletics Writers' Association.
In 1978 she was no longer enjoying track racing. Her real career, on the road, was just about to start at the age of 41. She ran 2:41:37 in her debut in June 1979 and three months later improved to 2:36:27, a Commonwealth record and world veterans best. In November 1980 she won her second Tokyo marathon in 2:30:27, quickest ever in a women-only race. An even greater race came next: the inaugural London Marathon in March 1981 with 2:29:57. In London the following year she ran faster still, at 44 becoming the oldest athlete ever to set a British record. She continued to compete with distinction, including 11th place in the inaugural Olympic race in Los Angeles in 1984, the year she was awarded the MBE.
the remaining newsletter information and results