Happy Birthday from this Thursday 28 May to Daniel Bainbridge, Ellie Baker, Dick Bober, Ojie Edoburun, Shermia Edwards, Orr Farkash, Richard Horton, Sarah Kuti, Jean-Paul Laurent, Ashok Mathur, Paul Ogun, Maayan Radus, Nicola Rogers and Sophia Staab
RECENT NEW MEMBERS – We wish you a very warm welcome, and a happy, healthy and successful time with Shaftesbury to KEIRA GILMAN and THOMAS FISHER
ADAM MAJOR 2 NOVEMBER 1981 – 8 APRIL 2020 – Written by GEOFF MORPHITIS. It is with great regret that I have to report the recent death of ADAM MAJOR. I was his team manager and we had many great times together when he was an athlete for Shaftesbury Barnet Harriers in the late 1990s. He was a very talented Under 20 Shot and Discus man and in the year 2000, he was the best in the UK. His best performance in the Shot came in the National Junior League at Haringey in June 2000 with (16.58m) and in the Discus at the NJL Final in Birmingham in September 2000 with (55.16m). He was GB Junior international and was 2nd in the Shot and 9th in the Discus on the UK All-time rankings at the time. He was also our club record holder.
He retired from athletics in early 2001 to concentrate on his studies at Edinburgh University. He graduated and began working for Cisco Products as a software engineer. He married in 2010 and moved to Darlington a year later. Unfortunately, he suffered a migraine induced Stroke in 2014 which left him with a 25% permanent reduction in his sight. He was not allowed to drive and working at Home became difficult. However, after 3 years of treatment he recovered his driving licence. By this time, ADAM had become the father of 2 girls.
Then a further medical disaster happened in April 2020 when Adam was rushed to hospital with a very serious heart attack and in spite of extensive efforts died shortly thereafter. Sincere condolences from all at SBH to his wife ALISON and his daughters ISLA and ANNA. He will be missed but his memory will live on through his tremendous Athletics performances.
RE-OPENING OF ALLIANZ PARK – Discussions are taking place and a decision is imminent. Once the details are available I will post a statement on the SBH website Home Page.
CAN YOU HELP PLEASE – During the period when all competitions are suspended, I will do my upmost in keeping the Newsletter information and other content going.
I would welcome any contributions From Yourselves, any impending marriages, or additions to the family, any running or competing incidents, also past warm weather training/holidays (No Club 24 please). Currently the response has been excellent, but if you have anything that could make it into next week's Newsletter – please email me.
TRAINING VIDEOS PRODUCED BY JADE LALLY – JADE has recently produced two videos relating to the basic fundamentals for Discus, this is the link to JADE'S first video on How To Hold A Discus https://www.youtube.com/watch?v=jA9jyS4Wung&t=6s the second video is on Discus Basics: Foot Placement https://www.youtube.com/watch?v=r8ahzDmrldk
MANY THANKS TO GEOFF WILLIAMS FOR HIS NOSTALGIC LOOK AT HUMBUG SUCCESSES IN THE NINETIES AND NOUGHTIES – Part 1: English Cross Country Union – National Cross Country Relays – Berry Park, Mansfield Saturday 31 October 2009.
The 2009/10 winter season was a truly memorable one for Shaftesbury Barnet Harriers' youngsters with many county, regional and national individual and team titles being won.
The early winter season National Cross Country Relays is always one of the key events which attract all of the UK's top clubs who are keen to test early season form and vie for national honours. The 2009 event saw both the Shaftesbury Under 15 Boys and Under 17 Men convincingly win titles at Berry Park, Mansfield.
Under 15 Boys – In the usual frenetic opening lap first year LUKE AMES-BLACKABY, who was to place 11th in the ESAA Championships later in the season gave the team a great start with 5th position in (6m 33s) handing over to MICHAEL CALLEGARI who produced a mightily impressive effort to dominate the opposition and put us into the lead with a time of (6m 41s) leaving the hugely talented MATTHEW MCLAUGHLIN to secure victory with a controlled and well judged (6m 41s) effort. The strength in this Under 15 group of Humbug athletes was further indicated by the 'B' team placing 7th overall with CHANDI UDUWAWLA 13th (6m 48s); MARK PEARCE 11th (7m 01s) and JOE HEADLAND 7th (6m 38s).
Overall Results: 1st Shaftesbury Barnet Harriers (19m 53.7s), 2nd Windsor Slough Eton & Hounslow (20m 05.2s), 3rd Tonbridge (20m 17.4s), 4th Bedford & County (20m 20.4s), 5th Leicester Coritanian (20m 26.2s), 6th Coventry Godiva (20m 26.5s), 7th Shaftesbury Barnet Harriers 'B' (20m 28.5s).
Photograph Left to right: MICHAEL CALLEGARI, MATTHEW MCLAUGHLIN and LUKE AMES-BLACKABY and Individual photographs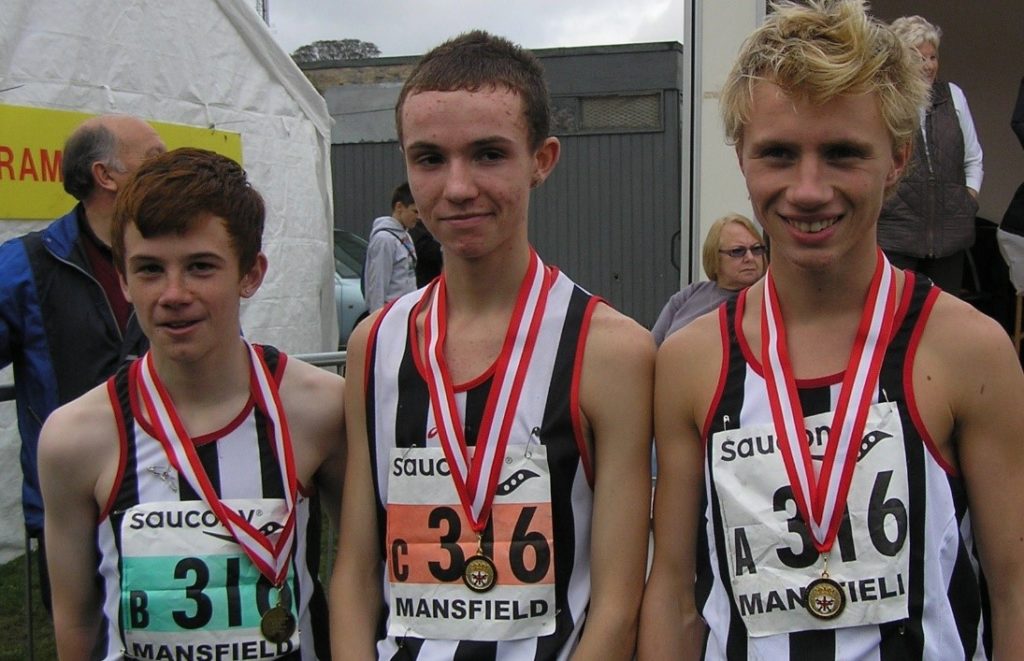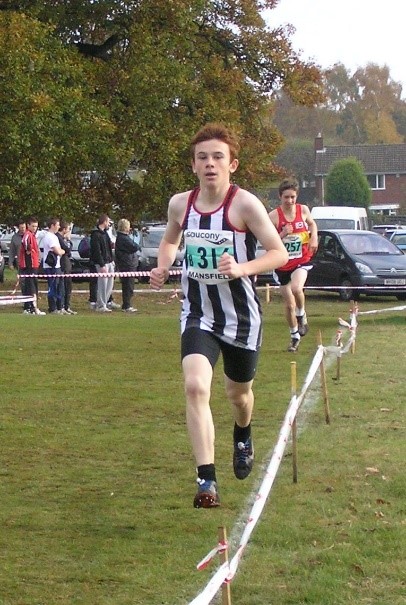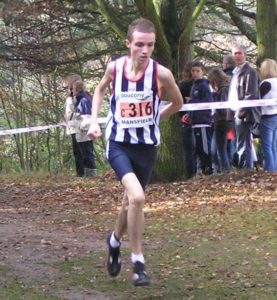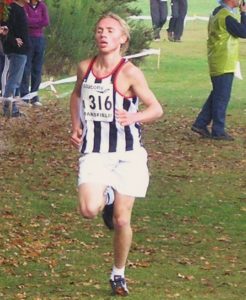 Under 17 Men – Going into this race the favourites were Ipswich Harriers who had not been beaten as a team for 3 years, Aldershot, Farnham & District and Tonbridge both clubs being able to call their usual great depth of talent. TADGH GRANT led us off and initially struggled with the fearsome pace set by leaders SHAUN WEBB (Ipswich), JOSH GRACE (AFD), ROBBIE FARNHAM-ROSE (Tonbridge), CHARLIE HULSON (Sale) and GORDON BENSON (Leeds City). He recovered in the second half of the lap to bring SBH home in11th pace in (9m 38s). RICHARD GOODMAN, who was to go on to huge success later in the winter, set off 20 seconds behind the leaders and produced the run of the day as he systematically ran down each of the eleven runners in front of him with a time of (8m 53s fastest of the day by 16s) to give FRANK BAILEY a comfortable 11secs advantage to protect. IAN BAILEY of Aldershot and KIERAN CLEMENTS of Ipswich (incidentally now one of our own 'humbugs') gave it their all in the difficult first half of the lap and as they emerged from the tight woodland section appeared to be closing fast but with the long 500 metre drag up to the summit of the hill FRANK put his foot down to draw away and amidst vociferous support from the whole club enjoyed a comfortable eight second advantage at the finish.
Overall Results: 1st Shaftesbury Barnet Harriers (27m 58.2s), 2nd Aldershot & Farnham (28m 06.4s), 3rd Ipswich Harriers (28m 12.3s), 4th Tonbridge (28m 53.2s), 5th Leeds City (28m 55.5s), 6th Bedford & County (29m 09.5s).
Photograph Left to right: TADGH GRANT, FRANK BAILEY and RICHARD GOODMAN and Individual photographs TADGH and FRANK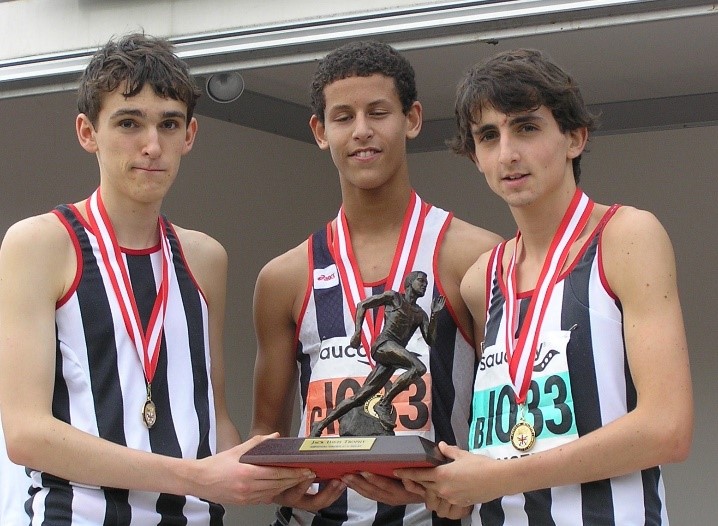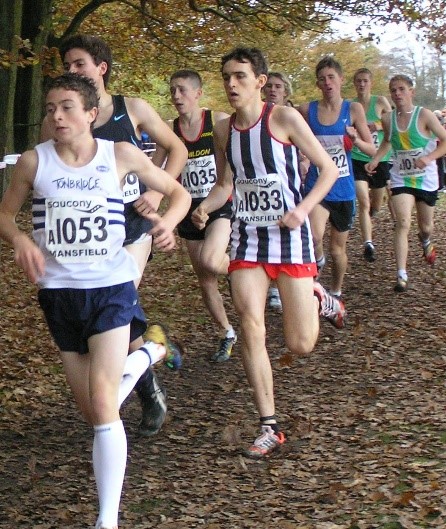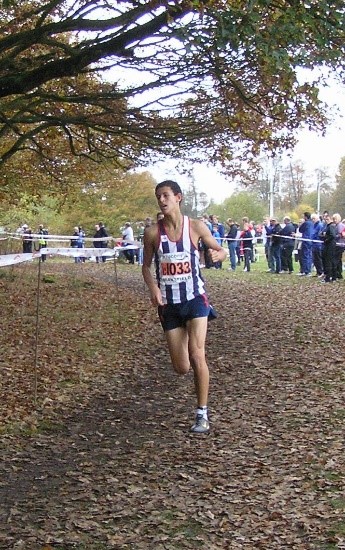 RAY POWELL INSIGHT INTO SHAFTESBURY'S PAST – RAY has put together a few stories, which reveals to most of you, the unknown side of the club.
HOMEBREW HARRIERS – The homebrew harriers were a group of Shaftesbury runners who used to meet in each other's houses every week, go for a run, have some food, followed by numerous pints of home brew.
The training runs were done at a fair lick, usually 6-8 miles including hill sessions and reps on the track behind the monster factory. We were very wary of water consumption back then, so one bath was run and depending on what order you came back in the run that was the order for the bath. So, you can imagine if eight of us went for the run, what the water was like for the last person in. Most of us lived within 5-10 minutes of Copthall so it was easy to get home. The time was from about 1980-92 we were all very fit at the time thus proving that homebrew and real ale of course made us better athletes.
The photograph features 5 of the HH – DAVE ALLEN, BRENDAN GALLAGHER, ANDY MCGRATH, RAY POWELL and JOHN KELLY. Others not present on the day of the photograph were CHRIS WELCH, DAVE MCDIARMID, JOHN ROLF and BRIAN CAKEBREAD. Link to photo Homebrew Harriers
SHAFTESBURY TAVERN – Back around the late 1970s there was a tea room in the West Stand and within it was the Shaftesbury Tavern, this room is currently used to house the SBH trophies and where we have cake and sandwiches during track meets. The photograph shows RAY POWELL as acting barman, and JOHN KELLY and DAVE BEDFORD sampling a fine brew. Link to photo  Shaftesbury Tavern In West Stand
SHAFTESBURY TRAINING NIGHT IN 1984 – BRYAN SMITH'S Tuesday night training session was as many athletes agreed, enjoyable in a very challenging way, and in the upcoming years it grew to about 25 athletes. The photograph left to right RAY POWELL, DAVE CHALFEN, DAVE WILSON and JOYCE SMITH, unfortunately we are struggling to identify the athletes behind RAY and the JOYCE (any ideas). Link to photo  Tuesday Night Training 1984
The T Shirt JOYCE is wearing is from the 1983 World Championships, in which JOYCE was selected for the Marathon. Being is Helsinki, Finland, the course designed was probably the most challenging in the championships history. Taking place on Sunday 7 August, the route included some 18 hills, GRETA WAITZ from Norway dominated the race, winning in a time of (2:28.09) three minutes in front of MARIANNE DICKERSON of the USA (2:31.09), JOYCE finished with a group of runners in 9th place (2:34.27).
HUGH RICHARDS ON THE LATEST LOCKDOWN PERIOD – It's not that there's too much pressure on time, thus said the days seem to pass rather too quickly for my liking!  The garden has benefited greatly as a consequence of the lockdown.
Like you I am really missing the Parkruns and comparing our times each week in ALAN WELLER'S SBH newsletter.  The nearest Parkrun to our home is Upton House, a couple of miles away, then the next nearest is Poole, about 5 miles. My partner PIPPA and I tend to go to Blandford, 12 miles from us but a nice out and back course on a tarmac/firm gravel surface.  The toughest UK Parkrun I've done is without doubt Guildford, JOHN DRYDEN'S 'home course' which JOHN introduced me to in early March – it was gloriously muddy and reminiscent of true cross country.  Our local Upton House course is ranked 447 in 'hardness' but is it much easier than Guildford's 419 ranking. Blandford has a modest 120th place and Poole is ranked 38th – it is really flat but too crowded for my liking. PIPPA and I have been fortunate enough to do Parkruns in Australia and Singapore, the Singapore courses were really flat but the humidity hit hard! They reminded me of when JOHN and I competed in a 3000m steeplechase in Singapore in 1978 – in which he finished 2nd and I was 3rd – and the saying 'pain has no memory' – which to my mind is a load of claptrap (!)
I'm managing to get out most days for either a run or a cycle and have got used to people overtaking me at a speed I am totally unable to match. However, I consider myself fortunate that I am still able to run. But what I am finding is that progression is almost non-existent and 'training' at best helps to slow down a gradual decline. It will be interesting to look at our times when Parkruns resume!  I'm taken with RUSSELL DEVITT'S 'private parkrun' – an excellent idea – it resulted in PIPPA and me driving to Blandford last Friday with the dog and 'running' the Parkrun course. PIPPA has been injured for months and it was her first 5k for a very long time so we were pleased with our 36 minutes. Next Friday it will be faster – will keep you informed!
I hope you are managing to keep well and injury free, best wishes HUGH
HISTORY OF THE PARKRUN – The following was compiled by ALAN WELLER from the Parkrun website.
Currently Parkrun's take place in 22 countries. The first Parkrun was in the United Kingdom on October 2004 at Bushey Park, Teddington, with 13 runners and 4 volunteers. There are currently 722 locations, there has been 166,896 Parkruns, 2,364,345 individual participants and 312,999 volunteers. The remaining 21 countries are;
Denmark commenced on May 2009 at Amager Faelied, Copenhagen. There are currently 8 locations Poland commenced on October 2011 at Gdnyia with 5 runners. There are currently 75 locations
South Africa commenced on November 2011 at Delta Park, Johannesburg with 22 runners who completed the hot and very hilly 5k loop. There are currently 227 location
Australia commenced on 2 April 2011 at Main Beach on the Gold Coast with 108 runners. There are currently 398 locations
New Zealand commenced on May 2012. There are currently 30 locations
United States of America commenced on June 2012 at Livonia, Michigan with 28 runners. There are currently 46 locations
Ireland commenced on 10 November 2012 at Malahide Demesne Castle and Gardens. There are currently 98 locations
Russia commenced on 1 March 2014 in 2 parks simultaneously in Moscow. There are currently 80 locations
Singapore commenced on June 2014 at East Coast Park with 29 runners completing the sea front course. There are currently 4 locations
Italy commenced on May 2015 in Uditore. There are currently 18 locations
France commenced on June 2015 at Les Dougnes. There are currently 8 locations
Canada commenced on August 2016 in the heart of the Rocky Mountains. There are currently 43 locations
Sweden commenced on August 2016 at Hagaparken, Stockholm. There are currently 4 locations  Eswatini commenced on May 2017 at Mbabane. There are currently 227 locations
Norway commenced on August 2017 at Toyoparken, Oslo. There are currently 6 locations
Finland commenced on 14 October 2017 at Tampere. There are currently 3 locations
Germany commenced on 2 December 2017 at Kuchenholz, Neckarau and Georgengarten. There are currently 34 locations
Malaysia commenced on April 2018 at Taman Pudu Ulu. There are currently 3 locations
Japan commenced on 6 April 2019 at Futakotamagawa, Tokyo. There are currently 17 locations
Namibia commenced on May 2019 at Swakopmund and Walvis Bay. There are currently 2 locations
Netherlands commenced on February 2020. There are currently 11 locations
HISTORY OF THE LONDON MARATHON – The following was taked from the Virgin Money London Marathon website.
In The Beginning – It all started in the pub, according to JOHN DISLEY and CHRIS BRASHER, co-founders of the London Marathon…
The Dysart Arms next to Richmond Park is the home of the Ranelagh Harriers running club, and on Wednesday nights runners drift in and talk over pints of bitter. One night, the talk was of the New York Marathon – a marathon with a buzzing atmosphere and spectators who don't let you give up.
Several club members had competed in the 1978 New York City Marathon and never tired of talking about it. They were amazed how different it was to the UK marathons, where a handful of spectators and a few cows watched 20 or so competitors trudge around country lanes.
After several weeks of listening to these stories, BRASHER and DISLEY decided to see the New York Marathon for themselves. They did some training and entered the 1979 race.
BRASHER admitted he'd been unsure about running a marathon, the most punishing event of the Olympic athletics programme, but he saw the New York race as a great opportunity to experience the drama and get a true understanding of the determination needed to compete for over two hours. So the pair ran, finished, and witnessed how wonderful a 'city mass marathon' could be. With world famous sights, cheering spectators, and the camaraderie of the runners all around, they found the event exhilarating.
On returning home, BRASHER wrote an article for The Observer called 'The World's Most Human Race'. This is how it started:
"To believe this story you must believe that the human race can be one joyous family, working together, laughing together, achieving the impossible. Last Sunday, 11,532 men and women from 40 countries in the world, assisted by over a million people, laughed, cheered and suffered during the greatest folk festival the world has seen."
BRASHER ended the article by wondering "whether London could stage such a festival? We have the course, a magnificent course … but do we have the heart and hospitality to welcome the world?"
DONALD TRELFORD, then editor of The Observer, hosted a lunch in early 1980 so BRASHER and DISLEY could meet the relevant authorities who'd be involved in organising a marathon – the Greater London Council (GLC), the police, the City of London, the Amateur Athletics Association and the London Tourist Board.
The pros and cons of a marathon were discussed and it was agreed that the idea was worth pursuing. The difficulty came in persuading the police that 26 miles of road could be closed off for a marathon without causing London to shut down completely.
A couple of weeks later, DISLEY presented a course design that used the Thames as a 'handrail', while only closing two bridges. One of those, Tower Bridge, was often shut on Sundays anyway. The police approved the event and the tourist board were happy the course passed so many of London's sights – Cutty Sark, Tower Bridge, the Docks, The Embankment, Big Ben and Buckingham Palace.
However, there was one condition from SIR HORACE CUTLER, the chairman of the GLC, who told BRASHER and DISLEY: "You should never ask the ratepayers to bail you out. Not a penny from the GLC."
Later that year BRASHER travelled to America, where the 1970s running boom had started. He witnessed the Boston Marathon and revisited New York to discuss finance and organisation.
On his return, a budget was prepared for the first London Marathon with an expenditure of £75,000 over and above any revenue expected from entry fees. This was serious money, which even second mortgages on BRASHER'S and DISLEY'S houses wouldn't meet.
Then fortune smiled on the enterprise when Gillette gave up their sponsorship of cricket's Gillette Cup. The company asked their agents, West Nally, for advice on what to sponsor next. PETER WEST told them two young Olympic medallists were putting on a marathon and needed help. A deal was done and Gillette became the Marathon's first title sponsor. The deal was worth £75,000 a year for three years.
Charitable status was established for the event, and BRASHER and DISLEY devised six aims for the London Marathon:
To improve the overall standard and status of British marathon running by providing a fast course and strong international competition.
To show mankind that, on occasions, they can be united.
To raise money for sporting and recreational facilities in London.
To help boost London's tourism.
To prove that 'Britain is best' when it comes to organising major events.
To have fun, and provide some happiness and sense of achievement in a troubled world.
Five months later, on 29 March 1981, the first race was held. Some 20,000 people wanted to run. 7,747 were accepted. There were 6,255 finishers, led home by the American DICK BEARDSLEY and Norwegian INGE SIMONSEN, who staged a spectacular dead heat at the rain-swept finish on Constitution Hill. JOYCE SMITH, 43 years old and mother of two, broke the British record to win the women's race.
The event was a massive hit with the runners, the thousands of spectators who lined the course, and viewers who followed the race on the BBC. As a result, the 1982 race received more than 90,000 applications from hopeful runners around the world. The entry was limited to 18,059.
The race has grown in size, stature and popularity ever since. Now established among the major events in the sporting calendar, the London Marathon is shown on television in nearly 200 countries around the world.
Over one million runners have completed the London Marathon (1981 to 2016), while a record 40,255 people finished in 2018.
CHRIS BRASHER CBE died in February 2003. JOHN DISLEY CBE, the President of the London Marathon Charitable Trust, died in February 2016.
Course History – The London Marathon course is flat and fast. It starts in Blackheath, heads east through Charlton and Woolwich for three miles, turns west and passes the Cutty Sark in Greenwich after six to seven miles. It crosses the River Thames at Tower Bridge and the loops around the east end of London, past Canary Wharf in Docklands, before heading west again along the Highway and the Embankment to Parliament Square, Birdcage Walk and the final corner in front of Buckingham Palace.
The first London Marathon, held on 29 March 1981, finished on Constitution Hill between Green Park and Buckingham Palace. From 1982 until 1993 the race finished on Westminster Bridge with the Houses of Parliament in the background. But in 1994 repair work to the bridge meant the finish line was moved to The Mall where it has been ever since.
Apart from the finish, the London Marathon course hasn't changed much in its 39 year history. In 2005 it was altered slightly at 22 miles to avoid the cobbled area near the Tower of London, and that year the route around the Isle of Dogs between 14 and 21 miles was switched from a clockwise to an anti-clockwise direction. In 2015 part of the course changed in the Canary Wharf area due to building works.
BRITISH ATHLETICS LEAGUE 50TH YEAR BOOK – We are delighted to announce that a publication celebrating 50 years of British Athletics League history is now available to purchase.
Copies can be bought for £5, or £8 for two, and £10 for three, which is the maximum order. The cost includes postage and packing, with all money raised going to help young athletes through the Ron Pickering Memorial Fund, which has also supported many BAL athletes on their journey along the athletics pathway.
To order, simply email geoffrey.morphitis@capeandd.com with the details of your order and make an online payment of the appropriate amount to;
ACCOUNT NAME : SHAFTESBURY BARNET HARRIERS, BANK : HSBC, ACCOUNT NUMBER : 41308378, SORT CODE : 400426
The publication itself features a range of nostalgic contributions from athletes, committee members, team managers and officials. Olympic champion and President of World Athletics, SEBASTIAN COE said: "The competition has been of constant high standard and I remember fondly my own competitions as a member of the Haringey team that were not only important for the club and its status but were important stepping stones to championships later in the season."
There are great stories of feats that will impress, surprise and amuse you, from exhausted athletes doubling-up to score points, to guitar sing-alongs on team buses. Liverpool Harriers' MIKE HOLMES has provided a fascinating series of archive reports that bring the piece to life, as do images by MARK SHEARMAN and MELISSA GRESSWELL. Statistical information has also been compiled by PETER MATTHEWS, with a club-by-club directory of every team to compete over the last five decades put together by MIKE HEATH.
Please note that orders will be satisfied on a first come first served basis. No booklets will be sent until payments have cleared so allow please allow seven working days between order and delivery.
ENGLAND ATHLETICS DRAFT COMPETITION PROGRAMME – England Athletics have just published  May 2020 version 9 of The Draft Competition Programme for the period w/e 19 July to w/e 27 September. This sets the structure for joint men/women meetings which SBH hopes to follow.
All the promotions listed below are subject to: –
1. Government lifting the present lockdown by 1 July so as to allow group gatherings
2. UKA issuing specific instructions to allow compliance with Government requirements
3. Obtaining a sufficient number of appropriately qualified officials from the participating clubs
4. Facility availability
5. Securing a suitable First Aid provision
6. Receipt of the appropriate licences from UKA
Saturday 25 July – LICC (1) – Allianz Park – all age groups, Sunday 26 July – U17/U20 Southern Premier Division (1) – Allianz Park – (Inter-Club competition featuring the 6 clubs which would have been the now cancelled YDL), Sunday 2 August – National Athletics League – Premiership Division (1) – Bedford – U20 / Senior, Saturday 8 August – LICC (2) – Allianz Park – all age groups, Sunday 9 August – U17/U20 Southern Premier Division (2) –  Venue TBA – (Inter-Club competition featuring the 6 clubs which would have been the now cancelled YDL), Sunday 16 August – National Athletics League – Premiership Division (2) – Venue TBA – U20 / Senior, Saturday 22 August – LICC (3) – Allianz Park – all age groups, Sunday 23 August – U17/U20 Southern Premier Division (3) –  Bromley – (Inter-Club competition featuring the 6 clubs which would have been the now cancelled YDL), Saturday 5 September – U15/U17 Southern Area Championships – Venue TBA, Sunday 6 September – National Athletics League – Premiership Division (3) – Venue TBA – U20 / Senior, Saturday 12 September – U20/Senior Southern Area Championships – Venue TBA, Saturday 19 September – U15/U17 England Championships – Venue TBA, Saturday 26 September – U20/Senior England Championships – Venue TBA
The British Championships are due to be held in Manchester on 8/9 August, however, they have not yet been confirmed.
A MESSAGE FROM ENGLAND ATHLETICS CEO CHRIS JONES – Which I received on the 12 May. Link to the message which includes a video from CHRIS JONES – England Athletics Message From Chris Jones 12 May
THE FOLLOWING SBH DOCUMENTS/INFORMATION CAN EITHER BE VIEWED, DOWNLOADED OR PRINTED 
SBH 2020 Summer Fixture Card Front Sheet – Summer 2020 Fixture Card Front Sheet Final Issue 12-02-20
SBH 2020 Summer Fixture Card Fixtures, Updated 30-04-20 Showing Cancelled & Postponed Fixtures – Summer 2020 Fixture Card – Updated 30-04-20 Showing Cancelled & Postponed Fixtures
Track and Field Team Managers Details – http://sbharriers.co.uk/athletics/track-field/team-managers/
Road Running Team Managers Details – http://sbharriers.co.uk/athletics/road-running/team-managers/
THE FOLLOWING INFORMATION OF INTEREST CAN BE FOUND ON THE SBH HOME PAGE BY USING THIS LINK, THEN SELECT THE LEFT OR RIGHT ARROW – http://sbharriers.co.uk/
Allianz Park Membership, which gives SBH members 10% discount on entry to the Allianz Park stadium – Membership details and Form can be either printed or downloaded
Shaftesbury Barnet Harriers Club Hoody, information on how to purchase one, please go to the bottom of this Newsletter
SBH MIDWEEK JUMPS CLUB AT ALLIANZ PARK – Currently Suspended. POLE VAULTERS REQUIRED FOR 2020 – Currently Suspended. STEEPLECHASE TRAINING AT ALLIANZ PARK – Currently Suspended.
YOU CAN JOIN TY HOLDEN'S CIRCUIT SESSION ON ZOOM – TY will be holding a circuit session on Zoom, which is a conferencing platform, every Monday, Wednesday and Friday at 6pm. If you wish to join, please email TY at dtyholden@yahoo.co.uk and he will email you an ID number for you to join in. Zoom can accommodate up to 100 users at a time.
ENGLAND ATHLETICS CORONAVIRUS HELP FOR ATHLETES – Many thanks to TUNJI who as reported on the 19 March newsletter is the father of NIAH AKINTOKUN. 
In these unprecedented times, I wanted to draw the club's attention to some of the great resources available online. England Athletics is expanding its campaign to support Athletics and Running for everyone @home, with a focus on 'Running @home' support and advice. The homepage can be accessed here
There are many webinars, interviews and tips from top coaches and athletes on how to stay conditioned and focused.
In addition, there are some fantastic videos for 4-11yr olds on the Funetics webpage put together in conjunction with England Athletics.  The videos demonstrate parents and children (aged 4-11) taking part in FUN activities based on fundamental core movement skills: running, jumping and throwing. Funetics is a programme that has been designed to reflect the requirements of the National Curriculum Key Stage 1 and 2. At this time when our children are currently schooling at home, we hope that these video activities will support the need for education to continue at home.  You can access the videos here   TUNJI AKINTOKUN MBE – Non Executive Director, England Athletics
PARKRUN 5K RESULTS – Currently Suspended
PARKRUN – Can you make sure that you are registered as 'Shaftesbury Barnet Harriers', as the link I use to select all results only shows SBH athletes. If anyone is also officiating can you please contact me, and advise me where and when.
UPCOMING SHAFTESBURY BARNET HARRIERS FIXTURES AND OTHER FOR THE NEXT 4 WEEKS – Due to the Coronavirus situation, all fixtures until the end of April and part May have been cancelled. We have also been advised that the Lee Valley Athletic Centre fixtures have been cancelled until the End of May
All fixtures have been Cancelled until the Tuesday 30 June, this is the link to the SBH Fixture Card updated on the 30 April – Summer 2020 Fixture Card – Updated 30-04-20 Showing Cancelled & Postponed Fixtures
PHOTOGRAPH'S – From time to time we have photographs of our members taken at meetings or presentations which we would like to use both on the website or incorporated within our report to our local newspaper. Can you please let me know if you do NOT want your photograph to be used. Also, I would appreciate if you could send me any photographs, which I can then publish on the website and newsletter.
CLUB EMBROIDERED RED HOODIES – Currently there are now over 750 Hoodies in circulation, this is the link giving details on how you can order your Club Hoody for £35, which includes having your name embroidered on the front Club Hoodies Updated 01-07-19
FACEBOOK – Photographs can be found on the SBH page.
CURRENT DISTRIBUTION OF SHAFTESBURY INFORMATION – Currently I notify members (by email) using "MailChimp". The reason I changed, was in November 2017 "Gmail" put a limit of 100 addresses that users could send to in a 24-hour period, and currently I send to approximately 850 members each issue.
On seeking technical advice "MailChimp" was recommended as the best way for SBH to go forward. There is one thing you should be aware off is that when you receive an email from me, the footer at the bottom has 4 options, of which one is "Unsubscribe Me From List". Could I ask you not to select this as if you do you will be automatically removed from my distribution list.
SBH PRIVACY STATEMENT – In becoming a member, SBH will collect certain information about you. Can you please read the attached 'Privacy Statement' which contains Information on General Data Protection Regulations – SBH Privacy Statement Final April 2018
ALLIANZ PARK – Main Switchboard telephone number is 0203 675 7250.
CHARGES FOR USING ALLIANZ PARK – Currently the stadium is closed for athletics until the 31 May.
ALAN