Happy Birthday from this Thursday 28 January to Onochie Achike, Gerald Alterman, Ernest Barnes, Amelia Daley, Russell Devitt, Emmanuel Duruiheoma, Micah Forbes-Agyepong, Sophie Forbes-Laird, Bethan Hale, Catherine Higgins, Malika Hislop-Ellis, Kyle Langford, Toby Laycock, Nicholas Nieland, Gary Wilson and Benjamin Zeffertt
CAN YOU HELP PLEASE – Does anyone use or knows how to use 'GOOGLE MEET', if so could you give me a call please on 07815467889 to discuss.
SHAFTESBURY BARNET HARRIERS RESPONSE TO CONSULTATION ON EQUALISATION SURVEY – The debate whether men and women should run the same distance in cross-country races, has been reported extensively over the past few weeks (see 21 January SBH Newsletter for Elite Athletes views). This is the Club's response on the subject, which was sent to UK Athletics and England Athletics on Thursday 21 January.
SBH has a proud history of cross country running dating back to 1890 – 131 years and counting!  Our members include numerous international athletes; JOYCE SMITH, DAVID BEDFORD and JULIAN GOATER to name but three. As well as elite athletes the club is represented by club runners in inter club, league, county, regional and national championship races. Our officials also help organise and run many of these races. As such we believe the views of clubs such as ourselves should carry significant weight in debates about the future of cross country and issues such as equality.
First and foremost, SBH is totally committed to equality. However, equality can be delivered in many ways and we have concerns about the methodology used in the current consultation process.
Having canvased athletes, coaches and officials, this matter was discussed at length at the Club's Council meeting on 18 January 2021. The views of the Club are set out below.
The Club felt that the survey was written in a biased way, with questions about how equalisation should be achieved and not whether it should happen. It is our view that the preamble to the survey tends to reinforce this position. This will be seen by many, rightly or wrongly, as a consultation with a pre-determined outcome. We are aware these views are shared by many others. We are deeply concerned that this survey will not produce reliable and robust results.
The Club is of the view that Men should be able to determine the distance they run in cross country races and, similarly, Women should be able to determine the distance they run. The Club does not believe that equality needs to translate to the same distances being raced. We believe that we should be providing equality of opportunity, which is what we do.
We are aware of numerous surveys that have been recently carried out following cross country races where the majority, of both Men and Women, were broadly happy with the distances they currently race. The Club feels that these surveys should be a fundamental cornerstone of the current consultation process.
We also noted that Question 1 of the Survey does not include "coach to cross country runners" as one of the options. Therefore, the Survey will not be able to filter the view of coaches. This is, in our opinion, a fundamental error, given the widespread experiences and knowledge of coaches right across the country.
The Club were also concerned that increasing the distances raced by younger Women, in the U17 and U20 age groups to match the distances run by younger Men of the same age group would result in significant problems for the sport as regards both entries and athlete retention.
A suggestion made by one of our most respected and successful coaches was that equality of racing time would be a better target that equality of distance.
The Club awaits your detailed response in due course with interest.
PHILIP CUNNINGHAM – Honorary Secretary – Shaftesbury Barnet Harriers – 19 January 2021
UPDATE TO THE SBH WEBSITE – Not only am I the Editor of the SBH Weekly Newsletter, I am also the SBH Website Manager, which entails updating and adding data to the various sections within the website. Before I move onto the latest update, I would ask you to spend 5-10 minutes to review the content of the website, and would welcome any feedback you may have. There are 2 updates to the website, which are as follows;
SBH ALL-TIME TOP 10 T&F PERFORMANCES – I would like to thank CLYDE GORDON Young Athletes Men, RONAN BREEN Senior Men and BRYAN SMITH Senior Women, who carry out a superb job in maintaining and updating their own respective Age-Groups data. On the website, I have added a new section to 'About Us' and is titled 'All-Time Top 10 Track and Field Performances' and is located directly below 'Club Records'
BEST PERFORMANCES FOR 2020 – CLYDE had produced the Young Athletes Men's performances, and I produced the Under 20 and Senior Men's, plus all age-groups for our Women. Included as well are our 2nd Claim & HCA athletes. On the website, I have modified in the section 'About Us', the section that was named 'Annual Reports & Best Performance Awards' and it is now named 'Annual Reports – Best Performance Trophy Awards – Individual And Relays Best Performances By Year'.
AMERICAN INDOOR TRACK LEAGUE – Took place at Fayetteville, Arizona, USA on 24 January.
200m – SW LINA NIELSEN 4th (SB 24.57) and is ranked UK No.3 in 2021
400m – SW LINA NIELSEN 4th (SB 53.27) and is ranked UK No.2 in 2021
JAYHAWK CLASSIC INDOOR MEETING – Took place at Lawrence, Kansas, USA on 22-23 January.
Shot 7.26kg – SM GEORGE EVANS (Kansas University) 3rd (SB 16.32m) and is ranked UK No.1 in 2021
WT 15.88kg – SM GEORGE EVANS (Kansas University) 4th (SB 17.36m) and is ranked UK No.4 in 2021
ATW CROSS COUNTRY SERIES NEXT RACE – The third race is on Saturday 21 February at Merchant Taylor's School, Sandy Lodge, Northwood HA6 2HT. The races are for Under 11, 13, 15 & 17s. This is the link for all details including entries – https://activetrainingworld.co.uk/events/atw-cross-country-series-round-3-21st-feb/
MORE FROM AUSTRALIA – STUART MOORE has sent me a photograph, which was taken at a recent Parkrun at Perry Lakes Reserve, about 1m from where he lives.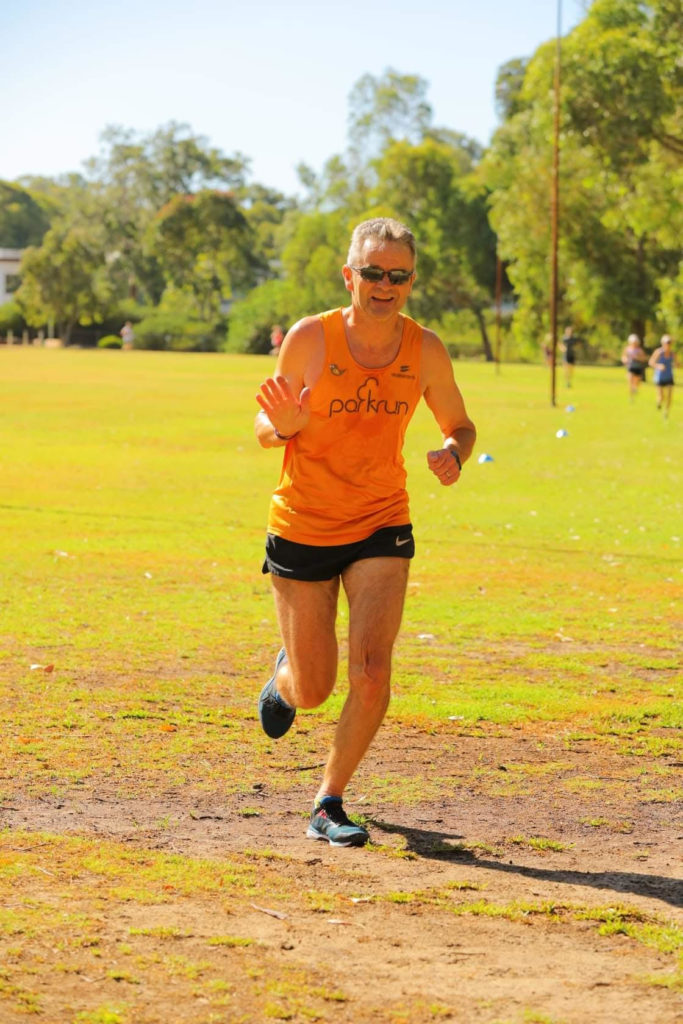 STUART commented that if he can squeeze into his old SBH vest, he will wear it in the coming weeks. I think you will have no problems with that – so watch this space.
The course is adjacent to the old Perry Lakes Stadium where the 1962 Empire Games were held. Also, the same park area where DAVID SWEENEY won the World Masters Cross Country title in October 2016, one of his 4 Gold Medals at that Championship.
And it's a run with a couple of volunteer duties setting up the course (putting cones out around the many grass areas) which also allows you to have a run as well and that suits me.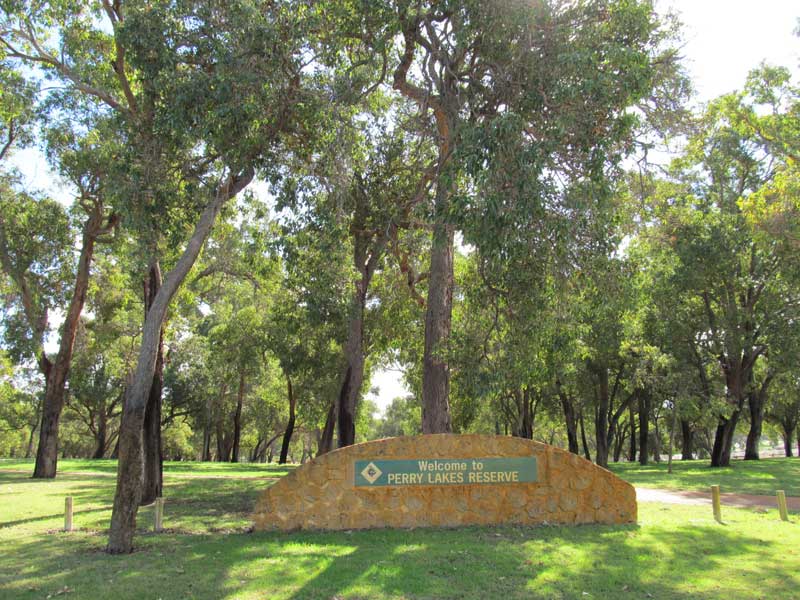 Course Description – Two laps on a mixture of asphalt and grass around the perimeter of West Lake and a grassy oval. The start and finish is the southern-most point of the closed roads in Perry Lakes Reserve. And it's a run with a couple of volunteers setting up the course (putting cones out around the many grass areas) which also allows you to have a run as well and that suits me.
Post Run Coffee – Every week we grab a post parkrun coffee at the coffee van – please come and join us!
16 January Parkrun Result – Perry Lakes 67th (27.36 V60-64 age-group)
BRITISH INDOOR CHAMPIONSHIPS CALLED OFF – The following article was published on the Athletics Weekly website recently.
Coronavirus pandemic puts paid to plans to stage the national indoor event at the Emirates Arena in Glasgow next month. There will be no national indoor championships in the UK for the first time since 1961 following the cancellation of the 2021 event, which was due to take place in Glasgow on February 20-21. Following press speculation overnight, UK Athletics officially announced that the event was off on Friday morning (January 22) – just four weeks before the meeting was set to take place.
Entries had been rolling in during recent days, too, with athletes such as pole vaulter HOLLY BRADSHAW, long jumper JAZMIN SAWYERS, sprinter HARRY AIKINES-ARYEETEY, distance runner ANDY BUTCHART and 800m runners KYLE LANGFORD and KEELY HODGKINSON among a number of names who had accepted invitations. Now they will have to seek qualifying opportunities at other meetings elsewhere if they have ambitions of competing at the European Indoor Championships in Torun on March 5-7. Some of these competitions could be held in the UK too as 'micro meetings' with a small number of athletes and officials, potentially on the same weekend as the ill-fated British Indoor Championships.
UKA said: "The decision was taken in light of the ongoing pandemic to ensure the safety of all those due to participate; athletes, coaches, technical officials, volunteers, event and venue staff as well as protecting the Glasgow community. At the present time, the process of testing all those attending the Championships from across the UK, seen as an essential measure, would not sufficiently mitigate the risks. "British Athletics recognises our wider social responsibility to reduce Covid-19 transmission and to not over-burden the NHS. Whilst elite sport has been granted the privilege of an exemption to enable training and competition to continue, the logistics of safely staging a national championships comprising approximately 500+ attendees based across the UK and overseas need to be balanced with the risks to those involved, the local community, and the current medical climate. "With the European Indoor Championships currently scheduled to take place in Torun, Poland 5-7 March British Athletics acknowledges that the cohort of athletes vying for GB & NI team selection will need competition to enable qualification. "Therefore, alternative provision that enables smaller, Covid-19-compliant event qualification opportunities is being explored and will be confirmed to eligible athletes by British Athletics in due course."
The British Indoor Championships has been held continuously every year since 1962. It has its origins in the 1930s when it was held at Wembley for five years but World War Two led to the event vanishing from the calendar and it did not return until 1962, when Wembley again held the meeting. It then moved to Cosford near Wolverhampton for a long spell from 1965-1991 before moving to venues such as Birmingham, Cardiff, Sheffield and Glasgow.
HYBRID FORMAT IS THE FUTURE FOR LONDON MARATHON – The following article was published on the Athletics Weekly website recently.
Combining traditional mass races with the virtual model will be the new normal for the iconic event, says event director HUGH BRASHER. The impact of essential event adaptations as a result of the coronavirus pandemic has changed the face of road running for good, believes Virgin Money London Marathon event director HUGH BRASHER. Never again will the iconic race in the UK capital solely feature the traditional mass race behind the elite action, with the hybrid model for 2021 combining in-person and virtual options announced on Thursday setting the tone for the future of London Marathon Events.
While a record 42,906 people started the 2019 race, last year's edition was restricted to elite-only events on an alternative looped course, with those races taking place alongside the inaugural Virtual Virgin Money London Marathon which had 37,966 finishers. Now the plan for 2021 is to have 50,000 participants on the traditional course from Blackheath to The Mall as well as 50,000 virtual entrants taking part around the world on October 3 as the 40-year-old event starts a new chapter. Read More: London plans 100,000-person marathon
"All London Marathon events, all the events we organise, will go hybrid," BRASHER told AW. "That is one of the learnings [from 2020] – how you can bring more people to believe that they can run or walk 26.2 miles. Once they do that, if they are doing that in the virtual event, it will bring them more into the event. "It can make our sport more inclusive and diverse and that is something we absolutely want to do. What has happened is the everyday person has seen people looking like them doing this marathon challenge. That has changed the face of our sport for good. "We believe that this is the next seminal moment where it [the sport] will do it [change] exponentially again. "We believe it [the hybrid model] is absolutely the future of events, if you do it with integrity and the right messaging. If you are doing it with the right partners. With the charity programme and sponsors that we have, with our mission of inspiring activity for all, it has integrity and it is absolutely what we want to do. "We are really showing that a hybrid event, a new type of event, can magnify the unification of the world at a time when more than ever we need that unity," he added. "We were a beacon of light on October 4 (in 2020), we hope again this announcement today, is that. "Giving people a goal – we know it changes behaviour, it changes it for the good. It is a big day."
In the lead-up to the 2020 event, BRASHER explained how scenarios for the race were ever-evolving and the same is the case for 2021 but organisers are "incredibly optimistic" about being able to welcome 50,000 people to London to race this autumn. That figure adds more than 7000 to the previous finisher number record and the original aim was to hit that milestone in 2023 but BRASHER explained how that plan had been brought forward. "We have been working since 2014 on crowd modelling and developing our processes to be able to have 50,000 people running the marathon," BRASHER said. "We started putting extra mats in certain places, we then went to video cameras, we then went to fluid dynamic modelling, we then changed the start processes. "Every year, behind the scenes, we have been working to this date where we could have 50,000 runners and all we have actually done is put our plan for 2023 forward two years because we had to fit in all the runners that wanted a place in 2021, 2022 and 2023, that couldn't take part in the in-person event in 2020."
On whether any changes to the usual mass in-person race might be required, BRASHER added: "We have lots of contingency plans, we always have lots of contingency plans, but we are very hopeful. We are very optimistic. "We have so many different scenarios of how we might adapt the marathon to the circumstances that exist in October. "We really have learned so much from 2020. Having that learning, taking it on board and realising the agility and the ability of the team here, we are really positive about what we can do. So, there might be no changes, but we have lots of other different scenarios."
RYAN CROUSER SMASHES WORLD INDOOR SHOT PUT RECORD – The following article was published on the Athletics Weekly website recently.
Olympic champion throws 22.82m at the American Track League meet in Fayetteville. RYAN CROUSER made a sensational start to 2021 as he smashed the world indoor shot put record and backed it up with the second furthest throw in history at the American Track League meet in Fayetteville on Sunday (January 24). The Olympic champion launched the shot out to 22.82m in the very first round of the competition, with the throw so far it almost cleared the landing mat. The mark adds 16 centimetres to the world indoor record which had been set by RANDY BARNES 3 years ago.
"I'd say it's a pretty good start to 2021," CROUSER said after his opening throw, "but I've got five more (attempts) so time to get to work." And the 28-year-old American was far from finished as he followed that record throw with 22.70m in the third round for another mark beyond BARNES' 22.66m recorded in 1989. CROUSER'S superb series also included a final round throw of 22.48m – a mark that only two other athletes have ever bettered indoors – and 21.03m thrown in round two.
UPDATE ON PROPOSED TRACK AND FIELD FIXTURES – National Athletic League dates have been agreed – Sunday 6 June, Sunday 4 July, Sunday 8 August and Saturday 28 August – 4 club divisions – we are in Premier London North with Harrow, Newham and Woodford – Probability that most / all fixtures will be at StoneX Stadium. London Inter Club Challenge dates agreed Saturday 17 April Lee Valley, Saturday 26 June, Saturday 31 July and Saturday 21 August all at StoneX Stadium.
Provisional UK Youth Development League dates are; Sunday 2 May, Sunday 30 May, Sunday 27 June, Saturday/Sunday 4/5 September National Final
Provisional Middlesex Young Athletes League dates are; Sunday 25 April – Finsbury Park, Saturday 15 May – Perivale, Sunday 20 June – Parliament Hill and Sunday 18 July – StoneX Stadium
Provisional Eastern Young Athletes League dates are; Sunday 13 June, Sunday 4 July, Sunday 18 July, Sunday 1 August and Final Sunday 12 September (venues to be confirmed).
The SCVAC Veterans League dates are still to be announced.
2021 LEE VALLEY INDOOR TRACK AND FIELD MEETINGS – Currently Lee Valley is closed and awaiting an update.
2021 INDOOR TRACK AND FIELD MEETINGS – During the first week of January UK Athletics issued a Preliminary list of fixtures for 2021, this is the list – 2021-Fixtures-Calender-15.01.21
Non Lee Valley fixtures – February 27-28 England Athletics U15/U17 Open Meeting (Sheffield) – March 19-21 World Championships (Nanjing, China), 24-28 European Masters Championships (Braga, Portugal) – April 6-12 World Masters Championships (Edmonton, Canada). On the UKA fixture list they show various regional Indoor fixtures for Scotland, Wales Etc.
Recently Cancelled – February 6-7 England Athletics U18/Elite Open Meeting (Sheffield), 20-21 British Athletics Championships (Glasgow)
PROCEDURES FOR USING STONEX STADIUM FROM JEREMY SOTHCOTT – The Stadium is now subject to the lockdown guidelines recently set by the Government and is therefore closed to all athletes except "Elite" athletes as certified by UKA/EA.
STONEX STADIUM EAST STAND INDOOR AREA – Use of this area has been prohibited whilst London is subject to National Lockdown, with the NHS now using this facility as a Covid-19 vaccination centre for a period of 4 to 12 months.
SBH SUBSCRIPTIONS 2020-2021 – SBH Treasurer GEOFF MORPHITIS has sent me the following regarding subscriptions.
The Club AGM took place virtually at 19.30 on Tuesday 24 November. One of the resolutions which was passed dealt with Club Subscriptions as follows. "The Annual Membership Fee for new members from 1 December 2020 will increase to £50. Existing members who have paid their membership fee for year ended 30 September 2020 will be considered as having also paid their fee for the year ended 30 September 2021.
In other words, in recognition of the disruption caused by Covid-19, these members will have 2 years membership for the price of one." Therefore, I'm now asking athletes who have not paid their subscription for the year ended 30/09/20 (£45) to pay, so as to qualify for the 2 for 1 concession together with the England Athletics Registration Fee of £15 for 2020/21. The total is £60 and should be paid NOW to; ACCOUNT NAME: SHAFTESBURY BARNET HARRIERS, BANK: HSBC, ACCOUNT NUMBER: 41308378, SORT CODE: 400426 – Please let me know when payment is made. Thanks GEOFF
UPDATE ON SBH FIXTURE CARD – We are in the process of finalising the 2021 Summer Fixture Card
CAN YOU HELP PLEASE – During the period when all competitions are suspended, I will do my upmost in keeping the Newsletter information and other content going.
I would welcome any contributions From Yourselves, any impending marriages, or additions to the family, any running or competing incidents, also past warm weather training/holidays (No Club 24 please). Currently the response has been excellent, but if you have anything that could make it into next week's Newsletter – please email me.
THE FOLLOWING SBH DOCUMENTS/INFORMATION CAN EITHER BE VIEWED, DOWNLOADED OR PRINTED 
SBH 2021 Summer Fixture Card, and will be publishing a draft  in the coming weeks.
Cross Country Team Managers Details – http://sbharriers.co.uk/athletics/cross-country/team-managers/
Road Running/Relay Team Managers Details – http://sbharriers.co.uk/athletics/road-running/team-managers/
THE FOLLOWING INFORMATION OF INTEREST CAN BE FOUND ON THE SBH HOME PAGE BY USING THIS LINK, THEN SELECT THE LEFT OR RIGHT ARROW – http://sbharriers.co.uk/
Shaftesbury Barnet Harriers Club Hoody, information on how to purchase one, please go to the bottom of this Newsletter.
SBH MIDWEEK JUMPS CLUB AT STONEX STADIUM (FORMERLY BARNET COPTHALL STADIUM) – Currently Suspended.
STEEPLECHASE TRAINING AT STONEX STADIUM (FORMERLY BARNET COPTHALL STADIUM) – Currently Suspended.
PARKRUN 5K RESULTS – Currently Suspended
PARKRUN – Can you make sure that you are registered as 'Shaftesbury Barnet Harriers', as the link I use to select all results only shows SBH athletes. If anyone is also officiating can you please contact me, and advise me where and when.
PHOTOGRAPH'S – From time to time we have photographs of our members taken at meetings or presentations which we would like to use both on the website or incorporated within our report to our local newspaper. Can you please let me know if you do NOT want your photograph to be published. Also, I would appreciate if you could send me any photographs, which I can then publish on the website and newsletter.
CLUB EMBROIDERED RED HOODIES – Currently there are now over 750 Hoodies in circulation, this is the link giving details on how you can order your Club Hoody for £35, which includes having your name embroidered on the front Club Hoodies Updated 01-07-19
FACEBOOK – Photographs can be found on the SBH page.
CURRENT DISTRIBUTION OF SHAFTESBURY INFORMATION – Currently I notify members (by email) using "MailChimp". The reason I changed, was in November 2017 "Gmail" put a limit of 100 addresses that users could send to in a 24-hour period, and currently I send to approximately 850 members each issue.
On seeking technical advice "MailChimp" was recommended as the best way for SBH to go forward. There is one thing you should be aware off is that when you receive an email from me, the footer at the bottom has 4 options, of which one is "Unsubscribe Me From List". Could I ask you not to select this as if you do you will be automatically removed from my distribution list.
SBH PRIVACY STATEMENT – In becoming a member, SBH will collect certain information about you. Can you please read the attached 'Privacy Statement' which contains Information on General Data Protection Regulations – SBH Privacy Statement Final April 2018
STONEX STADIUM (FORMERLY BARNET COPTHALL STADIUM) – Main Switchboard telephone number is 020 3675 7250.
CHARGES FOR USING STONEX STADIUM (FORMERLY BARNET COPTHALL STADIUM) – Currently the Stadium is closed.
ALAN WELLER