Happy Birthday this week commencing to James Isaacs, Zanson Plummer, Ben Rochford, Roger Simons, Jeremy Sothcott, Neville Thompson and Louis Ubaka
SHAFTESBURY BARNET HARRIERS CORONAVIRUS STATEMENT, UPDATED 24 MARCH– The following is a joint statement by SBH and Saracens SBH Coronavirus Statement 24.03.20 Rev A
THIS IS THE FULL STATEMENT BY UKA/ENGLAND ATHLETICS– Following the further restrictions on movement put in place by the UK Government last night, UKA and the Home Country Athletics Federations have made the following updates to our previous statement issued on 17 March:
1 – Extending the suspension of all athletics activity in England to the 31 May. [Initially this had been agreed to the end of April]. This suspension includes all organised athletics activity in the UK, including all competitions, formal club activities, running groups, and all Education activity (coach, official, teacher).
2 – Strengthening our position on coaching activity – We are now mandating that all physical coaching ceases, and only be conducted via virtual means during this period. Bringing groups of people together to train, however small, can no longer be permitted under the strict 'Stay at home' measures implemented by the UK Government.
These decisions have not been taken lightly and have been made in light of the continuing and real risk to life and to the NHS posed by the spread of the COVID-19 virus in England. We must now do all we can do. We would ask that the athletics community in England continues to help one another by staying connected and supportive of each other whilst at home in these unprecedented times. We will continue to review the situation in line with Government and Public Health guidance.
In addition to providing clarity to clubs, athletes, runners, coaches and officials, we are acutely aware that a number of competition providers have already made the bold decision to postpone their events in recognition that they stand to incur additional contractual costs on facilities that they have booked should they not make that decision now. We will continue to review this decision as the government guidance evolves, but one thing is clear – and that is that athletics, running and sport in general is special and is an important contributor to our way of life, but it is very much secondary to protecting and saving lives at this current time.
In its latest measures to contain the spread of Coronavirus (COVID-19), the UK Government has announced that everyone must now stay at home except in exceptional circumstances.
From last night (Monday 23 March), the only permissible reasons to leave your home are as follows:
To shop for basic necessities and that should be limited to once a day
To take exercise once a day – but alone or with those you live with, no gatherings of more than two people
For medical reasons or to care for a vulnerable person
To travel to essential work if that cannot be done at home. Further guidance to employers is pending.
While athletics is predominantly an outdoor sport that allows athletes to exercise in the fresh air, the message to all of us is clear, we must play our part in containing the spread of COVID-19. We urge our members to utilise the opportunity to exercise as laid out by both governments, but as such, any informal small group training sessions of athletes or face-to-face coached sessions must now cease (*unless they are with your own household members as above).
We have witnessed some very creative home and/or garden-based training sessions (safely of course) during the last week, and we would urge clubs and coaches to continue to be innovative during this period. A number of schools have also been task setting for their pupils and it would be of immense value to continue to engage athletes and your members in similar style tasks for athletics.
There are numerous ways in which people can remain active whether that be core strength training at home, HIIT, Circuits, running and so on (whilst adhering to the government guidance) so we will be actively promoting these. We will of course be pushing out digital content relating to exercising at home during this week thanks to the work of our respective coaching and athlete development team members.
England Athletics CEO Chris Jones comments: "We all have a responsibility to play our part in mitigating risk and in reducing the spread of this virus. It will be deflating to many but if we do pull together and adhere to the guidance issued then we will come through this period. In the meantime we will be working tirelessly as partners to provide value to our member clubs, athletes, runners, coaches and volunteers and will be organising activities and providing resources utilising a range of methods such as online forums, webinars and podcasts that will help people prepare for a time when we can all look forward with renewed optimism as an Athletics & Running family."
These decisions are difficult ones to make, but right now, it is our shared responsibility to prioritise the health of our local communities by working together to follow the Government guidelines. In doing so, this will ensure that we all get back to competing in the sport we love so much sooner.
CURRENT UPDATE ON UPCOMING FIXTURES– The following fixtures have now been Cancelled
North West London League due to take place on Saturday 28 March
National Road Relays due to take place on Saturday 4 April 
London Inter Club Challenge due to take place on Saturday 18 April 
Middlesex Young Athletes League due to take place on Saturday 18 April and Saturday 23 May
UK Youth Development League due to take place on Sunday 19 April 
National Athletic League due to take place on Sunday 3 May 
Eastern Young Athletics League due to take place on Sunday 3 May
Veterans League due to take place on Monday 4 May  
BUCS due to take place on Friday 8 May to Sunday 10 May
Hertfordshire County Championships due to take place on Saturday 9 May and Sunday 10 May 
UK Youth Development League due to take place on Sunday 24 May 
Middlesex County Championships due to take place on Saturday 30 May and Sunday 31 May 
Eastern Young Athletics League due to take place on Sunday 31 May 
World U20 Championships due to take place from Tuesday 7 July to Sunday 12 July
European U18 Championships due to take place from Thursday 16 July to Sunday 19 July
Olympic Games due to take place from Friday 31 July to Sunday 9 August
Virgin London Marathon and Mini Marathon due to take place on Sunday 26 April has been Postponed, and is rescheduled to take place on Sunday 4 October
THE FOLLOWING SBH DOCUMENTS/INFORMATION CAN EITHER BE VIEWED, DOWNLOADED OR PRINTED 
SBH 2020 Summer Fixture Card Front Sheet – Summer 2020 Fixture Card Front Sheet Final Issue 12-02-20
SBH 2020 Summer Fixture Card Fixtures, Updated 17-03-20 Showing Cancelled & Postponed Fixtures – Summer 2020 Fixture Card – Updated 17-03-20 Showing Cancelled & Postponed Fixtures
Track and Field Team Managers Details – http://sbharriers.co.uk/athletics/track-field/team-managers/
Road Running Team Managers Details – http://sbharriers.co.uk/athletics/road-running/team-managers/
THE FOLLOWING INFORMATION OF INTEREST CAN BE FOUND ON THE SBH HOME PAGE BY USING THIS LINK, THEN SELECT THE LEFT OR RIGHT ARROW – http://sbharriers.co.uk/
Allianz Park Membership, which gives SBH members 10% discount on entry to the Allianz Park stadium – Membership details and Form can be either printed or downloaded
Shaftesbury Barnet Harriers Club Hoody, information on how to purchase one, please go to the bottom of this Newsletter
SBH MIDWEEK JUMPS CLUB AT ALLIANZ PARK – Currently Suspended.
POLE VAULTERS REQUIRED FOR 2020 – Currently Suspended.
STEEPLECHASE TRAINING AT ALLIANZ PARK – Currently Suspended.
CAN YOU HELP PLEASE – During the period when all competitions are suspended, I will do my upmost in keeping the Newsletter information and other content going. Therefore, next week I intend highlighting a special period in the history of SBH, this being 1998 to 2002. During this period, we had a squad of Under 20 and Senior Women that dominated on the road, but especially cross country. In 1998 at Leeds our Women won the National Cross Country Championship title by an amazing 47 points, they then went on to win at Newark in 1999 then Stowe Park in 2000, 2001 they finished 3rd at Durham, then it was back to winning ways in 2002 in Bristol. The team manager during this period was SIMON KEENE who still hold that position.
I would welcome any contributions From Yourselves, any impending marriages, or additions to the family, any running or competing incidents, also past warm weather training/holidays (No Club 24 please).
TOKYO 2020 GAMES POSTPONED TO 2021 – The Following article was published on the Athletics Weekly website this week.
The impact of the coronavirus pandemic meant that the original Olympics start date of July 24 was becoming increasingly unfeasible, with a growing number of qualifying events being called off and with athlete training being heavily disrupted.
Following a conference call on Tuesday, IOC president THOMAS BACH and the Prime Minister of Japan, ABE SHINZO, concluded that the Games must be moved to a date no later than summer 2021. It is not the first time the Olympics have been rescheduled. The 1940 Games were originally due to take place in Tokyo but were then awarded to Helsinki. London was then named as host of the 1944 Games but the plans were abandoned when war broke out in 1939 and lasted until 1945. Then, in 1948, London staged a successful Games. "In the present circumstances and based on the information provided by the WHO (World Health Organisation) today, the IOC president and the Prime Minister of Japan have concluded that the Games of the XXXII Olympiad in Tokyo must be rescheduled to a date beyond 2020 but not later than summer 2021, to safeguard the health of the athletes, everybody involved in the Olympic Games and the international community," reads a joint statement from the IOC and Tokyo 2020 organising committee. "The leaders agreed that the Olympic Games in Tokyo could stand as a beacon of hope to the world during these troubled times and that the Olympic flame could become the light at the end of the tunnel in which the world finds itself at present. "Therefore, it was agreed that the Olympic flame will stay in Japan," the statement adds. "It was also agreed that the Games will keep the name Olympic and Paralympic Games Tokyo 2020."
The Olympic Games had been set to take place from July 24 to August 9 this year, with the Paralympic Games having been scheduled for August 25 to September 6. Following the announcement, International Paralympic Committee president ANDREW PARSONS said postponing the Paralympics is "absolutely the right thing to do". He added: "The health and well-being of human life must always be our number one priority and staging a sport event of any kind during this pandemic is simply not possible." In a statement, World Athletics said it welcomed the postponement decision and would still be planning for an outdoor season of one-day meetings in 2020 "starting and ending later than usual". "World Athletics stands ready to work with the IOC and all sport on an alternative date for the Olympic Games in 2021 and has already been in discussion with the organising committee of the World Athletics Championships Oregon 21 regarding the possibility of moving the dates of this highly popular worldwide event," said the governing body. "In light of this announcement, we will also expedite our current review of the Olympic qualification system, in cooperation with the IOC, and release any changes to the process as soon as possible so athletes know where they stand."
WORLD ATHLETICS UNDER 20 CHAMPIONSHIPS POSTPONED – The event due to take place in Nairobi, Kenya on 7-12 July 2020 has been postponed.
FOCUS ON THE NATIONAL ATHLETICS LEAGUE – In last weeks Athletic Weekly featured an article on the new NAL. The article was written by DANIEL REES who is currently Shaftesbury's No.2 400m Hurdler with a personal best of (52.19) which he set at the CAU Inter Counties (Inc England Athletic Senior Championships) finishing 6th in the Final.
The photograph is the article was taken by GARY MITCHELL which is of Allianz Park, apologies but article we could get was in jpeg format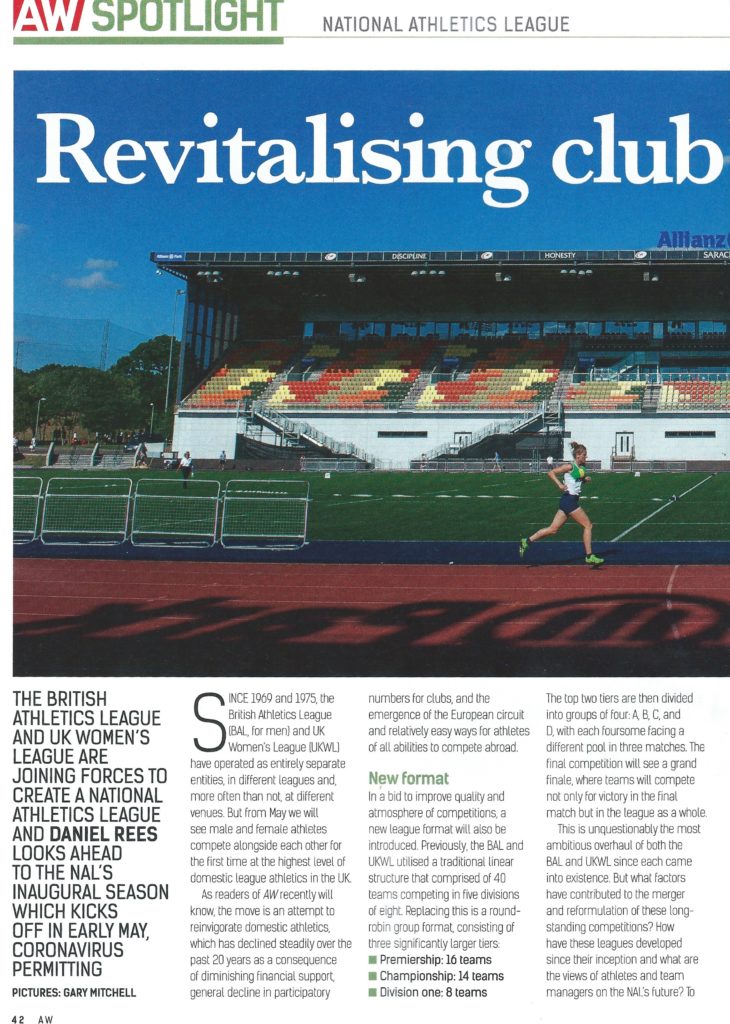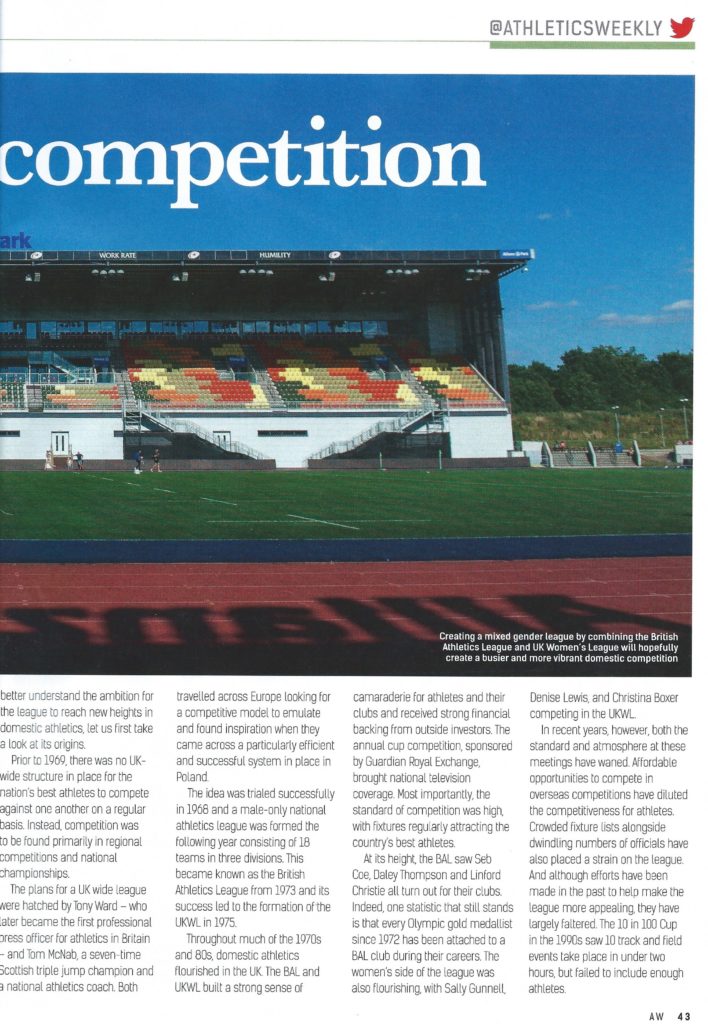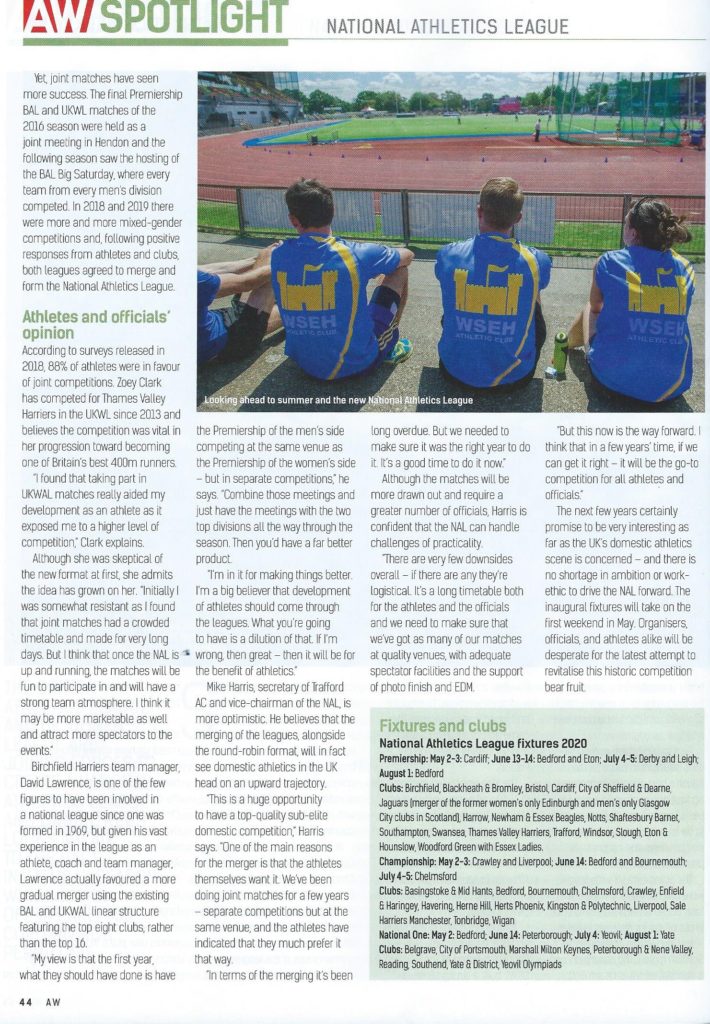 JAMAL LEWIS – The following article was published in the 19 March edition of Athletics Weekly
Six years ago JAMAL was a member of Shaftesbury Barnet Harriers, and he was Britains's most promising middle-distance runners. But the 22-year-old is now a footballer for Premier League club Norwich City and was among the goal of the month contenders on the BBC's Math of the Day in recent days.
At the 2014 English Schools Cross Country Championships at Donington Park he finished as the runner-up to BEN DIJKSTRA  in the intermediate boys race.
JAMAL finished just 6 seconds behind DIJKSTRA – who featured on the AW cover that week – and finished ahead of third-placed ALEX YEE and fourth-placed MAHAMED MAHAMED, amongst others. DIJKSTRA went on to win the senior boys English Schools cross-country title, whilst YEE subsequently won the British 10000m title – although both athletes have focused more on triathlon lately. MAHAMED meanwhile, won the Inter-Counties senior men's cross-country title this month.
But JAMAL took a different route. The Luton born man initially joined his home town team as a footballer but then signed for Norwich and has not looked back, while he has also represented Northern Ireland as a defender. Athletics loss is football's gain. In addition to his English Schools cross-country silver in 2014, he ran 1:52.45 for 800m and 3:58.22 for 1500m as an Under-17. In 2013 he also won the Mini London Marathon and was sixth in the English Schools 800m Final, whereas he took the English Schools 800m Bronze in 2012.
"I was ranked in the top five in the country for 800m," he said, "but I don't really think of it like that because I didn't take it as seriously as others, I didn't really read into it. I always loved football the most so I just happened to be good at running, it helps to get up and down the pitch."
In another interview, he has said "It kept me disciplined. When I wasn't running, I was playing football, and when I wasn't playing football I was running."
Photograph taken by JEREMY SOTHCOTT, showing JAMAL just 100m from the finish of the Southern cross-country Championships at Parliament Hill.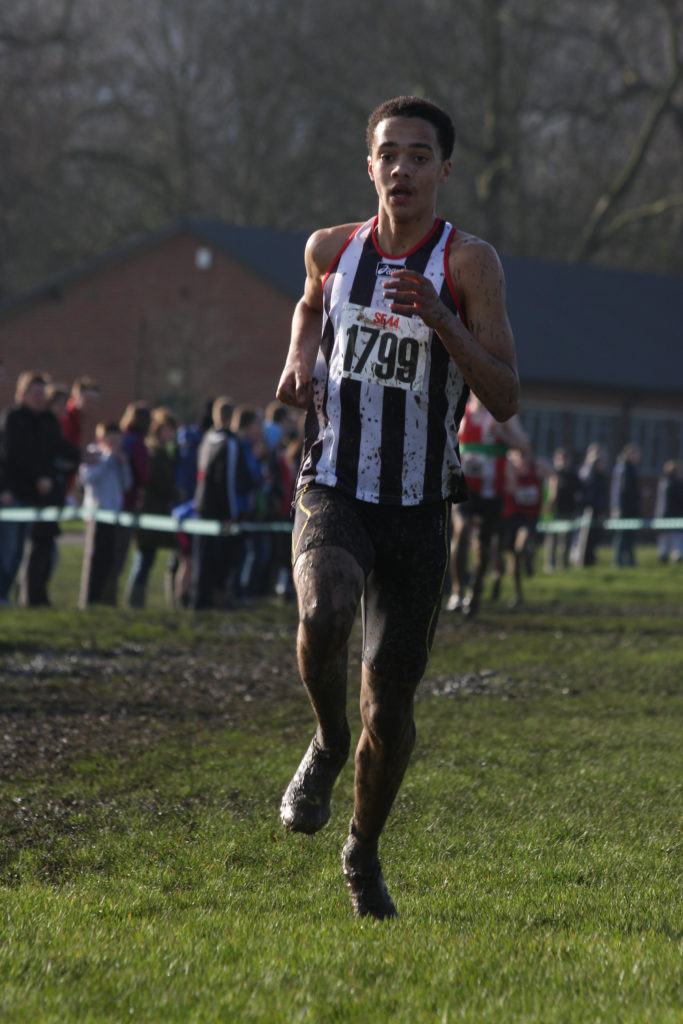 SCOTT LINCOLN REFLECTS ON COPING WITH CORONAVIRUS – The following article was published on the Athletics Weekly website recently.
British shot put Champion is using frustration as fuel for fire, with competition and training plans changing due to Covid-19 outbreak.
Some of Britain's top athletes are sharing insight into how they are coping during the coronavirus outbreak, which continues to cause great uncertainty and disruption to training and competition. Here 10-time British shot put champion SCOTT LINCOLN talks about his own situation and shares some advice for other athletes in a similar position.
"Stay safe … and take all of the frustration of not being able to compete to the track or field when we are able to!"
"If I'm totally honest, I have a lot of frustration," says LINCOLN, who won his 10th British shot put title in Glasgow last month.
"All the hard work we have been doing through winter, and yet we don't know when we can actually compete. But at the end of the day, there is nothing we can do, it's pretty much a waiting game.
"As of now, the club I train at, City of York AC, have cancelled all sessions until further notice. It has sort of come quicker than expected, but me and my coach PAUL WILSON are really good at adapting things. So we have three options, really. We can try and find another throwing circle nearby, we can find some concrete somewhere or make some concrete somewhere – being a builder helps! Or the third option is to buy a plywood sheet, which I will be doing anyway and storing as a worst case scenario, and throw off of that. I have a stop board that I can attach to it, I have a few places in mind where I can put it.
"The weight lifting and everything else won't be an issue for me luckily, as I've already got my own lifting facilities that I have built up over the years. It's in a warehouse my dad owns for work, not far from where I currently live."
Training camps and competition cancellations
"My three-week warm weather training trip is booked for April 1 in Portugal," explains the 26-year-old. "It's currently still on at the moment but I can't see it being a possibility. I have heard the track over there is closed until March 29, so it's cutting it fine anyway. Over the next week or so, I can see my flight being cancelled, so it will be a matter of staying home and trying to get the same training block in at home and hope for the best.
PARKRUN 5K RESULTS – Currently Suspended
PARKRUN – Can you make sure that you are registered as 'Shaftesbury Barnet Harriers', as the link I use to select all results only shows SBH athletes. If anyone is also officiating can you please contact me, and advise me where and when.
UPCOMING SHAFTESBURY BARNET HARRIERS FIXTURES AND OTHER FOR THE NEXT 4 WEEKS – Due to the Coronavirus situation, all fixtures until the end of April and part May have been cancelled. We have also been advised that the Lee Valley Athletic Centre fixtures have been cancelled until the End of May
PHOTOGRAPH'S – From time to time we have photographs of our members taken at meetings or presentations which we would like to use both on the website or incorporated within our report to our local newspaper. Can you please let me know if you do NOT want your photograph to be used. Also, I would appreciate if you could send me any photographs, which I can then publish on the website and newsletter.
CLUB EMBROIDERED RED HOODIES – Currently there are now over 500 Hoodies in circulation, this is the link giving details on how you can order your Club Hoody for £35, which includes having your name embroidered on the front Club Hoodies Updated 01-07-19
FACEBOOK – Photographs can be found on the SBH page.
CURRENT DISTRIBUTION OF SHAFTESBURY INFORMATION – Currently I notify members (by email) using "MailChimp". The reason I changed, was in November 2017 "Gmail" put a limit of 100 addresses that users could send to in a 24-hour period, and currently I send to approximately 850 members each issue.
On seeking technical advice "MailChimp" was recommended as the best way for SBH to go forward. There is one thing you should be aware off is that when you receive an email from me, the footer at the bottom has 4 options, of which one is "Unsubscribe Me From List". Could I ask you not to select this as if you do you will be automatically removed from my distribution list.
SBH PRIVACY STATEMENT – In becoming a member, SBH will collect certain information about you. Can you please read the attached 'Privacy Statement' which contains Information on General Data Protection Regulations – SBH Privacy Statement Final April 2018
ALLIANZ PARK – Main Switchboard telephone number is 0203 675 7250.
CHARGES FOR USING ALLIANZ PARK – The current charges for using Allianz Park are as follows – Adult Daily entry fee £4.00 – Junior (U16) Daily entry fee £2.00 – Concession (Students in full time education, unwaged and Over 65) Daily entry fee £2.20.
As a member of Shaftesbury Barnet Harriers you can apply for membership of Allianz Park, this is a the link for all information and application form Allianz Park Membership Form 2017 Any official coach of Shaftesbury Barnet Harriers gains entry free of charge.
Charges for those with a membership card are as follows – Adult Daily entry fee £3.60, Monthly fee £24.00 – Junior (U16) Daily entry fee £1.80, Monthly fee £12.00 – Concession (Students in full time education, unwaged and Over 60) Daily entry fee £1.80, Monthly fee £12.00.
Please use this link to view all membership details and application form (which you can print) – Allianz Park Membership Form 2017
All Allianz Park membership enquiries should be directed towards Emma Gouge at emmagouge@saracens.net her direct phone number is 0203 675 7252, or Lauren Hewett at laurenhewett@saracens.net her phone number are (Office) 020 3675 7210 or (Mobile) 07881 297875
ALAN