Happy Birthday from this Thursday 25 June to Maria Eduarda Araujo, Poppy Fenwick-Moore, Chay Jiboye, Orlando Edwards, James Hamblin, Marli Jessop, Gavin Marcus, Kayla Michel, Joanne Miranda, Ella Nash, Emma Rae, Eavion Richardson, Phillip Richardson, Hannah Ridley, Sarah Ridley, Annina Rive, Seb Roger and Nadeem Shaikh
RECENT NEW MEMBERS – We wish you a very warm welcome, and a happy, healthy and successful time with Shaftesbury to GILLIAN GOLDIN and  OGOCHUKWU ANOCHIRIONYE (25-06-20 Newsletter)
CAN YOU HELP PLEASE – During the period when all competitions are suspended, I will do my upmost in keeping the Newsletter information and other content going.
I would welcome any contributions From Yourselves, any impending marriages, or additions to the family, any running or competing incidents, also past warm weather training/holidays (No Club 24 please). Currently the response has been excellent, but if you have anything that could make it into next week's Newsletter – please email me.
TRAINING VIDEOS PRODUCED BY JADE LALLY – JADE has recently produced two videos relating to the basic fundamentals for Discus, this is the link to JADE'S first video on How To Hold A Discus https://www.youtube.com/watch?v=jA9jyS4Wung&t=6s the second video is on Discus Basics: Foot Placement https://www.youtube.com/watch?v=r8ahzDmrldk
YOU CAN JOIN TY HOLDEN'S CIRCUIT SESSION ON ZOOM – TY will be holding a circuit session on Zoom, which is a conferencing platform, every Monday, Wednesday and Friday at 6pm. If you wish to join, please email TY at dtyholden@yahoo.co.uk and he will email you an ID number for you to join in. Zoom can accommodate up to 100 users at a time.
UPDATE ON PROCEDURES FOR USING ALLIANZ PARK FROM JEREMY SOTHCOTT – Which is now open to SBH members subject to the conditions below.
We have now negotiated the use of some Track & Field facilities with Saracens compliant with current guidance issued by the UK Government and England Athletics.
At the present time, the track & field groups will be limited to a maximum of five 'Competing Club Athletes' and one coach for each session e.g. 5 athletes on track and 5 athletes at the throws area.
Throws
Athletes should have their own implements. However, one implement of each weight will be left in the SBH store beside the sanitising equipment. Arrangements will have to be made in advance with TY HOLDEN.
Jumps
Following Government Guidelines up to 5 athletes with a suitably qualified coach can now undertake Jumps training utilising jump beds and sand pits. We have updated our guidance documents, based on information and advice from our partners and government, to include guidance specific to Jumps areas (such as Cleaning requirements before, during and after sessions). Athletes, coaches, clubs and venues must follow the latest guidance – please read our updated guidance documents at: 👉 https://bit.ly/2ATiU7R
The indoor track and the clubhouse gymnasium cannot be used.
Athletes invited to train by their coach must be sent the attached Allianz Park Track & Field Agreement in advance of starting training at Allianz Park. The athlete and parent (if under 16) to sign and return to me and TY before they can train.  Athletes should meet their coach promptly at their booking time outside the SBH Clubhouse where they will be asked to confirm that they do not have, and that no one in their household has, (or has had within the last 14 days) any of the symptoms of COVID-19.
The athletes will then be escorted using social distancing (2 metres) into the SBH Clubhouse to sign the attendance record with times in and out of the stadium (black A4 folder on photocopier).  There is also some hand sanitiser on the table for use. Athletes must follow the instructions of the coach and observe social distancing during warm-up, the session and cool down.
Stadium Booking details
Please let me and TY know the names of the athletes and your preferred time slots for the following week (Monday to Sunday) before 6pm on the Saturday. We will confirm the availability and distribute the schedule to Saracens and to all coaches.
Monday, Friday, Saturday and Sunday
All 1 hour 35 minute slots (Saturday & Sunday – last slot finishes at 7.20)
9.00 – 10.35, 10.45 – 12.20, 12.30 – 2.05, 2.15 – 3.50, 4.00 – 5.35, 5.45 – 7.20, 7.30 – 9.00
Tuesday, Wednesday and Thursday
There are 3 x 1 hour 35 minute slots and 7 x shorter 50 minute slots
9.15 – 10.50, 11.00 – 11.50, 12.00 – 12.50, 1.00 – 1.50, 2.00 – 2.50, 3.00 – 3.50, 4.00 – 4.50, 5.00 – 5.50, 6.00 – 7.25, 7.35 – 9.00
There is a 10 minute gap between each session for transitioning.
If you haven't got a key fob for gaining access through the clubhouse, then please contact GEOFF MORPHITIS Mobile: 07976 994302 who will arrange to issue one to you. Please do not enter the clubhouse until the coach/athletes from the previous session exit.  No parents will be permitted to enter the stadium unless there is a child protection issue i.e. one coach and one athlete aged under 18.
There is a single disabled toilet (unisex) that can be used within the indoor area.
When going in and out of the Clubhouse from the carpark please make sure the door handle is left in the upward locked position at all times.
Link to the SBH Athlete and Coach Track & Field Training Agreement, which will sent to all participating athletes, and then to be returned signed by the athlete and parent – SBH – Allianz Park Track & Field Areement During Lockdown Period
Please let me know if you have any questions – JEREMY SOTHCOTT Mobile: 07764 621424 email jeremy.sothcott@btinternet.com
ENGLAND ATHLETICS DRAFT COMPETITION PROGRAMME – England Athletics have just published  May 2020 version 9 of The Draft Competition Programme for the period w/e 19 July to w/e 27 September. This sets the structure for joint men/women meetings which SBH hopes to follow. Fixtures below updated 24 June 2020 with Venue Confirmations and Dete Changes (these are shown in Red).
All the promotions listed below are subject to: –
1. Government lifting the present lockdown by 1 July so as to allow group gatherings
2. UKA issuing specific instructions to allow compliance with Government requirements
3. Obtaining a sufficient number of appropriately qualified officials from the participating clubs
4. Facility availability
5. Securing a suitable First Aid provision
6. Receipt of the appropriate licences from UKA
Saturday 25 July – LICC (1) – Venue Lee Valley – all age groups, Sunday 26 July – U17/U20 Southern Premier Division (1) – Venue Lee Valley – (Inter-Club competition featuring the 6 clubs which would have been the now cancelled YDL), Sunday 2 August – National Athletics League – Premiership Division (1) – Venue Lee Valley – U20 / Senior, Saturday 8 August – LICC (2) – Venue Lee Valley – all age groups, Sunday 9 August – U17/U20 Southern Premier Division (2) –  Venue Lee Valley – (Inter-Club competition featuring the 6 clubs which would have been the now cancelled YDL), Saturday 15 August – National Athletics League – Premiership Division (2) – Venue Lee Valley – U20 / Senior, Saturday 22 August – LICC (3) – Venue Lee Valley – all age groups, Sunday 23 August – U17/U20 Southern Premier Division (3) –  Bromley – (Inter-Club competition featuring the 6 clubs which would have been the now cancelled YDL), Saturday 5 September – U15/U17 Southern Area Championships – Venue TBA, Saturday 5 September – National Athletics League – Premiership Division (3) – Venue Chelmsford – U20 / Senior, Saturday 12 September – U20/Senior Southern Area Championships – Venue TBA, Saturday 19 September – U15/U17 England Championships – Venue TBA, Saturday 26 September – U20/Senior England Championships – Venue TBA
The British Championships are due to be held in Manchester on 8/9 August, however, they have not yet been confirmed.
BACK IN THE DAY BY CLIFF GOLDING –  CLIFF mentioned below that in 2007 to dust off the memories and run and race again. From 2010 to 2013 he competed as a V55 runner, completing marathons and half marathons and his personal bests are (2:57.00) in Kiel, Germany in 1986, and (96.45) Jersey in 2012. In 2015, after moving up to the V60 age-group he started the first of 84 Parkruns to date, of these 44 were at his hometown of Maidstone, and 32 on the island of Jersey. His personal best is (22.56) at Maidstone on the 2 March 2019. Photograph taked during the Kiel Marathon.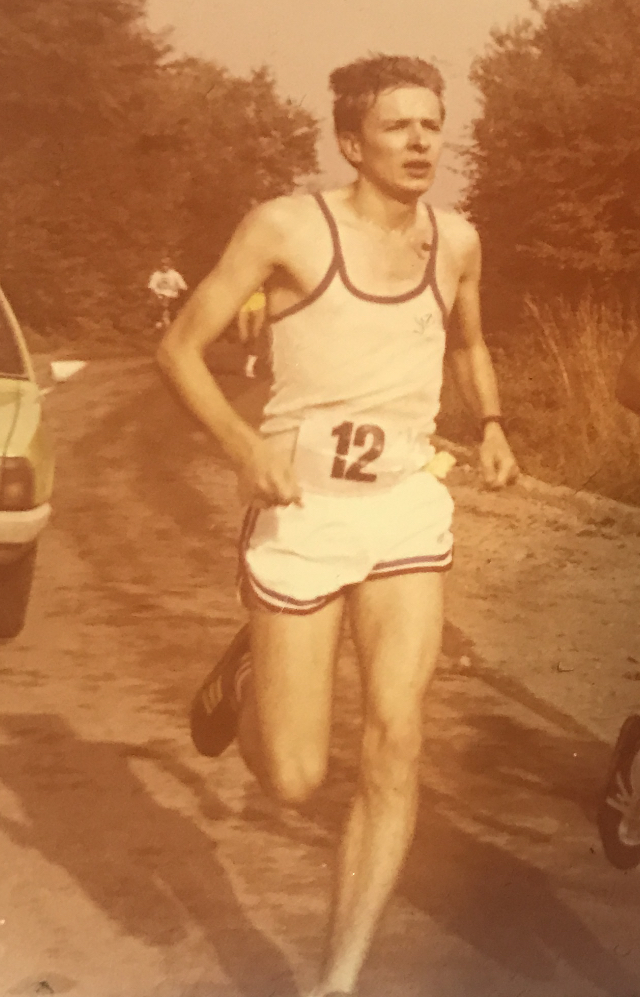 In life, we make decisions every day. Sometimes these decisions turn out to be good ones.  Sometimes they turn out not to be so good. And then there are those, which turn out to be amongst the best we ever made. In around 1969 I made one which has had a profound affect on my life ever since. I joined Shaftesbury Harriers.
It was a Tuesday evening when, as a nervous, skinny and quite timid 14-year-old, pedalled from home in Burnt Oak to Copthall to have a track session with Shaftesbury Harriers (a very long time before the club merged with Barnet Ladies). Such was my naivety I thought I was going for a trial and that, an hour or so later, I would be told whether I had made the cut and could wear the striped vest.
BRYAN SMITH, who was taking the session, met me. He was very friendly and welcoming and explained what the session was going to be and introduced me to the other runners.  And that was when my nervousness heightened about tenfold. Until that time I had just enjoyed running and doing school cross-country or athletics on sports day And I played football incessantly. Unfortunately, I played with far more enthusiasm than talent and it continues to be a great disappointment that ALF RAMSEY didn't knock on my front door to tell my parents that CLIFFORD had a rare talent and would one day captain the England team!!
So, I concentrated on just running everywhere and nailing my sporting colours to athletics, which I followed avidly through the pages of Athletics Weekly.
When BRYAN introduced his wife, JOYCE, MARGARET BEACHAM, both internationals and members of Barnet Ladies, and Shaftesbury members, JULIAN GOATER, HUGH RICHARDS and DAVE BEDFORD, I was pretty much in awe and star struck. I knew about these people. I read about them every week. They were superstars and me and the other boys and youths were running with them, or near them, as they were all a lot quicker than us.
After that session, I waited nervously for the verdict, still thinking that I was on a trial. BRYAN came up to me and said these exact words, which I will never forget: "Well done CLIFF. See you on Thursday?" I passed! Ha-ha. I didn't realise that everybody was welcome regardless of ability.
BRYAN then gave me a piece of advice, which I have never forgotten and have passed on many times. He said, "CLIFF you are not a sprinter. You will be a middle distance and long distance runner. So, you run with your arms too high. Drop them down like this. Now run with me with your arms by your side. Lift them up. Lift them up. Stop. That's where your arms should be, nice and natural and relaxed."
And so, began my proper running career. I remember VAUGHAN VOLLER and GEOFF THOMSON in my age group and DICK BOBER, MARTIN GREY, GERRY ELMORE, ANGIE TOMS, TONY SUNDERLAND and GEOFF MORPHITIS and others who were just a few years older than me. Those older runners probably never knew it but I looked up to them and wanted to run like them (well, not GEOFF, maybe, as he was a field eventer!).
I especially remember MARTIN GREY and how he ran. He had an absolutely brilliant forefoot running style. They always said that FRED ASTAIRE didn't walk into a room, he glided in. I always thought that when I saw MARTIN run. He seemed to just glide across the ground.  Heavy praise indeed and I also remember him as a 50 to 51 minute ten miler, which was pretty swift by any standard.
I was never more than a decent club runner. I crept under three hours for the marathon a few times in my twenties, which was OK and got back down to three and half hours several years ago approaching 60, which I was very happy about.  I think I might have run 60 minutes on one of the Shaftesbury 10s in the 80s and 1 hour 20 on a half. Wouldn't mind doing that today!!
But, the point is, I still run today and enjoy a resting pulse in the low 40s because of that first track session with BRYAN. In the three years leading up to when I joined the army, I spent every waking moment looking forward to the next training session at Copthall and the races at the weekend. In the fourth year at senior school I won the 1500 metres at school sports day beating the star athlete and nobody knew, or could believe, that the skinny kid could run.
I remember being given lifts to meetings by HAROLD ASHTON and meeting FRED HENNING at Hendon Central when three of us youngsters would pile into his Morris Minor to be taken to a cross country event. On these journeys, and at track sessions or on pack runs, all you had to do was listen and have an enquiring mind. I didn't realise then but I learnt so much from these times and it gave me such a good grounding for when I took the Queen's shilling at Finchley Central Army recruiting office on my 17th birthday.
I was about 9 stone soaking wet back then and couldn't do a single press up or pull up. But, because of my Shaftesbury pedigree, I could run all day long in boots and with kit on my back.
I never told him this but, during basic training in Surrey in 1971, DAVE BEDFORD once saved me from a severe duffing up!  We had a 16-man room and, one night, a fellow recruit (a large, menacing individual) came into the room having enjoyed several 'lemonades' in the NAAFI. He honed in on the skinniest in the room – me – and loudly announced that I was in for some damage. But, before he could lay a finger on me, another recruit, Dinger Bell, said, "Leave it, he knows DAVE BEDFORD!" Drunk man stops and slurred, "You know DAVE BEDFORD? Fair play." He shook my hand, collapsed on his bed and didn't wake up until morning with no memory of the night before!  Thanks DAVE!  (I've still got a copy of the DAVE BEDFORD story from around that time). Image of the book cover of the 'The Dave Badford Story' published in 1971.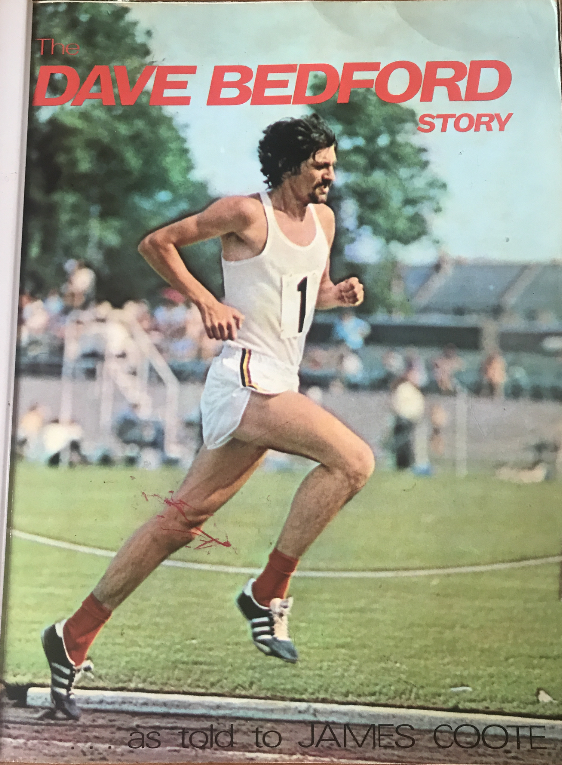 I spent the next 14 years in various postings around the world. But I ran everywhere I served and I kept on running and keep on running because of Shaftesbury Harriers and people like BRYAN SMITH and all the others I have mentioned and many more I haven't.
Around 1991, I decided I would become a Channel swimmer. Bit of a departure for someone who only had a Bronze Certificate to his name (so, if any of you have a pool and need a drowning rubber brick rescued by a man dressed in striped pyjamas, I am that man).
Seven Channel attempts over five years later, I finally achieved that dream. Today I give presentations on overcoming the fear of failure. I talk about those failed attempts and then about the successful swims and what I learnt in the process. But everything always comes back to that momentous decision I made aged 14.
In the years that followed me deciding to become a swimmer I still ran but not too often.  Then, in 2007, I decided to dust off the memories and run and race again. I live in Kent now and there are a lot of good clubs around here but there was only one club for me and I contacted GEOFF and signed up.
When I re-joined the club, I was 53. I dug out all my old stats and remembered a piece of advice MARTIN GREY gave me in the 80s. He said that, once he had reached vet status, every few years he recalibrated his expectations and set new targets. So, I came up with PB2s – personal bests second time around. It was great fun to chase times and wear the Shaftesbury vest again, to buy a red hoody and put the window sticker on my car.
So, during these very challenging times, I have a message to all the young athletes in the club who proudly wear the Stripes. Decades separate us but some things don't change. Look to your coaches and senior athletes for inspiration and leadership. Soak up their knowledge and make it yours. Be the very best you can be and make fitness your life-long lifestyle choice. Running has been by best ever friend and has seen me through lots of challenges and life and stuff. I will always owe so much to this club and I treasure those early memories. Current Photograph taken in 2015.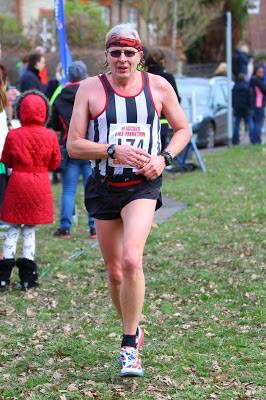 Stay safe and take care – Up the Stripes CLIFF.
HISTORY OF THE LONDON TO BRIGHTON ROAD RACE – The popularity of Brighton as a spa town began in 1754 when took residence there and made sea bathing popular. The Prince of Wales frequently visited the town in the 1780s. In July 1803, a Captain ROBERTSON walked from London to Brighton and back in 45 hours, and repeated the feat in November of that year, covering the first 53 miles from Brighton to Westminster Bridge in 14 hours.
The following year another pedestrian JOHN BELL went from Hammersmith in London to Brighton by a somewhat longer route in (13:00:45) to become the first recorded person to contest the London to Brighton.
Improvement in the road meant that on 30 January 1837, two professional runners, JOHN TOWNSEND and JACK BERRY set off from the Elephant & Castle in London, about a mile from the present start. TOWNSEND was 45 and entered Brighton in triumph in 8 hours 37 minutes, but BERRY was forced to retire four miles from Brighton.
The first amateur running event was organised by South London Harriers in 1899, which started from Big Ben soon after 7a.m on 6 May. The winner was F.D.RANDALL of Finchley Harriers in 6 hours 58:18, SAWARD 2nd in (7:17:50) and POOL 3rd in (7:31:53). On the strength of this run, the three runners were selected to compete for GB in the 1900 Olympic Marathon.
"The Evening News" promoted a similar event in 1903, this time open to professionals. The field of 90 sped away at 5 am, and LEN HURST the leading professional distance runners of the period won in (6:32:34). In 1937 the "News of the World" sponsored an international London to Brighton race, and the leading South African ultrarunner HARDY BALLINGTON was invited to compete. He won and just succeeded in clipping ARTHUR NEWTON record of (5:53:43).
The first open amateur race was held in 1951, and proved and outstanding success. The winner was LEWIS PIPER of Blackheath Harriers, who took the lead four miles from Brighton. 32 of the 47 starters completed the race having to run into driving rain and wind for the majority of the race.
The course distance in 1951 was 52 miles 566 yards, and varied until 1991 and was then modified to allow for the A23 road conditions and measured 55 miles/88.514km. Although due to the different course distances, course records are varied. Therefore, the best way of measuring performance is an average of miles per minute.
Currently two runners have maintained and average of 5.81 minutes per mile, DON RITCHIE of Forres Harriers in 1978 and IAN THOMPSON of Luton United Harriers in 1980. Current course record since 1991 is (5:50:30) by JOHANNES OOSTHUIZEN of South Africa in 2005.
The current race from 1991 to 2005 started at Westminster then proceeds along the A23 to Brixton, Croydon and Purley, past Gatwick Airport, Crawley and then into the beautiful countryside of the Weald, crossing the North and South Downs. Ditchling Beacon on the South Downs (near but not part of the A23) is a steep climb followed by a gentle descent for five miles into the seaside resort of Brighton, where finish is on the promenade by the Kings Road Arches.
The future of this particular race is in doubt following a decision by the Road Runners Club not to hold the race in 2006. Since 2009 "Extreme Running" now hold a version of the London to Brighton. This starts from Blackheath, then through Kent, Surrey and on to Brighton.
SHAFTESBURY HARRIERS IN THE LONDON TO BRIGHTON ROAD RELAY – Shaftesbury had been ever present since 1951, and on 10 October 1964 the team were ready. We had a Shaftesbury coach carrying our supporters, which followed the race to Brighton, stopping at various points to cheer on the runners.
Stage 1 – Started from the Old Palace Yard, Westminster at 10.00am then on to Clapham Common, a distance of 4 miles 436 yards. ALAN PATTEN ran 21 minutes 12 seconds.
Stage 2 – Went through Tooting Bec to Mitcham Common, a distance of 5 miles 249 yards. BRIAN CAKEBREAD ran 27 minutes 18 seconds.
Stage 3 – Went through Hackbridge to Wallington, a distance of 4 miles. BOB PARKER ran 21 minutes 53 minutes.
Stage 4 – Went onto the main Brighton Road to Merstham, a distance of 6 miles. GERRY ELMORE ran 31 minutes 3 seconds.
Stage 5 – Went to Redhill, a distance of 4 miles 821 yards. DAVE HOWE ran 22 minutes 56 seconds.
Stage 6 – Went through Horley to Povey Cross, a distance of 2 miles 1396 yards. KEN TOLLADY ran 15 minutes 15 seconds.
Stage 7 – Went passed Gatwick Station Lowfield Heath, a distance of 3 miles 1248 yards. ROLF CLAYTON ran 20 minutes 10 seconds.
Stage 8 – Went through Crawley to Handcross, a distance of 5 miles 1744 yards. TONY SUNDERLAND ran 31 minutes 48 seconds.
Stage 9 – Went through Bolney to Hickstead, a distance of 6 miles 52 yards. KEITH MACKAY ran 31 minutes 31 seconds.
Stage 10 – Went through Aldbourne Green to Newtimber, a distance of 4 miles 61 yards. KEN PEASNELL ran 21 minutes 30 seconds.
Stage 11 – Went up Pine Hill to Pycombe, a distance of 4 miles 238 yards. TED NOLAN ran 22 minutes 07 seconds.
Stage 12 – Went past Preston Park to the Aquarium, finishing along Madiera Drive, Brighton, a distance of 3 miles 1008 yards. DAVE HUXLEY ran 18 minutes 24 seconds.
The team ran a total time of 4 hours 45 minutes 7 seconds, for the 54 miles 208 yards.
There were 21 teams who competed, and the winners were Portsmouth who time was 4 hours 27 minutes 5 seconds.
Following the race competitors with tea tickets, went to the Regent Ballroom where high tea was served at 3.30pm.
Since 1951 to 1964 Shaftesbury had competed in 18 races, of which 4 were National, and 14 Southern. TONY SUNDERLAND and SID BEALES have competed in 9 races, RON COLLINS, JIM CUNNINGHAM, COLIN FRENCH, DAVE HUXLEY and ALAN PATTEN ran 8, BILL STEVEN, HAROLD ASHTON, ERIC FORD, DAVE HOWE and JIM STOUTE 7, BOB PARKER, TED PEARCE and JOHN JALES 6.
The Club record is 4 hours 42 minutes 56 seconds in 1958 (National).
ENGLAND ATHLETICS LAUNCH WEEKLY30 RUN CHALLENGE – The following was published on the Athletics Weekly website recently.
Participants will be able to compete virtually against other runners as well as other sports. England Athletics has launched the Weekly30 Run Challenge, a free weekly virtual running challenge starting June 20-21, encouraging everyone to run for 30 minutes a week and compete against each other. With group running and mass participation events currently restricted, the aim of the Weekly30 Run Challenge is to help keep people fit while giving them a performance benchmark through inclusive, friendly competition.
From this weekend, participants will be challenged to run as far as they can in 30 minutes on Saturday or Sunday each week, while following government guidelines. Runners can register for free via the OpenTrack virtual running events website at data.opentrack.run/en-gb/x/2020/GBR/weekly30/ Once registered, participants complete their weekly run and then upload evidence to OpenTrack through a platform such as Strava, which is integrated into the Weekly30 Run Challenge. Every runner will see their results added to the scoring tables. Both total distance and average distance contribute to overall league tables showing results for all individuals, sport versus sport and England Athletics club/RunTogether group versus England Athletics club/RunTogether group. "Our Weekly30 Run Challenge gives individuals a perfect incentive to run safely on a weekly basis, adhering to government guidance, and in doing so proudly representing their sport, club or group," says England Athletics CEO Chris Jones. "Participants will be competing against an online community of other runners not only from other England Athletics' member clubs and RunTogether groups but from other sporting disciplines – the competition across the country we expect to be fierce and the pride of our clubs, running groups and the sport as a whole is at stake: I say let the rivalry begin!"
He adds: "We know that alongside the c.6 million regular monthly runners in England, there are c.6 million people who are more occasional runners, c.8 million people who are lapsed and c.4 million people who have an interest in running but not yet started so we're expecting our Weekly30 Run Challenge to get more people lacing up their trainers and going for a run." Some of the other sporting associations involved include Badminton England, RFU, RFL, British Rowing, England Netball, Archery GB, Table Tennis England and British Wrestling. Click here to register.
INTERVIEW WITH JOANNA COATES – The following was published on the Athletics Weekly website recently.
UKA CEO JOANNA COATES tells STUART WEIR about her background and focus for the future.
JOANNA COATES began her role as UK Athletics (UKA) chief executive in March, during a time of great uncertainty.
Last month, in her first interview with the wider media following her appointment, COATES gave strong views on a range of topics, addressing 'ethical success', the need for a 'culture of collaboration', organisation changes, reviews and more. READ MORE: New UKA CEO seeks 'ethical success' and a united sport
The national governing body has come under repeated fire in recent years and has faced multiple reviews, including of its performance system and relationship with ALBERTO SALAZAR, plus numerous leadership changes. Here, in an interview with STUART WEIR, COATES shares further insight into her background and focus for the future. STUART WEIR: What attracted you to the job as CEO of UKA? JOANNA COATES: I had been at England Netball for 10 years, I was made an offer to go to the London Legacy Development Corporation and I stepped out of the true running of sport, I suppose. I missed it terribly. I missed the chaos of running a national governing body – the stress and the pressure, getting calls in the middle of the night, "there's a hole in the netball court", and things like that. I just missed it. I was approached for the UKA role – I think head-hunters approached a few people – and when they did, I thought: "yes, that would just be a dream". I had worked in football, in truly commercial sport, but never in an Olympic sport. I had worked for netball which is grassroots through to the elite and Commonwealth, but for a sports administrator, this is the dream job.
SW: What do regard as your best achievements in netball? JC: Everyone points to the Commonwealth Games gold medal, which was the first time we'd ever done it, and that was amazing. But for me, I still believe it was the growth in grassroots and that people are now proud of their sport. That is what I think my greatest achievement was. Now I work for a sport where delivery at the elite level is really important. My heart is in trying to join up that pathway from grassroots to elite so that everyone has an amazing experience in sport. For me, seeing netballers who were truly proud of their sport – grass roots up to elite – was the achievement. SW: You're not an athletics person. Is that a weakness or a strength?  JC: I think it's a huge strength. I had never played netball and they never got me on a netball court! And I still don't play netball.  But I was able to go in there with a fresh pair of eyes and make quite tough decisions because you don't have the emotional connection. You can look at it more as a business and ask: "where do I need to make change?" And I don't think I did a bad job there. I want to take all the learnings that I've had from sport over the years and apply it to athletics. I think you can look at it with a really fair pair of eyes, because you don't have the emotion, you can be very critical of things. But don't get me wrong, you do then fall in love with it! Of course, you need people around you who have the knowledge of the sport – that's the key thing. Surround yourself with great people who understand the sport. Learn from them and consult them. But I think that coming in fresh is a good thing. SW: How do you restore public confidence in UKA? JC: I think we restore confidence by having a really good plan. I'm always talking about this and I think I'm boring people to death. Unless an organisation has a really good plan that everyone buys into, you can't restore confidence – because nobody knows what their part of the plan is. So it's writing a very clear plan which has some very strong themes in it. A few of the themes I'm talking about, which will restore confidence, are coaching, competition, communication, culture and behaviour. Things like that need to be a big part of that plan. Once people start to see that we are delivering against the things that they – as our customers – think are really important, then we start to see people have confidence in the sport they love. We are in a privileged position that we have an opportunity to make decisions on their behalf. Once they see a plan – that they believe in – working, I think then they will have the confidence to give us, once again, the ability to make decisions on their behalf. SW: You also said "there definitely is an issue around trust". JC: I think people have lost their trust in athletics because of all the negative stories they've read over the last few years. There's a lack of trust that what they see is real. And absolutely what they see people do in track and field is real. We need to have processes in place that we can prove that it is real and regain the people's trust. We can do that through good clinical governance and more transparency around those issues, and that's certainly what I'm looking for. It's something the chief medical officer and I are discussing. It's about how we make it all more transparent. I think once we do that, we will regain people's trust. SW: What lessons has UKA learned from the SALAZAR incident? JC: That's a really interesting question which has never been posed to me like that before. I think it has learned to have exceptionally good processes for decision making. I think that's one of the biggest lessons, that you have to have very sturdy processes in place. I think it may also be a lesson learned that when something like this happens your sport can really suffer because it can take hours and hours of executive time and resource away from growing the sport. Remember I wasn't there when it happened and so I'm only seeing the results of it. SW: How would you like to see coaching develop? JC: I would like to see coaching develop in the way that many sports have it; you have the right coach with the right athlete at the right stage of their development. I would like to see a coaching strategy that matches the number of athletes we have in this country. If we can map the numbers then we can say there are so many athletes, then we need so many coaches.
What TONI MINICHELLO and MALCOLM BROWN have done so far on coaching strategy is a really good piece of work and we need to take that on now. We will be developing a coaching steering group to drive that work forward. I'm also a great believer that if an athlete really loves their coach and doesn't want to change coaches, we shouldn't force them to. We should enable them to stay with that coach and put all the support around them if they choose to have it. I think there are two important things. We need to make sure that we can educate coaches at all levels so that we have suitable coaches for athletes at each stage of their career. But if an athlete loves their coach and is developing with that coach, you don't remove them from that environment, you add to that environment. We know that a lot of the time, what coaches offer is a lot more than technical support; they offer emotional support and a connection which is really important to an athlete.   don't think you should take that away. It's about building a structure which gives coaches opportunities to develop and also ensures that we have enough coaches at each level to service the organisation. SW: How do you see 2020 developing? JC: I would love to be optimistic that there's going to be a season with some events. At the moment, all we can do is follow government guidance. We all want everyone competing again but we don't want to see a spike in the virus. With regard to the competition season, we will keep optimistic until the point where we are told we have to cancel. That's what we did with the Müller Anniversary Games. We were later than most in cancelling because we wanted to hold on to the thought that potentially we might have something this year. Commercially we need to put on those events. SW: Is it viable to run the Gateshead Diamond League with no spectators? JC: No, it is not. Economically it makes no sense. We are not football, we don't have those massive broadcast rights. SW: It is a huge legacy that you must continue, with the success of UK athletics. Can you give us three key goals? JC: I'm going to go medals first, because I think I'd be criticised if I don't! I need to put elite success first. In 2024 I would like to see us deliver more finalists in the Olympics and Paralympics. I think making a final at the Olympics or Paralympics is unbelievable. So, I am stressing our goal of finals rather than medal tally. My performance director and UK Sport will probably be very cross with me for saying that. My second one would be that we have change the perception of the sport, that people believe what they see is real. That's really important to me – that we have left all of that behind. Thirdly, that there's a real and joined up system between grassroots and elite success and that the grassroots is thriving.
SARACENS SPORTS FOUNDATION – The following was in the 'The Rugby Paper' on 14 June, and gives an insight into their works within the community.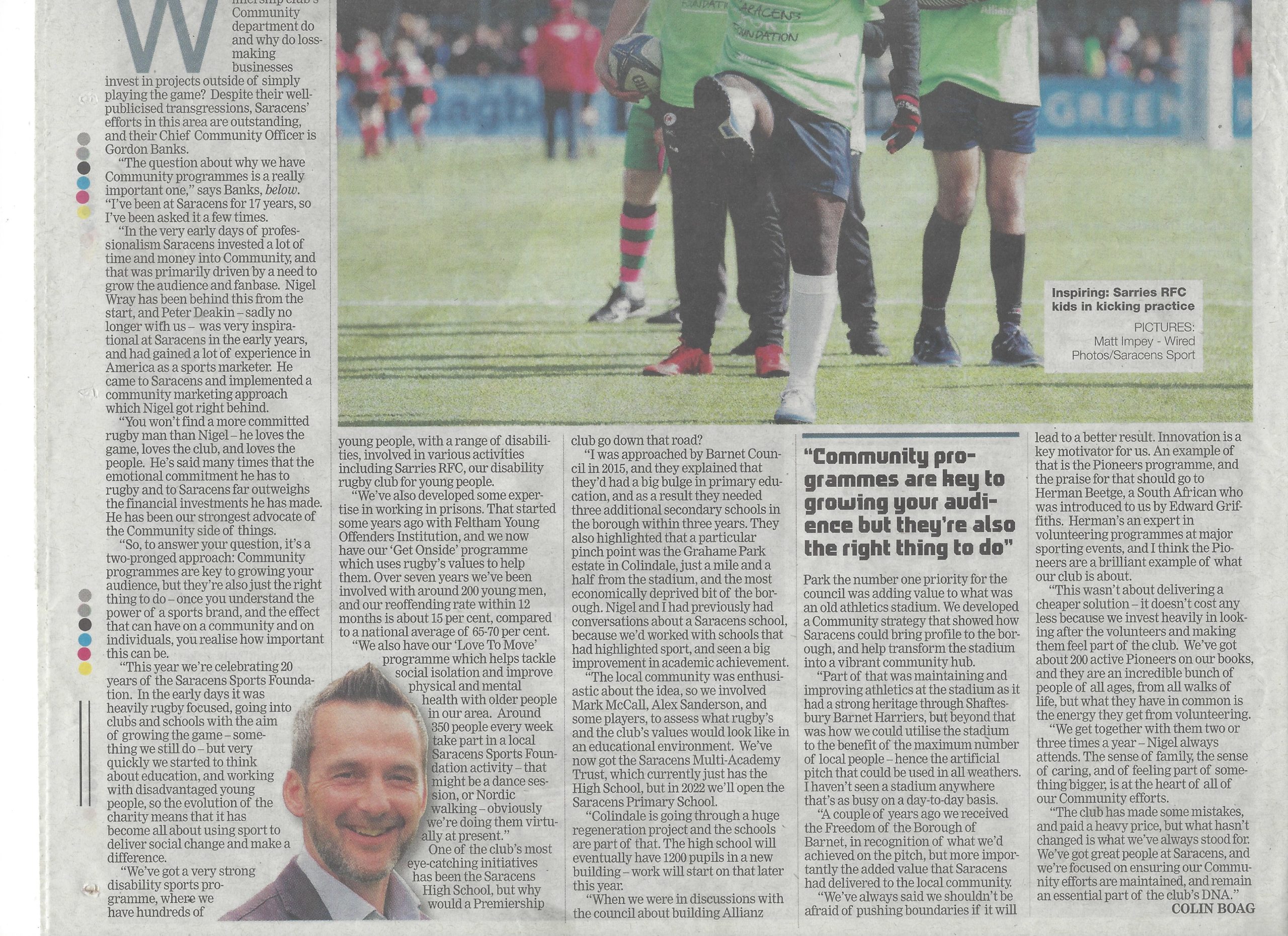 THE ATHLETICS MUSEUM A AAA LEGACY PROJECT – In summer 2018, AAA formally identified the project of creating a museum of athletics as part of their legacy to the sport. Since then, a small team has been working to put this plan into action. Thank you for your interest in and support for the project; this is the link to the current newsletter – TAM Newsletter Winter 2019 2020
OLYMPIC QUALIFYING PROCESS – An updated Olympic qualifying process which can be found here.
BRITISH ATHLETICS LEAGUE 50TH YEAR BOOK – We are delighted to announce that a publication celebrating 50 years of British Athletics League history is now available to purchase.
Copies can be bought for £5, or £8 for two, and £10 for three, which is the maximum order. The cost includes postage and packing, with all money raised going to help young athletes through the Ron Pickering Memorial Fund, which has also supported many BAL athletes on their journey along the athletics pathway.
To order, simply email geoffrey.morphitis@capeandd.com with the details of your order and make an online payment of the appropriate amount to;
ACCOUNT NAME : SHAFTESBURY BARNET HARRIERS, BANK : HSBC, ACCOUNT NUMBER : 41308378, SORT CODE : 400426
The publication itself features a range of nostalgic contributions from athletes, committee members, team managers and officials. Olympic champion and President of World Athletics, SEBASTIAN COE said: "The competition has been of constant high standard and I remember fondly my own competitions as a member of the Haringey team that were not only important for the club and its status but were important stepping stones to championships later in the season."
There are great stories of feats that will impress, surprise and amuse you, from exhausted athletes doubling-up to score points, to guitar sing-alongs on team buses. Liverpool Harriers' MIKE HOLMES has provided a fascinating series of archive reports that bring the piece to life, as do images by MARK SHEARMAN and MELISSA GRESSWELL. Statistical information has also been compiled by PETER MATTHEWS, with a club-by-club directory of every team to compete over the last five decades put together by MIKE HEATH.
Please note that orders will be satisfied on a first come first served basis. No booklets will be sent until payments have cleared so allow please allow seven working days between order and delivery.
ENGLAND ATHLETICS CORONAVIRUS HELP FOR ATHLETES – Many thanks to TUNJI who as reported on the 19 March newsletter is the father of NIAH AKINTOKUN. 
In these unprecedented times, I wanted to draw the club's attention to some of the great resources available online. England Athletics is expanding its campaign to support Athletics and Running for everyone @home, with a focus on 'Running @home' support and advice. The homepage can be accessed here
There are many webinars, interviews and tips from top coaches and athletes on how to stay conditioned and focused.
In addition, there are some fantastic videos for 4-11yr olds on the Funetics webpage put together in conjunction with England Athletics.  The videos demonstrate parents and children (aged 4-11) taking part in FUN activities based on fundamental core movement skills: running, jumping and throwing. Funetics is a programme that has been designed to reflect the requirements of the National Curriculum Key Stage 1 and 2. At this time when our children are currently schooling at home, we hope that these video activities will support the need for education to continue at home.  You can access the videos here   TUNJI AKINTOKUN MBE – Non Executive Director, England Athletics
THE FOLLOWING SBH DOCUMENTS/INFORMATION CAN EITHER BE VIEWED, DOWNLOADED OR PRINTED 
SBH 2020 Summer Fixture Card Front Sheet – Summer 2020 Fixture Card Front Sheet Final Issue 12-02-20
SBH 2020 Summer Fixture Card Fixtures, Updated 24-06-20 Showing Proposed Fixtures From 25 July 2020 – Summer 2020 Fixture Card – Updated 24-06-20 Showing Proposed Fixtures From 25 July 2020
Track and Field Team Managers Details – http://sbharriers.co.uk/athletics/track-field/team-managers/
Road Running Team Managers Details – http://sbharriers.co.uk/athletics/road-running/team-managers/
THE FOLLOWING INFORMATION OF INTEREST CAN BE FOUND ON THE SBH HOME PAGE BY USING THIS LINK, THEN SELECT THE LEFT OR RIGHT ARROW – http://sbharriers.co.uk/
Allianz Park Membership, which gives SBH members 10% discount on entry to the Allianz Park stadium – Membership details and Form can be either printed or downloaded
Shaftesbury Barnet Harriers Club Hoody, information on how to purchase one, please go to the bottom of this Newsletter
SBH MIDWEEK JUMPS CLUB AT ALLIANZ PARK – Currently Suspended. POLE VAULTERS REQUIRED FOR 2020 – Currently Suspended. STEEPLECHASE TRAINING AT ALLIANZ PARK – Currently Suspended.
PARKRUN 5K RESULTS – Currently Suspended
PARKRUN – Can you make sure that you are registered as 'Shaftesbury Barnet Harriers', as the link I use to select all results only shows SBH athletes. If anyone is also officiating can you please contact me, and advise me where and when.
UPCOMING SHAFTESBURY BARNET HARRIERS FIXTURES AND OTHER FOR THE NEXT 4 WEEKS – Due to the Coronavirus situation, all fixtures further notice. All fixtures have been Cancelled until the Tuesday 30 June, this is the link to the SBH Fixture Card updated on the 30 April – Summer 2020 Fixture Card – Updated 30-04-20 Showing Cancelled & Postponed Fixtures
PHOTOGRAPH'S – From time to time we have photographs of our members taken at meetings or presentations which we would like to use both on the website or incorporated within our report to our local newspaper. Can you please let me know if you do NOT want your photograph to be used. Also, I would appreciate if you could send me any photographs, which I can then publish on the website and newsletter.
CLUB EMBROIDERED RED HOODIES – Currently there are now over 750 Hoodies in circulation, this is the link giving details on how you can order your Club Hoody for £35, which includes having your name embroidered on the front Club Hoodies Updated 01-07-19
FACEBOOK – Photographs can be found on the SBH page.
CURRENT DISTRIBUTION OF SHAFTESBURY INFORMATION – Currently I notify members (by email) using "MailChimp". The reason I changed, was in November 2017 "Gmail" put a limit of 100 addresses that users could send to in a 24-hour period, and currently I send to approximately 850 members each issue.
On seeking technical advice "MailChimp" was recommended as the best way for SBH to go forward. There is one thing you should be aware off is that when you receive an email from me, the footer at the bottom has 4 options, of which one is "Unsubscribe Me From List". Could I ask you not to select this as if you do you will be automatically removed from my distribution list.
SBH PRIVACY STATEMENT – In becoming a member, SBH will collect certain information about you. Can you please read the attached 'Privacy Statement' which contains Information on General Data Protection Regulations – SBH Privacy Statement Final April 2018
ALLIANZ PARK – Main Switchboard telephone number is 0203 675 7250.
CHARGES FOR USING ALLIANZ PARK – Currently the stadium is open for limited use.
ALAN WELLER