Hi All,
Happy Birthday this week to Bailey Anderson, Hattie Bailey, Christopher Castro-Neto, Ashvin Kuri, Sophie Maddock, Adam Shiret, Tim Saunders-Mullins
Downloads – The following documents can be viewed, downloaded or printed
Metropolitan League 2016 Annual General Meeting Notes –    Minutes Of Met League AGM 18-04-16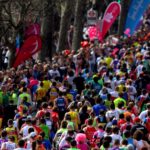 VIRGIN LONDON MARATHON – Congratulations to the following – KOJO KYEREME V40 31st (PB 2:21.28) taking 4 minutes and 49 seconds of his 2015 time, GLEN WATTS 83rd (PB 2:28.57) his 1st attempt at the marathon, RONAN BREEN V45 460th (SB 2:42.59) taking 12 minutes and 5 seconds of his 2015 time, VICTORIA WALKER U23 2394th (PB 3:03.24) her 1st attempt at the marathon, STUART SINGER V55 5326th (SB 3:24:05) taking 1 minute and 43 seconds of his 2015 time, BRADLEY SINGER 30004th (SB 5:04:47). There were 23,956 runners who completed the race, and the final runner finished in 8:17.35.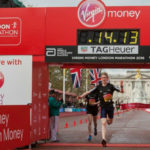 VIRGIN LONDON MINI MARATHON – Awaiting results, apparently they have has a problem with the timing tags, and some of them are not linked to a race number. Results will out shortly
CLIFF GOLDING'S SWIM CHALLENGE – I am doing lots of swimming in-between weeks as I have my own solo Channel swim booked for the end of July. Hopefully the weather Gods will be kinder this year than last when I had to stop my swim eleven and a half hours in!!  When I do this swim I will have three solo Channel swims, three round Jersey swims, three lake Zurich swims, two Lake Windermere swims and a Jersey to France swim in the book.  In later age I think I have developed some sort of late onset OCD.  Not only do all my labels face the same way in my larder but I have a thing about hat tricks in my swimming.  So, with this third Channel swim, if I do another Windermere and two more Jersey to France swims, I will have five hat tricks.  Then I can stop and just do the odd relay to keep my hand in.
My true love is and always will be running and Shaftesbury.  When I was around 13 I came up to Copthall on a Tuesday club night and introduced myself to Bryan Smith.  Joyce was there, Margaret Beecham, Angie Toms, Gerry Elmore and all the names of that time.  I thought I was auditioning to join so was delighted to find that wasn't the case when Bryan said I could just join.  He told me I was not a sprinter so to drop my arms and not pump them so much.  I have such fond memories of those times.
For the remaining newsletter information and results