Happy Birthday from this Thursday 25 March Douglas Curwen-Reed, James Isaacs, Sharon Jackson, Patrick Pearce, Zanson Plummer, Ben Rochford, Luisa Rojas, Roger Simons, Jeremy Sothcott and Neville Thompson
EYAL FIXTURES – The following dates/venues were announced, following their AGM on 22 March.
Eastern Young Athletes League (Under 13, 15 Boys/Girls and 17 Men/Women) – Sunday 4 July at Watford – Sunday 15 August at StoneX Stadium – Sunday 12 September at Watford.
LONDON INTER CLUB CHALLENGE – (All age-groups Men/Women including Under 11 Boys/Girls) dates for Rounds 2,3 and 4 are as follows – Saturday 10 July, Saturday 31 July and Saturday 21 August all at StoneX Stadium. Round 1 will be held on Saturday 12 June and Sunday 13 June at Lee Valley Athletics Centre for U15, U17 and U20 age-groups. This open meeting will form the basis for selection for the Middlesex Schools team to compete at the English Schools Championships in Manchester on 9, 10 and 11 July.
LATEST UPDATE ON 2021 TRACK AND FIELD FIXTURES – Subject to DCMS, Sport England, UKA and EA guidance. Changes from last week's Newsletter are as follows, MYAL dates updated and the LICC 4 fixtures now confirmed.
National Athletic League (Senior Men/Women) dates are as follows – Sunday 6 June at Lee Valley (host SBH), Sunday 4 July at StoneX Stadium (host Harrow), Sunday 8 August at Woodford (host WGEL), Saturday 28 August at StoneX Stadium (host SBH) – 4 club divisions – we are in Premier London North with Harrow, Newham and Woodford. 
UK Youth Development League (Under 17 and 20 Men/Women) dates are as follows – Sunday 30 May at Bannister Stadium, Harrow – Sunday 27 June at Perivale Park, Greenford – Sunday 25 July at Ridlins Athletic Track, Stevenage – Sunday 5 September at StoneX Stadium – 5 club divisions – we are in London West with Harrow, Dacorum and Tring, Hillingdon, Stevenage and Team West London (TVH + ESM).
Middlesex Young Athletes League (Under 11, 13, 15 Boys/Girls and 17 Men/Women) confirmed dates are as follows – Saturday 22 May (Finsbury Park) plus Sunday 23 May (Perivale). Provisional dates are as follows – Saturday 5 June (Finsbury Park) plus Sunday 6 June (Perivale), Sunday 27 June (Parliament Hill TBC).
Eastern Young Athletes League (Under 13, 15 Boys/Girls and 17 Men/Women) – Sunday 4 July at Watford – Sunday 15 August at StoneX Stadium – Sunday 12 September at Watford – 6 club divisions – we are with Dacorum and Tring, HAWCS, Herts Phoenix, St Albans and Watford.
London Inter Club Challenge (All age-groups Men/Women including Under 11 Boys/Girls) dates for – Round 1 will be held on Saturday 12 June and Sunday 13 June at Lee Valley Athletics Centre for U15, U17 and U20 age-groups. This open meeting will form the basis for selection for the Middlesex Schools team to compete at the English Schools Championships in Manchester on 9, 10 and 11 July. Rounds 2,3 and 4 are as follows – Saturday 10 July, Saturday 31 July and Saturday 21 August all at StoneX Stadium.
SCVAC Veterans League (35+ and above Men/Women) dates are still to be announced.
UPDATE ON VOLUNTEERS FROM RAY POWELL – Hope that you are all keeping well, and are slowly getting your jabs.
The original list that I sent out for races did not include the Westminster miles on Sunday 30 May, which is the same Bank Holiday weekend as the Vitality 10k which is the next day Monday 31 May.
This is normally one of the races we cover, and London Marathon have now confirmed that they would like us to cover our normal duties.
It is the same meeting place, Green Park volunteer hub, time 8am, Lunch and kit will be supplied and finish time is usually around 3.30-4pm. It is probably the most hectic of all the events, in which we cover 34 – 1 mile races, but also the most enjoyable.
Thank you to all the reply's I have had to date, this is the current situation of volunteers required.
Westminster Mile Sunday 30 May – 20 volunteers required – 2 at present (Clare and myself)
Vitality 10k Monday 31 May – 20 volunteers required – 17 at present
Standard Chartered City Race  Monday 19 July – 25 volunteers required – 16 at present
Big Half Marathon Sunday 22 August (new date) – 30 volunteers required – 7 at present
London Mini Marathon Sunday 3 October – 62 volunteers needed – 34 at present
I know that some of the races are a way off, but if you feel that you can help, please let me know now, as it makes the planning a lot easier. Please contact CLARE & RAY at ray571m@btopenworld.com
MIZZOU SPRING OUTDOOR MEETING – Took place in Columbia, Montana, USA on 19-20 March.
Shot 7.26kg – SM GEORGE EVANS (Kansas University) 3rd (17.21m)
Discus 2kg – SM GEORGE EVANS (Kansas University) 2nd (SB 51.70m) and is ranked UK No.4 in 2021
NCAA CROSS COUNTRY CHAMPIONSHIPS DIVISION 1 – Took place in Stillwater, Oklahoma, USA on 15 March.
10000m – SM CHARLIE HICKS U20 (Stanford University) 14th (30.21), JAMIE DEE U23 (Iona College) 56th (31.04), with 7 to score, the team result was as follows – 1st North Arizona (60 points), 2nd Notre Dame (87), 3rd Oklahoma State (142), 5th Stanford (194), 10th Iona (311)
ALAN WELLER FROM JOGGER TO 37 YEARS WITH SBH – Since the club was formed in 1890, the past 130 years seen many challenges and successes. And now in 2021, we are in a position that we have a membership containing a large number of talented Men and Women athletes.
Also, we have a team of excellent Coaches covering all disciplines, our team of Officials has increased over the past few years, although we would only be too pleased, if any member wishes to join the team. Finally, our Team Managers who spend an astonishing amount of time and effort, in talking and entering athletes for their events. A big thank you, to all of you, for making Shaftesbury Barnet Harriers one of the most successful Track and Field, Cross Country and Road clubs in the country.
I joined Shaftesbury on 6 February 1984, aged 37. Prior to joining I had no athletics background, and was in fact a 6-handicap golfer. Back in 1978 I developed Asthma quite seriously, my doctor referred me to Guys Hospital in London, and after some 12 months of treatment they had brought my mode of life was almost back to normal.
I was living in Harrow at the time, and in late 1981, I decided to start jogging. Bought a pair of shoes, kit and with Headstone Lane park just 2 minutes away, the challenge was on. I was pleasantly surprised, not only was I enjoying it, but my Asthma was still fully under control.
Around late spring of 1983, I decided to visit Bannister Stadium, as I had been told there were groups of runners that train there, and were of all standards. The following Tuesday evening I arrived around 6pm, to find a group of some 12 runners (turned out to be all Shaftesbury athletes) warming up for their 10k run. I stopped and made myself known, and in fact the first to introduce himself was MARTIN GREY who gave me a quick insight on training nights. Other members of the group were JOHN BROE, DAVE THOMSON and ANDY BEATTIE. The time came and off they went in 2 groups, the" Good Un's" and what turned out to be later my group. 
I started to train on a regular basis, Monday, Tuesday and Thursday, and to start with I would start at the back of the second group, and after 5 minutes or so the gap started to open between me and them, until they became small dots on the horizon. Towards the end of 1983 I succeeded in becoming an integral member of the second group, which not only included MARTIN, but also MICHAEL FOX, VIC GILLICK, WALLY SACKS and GERRY BERNSTEIN.
THE 1980s – I become a proud owner of the Black and White Vest. Generally, I considered myself as an average club runner (although many of you would say I was exaggerating – RAY maybe would not), mainly on the road, attempted the odd open track meetings and cross country, which I was not suited to whatsoever.With the winter approaching, I had foolishly purchased a pair of spikes, with 2mm and 6mm for cross country. During the 1980s the Metropolitan League was supported by an average of 30 Shaftesbury Senior Men, and reached a peak, with of an all-time record of 41 runners at Horsenden Hill on 31 October 1987. These are the current SBH members who competed on that day – CLIFF BARLEY, GRAHAM GETTY, JOHN KELLY, JOHN LAMONT, KINGSTON MILLS, RAY POWELL, ANDREW SMITH, DEREK SURREY and DAVE THOMSON. The race was won by SBH man MIKE WILLIAMS, with our 12th team scorer finishing in 43rd place STEVE WIRTH.The success of the Metropolitan League can largely be attributed to BRENDAN GALLAGHER, a member of the Homebrew Harriers. He was large in statue, but had that quite knack of getting you to run at the next race. Towards the end of the 80's I made the decision to hang up my spikes, as I was getting too many injuries, especially after cross country races. Following the 1987/1998 season BRENDAN stood down, mainly due to an ever-increasing work commitments with JANES aircraft magazine, and to spend more time with his young family.
THE 1990s – As the injury niggles were almost behind me, I started to enjoy training again and gradually started running road races on a regular basis. In 1988 I had moved house to just outside Luton, and around the same time, my company office had moved to Hangar Lane. This enabled me to resume training at Bannister, and it was noticeable that BOB and SYLVIA PARKER now had a very large group of Senior and Young Women training there, which I will expand on later.
After numerous chats with BOB, he suggested that I go to his house in North Harrow to take part in his road repetition session. Following the first session, BOB and I had a chat over a cup of tea, to review and he gave me an outline training schedule. After about a month, I realised that the 30-minute chat with BOB, had improved me no end, and I had become more confident in training and racing, which was also reflected in my work and life generally.
BOB and SYLVIA were the mainstay of Britain's most successful Women's club in the 1990's, PARKSIDE HARROW. The club was formed by SYLVIA and MARGARET CLIFFE, two members of the County Netball team, in 1972. They produced 4 individual National Cross Country winners, ANDREA WHITCOMBE 1990, 1991 and 1997, KATY MCCANDLESS 1995, ALISON WYETH 1996 and MARA MYERS (YAMAUCHI) in 1978. They also won the National Cross Country team title from 1989 to 1996 – 8 consecutive years. Their success on the road was less spectacular winning the National Road Relay in 1992 and 1994.
One of my memorable moments during the 90s, was when ALISON won the 1996 National, following finishing 2nd in 91, 93, 94 & 95 and 3rd in 87 and 90. She said to me two weeks before the 96 National, that this is the fittest she had ever been, who knows what NEWARK may bring.
From 1993, I agreed to become the Men's Veterans Team Manager, which I did for a period of 4 years. Unfortunately, my work commitments were increasing, which meant I would be living in Scotland permanently for the following 3 years.
We had an unbelievable number of Veteran athletes during my time as Team Manager, and generally managed to put out teams for County, Southern and National Championships. We also entered the Monday night Veterans Track and  Field League with limited success. Those current members who competed then – DAVE ALLEN, SIMON KEENE, GEOFF MORPHITIS, DEREK SURREY, NEVILLE THOMPSON, RAY TUCKER and yours truly.
The two Veterans that stood out to me was JULIAN GOATER and MIKE WILLIAMS.
JULIAN GOATER, joined SBH in 1966 aged 13, and holds the clubs 5000m record (13:15.59) set in 1981. He competed at the 1983 World Championships in Helsinki, finishing 14th in the 5000m (13:48.13). The previous year had 2 Major Championships, firstly in September the European Championships were held in Athens, JULIAN finished 5th in the 10000m (28:10.98). Some 4 weeks later, the Commonwealth Games were held in Brisbane, running for England, JULIAN ran a fantastic race to win the bronze medals (28:16.20), 6 seconds the 2 Tanzanian medal winners.
One of best races JULIAN ran as a Veteran, was in the Southern Road Relays at Aldershot in September 1997. The Over 40's team finished in 7th place, only 23 seconds from the bronze medal. Leg 1 MIKE PUDDIFOOT (20.25), LEG 2 JULIAN (19.08) 3rd fastest time of the race, Leg 3 KIERAN FENNELLY (21.39) and Leg 4 BOB MALLOWS (20.23).
MIKE WILLIAMS, whose talent was outstanding, and his running action was so smooth, that on the country, he just glided over the surface. MIKE was a member of our Senior Men's winning English Cross Country Relay Championship team in 1987. But during the early 1990s he had persistent ankle problems, and made limited appearances. On him becoming a Veteran, I kept in regular touch with MIKE and just before Christmas 1996 he told me that he had been doing limited training for the past 2 months. So, in the New Year he rang me and said he would be interested in a race, and jokingly I said how about the National Veterans Cross Country Championships in March, and without a pause he said Yes.
On Saturday 22 March 1997, along with his coach RAY APPLEBY, we drove to a wet and windy Sunderland. The Over 40s race had a field of over 300 runners, but after 800m, MIKE went up the first hill and pulled away from the field, and eventually crossed the line winning by 25 seconds.
2000 TO PRESENT DAY – Running was affecting my knees, and took the decision to join my local gym, and currently I go most days and have become very efficient on the rowing machine.
SBH CLUB MAGAZINE – HAROLD ASHTON'S retired as magazine editor in June 1992, following some 30 years of producing the magazine, 4 times a year. For the next 18 Months GEOFF MORPHITIS and BRYAN SMITH carried on the good work. From 1994 to 1997 I took up the reins, then from 1998 the magazine was issued intermittently, mainly as a newsletter.
Being on the SBH Committee, it had been a struggle to get someone to produce the magazine on a regular basis. During 2011, I agreed to restart our magazine. The first issue was on the 5 September, and this is the link to that issue – SBH WC 05-09-11
10 Year's on I am still tapping out the newsletter on my laptop. I would like to thank those members who have contributed articles etc. over the past few years. Therefore, if anyone wants to send me something, feel free. It does not have to be athletics related, but it could be an impending wedding, birth of your son or daughter, or another sport you participated in recently.
SBH WEBSITE – In 2011 the Club's Council agreed that the next step in Shaftesbury's progression, was to have a website. As NADEEM SHAIKH was in the IT industry, he recommended to the Club Council a website development company 'Code Me Velvet'. The initial meeting was set up in late 2011, the meeting concluded with a template of our requirements. To develop the website from the initial meeting, to actually going live, it was agreed that I was the best person to work with CMV. The website went live in late 2012, and since then my role has been the SBH Webmaster.
SBH PRESIDENT – It was a great honour to be asked to become the Club's 30th President in 2017. And to follow in the footsteps of Shaftesbury greatest athlete DAVE BEDFORD, was indeed inspiring. The 3 years just flew by, and during that time, our successes Individually and Team wise, were unbelievable. Wishing our 31st President GEOFF WILLIAMS happiness and success for the next 3 years.
One of my highlights for each year, was attending the SBH Annual General Meeting, in which I presented trophies to all our Track and Field, Cross Country and Road winners, also awards to Coaches and Officials. This gave me the opportunity of meeting in person the various winners, which I report on in the SBH Newsletter.
Two photographs taken at the 2019 SBH AGM taken by KENNY GROOM – Firstly, NIAH AKINTOKUN who is the Club's Under 15 Girls Record holder for 60m (7.55) and 200m (24.68) Indoors, and 100m (12,1, 12.01 w-2.3, 12.13 w0.4) Outdoors. Next, MALACHI AMADI who is the Club's Under 13 Boys Record holder for 100m (25.05 w1.8) Outdoors.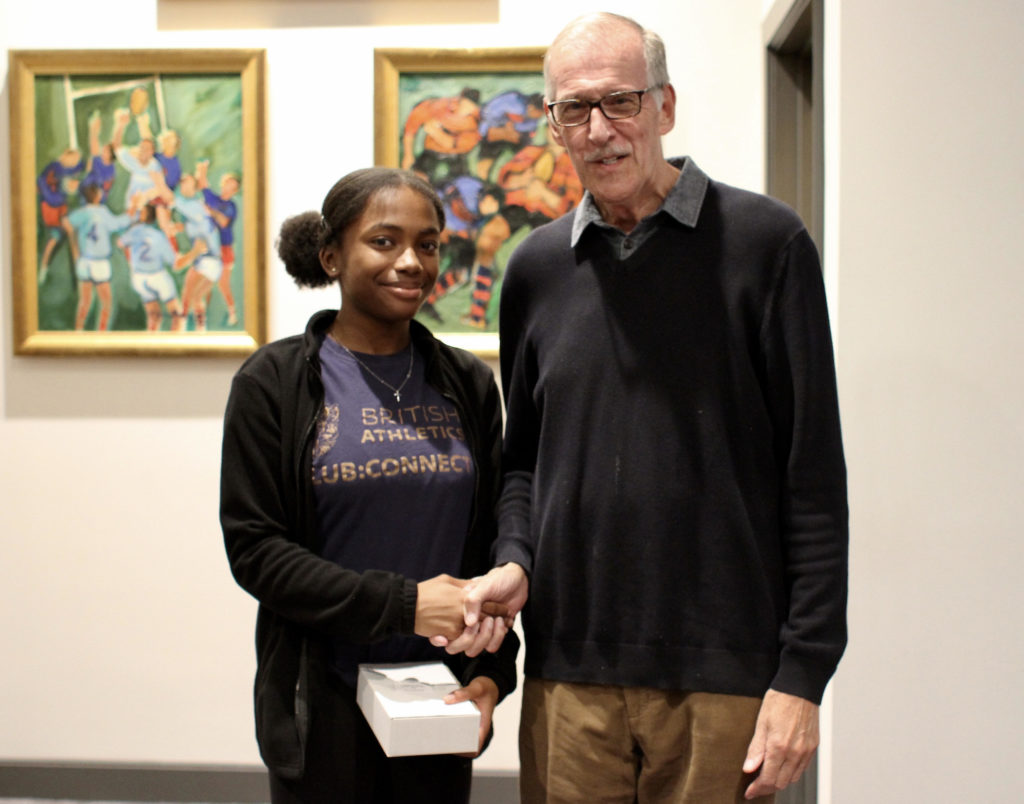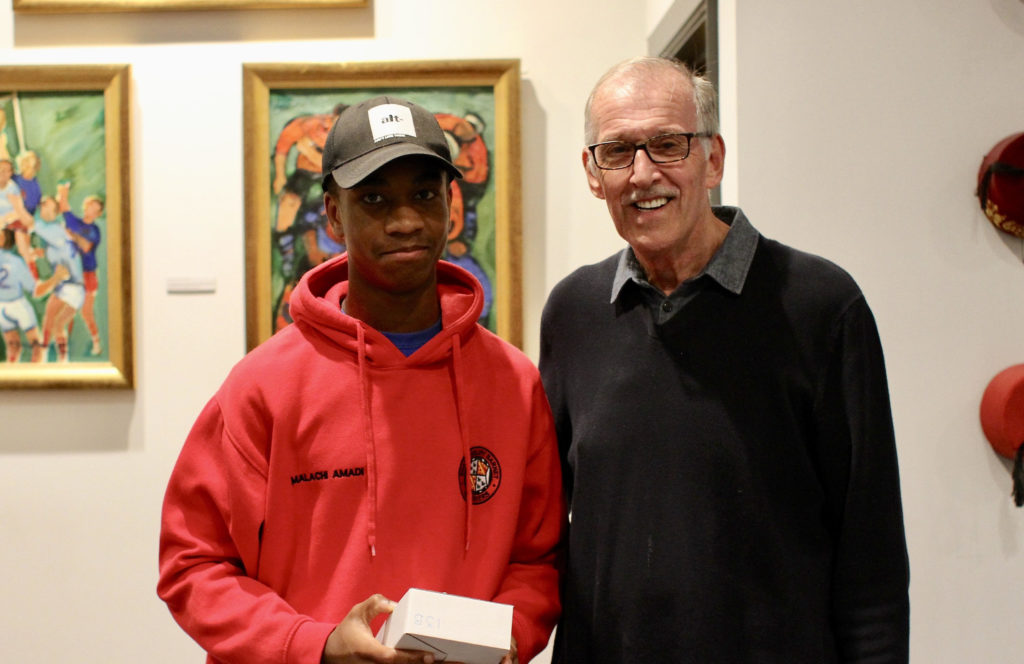 OLYMPIC HOPES READY TO BLOOM AT KEW GARDENS – The following article was published on the Athletics Weekly website recently. TOM BEDFORD recently discovered at Kew Gardens 'Eric the peacock' who is a Richmond resident although runners will be hoping he doesn't stray onto the course on race day.
Marathon runners and race walkers are poised for thrilling and richly symbolic races on 26 March in Kew Gardens. If athletes taking part in the Müller British Athletics Olympic Marathon and 20km Walks Trials in Kew Gardens this month need to focus their minds on what is at stake, they merely need to glance to the side of the course during their race.
The event on 26 March coincides with 'Sakura season' – the time of year when cherry blossom trees come into bloom. Not only will it provide a picturesque back-drop but it is the national flower of Japan and a timely reminder to the runners that their efforts on the roads of south-west London could see them win a ticket to Tokyo.
TOM BEDFORD, the race director, describes it as an amusing twist of fate. It certainly was not in anyone's mind when the Borough of Richmond venue was chosen ahead of Manchester, Dorney Lake and various horse and motor-racing courses to host the Olympic trials.
Instead, the main requirements were a fast, flat and sheltered course that can help athletes nail Olympic qualifying standards, plus the reliability factor of a venue during such an uncertain pandemic-hit period.
Marathon runners will tackle one small lap followed by 12 big laps, therefore passing the cherry blossom trees and Japanese gardens a dozen times. Organisers have worked in recent months with course measurer HUGH JONES to iron out some of the mild corners on the route, which means the course is not just aesthetically pleasing but fast too.
BEDFORD is certainly happy with the progress made and points to one particular straight that is almost an entire metric mile in distance.
Read More: British Olympic marathon and race walks trials: Who, what and when?
Contenders like STEPH DAVIS have already checked out the course and BEDFORD describes it as "more of a flat road relays kind of course" such as the well-known circuit used at Sutton Coldfield for road relays "as opposed to the kind of course you get in big city marathons".
This is partly because the path is only about four metres wide in places. However, with small fields and multiple pacemakers to ensure the going is quick through the first 30km in order to achieve qualifying times of (2:11:30) and (2:29:30), this should not be an issue. Plus, the course includes none of the inclines that the well-known Sutton Coldfield course contains.
"Our intention has been to make it as fast as possible," says BEDFORD. "My advice to athletes is that they just switch off and go to sleep for an hour and follow 'the train' and then get ready to go when the pacemakers drop out."
BEDFORD has been helped by his father, DAVE, the former London Marathon race director with organising the event. Among other things BEDFORD Jnr was based in Portugal during the winter and fell ill with coronavirus in January, so his dad stepped into help primarily with technical areas.
The duo have also worked closely with staff at UK Athletics such as competitions and events director KATIE BRAZIER during what has inevitably been a tricky few months due to the pandemic. Was there a particularly bad moment when the race was in doubt?
BEDFORD says shortly after Christmas when the virus began to surge and hospitals were in danger of being over-run was a worrying time. The Richmond Runfest, which was due to be held at the same venue on the Saturday and Sunday following the trials events on Friday, was postponed until mid-May. Apart from this, the organisers have been keen to give the Olympic hopefuls a near-definite goal to work toward.
"It's been tough for athletes and they have my utmost respect for how they've managed to get themselves through this with everything from problems seeing physios to not even having a national endurance coach in charge during the winter," says BEDFORD.
Spectators will not be allowed on race day, but each runner will be permitted one Tour de France-style 'soigneur' to help with their drinks. After the mild controversy relating to the British trials for the European Indoor Championships not being streamed, British Athletics are this time showing the action from Kew Gardens while there is still the possibility BBC may show the races too.
This will be the first time for 40 years that a British Olympic marathon trial has been staged as a standalone race in a similar style to the US Olympic trials. In 1980 the AAA Championships and trial for the Moscow Olympics took place in Milton Keynes. It was won by IAN THOMPSON in (2:14:00) from DAVE BLACK and ANDY HOLDEN as 195 men finished. Yet from 1983 onwards the national championships and trials have been part of the London Marathon and the battle for selection is often a 'race within a race' with television struggling to capture the action.
There are also obvious comparisons with the standalone US Olympic marathon trials that have taken place in recent years in Atlanta (2020), Los Angeles (2016), Houston (2012) and New York (2011) with the latter, in the city's Central Park, on a similar multi-lap course to the one we will see in Kew Gardens.
"There is such an appetite for this event," BEDFORD enthuses. "I've always been a fan of the American trials system. The men's race will be great on March 26 but the women's race is going to be an absolute cracker as there are so many top runners in it. And if the athletes can make it as competitive as I think it's going to be then this kind of trials race could become the norm."
The venue has great history, too, with the Borough of Richmond being something of a home to British distance running. Not only does the area feature popular training areas of Bushy Park, Richmond Park and Wimbledon Common but it was birthplace of the London Marathon and parkrun.
In the race for Olympic selection, runners and race walkers will finish in front of Kew Gardens' iconic Palm House glass building. The most symbolic feature, though, will surely be the cherry blossom trees that they will pass on a long winding road that will end, for some, on the streets of Tokyo.
NO OVERSEAS SPECTATORS AT TOKYO GAMES – The following article was published on the Athletics Weekly website recently.
Organisers of the Olympics and Paralympics promise to refund tickets bought by fans from outside Japan who intended to watch the biggest show on earth. The news that many athletics fans have been dreading was announced today (20 March) when it was confirmed that overseas spectators will not be allowed at the Olympics and Paralympics this summer due to the coronavirus pandemic.
The decision was announced after a joint meeting between the International Olympic Committee, International Paralympic Committee, Tokyo Metropolitan Government, Tokyo 2020 and the Japanese Government.
IOC president THOMAS BACH said it is "a great sacrifice" and that re-funds will be made to those who have bought tickets. A bigger problem, though, is perhaps the many hotel rooms that have already been booked and the possibility of them refusing to give refunds or only partial refunds.
The news comes less than 48 hours after SEB COE, the World Athletics president, said he hoped a decision on spectators at the Games would not be made too soon. However, it will come as no surprise to many as it was becoming increasingly likely to happen given the continuing global presence of the coronavirus.
"During the meeting, the IOC and IPC were informed about the conclusion of the Japanese parties not to allow entry into Japan for overseas spectators for the Olympic and Paralympic Games Tokyo 2020 due to the prevailing worldwide COVID-19 pandemic," a statement read.
"Olympic and Paralympic tickets purchased by overseas residents from the Tokyo 2020 Organising Committee will be refunded. "Currently, the COVID-19 situation in Japan and many other countries around the world is still very challenging and a number of variant strains have emerged, whilst international travel remains severely restricted globally.
"Based on the present situation of the pandemic, it is highly unlikely that entry into Japan will be guaranteed this summer for people from overseas.
"In order to give clarity to ticket holders living overseas and to enable them to adjust their travel plans at this stage, the parties on the Japanese side have come to the conclusion that they will not be able to enter into Japan at the time of the Olympic and Paralympic Games.
"This conclusion will further contribute to ensure safe and secure Games for all participants and the Japanese public."
The Olympic Games are due to take place from 23 July to 8 August with the Paralympics from 24 August to 5 September.
"In many ways the Tokyo 2020 Games will be completely different to any previous Games," Tokyo 2020 President SEIKO HASHIMOTO said. "However, the essence of the Games will remain unchanged, as athletes give their utmost and inspire the world with transcendent performances.
NEELAM KADERBHOY – Hi  GEOFF,  Hope you and family are all keeping well. I'm stable.
I've got use to the Home. It takes me a while to settle into a new environment. It is a nice Home to be in and the bonus is that it's in Borehamwood.
It sounds like a very time- consuming process that you have to deal with regarding the club. It was a nice bonus to see that I scraped in to the top ten for number of years at the club.
Are you free tomorrow afternoon or evening or Tuesday onwards. I can call you. I still talk slowly and stammer a lot and words I think I can say, I can't say. I miss everyone and everything.
Hi to all.
Yours in sports,
NEELAM 🏃‍♀️👟🌻
Good evening NEELAM and really sorry that it has taken me so long to reply. It has been difficult to try and organise a Track & Field season due to the Covid restrictions but at long last we have just agreed dates and venues for the NAL, YDL and MYAL where Jacqui is now team managing until you fully recover.
Work has started on the demolition of the West Stand at the Stadium. All the youngsters went back to school on Monday and we're planning to return to training and coaching at the Stadium from Monday 29 March. We would then have nearly 2 months before our first meeting.
I look forward to hearing from you at your convenience.
Take care and stay safe.
GEOFF – SBH
GB QUALIFICATION STANDARDS FOR TOKYO OLYMPICS 2021 – These are the following World Athletics qualification standards for all GB athletes:
Men – 100m (10.05), 200m (20.24), 400m (44.90), 800m (1:45.20), 1500m (3:35.00), 5000m (13:13.50), 10000m (27:28.00), 3000m Steeplechase (8:22.0), 110m Hurdles (13.32), 400m Hurdles (48.90), High Jump (2.33), Pole Vault (5.80), Long Jump (8.22), Triple Jump (17.14), Shot Put (21.10), Discus (66.00), Hammer (77.50), Decathlon (8350), Marathon (2:11.30).
Women – 100m (11.15), 200m (22.80), 400m (51.35), 800m (1:59.50), 1500m (3:35.00), 5000m (15:10.00), 10000m (31:25.00), 3000m Steeplechase (9:30.00), 100m Hurdles (12.84), 400m Hurdles (55.40), High Jump (1.96), Pole Vault (4.70), Long Jump (6.82), Triple Jump (14.32), Shot Put (18.50), Discus (63.50), Hammer (72.50), Heptathlon (6420), Marathon (2:29.30).
The final date that all standards are to be achieved is Sunday 27 June, the Marathon date is Monday 29 March. Team selection for all events is on Monday 28 June, and the Marathon on Tuesday 30 March.
Link for the full GB selection policy document – 2020-2021-Olympic-Games-Selection-Policy-October-2020
ATW CROSS COUNTRY SERIES NEXT RACE – The next race is on Saturday 27 March at Merchant Taylor's School, Sandy Lodge, Northwood HA6 2HT. The races are for Under 11, 13, 15 & 17s. This is the link for all details including entries – https://activetrainingworld.co.uk/events/atw-cross-country-series-round-3-21st-feb/
2021 LEE VALLEY INDOOR TRACK AND FIELD MEETINGS – Currently Lee Valley is only open for elite athletes.
BIRMINGHAM 2022 COMMONWEALTH GAMES – Well there is just 531 days to the Opening Ceremony, you may wish to sign up to receive their Newsletter. Link – https://www.birmingham2022.com/register-your-interest/. Tickets will be on sale later this year, and can only be purchased through the official Commonwealth Games website, this is the link to register – https://www.birmingham2022.com/the-games/tickets/. This is the link to the current schedule for the 25 events – https://images.birmingham2022.com/wp-content/uploads/2021/01/11441664_CWGs_Daily_Competition_Schedule_FINAL.pdf.
ATHLETICS take place at the Alexander Stadium 2-7 August, with the Marathons on 30 July. There will be 59 medal events including a fully integrated Para Sport programme. TRIATHLON and PARA TRIATHLON take place at Sutton Park 29 and 31 July. The Individual races contest a 750m swim, 20km cycle, 5km run, and the Team races contest a 250m swim, 7km cycle, 1.5km run. Link to all events – https://www.birmingham2022.com/the-games/sports/?utm_source=workflow&utm_medium=email&utm_campaign=popup_work_flow_send_welcome_autoresponder_pop_up_footer_form&utm_content=2021-02-05
Shaftesbury's ANGUS MCKENZIE was appointed as Competition Manager (Athletics) last year, and the article on him can be found in the 26 November SBH Newsletter.
REDEVELOPMENT OF THE EXISTING WEST STAND – SARACENS have appointed RAYNER ROWEN CONSTRUCTION to carry out the demolition and rebuild of the old West Stand. Work commenced on Monday 22 February and completion is planned for 6 May 2022.
Demolition commenced on 22 February with completion due on 23 April. This is a Link to the first Monthly Newsletter for the redevelopment, which shows site access and the initial site activities – C-0045 – West Stand Monthly Newsletter – February 2021 Rev A
PROCEDURES FOR USING STONEX STADIUM FROM JEREMY SOTHCOTT – The Stadium is now subject to the lockdown guidelines recently set by the Government and is therefore closed to all athletes except "Elite" athletes as certified by UKA/EA. However, it is due to re-open to Club members only from Monday 29 March under strict conditions. Check with your Coach for details.
SBH SUBSCRIPTIONS 2020-2021 – SBH Treasurer GEOFF MORPHITIS has sent me the following regarding subscriptions.
The Club AGM took place virtually at 19.30 on Tuesday 24 November. One of the resolutions which was passed dealt with Club Subscriptions as follows. "The Annual Membership Fee for new members from 1 December 2020 will increase to £50. Existing members who have paid their membership fee for year ended 30 September 2020 will be considered as having also paid their fee for the year ended 30 September 2021.
In other words, in recognition of the disruption caused by Covid-19, these members will have 2 years membership for the price of one." Therefore, I'm now asking athletes who have not paid their subscription for the year ended 30/09/20 (£45) to pay, so as to qualify for the 2 for 1 concession together with the England Athletics Registration Fee of £15 for 2020/21. The total is £60 and should be paid NOW to; ACCOUNT NAME: SHAFTESBURY BARNET HARRIERS, BANK: HSBC, ACCOUNT NUMBER: 41308378, SORT CODE: 400426 – Please let me know when payment is made. Thanks GEOFF
UPDATE ON SBH FIXTURE CARD – We are in the process of finalising the 2021 Summer Fixture Card
CAN YOU HELP PLEASE – During the period when all competitions are suspended, I will do my upmost in keeping the Newsletter information and other content going.
I would welcome any contributions From Yourselves, any impending marriages, or additions to the family, any running or competing incidents, also past warm weather training/holidays (No Club 24 please). Currently the response has been excellent, but if you have anything that could make it into next week's Newsletter – please email me.
THE FOLLOWING SBH DOCUMENTS/INFORMATION CAN EITHER BE VIEWED, DOWNLOADED OR PRINTED 
SBH 2021 Summer Fixture Card, and we will be publishing a draft  in the coming weeks.
Cross Country Team Managers Details – http://sbharriers.co.uk/athletics/cross-country/team-managers/
Road Running/Relay Team Managers Details – http://sbharriers.co.uk/athletics/road-running/team-managers/
THE FOLLOWING INFORMATION OF INTEREST CAN BE FOUND ON THE SBH HOME PAGE BY USING THIS LINK, THEN SELECT THE LEFT OR RIGHT ARROW – http://sbharriers.co.uk/
Shaftesbury Barnet Harriers Club Hoody, information on how to purchase one, please go to the bottom of this Newsletter.
STONEX STADIUM EAST STAND INDOOR AREA – Currently closed.
SBH MIDWEEK JUMPS CLUB AT STONEX STADIUM (FORMERLY BARNET COPTHALL STADIUM) – Currently Suspended.
STEEPLECHASE TRAINING AT STONEX STADIUM (FORMERLY BARNET COPTHALL STADIUM) – Currently Suspended.
PARKRUN 5K RESULTS – Currently Suspended
PARKRUN – Can you make sure that you are registered as 'Shaftesbury Barnet Harriers', as the link I use to select all results only shows SBH athletes. If anyone is also officiating can you please contact me and advise me where and when.
PHOTOGRAPH'S – From time to time we have photographs of our members taken at meetings or presentations which we would like to use both on the website or incorporated within our report to our local newspaper. Can you please let me know if you do NOT want your photograph to be published. Also, I would appreciate if you could send me any photographs, which I can then publish on the website and newsletter.
CLUB EMBROIDERED RED HOODIES – Currently there are now over 750 Hoodies in circulation, this is the link giving details on how you can order your Club Hoody for £35, which includes having your name embroidered on the front Club Hoodies Updated 01-07-19
FACEBOOK – Photographs can be found on the SBH page.
CURRENT DISTRIBUTION OF SHAFTESBURY INFORMATION – Currently I notify members (by email) using "MailChimp". The reason I changed, was in November 2017 "Gmail" put a limit of 100 addresses that users could send to in a 24-hour period, and currently I send to approximately 850 members each issue.
On seeking technical advice "MailChimp" was recommended as the best way for SBH to go forward. There is one thing you should be aware off is that when you receive an email from me, the footer at the bottom has 4 options, of which one is "Unsubscribe Me From List". Could I ask you not to select this as if you do you will be automatically removed from my distribution list.
SBH PRIVACY STATEMENT – In becoming a member, SBH will collect certain information about you. Can you please read the attached 'Privacy Statement' which contains Information on General Data Protection Regulations – SBH Privacy Statement Final April 2018
STONEX STADIUM (FORMERLY BARNET COPTHALL STADIUM) – Main Switchboard telephone number is 020 3675 7250.
CHARGES FOR USING STONEX STADIUM (FORMERLY BARNET COPTHALL STADIUM) – Currently the Stadium is closed.
ALAN WELLER – SBH NEWSLETTER EDITOR AND WEBMASTER