Happy Birthday from this Thursday 11 March Carole Brown, Hannah Foster, Ashwin Fowkes-Gajan, Amy Goddard, Robert Lightowler, Oliver Massingham, Fellan McGuigan, Naias Morgan, Line Nielsen and Daniel Nichols
LONDON MARATHON EVENTS FUNDING 2021 – Congratulations to LIZZIE BIRD who as 1 of Britain's leading 29 endurance athletes, will receive funding this year, as part of its ongoing commitment to support distance running.
This is the third-year London Marathon Events has offered direct support to athletes who sit just outside British Athletics' World Class programmes and Futures programme, but who still have the potential to star at major competitions.
EUROPEAN INDOOR CHAMPIONSHIPS – Took place at Torun, Poland from Thursday 4 to Sunday 7 March
Day 1 Thursday included the 6 Heats of the Women's 800m, Shaftesbury's ELLIE BAKER was in Heat 4 and produced a controlled race to cruise home in 1st place (2:06.15).
Day 2 Friday was 800m Women's Semi-Final day, in the first Semi-Final KEELY HODGKINSON who turned 19 this week, ran her 800m semi-final like a wily veteran. The Briton posted the fastest time, too, of (2:03.11) as team-mates ELLIE BAKER finished 2nd in Semi-Final 2 (2:03.29) and ISSY BOFFEY finished 2nd (2:03.34) also made the final on Sunday after finishing runners up in their races.
"It's amazing. It's really exciting," said HODGKINSON on the British success. "The girls really deserve it ISSY came through strongly and ELLIE held on at the end. To get three out of three through to the final when most people weren't expecting it, is really good." ELLIE added: "It just shows how dominant our GB middle distance girls are. I'm so proud of them as well as myself. I can't wait for us to put on a show for everyone in the final."
Day 4 Sunday featured the Final of the Women's 800m. After ELLIE BAKER made the early running Leigh Harrier KEELY HODGKINSON had moved to the head of affairs, reaching the halfway point in (65.31) before making her move with around 300m to go. She then demonstrated not just her physical prowess but also her mental strength to reach the line first.
The Final was a tactical race, in which they reached the halfway point in (65.31) and KEELY'S winning time was (2:03.88) as she held off the attentions of Polish duo JOANNA JOZWIK (2:04.00) and ANGELIKA CICHOKA (2:04.15). Her fellow Britons, ELLIE BAKER and ISABELLE BOFFEY ran (2:04:40) and (2:07.26) for fourth and sixth respectively. Photograph by GETTY IMAGES.
MARGARET BEACHAM 50TH ANNIVERSARY – On the 13-14 March 1971, MARGARET competed in the 2nd European Indoor Championships in Sofia, Bulgaria. Running in the 1500m MARGARET produced an outstanding performance, taking the Gold Medal in a new Indoor World Record (4:17.2), incidentally her time was faster than last weekend's winning 1500m time in Torun. MARGARET relegated the Russian LYUDMILA BRAGINA to the Silver Medal, who went on to win the 1500m Gold Medal at the 1972 Olympic Games, with a World Record (4:01.38).
MARGARET also won the 800m Title at the 1972 AAA Indoor Championships (2:09.04) at Cosford. MARGARET also won the 1500m Silver Medal at the 1970 AAA Indoor Championships (4:33.1), and at the 1971 Championships (4:20.5) won the 1500m Gold Medal, both at Cosford.
In the Southern Outdoor Championships, Shaftesbury had a 4-year purple patch from 1970 to 1973, 1969 was the first year all Championships distances changed to Metric.
In 1970 the Championships were held at Crystal Palace, in which MARGARET won the 800m (2:08.0). In 1971 the Championships moved to Watford, in which JOYCE SMITH won the first of her two 1500m Titles (4:25.2). 1972 the Championships moved back to Crystal Palace and it was the turn of MARGARET to win the 1500m (4:23.5). Then in 1973 JOYCE took the 1500m title back from MARGARET, winning in a time of (4:19.1).
MARGARET is the Granddaughter of GUNNER MOIR, British Heavyweight Boxing Champion, who fought for the World title against Canadian TOMMY BURNS in 1907.
NSW OPEN, U23 AND PARA OUTDOOR CHAMPIONSHIPS – Took place at Sydney, Australia on 5-7 March.
Discus 1kg – SW JADE LALLY 2nd (54.09m)
PAC-12 CROSS COUNTRY CHAMPIONSHIPS – Took place at University Place, Washington, USA on 5 March.
8000m – SM CHARLES HICKS U20 (Stanford University) 2nd (22.42), Stanford University won the title with a total of (28 points – 7 to score), Colorado 2nd (60), Washington 3rd (66)
MAAC CROSS COUNTRY CHAMPIONSHIPS – Took place at Galloway, New Jersey, USA on 5 March.
8000m – SM JAMIE DEE U23 (Iona College) 2nd (24.29), Iona College won the title with a total of (15 points – 7 to score), Monmouth 2nd (77), Rider 3rd (94)
HUMP DAY MEET 4 OUTDOOR CHAMPIONSHIPS – Took place at Brisbane, Australia on 3 March.
Discus 1kg – SW JADE LALLY 1st (SB 59.10m) adding 67cm to her 20 February throw, and is ranked UK No.1 in 2021
UPDATE ON PROPOSED TRACK AND FIELD FIXTURES – Subject to DCMS, Sport England, UKA and EA guidance.
UK Youth Development League (Under 17 and 20 Men/Women) dates are as follows – Sunday 30 May at Bannister Stadium, Harrow – Sunday 27 June at Perivale Park, Greenford – Sunday 25 July at Ridlins Athletic Track, Stevenage – Sunday 5 September at StoneX Stadium.
National Athletic League (Senior Men/Women) dates are as follows – Sunday 6 June at Lee Valley (host SBH), Sunday 4 July at StoneX Stadium (host Harrow), Sunday 8 August at Woodford (host WGEL), Saturday 28 August at StoneX Stadium (host SBH) – 4 club divisions – we are in Premier London North with Harrow, Newham and Woodford.
The Middlesex Young Athletes League (Under 11, 13, 15 Boys/Girls and 17 Men/Women) dates are as follows – Saturday 22 May (Finsbury Park) plus Sunday 23 May (Perivale), Saturday 5 June (Finsbury Park) plus Sunday 6 June (Perivale or Parliament Hill), Saturday 3 July (Perivale or Parliament Hill), Sunday 18 July (StoneX Stadium).
Eastern Young Athletes League (Under 13, 15 Boys/Girls and 17 Men/Women) dates are still to be announced.
London Inter Club Challenge (All age-groups Men/Women including Under 11 Boys/Girls) dates are as follows – Saturday 31 July and Saturday 21 August both at StoneX Stadium. Further dates to be added soon.
SCVAC Veterans League (35+ and above Men/Women) dates are still to be announced.
UPDATE ON VOLUNTEERS FROM RAY POWELL – Hope that you are all keeping well, and are slowly getting your jabs.
The original list that I sent out for races did not include the Westminster miles on Sunday 30th May, which is the same weekend as the Vitality 10k which is the next day Monday 31 May.
This is normally one of the races we cover, and London Marathon have now confirmed that they would like us to cover our normal duties.
It is the same meeting place, green park volunteer hub, time 8am, Lunch and kit will be supplied and finish time is usually around 3.30-4pm. It is probably the most hectic of all the events, in which we cover 34 – 1 mile races, but also the most enjoyable.
Thank you to all the reply's I have had to date, this is the current situation of volunteers required.
Westminster Mile Sunday 30th May – 20 volunteers required – 2 at present (Clare and myself)
Vitality 10k Monday 31 May – 20 volunteers required – 17 at present
Standard Charted  Monday 19 July – 25 volunteers required – 16 at present
Big Half Marathon Sunday 22 August (new date) – 30 volunteers required – 7 at present
London Mini Marathon Sunday 3 October – 62 volunteers needed – 34 at present
I know that some of the races are a way off, but if you feel that you can help, please let me know now, as it makes the planning a lot easier. Please contact CLARE & RAY at ray571m@btopenworld.com
PLEASE NOTE NEW DATE FOR THE BIG HALF MARATHON – RAY POWELL has advised me that the Big Half has been re-scheduled from Sunday 25 April to Sunday 22 August.
The new date has meant that i have lost a few more volunteers due to holidays that have been booked, ideally, I am hopefully looking for at least 10 more people who could help.
Meeting time is 6.30am and finish at 11am, kit and lunch supplied. Nearest station is Tower Hill / Tower Gateway.
Please contact CLARE & RAY at ray571m@btopenworld.com
DAVE BEDFORD'S TOP 20 RACES PART 2 OF 2 – The following article was published on the Athletics Weekly website recently.
Before the final 15 races, I am sure, like me, you,found Part 1 last week very interesting, especially the intensity of DAVE'S training schedule. I know DAVE had so much to thank BOB PARKER from his progression as a young athlete through to being a world record holder. Following his athletic career, his friendship with BOB was second to none, until BOB passed away on 20 January 2018. 
6 Southern 12-Stage Road Relay 5M, Wimbledon, March 27 1971
(22:20) Course record
He took 54 seconds off BOB HOLT'S course record with a stunning run – surely one of the greatest road-relay runs in history though his Shaftesbury team could only finish 10th.
He set off 69 seconds behind former National winner GERRY NORTH and 5 miles later finished 49 seconds ahead. DICK NEWBIE (23:12) did actually briefly hold HOLT'S record for a few minutes before BEDFORD finished. NEWBIE ran (13:48) for 5000m early in the summer but probably ran better here but was almost a minute slower than BEDFORD.
It was reported as a totally implausible 5.25M at the time in AW (4:15 miling on a far from flat course!) and then this leg was referred to as a more plausible 5M 125 yards when the lap was remeasured when it was extended in 1973.
Even CLARKE in his then unapproachable world 10,000m track record went through five miles in a similar overall time to what BEDFORD ran (CLARKE went through 8km, which was 40m short of 5M in 22:13.0) but the Briton probably went further and therefore faster and it was a staggering run which was not truly appreciated at the time. 
7 British International Games 5000m, Edinburgh, June 12 1971
(13:22.2) European record
In very windy conditions – the 100m wind reading was -6.3m/sec – he produced an astonishing solo run which but for the conditions might well have been a world record.
At 3000m in 7:58.8 he was within a few seconds of CLARKE'S world record pace and though he slowed a little, he still did enough to break IAN STEWART'S European (and track) record set in winning Commonwealth gold and he went second all-time.
MIKE BAXTER followed him home over 100 metres behind in (13:40.2) with DANE KORICA third in (13:43.6).
His lap times were 62.1, 64.0, 63.3, 63.9, 64.3, 63.4, 64.2, 65.4, 65.2, 66.0, 64.3, 64.3 and 31.8 (into wind!). 
8 Southern Championships 10,000m, Crystal Palace, April 19 1969
1st (28:24.4) UK 10,000m record
To say this was a major shock was a major understatement. A teenage athlete only 11th in the senior Inter-Counties cross country a few months earlier and fourth in the later Inter-Counties junior race became Britain's fastest ever senior at 10,000m.
He blasted through 5km in a PB 14:14.4 and everyone expected him to wilt but he actually run a faster second half of 14:10.0 and took a few seconds off MIKE FREARY'S UK record (28:26.0) and run a time that only 12 men in the world had ever beaten and it was four minutes quicker than his previous 10,000m race.
JOHN BEDNARSKI (second to him in the International Junior race a few weeks earlier) was a distant second in (28:51.8) but moved to sixth all-time in the UK rankings.
BEDFORD'S lap times were astonishingly even: 69.4, 66.2, 67.0, 66.8, 68.4, 69.0, 69.2, 68.8, 69.2, 68.4, 68.4, 69.2, 68.4, 68.6, 68.0, 69.2, 68.6, 67.8, 68.2, 69.0, 67.8, 68.0, 68.0, 68.0 and 64.8. 
9 AAA 10,000m, White City, August 7 1970
1st (28:26.4)
After a quiet summer with injury causing modest results, he suddenly burst back to form with a run that considering the cinders was a better run than his 1969 British record.
He led at a good, fast pace with (14:14.0) at halfway but still had TREVOR WRIGHT, TIM JOHNSTON, International champion MIKE TAGG and BOB HOLT following. Gradually his surging and some 67 laps jettisoned all bar National champion WRIGHT and then a 66.2 gave him a solo run to the end and he set a championship record.
Lap times: 65.6, 66.4, 67.2, 67.6, 68.8, 69.0, 69.0, 69.0, 69.4, 69.0, 69.4, 70.2, 69.0, 70.4, 69.0, 68.6, 69.6, 67.4, 67.6, 66.2, 67.8, 68.0, 68.4, 68.4 and 65.4. 
10 UK v Poland 10,000m, Warsaw, September 12 1970
1st (28:06.2) UK record
Running pretty much the same pace for 25 laps as he managed for eight in a recent two miles at Crystal Palace, he edged DICK TAYLOR'S UK record with a magnificent solo run. It was against just three opponents in a match that otherwise Britain were thrashed by the Poles.
Through halfway in (13:59.8) – the third man in history to go sub-14 on the first half, he held his form well and just missed JURGEN HAASE'S European mark (28:04.4) but did go third all-time with his time supplanting LACHIE STEWART'S Commonwealth win (28:11.8) as the world's leading mark of the year.
ROGER MATTHEWS (fourth in Edinburgh) finished half a lap behind in (28:35.4). Bedford injured himself in the race and had to be helped off the track. 
11 European Championships 10,000m Helsinki, Finland, August 10 1971
6th (28:04.4)
BEDFORD felt he was 40 seconds less fitter than in Portsmouth after injury meant he dropped out of the AAA race but after a steady first lap he kicked in laps of 63.6 and then three 65s and he was on (27:30) world record pace at 3000m (8:15.0) but seven athletes were able to hold on and the pace slowed at 5000m (13:54.4) – nine seconds down on Portsmouth but significantly faster than anyone else in the race had ever run.
Much to the crowd's delight JUHA VAATAINEN threw in a 63.4 lap at 6km which initially dropped BEDFORD but he caught up and regained the lead and still tried to grind out a sub-28 pace and despite a 65.2 penultimate lap, five runners held on and then 350m out, they all sprinted past. The Finn who covered his last lap in a then unprecedented 53.9 won in (27:52.8) to go third all-time while the next four moved to fifth to eighth all-time in what thanks to BEDFORD was the greatest mass 10,000m race in history.
BEDFORD ran a disillusioned 65.5 last lap but his time would have been a European record a month earlier. 
12 Coca-Cola Invitation Meeting 3000m Steeplechase, Crystal Palace, September 10 1971
1st (8:28.6) UK record
Again he attracted a capacity crowd as he aimed to break the British record (8:30.8). He actually set off well inside world record pace with a 61.2 first lap and 66.4 second though gradually he paid for his start and dropped to 68s and 70s and ANDY HOLDEN caught him just before the bell.
BEDFORD followed him until the last hurdle and then with the whole stadium roaring, 'sprinted' past though BEDFORD insisted that he was just jogging faster than his rival (8:28.8) who also broke the old UK mark.
At the end of the year BEDFORD won the British Athletics Writers athlete of the year award, the AAA gave him the CN Jackson Cup for outstanding athlete of the year, the Harvey Memorial Cup for the best champion of the year and the Carborundum Golden Jubilee Trophy for the best track performance at the Championships.
Additionally, BEDFORD won the AW British athlete of the year with 370 votes to European 400m champion DAVID JENKINS' 291 while he was second in the world male with 90 votes to VAATAINEN'S 262. Photograph by MARK SHEARMAN.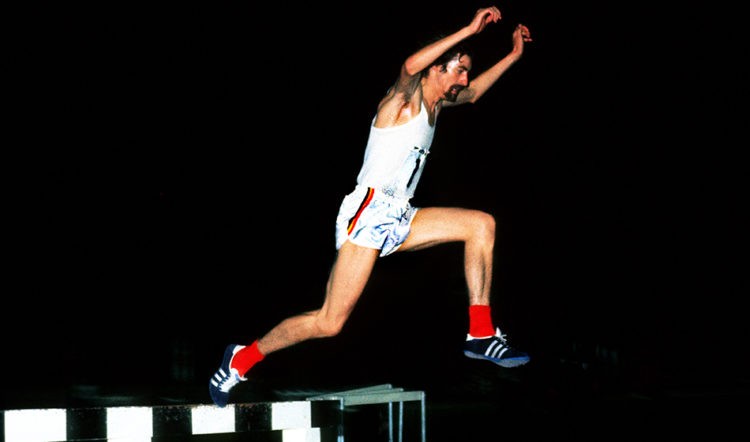 13 Olympic 10,000m Final, Munich, September 3 1972
6th (28:05.4) 2nd heat (27:53.6)
The period between the glorious AAA double and the Olympics were actually a nightmare for BEDFORD. Apart from mystery stomach pains, Fleet Street's non athletics press were watching his every move as then as possibly the best known sportsman in Britain. Additionally, the IOC were looking into whether he had broken the amateur rules with his newspaper column and he had also upset team members by allegedly taking shots at them with an air rifle.
Thinking he needed a race and to escape the training he ran a 2 miles in Stockholm on August 4 but after leading much of the race he fell away (6th 8:28.2) as LASSE VIREN shocked with a world record (8:14.0) with IAN STEWART setting a British record in fourth (8:22.0).
A few days after this disastrous race for his confidence, he joined in a 300m rep session with FOSTER who was preparing for the 1500m and at a different level of sharpness and after half the session and trailing FOSTER a disillusioned BEDFORD stopped and by the evening was back in London while the rest of the team stayed in Switzerland.
Despite the pressures he looked back in form in the Olympic heats as he blasted through 3000m in sub 27:30 pace in (8:14.2) and was through halfway in (13:48.6), a time that only he and CLARKE had ever run. He spent the last few laps chatting with EMIEL PUTTEMANS who eased ahead to win in an Olympic record (27:53.4).
In the final there were hopes from the likes of CLARKE that BEDFORD might try a different tactic and attempt a (13:30) second half but instead he ran his most aggressive race from the off. He opened with laps of 60.6, 64.0, 64.4, 64.4 and 65.4 which had he continued would have taken almost a minute off CLARKE'S world record. The pace slowed slightly but 3000m in (8:06.4) – easily the fastest ever split but not surprising as it was still (26:50) pace.
Despite this unprecedented pace, he still had eight followers and though the pace slowed to 68s, BEDFORD started surging every 200 metres but he would stretch the group out but they would close up each time he slowed.
At 4400m, VIREN and 1968 5000m champion MOHAMMED GAMMOUDI fell with VIREN losing a few seconds but still getting back into contact as BEDFORD led through history's quickest halfway time of (13:44.0) though GAMMOUDI pulled out.
At 6km VIREN went ahead as BEDFORD laboured and the latter dropped back at 7km, seemingly paying for his fast heat and excessively fast front-running and surging.
VIREN went on to produce a (1:56.6) final 800m and despite his fall and very slow 5-8km, he took a second off CLARKE'S world record with his (27:38.4) with PUTTEMANS (27:39.6) challenging until the last 100 metres. BEDFORD finished almost 200 metres back.
A few days later (September 7) he was second in his 5000m heat in (13:49.8) after a sub-60 lap seven out gave him a surprisingly easy qualification and he ambled home alongside GAMMOUDI (13:49.8).
With just two to qualify and the heat being slow, Olympic steeplechase runner-up BEN JIPCHO (13:56.8), 1976 chasing champion ANDERS GARDERUD (13:57.2) and 1976 10,000m medallist CARLOS LOPES (14:29.6) all missed out.
In the final of September 10, he briefly led at halfway but made no real contribution to the race and faded away in the last kilometre which VIREN (13:26.4) covered in a vicious (2:26.4) with GAMMOUDI (13:27.4) and STEWART (13:27.6) taking the other medals and he finished 12th in 13:43.2. Photograph by MARK SHEARMAN.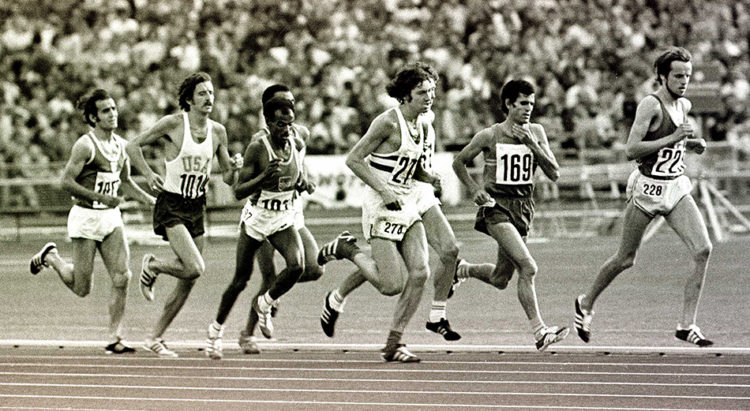 14 Commonwealth Games 10,000m, Christchurch, January 25 1974
4th (28:14.8)
Well adjusted to the New Zealand summer and in good form – having run a 15x400m session in 59 seconds, BEDFORD thought he was fitter than in his world record run and he set off again with the intention of running world record pace.
SIMMONS led the opening three laps at a fast pace before BEDFORD took over and his first 1600m of (4:14.8) and 3000m time of (8:06.0) was up on his record run though half a dozen athletes were still in contention but by 4km it was down to just BLACK and three Kenyans with the Africans crowding BEDFORD and trying to slow the Englishman who was spiked, tripped and lost his balance at their intimidating tactics which involved holding his shorts and pushing him.
The pace slowed though a (13:47.0) 5000m time was still territory that only BEDFORD had past experience of among the leaders but BEDFORD admitted the jostling had destroyed his concentration and he had lost his cool.
Home favourite DICK TAYLOR who had been running evenly up to 50 metres back at one stage caught the leaders on the 16th lap. BEDFORD was still up the front three laps out but when English team-mate DAVE BLACK threw in laps of 62.9 and 62.1 up to the bell only TAYLOR could respond. It was the Kiwi much to the delight of the huge crowd, who proved the strongest in the last 200m and his (27:46.4) – a 42 second PB – moved him to sixth all-time in a run that he had never previously matched or would ever again come close to again.
BLACK was second in (27:48.6) which moved him to world eighth all-time with BEDFORD just edging fourth spot, 100 metres back on the medallists.
Two days later he eased through his heat in (13:59.2) and then another two days later set off with intent in the final with a 61.8 opening lap but at 1600m (4:20) he was well down on his time in the 10,000m and when BLACK went ahead shortly after, he started drifting down the field.
Ultimately he ended up almost a minute behind (11th 14:18.8) in a cracking race which saw JIPCHO (Commonwealth record 13:14.4) narrowly edging FOSTER (UK record 13:14.6) as the pair went second and third all-time. Photograph by MARK SHEARMAN.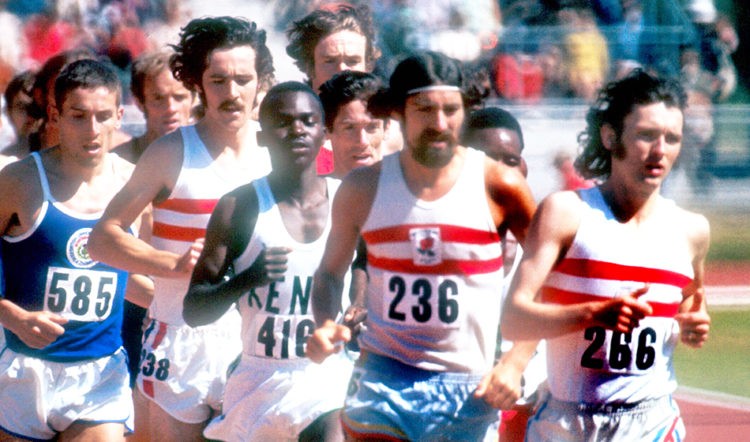 15 AAA Championships 10,000, Crystal Palace, July 12 1974
1st (28:14.8)
Having stopped running for four months in the winter and still nine pounds overweight and with no quality results, he almost did not compete but he said he enjoyed this race more than any other in the previous five years.
The first half was a slow 14:23.2 and then BERNIE FORD began to string the field out with some 67 second laps and by 8km it was down to seven runners.
FORD covered the 20th lap in 66.4 which was surprisingly too much for DAVE BLACK and then another 66.4 got rid of the rest other than BEDFORD which as TONY SIMMONS and GASTON ROELANTS dropped back.
FORD tried all he could to drop BEDFORD with two laps of 66.6 up to the bell but just short of 300m out, BEDFORD kicked by and completing the last lap in 61.0 (similar to his record finale) he opened up on a second on Ford (28:16.0) with SIMMONS, who would go on to gain European silver third (28:19.4). It meant in unusual circumstances, BEDFORD had won his fifth successive AAA title but his only major race in a sprint finish.
The run did qualify him for the European Championships but he was not interested in selection (the selectors picked FORD, SIMMONS and BLACK) and the Palace race would prove to be his last track race at this level. 
16 National Cross-Country Championships, Norwich, March 6 1971
1st (47:04)
Taking the lead after half a mile, he destroyed a top-quality field winning from 1972 champion MALCOLM THOMAS (who had beaten him as a junior) by 40 seconds with defending champion TREVOR WRIGHT, who was the favourite after his Inter Counties and Northern wins a well beaten third (47:58). Photograph by MARK SHEARMAN.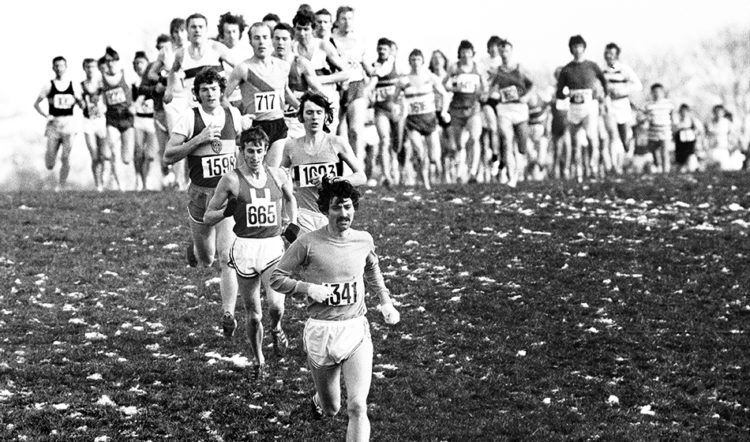 17 International Junior Cross-Country Race, Clydebank, March 22 1969
1st (19:38)
While superbly consistent he had not been able to win any major junior races all season but with some of the older UK juniors barred, he dominated on a very tough switchback course and took gold winning easily by 21 seconds with team-mates BEDNARSKI (the reigning champion) and JOHN HARRISON following him home as England scored a perfect six points. Non-scorer Standing finished seventh (20:51). 
18 Southern 5000m Championships, West London Stadium, April 27 1977
1st (13:46.0)
This was wrongly reported in AW that this was his first track race since his AAA title and his first 5000m since the 1974 Commonwealth Games, but it was his fastest 5000m for well over four years and his last top quality track win. KEVIN STEERE led most of the way with 66 second laps but it went down to just four at the bell and most expected Loughborough student MALCOLM PRINCE or renowned kicker KEITH PENNY to be favourites but BEDFORD executing a double kick, blasted two consecutive 29.0 splits for a 58.0 final circuit. PRINCE (13:46.6) and PENNY (13:49.4) won the other medals.
19 AAA Junior 2M, White City, July 13 1968
1st (8:59.8)
In front of a 19,000 crowd there to watch the senior championship (including the Olympic trials) with the Queen attending the event for the first time since 1952, he enjoyed his biggest track win to date. Leading early on, only KING could stay with his (4:27.0) first mile and KING (9:03.2) finally crumbled with 660 yards to go.
It's worth noting though that fellow junior STEWART was competing in the senior 5000m at the same meeting and ran a European junior record (14:02.2) in finishing fourth Briton. 
20 English Youth Cross-Country Championships, Sutton Coldfield, March 2 1968
1st (15:07)
A huge favourite, he proved too strong for his rivals winning from Northern champion DAVE WRIGHT while Northern and Southern runners-up JOHN HARRISON and CHRIS REED were third and fourth.
» To read a list of his top 100 races in chronological order (including British records and major wins not included above) please click here/em>
Bedford's early days – 1964-65 – CLICK HERE
Bedford's junior promise to British record from 1965-69 – CLICK HERE
Bedford's International title and Euro records 1970-71 – CLICK HERE
Bedford's 1972-74 period plus later highlights – CLICK HERE
WORLD ATHLETICS FOOTWEAR RULES TO APPLY ACROSS ALL UKA EVENTS – The following article was published on the Athletics Weekly website recently. Photograph taken by DAN VERNON.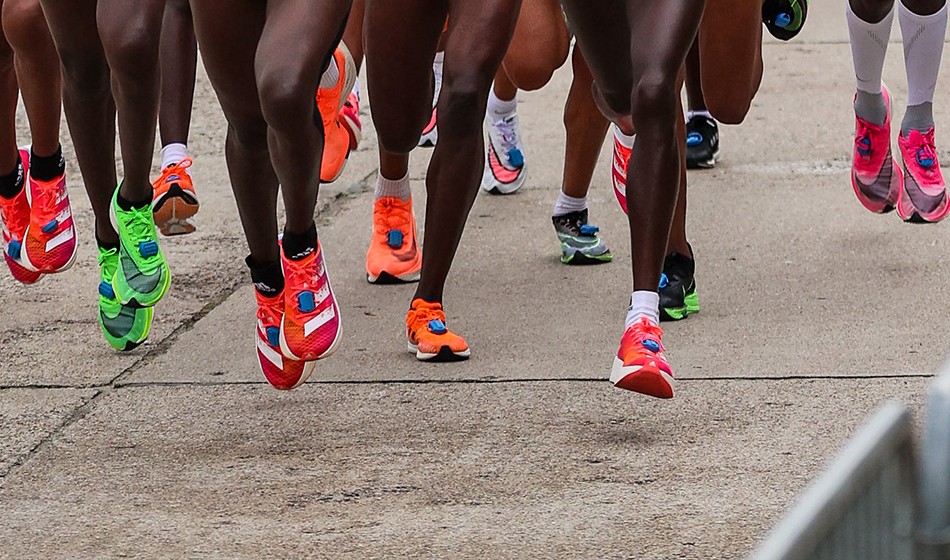 British governing body announces that any competitions under their rules must comply to global guidance. UK Athletics has announced today (March 9) that the World Athletics rules concerning footwear are to be implemented across all competitions which are held under UKA rules. Guidance from athletics' global governing body, amended in December, which provides criteria to be met for results and performances to be deemed legal, indicated the measures would only apply to "Senior or Junior National Championships". However, UKA has insisted that any competition held under their rules will be treated in the same fashion, outlining that though footwear will be policed by officials, the responsibility for complying will lie first and foremost with the athletes.
A statement from UK Athletics read, in part: "While World Athletics require that the amendments apply to all 'Senior or Junior National Championships' and are not mandated to be applied below this level, after consultation with the Technical Advisory Group and others, the UKA Rules Group has determined that it is appropriate that the amendments to the Rule should apply to all competitions held under UKA rules both as a matter of fairness and also due to the range of events within the UK where qualifying mark, selections standards and records can be set." The statement added: "Adhering to these rules is therefore a sport-wide responsibility that starts primarily with the athlete. Whilst the excellent officials working within our sport will be part of this process, athletes will need to take responsibility to ensure that their shoes conform to the rules and understand that event officials will have the right to check shoes and take appropriate action."
Read More – How to choose the right running shoes
Footwear has been a huge and controversial topic in athletics following the technological advances which have shown to improve performance, first in road events but also now on the track. The latest list of approved competition shoes can be found here You can find the full details of World Athletics' amended Rule 5.2 of their Technical Rules here
NEELAM KADERBHOY – Hi  GEOFF,  Hope you and family are all keeping well. I'm stable.
I've got use to the Home. It takes me a while to settle into a new environment. It is a nice Home to be in and the bonus is that it's in Borehamwood.
It sounds like a very time- consuming process that you have to deal with regarding the club. It was a nice bonus to see that I scraped in to the top ten for number of years at the club.
Are you free tomorrow afternoon or evening or Tuesday onwards. I can call you. I still talk slowly and stammer a lot and words I think I can say, I can't say. I miss everyone and everything.
Hi to all.
Yours in sports,
NEELAM 🏃‍♀️👟🌻
Good evening NEELAM and really sorry that it has taken me so long to reply. It has been difficult to try and organise a Track & Field season due to the Covid restrictions but at long last we have just agreed dates and venues for the NAL, YDL and MYAL where Jacqui is now team managing until you fully recover.
Work has started on the demolition of the West Stand at the Stadium. All the youngsters went back to school on Monday and we're planning to return to training and coaching at the Stadium from Monday 29 March. We would then have nearly 2 months before our first meeting.
I look forward to hearing from you at your convenience.
Take care and stay safe.
GEOFF – SBH
ATW CROSS COUNTRY SERIES NEXT RACE – The next race is on Saturday 27 March at Merchant Taylor's School, Sandy Lodge, Northwood HA6 2HT. The races are for Under 11, 13, 15 & 17s. This is the link for all details including entries – https://activetrainingworld.co.uk/events/atw-cross-country-series-round-3-21st-feb/
2021 LEE VALLEY INDOOR TRACK AND FIELD MEETINGS – Currently Lee Valley is closed.
BIRMINGHAM 2022 COMMONWEALTH GAMES – Well there is just 531 days to the Opening Ceremony, you may wish to sign up to receive their Newsletter. Link – https://www.birmingham2022.com/register-your-interest/. Tickets will be on sale later this year, and can only be purchased through the official Commonwealth Games website, this is the link to register – https://www.birmingham2022.com/the-games/tickets/. This is the link to the current schedule for the 25 events – https://images.birmingham2022.com/wp-content/uploads/2021/01/11441664_CWGs_Daily_Competition_Schedule_FINAL.pdf.
ATHLETICS take place at the Alexander Stadium 2-7 August, with the Marathons on 30 July. There will be 59 medal events including a fully integrated Para Sport programme. TRIATHLON and PARA TRIATHLON take place at Sutton Park 29 and 31 July. The Individual races contest a 750m swim, 20km cycle, 5km run, and the Team races contest a 250m swim, 7km cycle, 1.5km run. Link to all events – https://www.birmingham2022.com/the-games/sports/?utm_source=workflow&utm_medium=email&utm_campaign=popup_work_flow_send_welcome_autoresponder_pop_up_footer_form&utm_content=2021-02-05
Shaftesbury's ANGUS MCKENZIE was appointed as Competition Manager (Athletics) last year, and the article on him can be found in the 26 November SBH Newsletter.
REDEVELOPMENT OF THE EXISTING WEST STAND – SARACENS have appointed RAYNER ROWEN CONSTRUCTION to carry out the demolition and rebuild of the old West Stand. The works commenced on Monday 15 February and completion is planned for 6 May 2022.
Demolition is planned to commence on 22 February with completion on 23 April. This is a Link to the first Monthly Newsletter for the redevelopment, which shows site access and the initial site activities – C-0045 – West Stand Monthly Newsletter – February 2021 Rev A
PROCEDURES FOR USING STONEX STADIUM FROM JEREMY SOTHCOTT – The Stadium is now subject to the lockdown guidelines recently set by the Government and is therefore closed to all athletes except "Elite" athletes as certified by UKA/EA.
SBH SUBSCRIPTIONS 2020-2021 – SBH Treasurer GEOFF MORPHITIS has sent me the following regarding subscriptions.
The Club AGM took place virtually at 19.30 on Tuesday 24 November. One of the resolutions which was passed dealt with Club Subscriptions as follows. "The Annual Membership Fee for new members from 1 December 2020 will increase to £50. Existing members who have paid their membership fee for year ended 30 September 2020 will be considered as having also paid their fee for the year ended 30 September 2021.
In other words, in recognition of the disruption caused by Covid-19, these members will have 2 years membership for the price of one." Therefore, I'm now asking athletes who have not paid their subscription for the year ended 30/09/20 (£45) to pay, so as to qualify for the 2 for 1 concession together with the England Athletics Registration Fee of £15 for 2020/21. The total is £60 and should be paid NOW to; ACCOUNT NAME: SHAFTESBURY BARNET HARRIERS, BANK: HSBC, ACCOUNT NUMBER: 41308378, SORT CODE: 400426 – Please let me know when payment is made. Thanks GEOFF
UPDATE ON SBH FIXTURE CARD – We are in the process of finalising the 2021 Summer Fixture Card
CAN YOU HELP PLEASE – During the period when all competitions are suspended, I will do my upmost in keeping the Newsletter information and other content going.
I would welcome any contributions From Yourselves, any impending marriages, or additions to the family, any running or competing incidents, also past warm weather training/holidays (No Club 24 please). Currently the response has been excellent, but if you have anything that could make it into next week's Newsletter – please email me.
THE FOLLOWING SBH DOCUMENTS/INFORMATION CAN EITHER BE VIEWED, DOWNLOADED OR PRINTED 
SBH 2021 Summer Fixture Card, and will be publishing a draft  in the coming weeks.
Cross Country Team Managers Details – http://sbharriers.co.uk/athletics/cross-country/team-managers/
Road Running/Relay Team Managers Details – http://sbharriers.co.uk/athletics/road-running/team-managers/
THE FOLLOWING INFORMATION OF INTEREST CAN BE FOUND ON THE SBH HOME PAGE BY USING THIS LINK, THEN SELECT THE LEFT OR RIGHT ARROW – http://sbharriers.co.uk/
Shaftesbury Barnet Harriers Club Hoody, information on how to purchase one, please go to the bottom of this Newsletter.
STONEX STADIUM EAST STAND INDOOR AREA – Currently closed.
SBH MIDWEEK JUMPS CLUB AT STONEX STADIUM (FORMERLY BARNET COPTHALL STADIUM) – Currently Suspended.
STEEPLECHASE TRAINING AT STONEX STADIUM (FORMERLY BARNET COPTHALL STADIUM) – Currently Suspended.
PARKRUN 5K RESULTS – Currently Suspended
PARKRUN – Can you make sure that you are registered as 'Shaftesbury Barnet Harriers', as the link I use to select all results only shows SBH athletes. If anyone is also officiating can you please contact me and advise me where and when.
PHOTOGRAPH'S – From time to time we have photographs of our members taken at meetings or presentations which we would like to use both on the website or incorporated within our report to our local newspaper. Can you please let me know if you do NOT want your photograph to be published. Also, I would appreciate if you could send me any photographs, which I can then publish on the website and newsletter.
CLUB EMBROIDERED RED HOODIES – Currently there are now over 750 Hoodies in circulation, this is the link giving details on how you can order your Club Hoody for £35, which includes having your name embroidered on the front Club Hoodies Updated 01-07-19
FACEBOOK – Photographs can be found on the SBH page.
CURRENT DISTRIBUTION OF SHAFTESBURY INFORMATION – Currently I notify members (by email) using "MailChimp". The reason I changed, was in November 2017 "Gmail" put a limit of 100 addresses that users could send to in a 24-hour period, and currently I send to approximately 850 members each issue.
On seeking technical advice "MailChimp" was recommended as the best way for SBH to go forward. There is one thing you should be aware off is that when you receive an email from me, the footer at the bottom has 4 options, of which one is "Unsubscribe Me From List". Could I ask you not to select this as if you do you will be automatically removed from my distribution list.
SBH PRIVACY STATEMENT – In becoming a member, SBH will collect certain information about you. Can you please read the attached 'Privacy Statement' which contains Information on General Data Protection Regulations – SBH Privacy Statement Final April 2018
STONEX STADIUM (FORMERLY BARNET COPTHALL STADIUM) – Main Switchboard telephone number is 020 3675 7250.
CHARGES FOR USING STONEX STADIUM (FORMERLY BARNET COPTHALL STADIUM) – Currently the Stadium is closed.
ALAN WELLER – SBH NEWSLETTER EDITOR AND WEBMASTER