Happy Birthday this week to Adetola Adegbola, Tolu Ayo-Ojo, Daniel Bainbridge, Theo Boden, Michael Callegari, Jadah Charles-Williams, Gintare Dargeviciute, Decarie Davies, Elana Dimmer, Amber Duverney, Alex Ellis, Henry Fulton, Tanmunoibiye Harry-Brown, Paddy Hicks, Rebecca Keating, Oliver Laurens, Olivia Lava, Philip Llewellyn, Dempsey McGuigan, Scott McKenzie, Mohamed Ismail Mohamed, Iona Newbegin, Donovan Reid, Philip Shelley, James Sothcott, Liam Grey Thompson and Rebecca Wheeler-Henry
THE FOLLOWING SBH DOCUMENTS/INFORMATION CAN EITHER BE VIEWED, DOWNLOADED OR PRINTED
SBH 2019-2020 Winter Fixture Card Front Sheet and Fixtures Issued 18-Aug-19 – http://sbharriers.co.uk/fixtures-results/fixture-cards/
SBH 2019-2020 Information Sheet Issued 18-Aug-19 – http://sbharriers.co.uk/fixtures-results/fixture-information/
Cross Country Team Managers Details – http://sbharriers.co.uk/athletics/cross-country/team-managers/
Road Running Team Managers Details – http://sbharriers.co.uk/athletics/road-running/team-managers/
THE FOLLOWING INFORMATION OF INTEREST CAN BE FOUND ON THE SBH HOME PAGE BY USING THIS LINK, THEN SELECT THE LEFT OR RIGHT ARROW – http://sbharriers.co.uk/
Allianz Park Membership, which gives SBH members 10% discount on entry to the Allianz Park stadium – Membership details and Form can be either printed or downloaded
Shaftesbury Barnet Harriers Club Hoody, information on how to purchase one, please go to the bottom of this Newsletter
SBH MIDWEEK JUMPS CLUB AT ALLIANZ PARK – The current arrangements until further notice are that Pole Vault training is on Monday's and Wednesday's from 18.30pm to 21.00pm. High Jump training is on Wednesday's from 18.45pm to 21.00pm.
Please contact the session administrator CLYDE GORDON clydeg67@hotmail.co.uk in advance and let him know if you are planning to attend.
POLE VAULTERS REQUIRED FOR 2019 – To all athlete's young & old, are you aware of the Pole Vault sessions SBH, have in the indoor track, at Allianz Park on Monday's & Wednesday's evenings from 6.30pm. We have room to coach more of you, why not come along, see a session & get involved.
Last year 2018 in the Eastern Young Athletes League, we were unable to fill our full quota of athletes, in the Pole Vault, so why not give it a try for 2019.
Contact CLYDE GORDON at clydeg67@hotmail.co.uk for more details.
STEEPLECHASE TRAINING AT ALLIANZ PARK – Please note following requests BRYAN SMITH will be coaching steeplechase every Tuesday evenings from 18.00pm to 18.30pm.
All welcome but please be ready to start at 18.00pm as there is only 30 mins to cram in what we can.  Main concentration will be on hurdles and barrier work.
BRYAN coached former Senior Women 3000m Steeplechase Club Record holder JO ANKIER, whose time of (9:43.88) ranking UK No.9 on the UK All-Time list, also JO holds the Under 23 2000m Steeplechase (6:48.92) and 1500m Steeplechase (4:52.5) club records, her 1500m time is ranked UK No.1 on the UK All-Time list.
RECENT NEW MEMBER– We wish you a very warm welcome, and a happy, healthy and successful time with Shaftesbury to JAMES SARNER
ALLIANZ PARK ACCESS – Please note that we have been informed that there will NO ACCESS to the G4 pitch from 2 September to 8 September due to pre-rugby season work on the pitch.
BRITISH CHAMPIONSHIPS – Took place at Birmingham on 24-25 August.
An excellent championships for Shaftesbury exceeding last years performance, in which we had 40 competitors and 2 British Champions. This year we had 45 competing with no less than 4 British Champions. First of our Champions was OJIE EDOBURUN who unexpectingly won the 100m (see comments below), with his time of (10.08) in July OJIE has qualified for Doha. In the High Jump ALLAN SMITH who has been knocking on the door since his first Championships in 2012, won with a season's best (2.25m) qualification standard for Doha is (2.30m). In the Discus NICK PERCY claimed his 3rd British Championships, 2016 and 2017 were his previous wins, in his 3 other Senior appearances he has been 3rd twice and 4th in the other. Incidentally his 3 wins were with throws of (60.57, 60.78m and 60.43m). Finally one of the most consistant performers is SCOTT LINCOLN winning the Shot Championships for the 5th year in a row, and he won the title with a put of (19.56m)
We had 4 Silver Medals – ZHARNEL HUGHES (200m), LIZZIE BIRD (3000m Steeplechase), DAN BRAMBLE (Long Jump) and ANGELA BARRETT (Triple Jump). Also we won 3 Bronze Medals – ZHARNEL HUGHES (100m), NATHAN FOX (Triple Jump) and SHADINE DUQUEMIN (Discus)
100m – SM Heat 1 JORDAN WATSON-BROWN U23 4th (10.99 w1.4), 2 JOHN OTUGADE 3rd (10.64 w1.1), 5 CONFIDENCE LAWSON 1st (10.55 w1.0), 6 MICHAEL OHIOZE 5th (10.86 w2.0) in Semi-Final 2 ZHARNEL HUGHES 1st (10.26 w-1.3), CONFIDENCE finished 4th (10.51 w-1.3), DOMINIC ASHWELL U23 6th (10.57 w-1.3), in Semi-Final 3 OJIE EDOBURUN 1st (10.15 w0.0) in the Final OJIE won the Gold Medal (10.18 w-1.9), ZHARNEL won the Bronze Medal (10.18 w-1.9)
100m – SW Heat 1 REBECCA JEGGO U20 (2nd Claim/HCA) 2nd (11.92 w0.9), 5 JOY OGUNLEYE U20 (2nd Claim/HCA) 3rd (12.23 w1.1) in Semi-Final 2 JOY finished 7th (12.37 w-2.7), in Semi-Final 3 REBECCA finished 5th (12.02 w-2.0)
200m – SM Heat 1 MICHAEL OHIOZE 5th (21.42 w-0.3), 2 CHARLIE DOBSON U23 (2nd Claim/HCA) 2nd (20.67 w-1.5), 3 ZHARNEL HUGHES 1st (20.67 w-1.0) in the Final ZHARNEL won the Silver Medal (20.25 w-1.2), CHARLIE finished 5th (20.67 w-1.2)
200m – SW Heat 2 REBECCA JEGGO U20 (2nd Claim/HCA) 3rd (24.48 w-2.3)
400m – SM Heat 1 ROBERT SHIPLEY (HCA) 4th (47.55), KRISHAWN AIKEN 6th (48.01), 2 SAM HAZEL U23 4th (SB 47.13) taking .36 of a second off his 18 August time, 3 JAMAL RHODEN-STEVENS 5th (47.77)
400m – SW Heat 4 PHILLIPA LOWE (HCA) 2nd (54.64)
800m – SM Heat 1 KYLE LANGFORD 1st (1:50.15), 3 BEN ROCHFORD 4th (SB 1:50.78) in the Final KYLE finished 8th (1:49.18)
800m – SW Heat 1 ELLIE BAKER U23 3rd (2:05.04), 2 TARA KAFKE (HCA) 7th (2:12.64)
1500m – SM Heat 3 JEREMY DEMPSEY U23 5th (3:48.62)
5000m – SM Straight Final JAKE SHELLEY 5th (14:13.04), KIERAN CLEMENTS 9th (14:31.33), PHILLIP CROUT 11th (14:56.48)
5000m – SW Straight Final NAOMI TASCHOMOWITZ 13th (16:23.66)
3000m Steeplechase – SM Straight Final MARK PEARCE 8th (8:56.75)
3000m Steeplechase – SW Straight Final LIZZIE BIRD won the Silver Medal (9:46.95)
100m Hurdles – SW Heat 1 GEMMA BENNETT V35 6th (13.92 w-0.6), 3 JESSICA HUNTER 3rd (13.95 w-1.5)
400m Hurdles – SM Heat 1 DANIEL REES 4th (52.79), 3 JOSHUA FAULDS U20 4th (PB 52.38) taking .15 of a second off his 2018 time, and is ranked UK No.3 U20 in 2019
400m Hurdles – SW Heat 1 HAYLEY MCLEAN 2nd (57.44) in the Final HAYLEY finished 5th (57.51)
High Jump – SM Straight Final ALLAN SMITH won the Gold Medal (SB 2.25m) adding 6cm to his 20 June height, and is ranked UK No.3 in 2019, AKIN COWARD 7th (2.08m), LEWIS MCGUIRE U23 10th (2.03m)
Pole Vault – SM Straight Final ETHAN WALSH U23 5th (5.05m)
Long Jump – SM Straight Final DAN BRAMBLE won the Silver Medal (7.92m w0.9)
Triple Jump – SM Straight Final NATHAN FOX won the Bronze Medal (SB 16.47m w1.9) adding 6cm to his 3 August time, and is ranked UK No.4 in 2019, DANIEL LEWIS 7th (SB 15.96m w1.5) adding 13cm to his 9 June jump, and is ranked UK No.10 in 2019
Triple Jump – SW Straight Final ANGELA BARRETT (2nd Claim) won the Silver Medal (13.22m w1.4), EAVION RICHARDSON U23 7th (12.61m w0.7), JAZZ SEARS U20 9th (12.22m w1.4)
Discus 1kg – SW Straight Final SHADINE DUQUEMIN won the Bronze Medal (53.23m)
Discus 2kg – SM Straight Final NICK PERCY won the Gold Medal (60.57m), ZANE DUEQUEMIN 4th (55.70m), GREGORY THOMPSON 5th (53.82m)
Shot 7.26kg – SM Straight Final SCOTT LINCOLN (HCA) won the Gold Medal (19.56m)
Hammer 7.26kg – SM Straight Final CHRIS BENNETT 5th (69.67m)
Javelin 800g – SM Straight Final DANIEL BAINBRIDGE U23 7th (62.28m)
OJIE EDOBURUN PIPS RIVALS TO BRITISH 100m TITLE – The following article was posted on the Athletics Weekly website.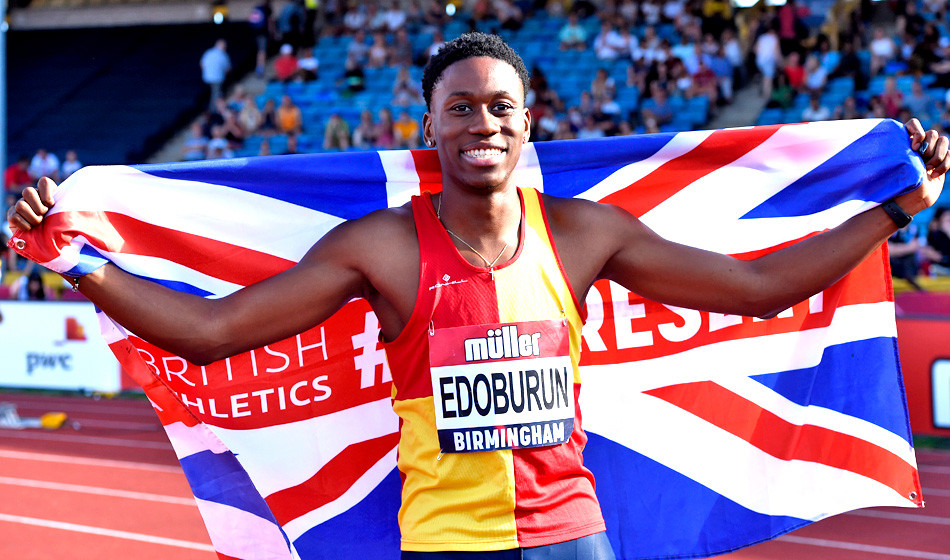 The men's 100m on day one of the Müller British Athletics Championships was so close to call that the winner, OJIE EDOBURUN, did not know he had won for a few moments after the race. The 23-year-old was given exactly the same time of (10.18 -1.9m/sec) as ADAM GEMILI and ZHARNEL HUGHES but after a short, tense delay he was given the verdict over his more favoured rivals. ZHARNEL is the fastest British sprinter this year with (9.95), while GEMILI has run (10.04) but OJIE, whose season's best is (10.08), turned the form book on its head to win gold. "I was getting ready to say 'well done, ADAM'. But it came up as me being the winner and it was such an emotional moment." A brilliant junior talent, OJIE won the European under-20 100m title in 2015 and under-23 title in 2017 but has struggled to make an impact in the senior ranks. However, he says a change of coach to STEVE FUDGE together with an emphasis on sports psychology to iron out demons and improve his pre-race confidence have helped him move on to a new level. "People often think seeing a sports psychologist is a sign of weakness but I think it shows you are doing something to become stronger," he explained. On the evidence of Saturday's 100m at Alexander Stadium, he has a point and will now go to the IAAF World Championships in Doha along with fellow automatic qualifier GEMILI aiming to at least make the final.
SHAFTESBURY SUPPORTERS AT THE BRITISH CHAMPIONSHIPS – Shaftesbury athletes had not only received vocal support from two of our top young athletes KACEY WALTERS and EVELYNE FONTEYNE, they also managed to seek out the BRITISH MASCOT, ADAM GEMLLI and KATARINA JOHNSON-THOMPSON which as you can see by the excellent photographs.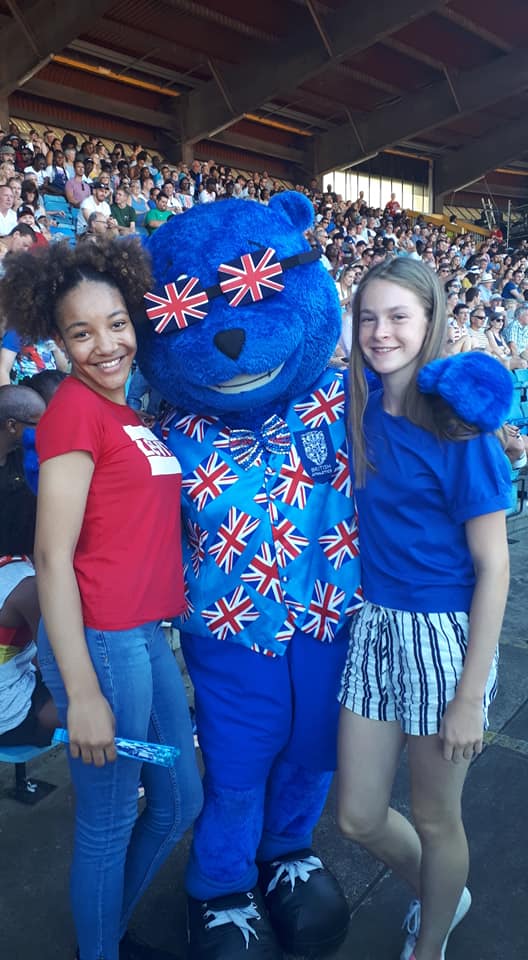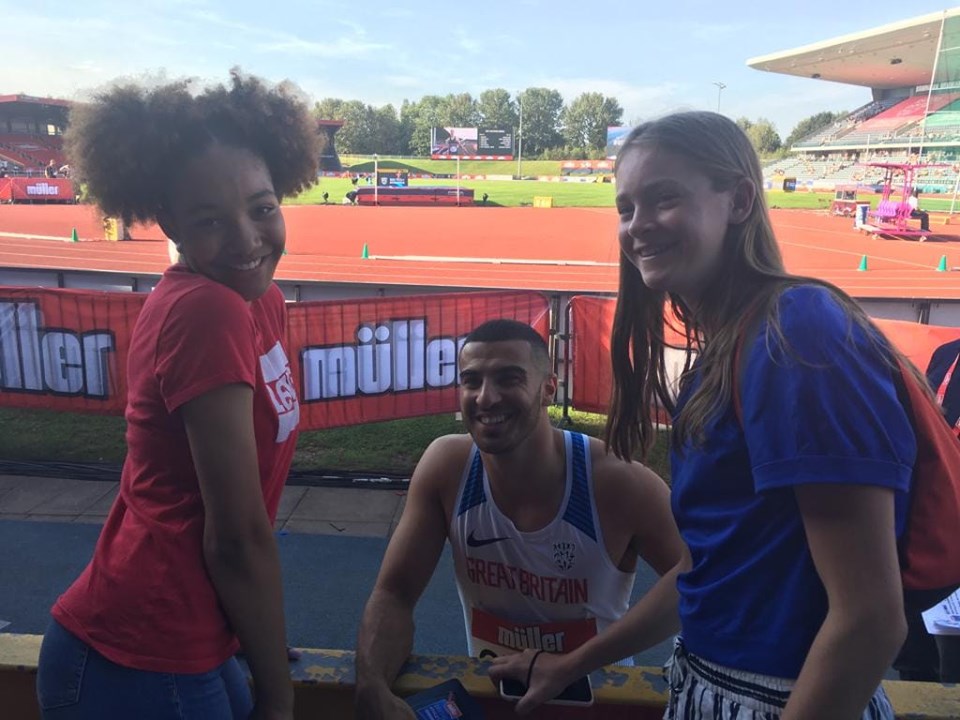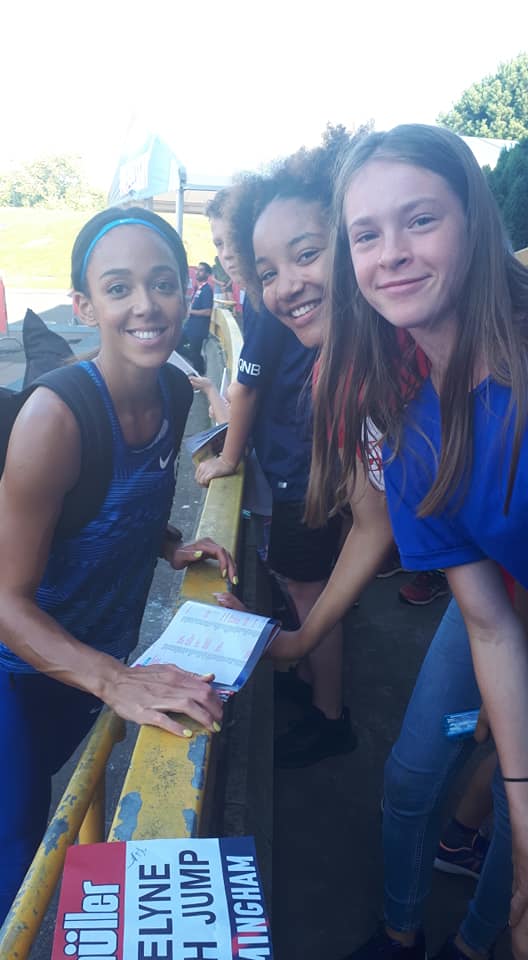 WORLD TRANSPLANT GAMES – Took place at Gateshead on 22-23 August.
Congratulations to EDWIN who won 2 Gold and 2 Silver Medals at Gateshead. In the 4 World Transplant games since 2013 EDWIN has now won 6 Gold, 7 Silver and 2 Bronze Medals
100m – 30-39 Heat EDWIN YAMOAH 2nd (12.10 w-0.2) in the Final EDWIN won the Silver Medal (11.96 w-3.3)
200m – 30-39 straight Final EDWIN YAMOAH won the Gold Medal (PB 24.10 w-2.3) taking .18 of a second off his 2018 time
Long Jump – 30-39 Straight Final EDWIN YAMOAH won the Silver Medal (5.41m nwr)
4x100m Relay – 30-39 Straight Final GB&NI won the Gold Medal (45.72) which is a new World Record which has stood since Innsbruck in 1987, EDWIN ran on Leg 2
MEETING DU SOIR – Took place at La Chaux De Fonds, Switzerland on 21 August.
200m – 1 ANTONIO INFANTINO 1st (20.52 w1.9)
BMC GOLD STANDARD RACES – Took place at Watford on 21 August.
800m – Men's B THOMAS PATRICK U20 6th (1:55.00)
1500m – Men's A PHILLIP CROUT 2nd (SB 3:47.31) taking 3.41 seconds off his 12 June time, B THOMAS BUTLER U23 2nd (SB 3:53.58) taking 3.83 seconds off his 9 June time, Women's A NAOMI TASCHOMIWITZ 6th (SB 4:24.08) taking 5.43 seconds off her 1 May time
WATFORD OPEN MEETING – Took place at Watford on 21 August.
200m – SX 1.3 AMBER DUVERNEY U17 1st (27.56 w0.4), 1.4 CAMERON KNIGHT U13 4th (27.70 w0.0), 1.5 MITTIO MOHAMMADIAN U20 1st (23.67 w0.7)
1500m – SX 1.2 LISA WEBB V50 10th (5:21.05), 1.6 EMILY HATHAWAY U17 7th (4:49.30), THOMAS CADWALLADER U13 12th (4:59.62), 1.14 RORY MUIR 5th (4:00.46), FINN HARVEY U20 7th (4:00.51), BEN WINFIELD U20 11th (4:04.56)
3000m – SX 1.1 INDIRA PATEL U20 19th (10:14.31), 1.2 MUKHTAR MUSA U17 4th (8:34.47)
Long Jump – SX 1 CAMERON KNIGHT U13 6th (4.58m nwr)
PARKRUN 5K RESULTS – 24 AUGUST – BLANDFORD – HUGH RICHARDS V75 89th (26.30) 130th parkrun – CANONS PARK – LAUREN MALTZ U13 70th (27.28) 7th parkrun – GUNPOWDER – JO KENT V50 9th (19.50) 58th parkrun – HACKNEY MARSHES – BARRY CHISHOLM V60 200th (26.38) 178th parkrun – OAK HILL – STUART SINGER V55 21st (21.54) 263rd parkrun, BRADLEY SINGER 62nd (24.58) 114th parkrun – ST ALBANS – REBEKAH GARDINER 27th (19.58) 47th parkrun – STEVENAGE – RUSSELL DEVITT V70 216th (29.33) 161st parkrun – SUNNY HILL – DYLAN MICHEL U15 1st (19.25) 34th parkrun, LENARD MICHEL V45 10th (23.09) 55th parkrun, KAYLA MICHEL U20 20th (28.16) 28th parkrun, SHONA MICHEL V45 25th (30.08) 34th parkrun
SUNNY HILL – PENNY HARPER-WILKINSON V60 instead of competing, PENNY took up her role of marshalling.
PARKRUN – Can you make sure that you are registered as 'Shaftesbury Barnet Harriers', as the link I use to select all results only shows SBH athletes. If anyone is also officiating can you please contact me, and advise me where and when.
HELEN ISAACS TOP SUPERFAN/SUPPORTER – The following article was written by ROSALIND ZEFFERTT and subsequently published in the Jewish Chronicle on Friday 23 August.
If there were national rankings for athletics superfans, the name HELEN ISAACS would surely be high up on the list. Not only is HELEN a busy sports volunteer, but she has been to every Olympic Games since Barcelona in 1992. "I always liked athletics at school and competed in the throws in borough events, but that wasn't really the start of it," recalled HELEN, originally from northwest London and a member of Stanmore Liberal Synagogue before moving to Watford. "My mum and dad loved watching the Olympics, and the image of MARY PETERS winning the pentathlon in 1972 stayed with me for a long time."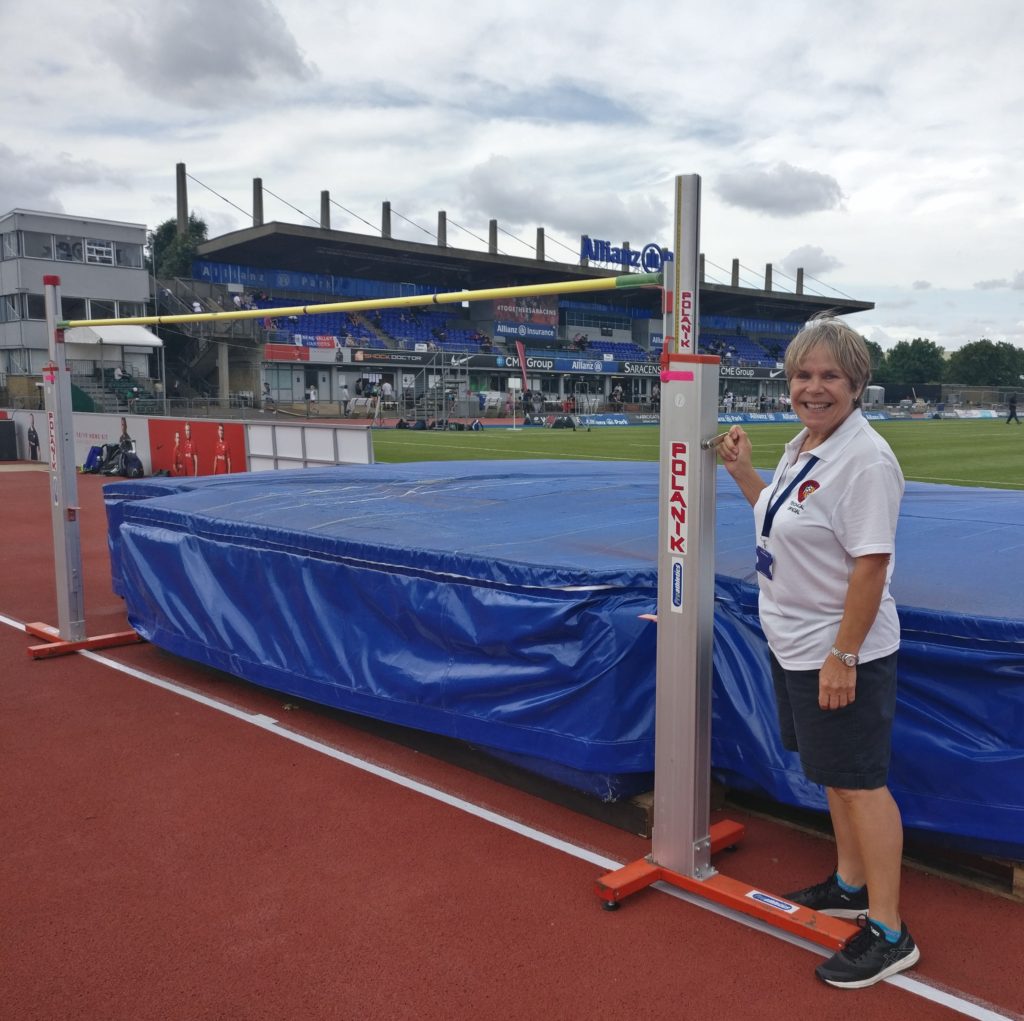 Helen, 56, was working as a retail merchandiser in 1991 when a chance conversation with a colleague about athletics eventually resulted in the two taking a road trip to Barcelona, and the pattern was set. So when London was awarded the Olympics, naturally Helen wanted to be involved. She juggled rehearsals for the opening and closing ceremonies with a six-month stint as a Games Maker, working in uniform distribution. "It was the longest voluntary role," said HELEN, "so we set the tone for the Games. We did all we could to create a great experience for everyone."
Over the past year, HELEN has taken her volunteering to another level, qualifying as a field judge for Shaftesbury Harriers. "I was about to take early retirement after 33 years in retail, and I was looking for opportunities to do more in athletics than be a spectator," she said. "I knew the club, but it had never occurred to me to officiate for them until someone suggested it. I did my first meeting within a couple of weeks, and I absolutely loved it."
She decided to specialise in field judging as she was already familiar with the javelin, shot and discus afrom her schooldays. "With officiating, I enjoy the variety of roles you get with each of the jumps and throws, and it's exciting to know that I could be witnessing the next DALEY THOMPSON or JESSICA ENNIS. I feel privileged to work closely with athletes of all ages competing and performing at their very best. By the end of this season I will have my next field qualification, and I see myself continuing in athletics for a long time."
It has been a little while since HELEN last took part in athletics as a competitor, but she is a keen open water swimmer and also holds a teaching assistant qualification for swimming. As the outdoor athletics season draws to a close, she is looking forward to volunteering at next month's Para Swimming Championships, an event hastily moved to London after the original hosts, Malaysia, refused to allow the Israeli team to compete.
Also high on HELEN'S agenda is, of course, her trip to the 2020 Tokyo Olympics, which she is currently planning with the same retail colleague who has accompanied her to the last seven Olympic Games (ARIT ANDERSON, now a presenter on the BBC's Gardener's World).
Despite having volunteered for many other sports events such as the Canoe Slalom World Cup and the Cricket World Cup, HELEN acknowledges that the Olympics is behind it all. "Without my experience at the London 2012 and the network it created, I wouldn't have found out about all the other volunteering opportunities. That's the legacy of the Olympics."
TOKYO 2020 OLYMPIC AND PARALYMPICS SELECTION POLICY – The following article was posted on the Athletics Weekly website.
With the Olympic Games being held in Japan between the 24 July and 9 August 2020, and the Paralympic Games following 25 August to 6 September 2020, the criteria has been released for those athletes seeking nomination by British Athletics for selection for Team GB and Paralympics GB.
The 'main' trials for the Olympic Games will take place at the British Athletics Championships in Manchester next year at the Manchester Regional Arena, for the first time since 2007.
The Paralympic Games team selection will be conducted in two waves, with wave one nominated on 22 June 2020, and the second wave nominations taking place on 20 July 2020.
The selection policies outline what athletes need to do in order to earn nomination for selection in each and every event and are available to view now alongside FAQ documents at https://www.uka.org.uk/performance/2020-selection-policies/
Athletes and coaches are encouraged to consider the policies early and contact their performance point of contact with any queries as soon as possible.
UPCOMING SHAFTESBURY BARNET HARRIERS FIXTURES FOR THE NEXT 4 WEEKS
The current 2019 Summer Fixture Card can be found on the SBH website – http://sbharriers.co.uk/fixtures-results/fixture-cards/ – also the contact details for all Team Managers can be found here – http://sbharriers.co.uk/ and then select "Athletics"
LONDON INTER CLUB CHALLENGE (ALL AGE-GROUPS INCLUDING U13s) – The Fourth of Four fixtures takes place on Saturday 31 August at Allianz Park, Greenlands Lane, Hendon (Satnav NW4 1RL). Entry is free to all members of Shaftesbury, but why not bring a friend and introduce them to athletics (there is a charge for non-members, £4 for the first event and £3 for subsequent events). Registration opens at 10.30am, and closes 30 minutes before the published start time. All events are for both male and female age-groups unless stated.
The timetable is on the SBH website, please use this link to view/print http://sbharriers.co.uk/athletics/track-field/leagues/
Note: You do not have to be pre-entered, just turn up and register.
QUADKIDS – Takes place prior to the London Inter Club Challenge on Saturday 31 August
CLYDE GORDON will be managing the event, with registration from 10.00am, first event starts at 10.30am, and completion around 12.00pm, and is free to enter for Shaftesbury members and is £2 for non-members. Quadkids is primarily for school years 3 to 7 inclusive, ie age 7 to 12 and includes the four core disciplines of running (600m), throwing (Vortex Howler), jumping (Long Jump) and sprinting (75m). All are welcome and Parents you may be asked to join in by helping out on maybe one of the events
UK YOUTH DEVELOPMENT LEAGUE FINAL – Takes place on Sunday 8 September at Manchester Regional Arena (formerly Sportcity), Etihad Campus, Gate 13 Rowsley Street, Manchester (Satnav M11 3EF).
EASTERN YOUNG ATHLETES LEAGUE TOP SIX FINAL – Takes place on Sunday 15 September at Thurrock Athletics Stadium, Springfield Road, Blackshotts, Grays, Essex (Satnav RM16 2QT).
MIDDLESEX & HERTFORDSHIRE YOUNG ATHLETES ROAD RELAYS – Takes place on Sunday 15 September at the Minet Centre, Springfield Road, Hayes (Satnav UB4 0LL).
Timetable 2.00pm Under 11 Boys/Girls Road Race (1500m Approx), 2.15pm Approx Under 13 Boys/Girls Road Relay (3 x 3000m Approx), 2.55pm Approx Under 15 Boys/Girls Road Relay (3 x 3000m Approx), 3.35pm Approx Under 17 Men/Women Road Relay (3 x 3000m Approx), 4.00pm Approx Under 20/Senior Men/Women Road Relay Open Race (3 x 3000m Approx).
Entries Close Sunday 8 September
Note: You will have to be pre-entered by your respective Team Manager
SOUTHERN SENIOR MEN'S AND WOMEN'S AND YOUNG ATHLETES ROAD RELAYS – Takes place on Sunday 22 September at the Crystal Palace National Sports Centre, Ledrington Road, London (Satnav SE19 2BB).
Start times 10.45am U13 Boys (4 Legs of 3100m), 10.50am U13 Girls (3 Legs of 3100m), 11.35am U15 Boys (4 Legs of 3100m), 11.40am U15Girls (3 Legs of 3100m), 12.25pm U17 Women (3 Legs of 3100m), 12.30pm U17 Men (4 Legs of 4800m), 1.30pm Senior and Veteran Women (4 Legs of 4800m), 2.30pm Senior Men (6 Legs of 6100m), 2.30 Veteran Men (4 Legs of 6100m).
Entries Close Friday 6 September
Note: You will have to be pre-entered by your respective Team Manager
NORTH WEST LONDON LEAGUE – The first fixture of five takes place on Saturday 28 September The race headquarters is The Tir Chonaill Gaels Club, Berkeley Fields, Berkeley Avenue, Greenford (Satnav UB6 0NZ). Directions – turn off Greenford Road (A4127), opposite the entrance to the Glaxo Factory. The playing fields are at the end of Berkeley Avenue, and there is parking in the Clubhouse or in adjacent roads.
The Race HQ pavilion facilities will not be open until 11.00am. Toilet facilties not available until then.
Start Times – Awaiting final details
Note: You do not have to be pre-entered, just turn up and run. Will any of our Female athletes please see JEREMY SOTHCOTT who will give you a race number
UPCOMING OTHER FIXTURES FOR THE NEXT 4 WEEKS
These fixtures you will have to enter yourselves and pay the appropriate fee
A WARNING REGARDING OPEN MEETINGS 2019 – I spoke to 2 of the organisers of open meetings, regarding whether there was a closing date for their meeting, especially as now entries are online only. Their response was when a meeting opens on the online system, there could be a 100m event that takes place between 19.00pm to 19.45pm, they would have ascertained that between these times there will be 8 races. Once the 64 entries for those 8 races have been filled, the event is therefore closed. Therefore, there could be a chance that an event could be closed 1 Week or 2 weeks before the meeting date. Therefore, please beware of this.
ENGLAND U17 & U15 CHAMPIONSHIPS – Takes place on Saturday 31 August and Sunday 1 September at the Bedford International Stadium, Barkers Lane, Bedford (Satnav MK41 9SB).
WATFORD OPEN MEETING – Takes place on Wednesday 4 September at the Woodside Stadium, Horseshoe Lane, Watford (Satnav WD25 7HH). All age-groups including U13s.
There is an overflow car park prior to the main entrance on Horseshoe Lane if you are travelling up from the A405/Garston but we cannot guarantee if there are spaces.
Nearest large car park if the facility car parks are full is the Leavesden Country Park off College road (Satnav WD5 0NR) approximately 1100 metres, which is a continuation of Horseshoe Lane. Please note the Harvester Car Park is now pay and display
Timetable/Events – 7.00pm 200m, 7.15pm High Jump, 7.30pm 100m, 8.15pm 800m, 9.15pm 3000m.
PLEASE NOTE: Entries online only, no entries on the day, for all information including entering yourself online please use this link – http://www.watfordathletics.co.uk/Whogm/OpenindexF.htm
Please Note: Be Aware That An Event Could Be Full Maybe 1-2 Weeks Before The Meeting Date, So Enter Early
SOUTHERN U15 & U17 INTER COUNTY CHAMPIONSHIPS – Takes place on Saturday 7 September at the Horspath Athletics Track, Horspath Road, Oxford (Satnav OX4 2RR).
Note: Entrants are selected by their counties
LEE VALLEY THROWS FEST OPEN MEETING – Takes place on Saturday 7 September at Lee Valley Athletics Centre, 61 Meridian Way, Edmonton, London (Satnav N9 0AR). Age-groups U17 and upwards. Events are Shot Put, Discus, Hammer and Javelin.
PLEASE NOTE: For all information including entering yourself online please use this link – https://www.visitleevalley.org.uk/en/content/cms/outdoors/athletics-centre/competition-entry-forms/throws-fest/
Entries Close Sunday 1 September, Although An Event Could Be Full Maybe 1-2 Weeks Before The Meeting Date, So Enter Early
WORLD CHAMPIONSHIPS – Takes place on Friday 27 September to Sunday 6 October in Doha, Qatar.
PHOTOGRAPH'S – From time to time we have photographs of our members taken at meetings or presentations which we would like to use both on the website or incorporated within our report to our local newspaper. Can you please let me know if you do NOT want your photograph to be used. Also I would appreciate if you could send me any photographs, which I can then publish on the website and newsletter.
CLUB EMBROIDERED RED HOODIES – Currently there are now over 500 Hoodies in circulation, this is the link giving details on how you can order your Club Hoody for £35, which includes having your name embroidered on the front Club Hoodies Updated 01-07-19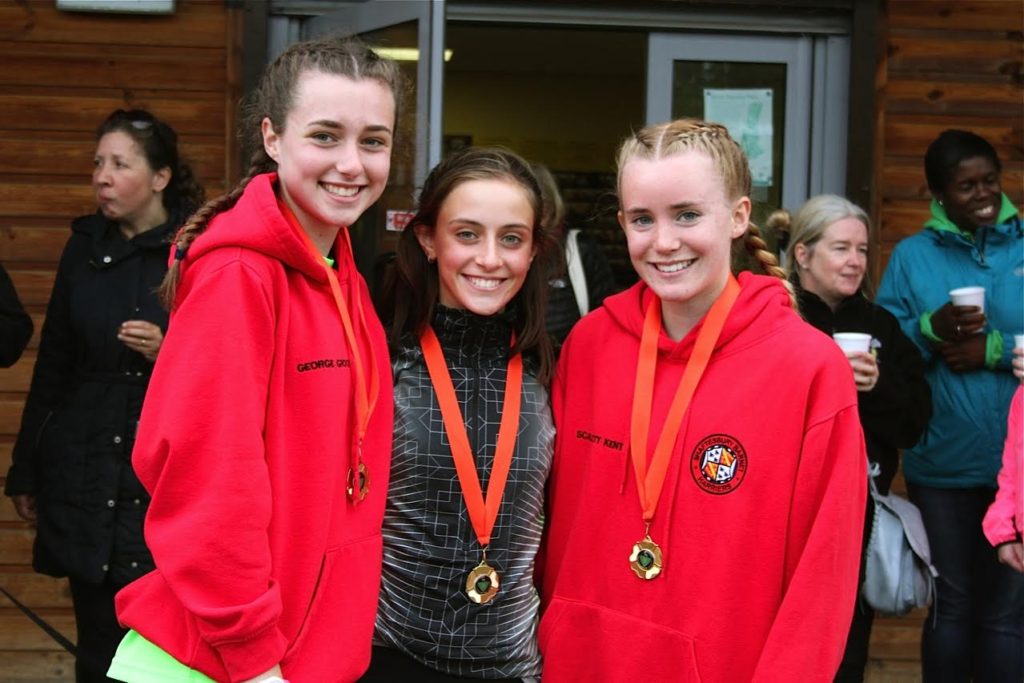 FACEBOOK – Photographs can be found on the SBH page.
CURRENT DISTRIBUTION OF SHAFTESBURY INFORMATION – Currently I notify members (by email) using "MailChimp". The reason I changed, was in November 2017 "Gmail" put a limit of 100 addresses that users could send to in a 24-hour period, and currently I send to approximately 850 members each issue.
On seeking technical advice "MailChimp" was recommended as the best way for SBH to go forward. There is one thing you should be aware off is that when you receive an email from me, the footer at the bottom has 4 options, of which one is "Unsubscribe Me From List". Could I ask you not to select this as if you do you will be automatically removed from my distribution list.
SBH PRIVACY STATEMENT – In becoming a member, SBH will collect certain information about you. Can you please read the attached 'Privacy Statement' which contains Information on General Data Protection Regulations – SBH Privacy Statement Final April 2018
SARACENS SPORT FOUNDATION – Little athletics programme is an athletics 'Multi Skills' programme for children aged 4-9 years. The programme is designed to teach children fundamental movement skills of athletics – running, jumping and throwing. The sessions are game based and as of September there will be a progression throughout the term.
LAP runs on a Tuesday and Thursday from 4.30-5.30pm – Term time only.
1st Legacy athletics club is a pathway club for children aged 10-15 years new to athletics. Children are introduced to all the different athletics disciplines and have the opportunity to develop running, jumping and running skills that we hope they will then go onto use as a participant in the formal athletics club structure or in any other sport for activity they choose to progress to. The lead coach is Gintare Dargeviciute who brings a wealth of experience and knowledge to the club.
1st Leg AC runs on a Tuesday and Thursday from 5.00–6.00pm – Term time only.
For full and contact details use this link to the SBH website – http://sbharriers.co.uk/
ALLIANZ PARK – Main Switchboard telephone number is 0203 675 7240.
CHARGES FOR USING ALLIANZ PARK – The current charges for using Allianz Park are as follows – Adult Daily entry fee £4.00 – Junior (U16) Daily entry fee £2.00 – Concession (Students in full time education, unwaged and Over 65) Daily entry fee £2.20.
As a member of Shaftesbury Barnet Harriers you can apply for membership of Allianz Park, this is a the link for all information and application form Allianz Park Membership Form 2017 Any official coach of Shaftesbury Barnet Harriers gains entry free of charge.
Charges for those with a membership card are as follows – Adult Daily entry fee £3.60, Monthly fee £24.00 – Junior (U16) Daily entry fee £1.80, Monthly fee £12.00 – Concession (Students in full time education, unwaged and Over 60) Daily entry fee £1.80, Monthly fee £12.00.
Please use this link to view all membership details and application form (which you can print) – Allianz Park Membership Form 2017
All Allianz Park membership enquiries should be directed towards Emma Gouge at emmagouge@saracens.net her direct phone number is 0203 675 7252, or Lauren Hewett at laurenhewett@saracens.net her phone number are (Office) 020 3675 7210 or (Mobile) 07881 297875
ALAN