Happy Birthday from this Thursday 25 February Beth Anderson, Joanna Blair, Karl Bulman, Jacob Clement, James Davis, Vanessa Gavenaite, Barry Haws, Amber Henry, Anthony Jackson, Aurora Kaufmann, Andrew Magnall, Ellie McNamara, David Parker and Stephen Potter
RETURN OF ATHLETICS – The Government announced on Monday that from the 29 March at the earliest, the restrictions on sports will ease further with organised outdoor sport permitted. We are now awaiting England Athletics guidance.
ELLIE BAKER SELECTED FOR EUROPEAN INDOOR CHAMPIONSHIPS – Congratulations to ELLIE BAKER who has been selected to run the 800m at the European Indoor Championships in Toruń, Poland, on 4-7 March. ELLIE ran a personal best Indoors (2:02.73) at Sportcity on 13 February.
IN MEMORY OF GARY KYRIACOU – JEREMY SOTHCOTT recalls when he first met GARY in 2012 when his daughters GABRIELLA and LIDIA joined the club. GARY was ever present at all their training, track, road and XC races up and down the country and was hugely supportive of the girls and all members of the team. Anyone who met GARY would enjoy the banter especially when it was about football and his beloved Arsenal where he was a season ticket holder. GARY will be sorely missed by all.
GEOFF MORPHITIS sent this to ANGELA, GABRIELLA and LIDIA. Just a short note to pass on both my condolences and those of SBH to you following GARY'S recent death.
GARY will be remembered for his cheery disposition and welcoming attitude whenever he was watching the girls be it at twice a week training or in competition. He was an SBH (and Arsenal) supporter throughout. I can still remember his loud voice shouting support to all the team members at both track meetings and cross country events. Whatever was happening, GARY had a smile on his face.
TED NOLAN – It is with great sadness to hear he TED died last week from cancer, aged 86. On behalf of Shaftesbury we send our condolences to his family and friends. TED joined Shaftesbury Harriers in the early 1950s, and was a regular member of our cross country and road teams. TED married CHERRY in 1958.
TED was the club record holder in the Marathon (2:33.29) at Feltham on 12 August 1967. He also won the Club 15 Mile Championships in 1968 and 1969, and was awarded a Hertfordshire vest in 1968. His Marathon record lasted until 24 October 1970, when ROGER LITTLE ran (2:29.10) at Harlow. He also was an ever present in the Shaftesbury 10, which was a 3 lap – 10 mile course from Barnet Copthall Stadium in August. TED'S best time was (56.20).
HAROLD ASHTON wrote in the September 1970 issue of the SBH magazine. Well Done TED – TED has firmly established his place among the leaders of the ultra-long-distance brigade in recent weeks. On 15 August he went up to Lancashire for the "Milk Marathon" from Preston to Morecombe and was 5th in (2:36.43), running into a gale-force wind over the last few miles. Then a couple of "Sprints" against the Valley and at Wycombe. In one of the road "Classics", the SLH 30 on 5 September, TED took 3rd place of 45 starters in (3:06.06).
"TED'S DAY" was on 12 September, when he brought his experience and judgement to bear in the 38-Mile Woodford to Southend. At 20 miles, he was some 4 minutes down on the leader; at 28 miles, he had gone to the front; and pressing on, he went away to win in grand style by no less than 7 minutes. On 19 September, he had what his wife CHERRY afterwards described as a "Training Run" in the Highgate Marathon rounds the hills of Copthall and Whetstone, and was 6th in (2:45.56).
Note: The 1970 Shaftesbury 10 on 8 August (17th Edition), one of the sponsors was the Green Shield Stamp Company (who remembers them). They presented a special award for the first Under 21 Athlete to finish. The race was won by our own DAVE BEDFORD in a time of (47.55) smashing the course record by 23 seconds, after winning the AAA 10000m Championships the previous evening. DAVE won the Under 21 prize, but generously asked for the prize to be given to the next finisher. This was 18-year old DICK BOBER, running his best race of the season (54.26).
DAVE BEDFORD recalls – Sad News. I remember meeting TED when I was a Youth coming through the club. When I started doing mileage like 25 mile runs on a Sunday morning….TED would meet me before the Club pack went out on the usual 15 mile, for a 5 mile warm up followed by a 5 mile warm down afterwards. TED was kind, considerate, supportive, caring and a great influence on my development along with other people in the group like GERRY ELMORE, JOYCE SMITH (was as good as most men!), DAVE HOWE, DAVE GREEN and so on and so on. TED! Not seen you for ages….but never forgotten. TED …thanks!
PHILIP CUNNINGHAM remembers TED and CHERRY down at Brook Farm – they were good friends with my parents.
YOUTH TALENT PROGRAMME – Apologies to MARLI JESSOP and her coach SCOTT GRACE, also NAOMI PALMER and her coach JANE DIXON who were omitted from last week's list, and wish them both a happy and rewarding experience.  This brings the total of Shaftesbury athletes on the YTL programme to 13.
MARLI our No.1 Hurdler in 2020, ran (8.68) in the Indoor 60m and in the 100m Outdoors ran (12.96 w0.2), which ranked her UK No.5 and 15 respectively.
NAOMI last competed in 2019, and recorded a 300m personal best (40.81) and was an ever present in our outstanding UK Youth Development team.
A FEW MORE VOLUNTEERS REQUIRED – RAY POWELL still requires a further 2-3 volunteers for the London Marathon Big Half on Sunday 25th April. Meeting time is 6.30am and finish at 11am, kit and lunch supplied. Nearest station is Tower Hill / Tower Gateway.
Please contact CLARE & RAY at ray571m@btopenworld.com
REDEVELOPMENT OF THE EXISTING WEST STAND – SARACENS have appointed RAYNER ROWEN CONSTRUCTION to carry out the demolition and rebuild of the old West Stand. The works commenced on Monday 15 February and completion is planned for 6 May 2022.
Demolition is planned to commence on 22 February with completion on 23 April. This is a Link to the first Monthly Newsletter for the redevelopment, which shows site access and the initial site activities – C-0045 – West Stand Monthly Newsletter – February 2021 Rev A
BRITISH ATHLETICS EUROPEAN INDOOR SELECTION TRIALS – Took place at Sportcity on 20-21 February.
400m – SM H3 KRISHAWN AIKEN 3rd (48.33)
1500m – SW Straight Final ELLIE BAKER 3rd (PB 4:13.66) taking 1.95 seconds off her 2019 Indoor time, and is ranked UK No.5 in 2021. It is inside the European qualifying time (4:17.00)
BRITISH ATHLETICS EUROPEAN INDOOR SELECTION TRIALS – Took place at Loughborough on 21 February.
Shot 7.26kg – SM Straight Final SCOTT LINCOLN (HCA) 1st (19.93m)
BRITISH ATHLETICS EUROPEAN INDOOR SELECTION TRIALS – Took place at Lee Valley on 20 February.
60m – SM H2 DOMINIC ASHWELL U23 3rd (SB 6.79) taking .01 of a second off his 13 February time, and is ranked UK No.1 U23 in 2021, in the Final DOMINIC finished 5th (6.89)
GARY BROWN SHIELD OUTDOOR MEETING – Took place at Nathan, Australia on 20 February.
Discus 1kg – SW JADE LALLY 1st (SB 58.43m) adding 2.64m to her 30 January throw, and is ranked UK No.1 in 2021
SPIDER PATRIOT CROSS COUNTRY CLASSIC – Took place at Mechanicsville, Virginia, USA on 20 February.
5 Miles – SM JAMIE DEE (Iona College) 2nd (24.24)
A CHANCE MEETING – We received an email from NICK KAUFMANN who was running at Edgwarebury Farm recently, and while there he got chatting to two guys who were doing hill strides in the rain and cold. We chatted about Shaftesbury – they didn't know FRANK ATTOH who used to jump! Obviously youngsters don't realise oldies were young once and one day they will be old, but they do know FRANK, just as a coach.
Anyway, it was a lovely conversation and they were really nice guys. I was impressed with their dedication and wanted to pass on to you the nice coincidence and say also that they are a credit to the club. Those athletes were ADE MASON or AKIN COWARD who are cousins and both have been SBH members for 12 years. They live locally, AKIN has a best of (2.15m) in the High Jump and was ranked 6th in the UK in 2019. ADE has a best of (16.38m) in the Triple Jump and was ranked 1st Under 23 and 6th overall in the UK in 2019. Photograph of a windswept NICK, AKIN and ADE.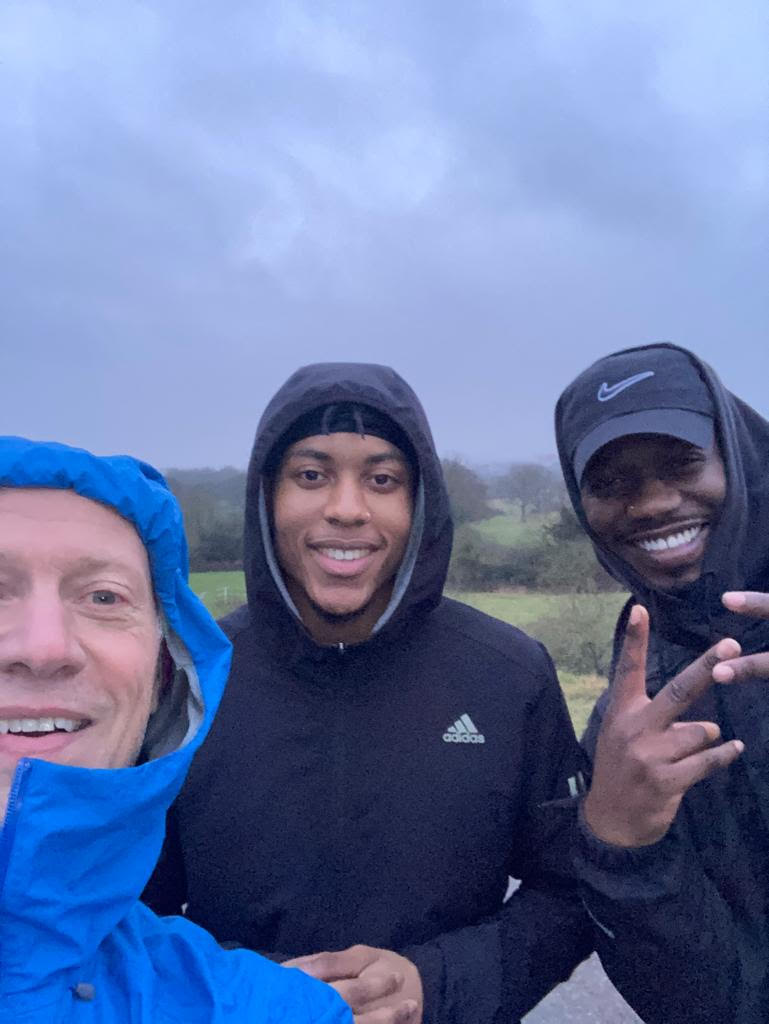 Unfortunately, neither AKIN of ADE are considered "Elite" by UKA and therefore they are not allowed to train at Copthall during the current lockdown period. We appealed, but unfortunately to no avail.
NICK KAUFMANN – I got to know a fantastic, inspirational gymnast called STEVE FREW who taught my kids and others gymnastics at the weekends at a local fitness club to make ends meet after he was deemed over-the-hill in his late 20s and cut off from funding.  He made it to the 2002 Commonwealth Games in Manchester and won gold in the rings at the age of 28.  What this article tactfully does not mention is that he did it without the Scots government's help:
https://www.teamscotland.scot/2020/steve-frew-scotlands-first-gymnastics-gold/
ASK THE ATHLETE WITH SHAFTESBURY'S ZHARNEL HUGHES – The following article was published on the Athletics Weekly website recently.
The European 100m champion answers your questions on training with USAIN BOLT, being a pilot and his dream 4x100m relay team
Glimpse into the lives of world-class athletes as they answer questions from YOU each week on 'Ask the Athlete'. This week we are joined by ZHARNEL HUGHES – European 100m champion and the joint-second fastest Brit of all time. He chats to AW about training with USAIN BOLT, being a pilot and flying a plane around the Caribbean, his dream 4x100m relay team and so much more! Have a read of some of Hughes' answers below and then enjoy the full 15-minute episode.
How did growing up in Anguilla shape you as an athlete? Was athletics part of your upbringing? "In Anguilla I started out at age 10. My family took part in athletics and I think it was a part of me, my older brothers and sisters run fast but because they got to high school, things started to fade away from them. For me, I've always been interested in track and field and I always wanted to see how much faster I could become. So it's up to me now to continue and to pursue my dream!" 
Outside of sprints, what events do you most enjoy watching and why? And who's your favourite all-time track and field athlete? "I like to watch football. I'm a big Manchester United fan. MARCUS RASHFORD is a big player of mine and I'm always looking forward to watch him play. He's such an inspiration to the youths and to me because the way he sets up himself is that of somebody who wants to execute his skills and talent to the best of his ability. "My most loved all-time track and field athlete is USAIN BOLT obviously. I train with him, he's like an older brother to me and I've always been looking up to him. TYSON GAY as well, I used to watch these guys regularly on YouTube, when you came home from school you just searched their races! I've always been interested in the way they run, their technique, the way they manage themselves under pressure and how they execute those super fast times." 
You're a private pilot – if we weren't in a pandemic and you could fly to anywhere in the world right now, where would you most like to visit and why? "Yes, I am! For me I like travelling within the Caribbean as I fly small planes and I don't think I'd be able to make it to Europe! I'd definitely like to fly in the Bahamas because of the turquoise waters they have over there. I like the Cayman Islands a lot as well because I've been there a lot, it's well kept and the people over there are beautiful. "For me, another place in the Caribbean I'd be flying to will obviously be Anguilla as its nearby to Jamaica I could see family as well. As long as the plane makes it because it's a small plane and you'd constantly have to stop for fuel! It wouldn't get over the North Atlantic for sure." 
Who's in your dream 4x100m men's relay team for Great Britain and in what order? "Ah, that's a good question! I'd definitely go with some old guys though (I hope they don't mind me saying old guys)! I'd probably put CHRISTIAN MALCOLM on the bend, I would run the back straight, I'd probably go with DARREN CAMPBELL as well on the starting leg and I'd go with JOHN REGIS on anchor. That'd be an explosive team and I definitely think we could go and smash the world record. That's the team I'd definitely go with, the way CHRISTIAN runs the bend is crazy. JOHN does as well but I'd definitely put CHRISTIAN on the bend, DARREN at the start and JOHN on anchor. We'd definitely be a team to be reckoned with." 
What times will it take to make a podium and then gold in the 100m/200m in Tokyo? "The way track and field is going right now, I definitely think that in the 100m anywhere from (9.90) to probably about (9.85) to (9.82) could probably get you a gold in the 100m. As for the 200m, anywhere from (19.95) thereabouts to possibly (19.75) should get you the gold in the 200m. I definitely think this year I can produce those times, it's within me as I'm much stronger physically and mentally and I just want to go and compete now. I'm staying on my grind on a daily basis and I'm making sure that the work I'm putting in will be something that I'm reaping rewards from when the Olympics comes around!"
ATHLETICS BENEFACTOR SIR EDDIE KULUKUNDIS OBE DIES – The following article was published on the Athletics Weekly website recently.
Gentle and generous giant of track and field will be fondly remembered after he passes away aged 88.
Before the era of Lottery funding, British athletes scrimped and saved to afford physiotherapy treatment, warm-weather training camps or air fares to overseas events. In some cases, they were helped by a private sponsor and one of the most generous in the history of the sport was SIR EDDIE KULUKUNDIS who passed away on 17 February.
SIR EDDIE, who has died aged 88, was born into a wealthy family who had made its fortune in the shipping business. An avid athletics fan, from the 1970s through to the turn of the millennium he donated several million pounds in total to promising athletes for little reward other than the simple pleasure of seeing them reach their potential and knowing he helped them along the way.
When MO FARAH moved from Somalia to England, SIR EDDIE paid some of the legal costs that helped him become a British citizen and which would, eventually, lead to him winning 10 global titles for Great Britain.
He also gave financial assistance to athletes such as DENISE LEWIS, DEAN MACEY and JASON GARDENER. Earlier, he helped athletes like STEVE OVETT, SALLY GUNNELL and ROGER BLACK, among many others.
SIR EDDIE became inextricably linked to Belgrave Harriers in London, helping fund their athletes and coaches. In the quest for British Athletics League titles, for example, he would sometimes fly steeplechaser JUSTIN CHASTON from the US to England just to race 3000m over barriers to claim maximum points in that particular event before sending him back to the States so he could be back in time for work on Monday.
"It is with great sadness that we have heard the news about SIR EDDIE," said JOHN GLADWIN, president of Belgrave Harriers. "He was patron of Belgrave Harriers and couldn't have been more supportive of us. "We pass on our condolences to the family and our great thanks for everything you did for the club. RIP SIR EDDIE."
SIR EDDIE did not restrict his generosity to Belgrave alone, though. He helped athletes from various clubs and was an ever-present at major meetings as he mingled with members of the British Athletics Supporters' Club as they enjoyed the action. With his large 20-stone-plus frame he was an unmissable figure, too. But he had lost weight in recent years as he struggled with diabetes and dementia. He was often described as the 'godfather of British athletics' and he was recognised for his philanthropy by receiving an OBE and a knighthood for services to British theatre, charity and sport.
It was well deserved. His generosity aside he was a kind and charming man who always had time to speak to athletes, coaches, or fellow athletics fanatics. His conversations were carried out in a slight American accent, too, as he was born in London but moved to New York as a child and went to university at Yale.
Such was his interest in the sport, he even bankrolled the publication of Athletics Today – a weekly athletics magazine in the late 1980s and early 1990s. Several years later he nearly became the first president of UK Athletics, too, but finished runner-up to David Hemery in a vote and instead took the role of vice-president.
Outside athletics his other big passion was the theatre and he ploughed money into West End plays and musicals and in 1981 he married the film and television actress Susan Hampshire, who has looked after him in recent years as his health deteriorated.
He will be remembered as a generous benefactor who helped unofficially fund athletes and coaches long before the National Lottery system arrived.
From DAVE BEDFORD – His involvement coincided with a golden age for athletics in this country – not really a coincidence. EDDIE probably did more for athletes and athletics in his lifetime than most…if not all. Sadly missed!
From GEOFF MORPHITIS – We sat together on the committees of several athletics related charitable organisations. He supported many athletes and athletics projects. He funded the running costs of over 20 cars he loaned out to athletes to help them to get to training and competitions. We sat next to each at the Manchester Commonwealth Games and had a great time cheering on the British successes. A typical millionaire from a Greek shipping family with a great love for sport, not just athletics. I distinctly remember him having to cancel a meeting as he was flying off that afternoon to Boston, in the US, so as not to miss the Super Bowl.
Unfortunately, he lost a large amount of money when Lloyds claims hit him badly, but he still maintained his love of Athletics. He was a real friend. He had been suffering from Dementia in recent years and yet he was still an excellent and regular Bridge player. I was in touch with his wife SUSAN HAMPSHIRE. An excellent actress and a lovely and caring lady.
I am very sad at this loss and will really miss him.
From FRANK ATTOH – I was one of the very lucky coaches to be helped and supported by SIR EDDIE, being able to travel to competitions, to support and help my athletes, helped me to get to know them better. My first trip with SIR EDDIE was in 1994 to Lisbon for the World Under 20 Championships, I did not disappoint him because we won the only individual gold for GB when LARRY ACHIKE won the Triple Jump.
Thereafter, I went to various championships with SIR EDDIE, he always encouraged performances, he loved being with ordinary people like me. Our sport will miss him.
UPDATE ON NEELAM KADERBHOY – I'm still at the home in Borehamwood. I'm going to be here for some time. The staff are lovely day and night and I'm able to relax and be at peace. I am stable at the moment. I do my exercises and walking daily. Any little improvement to me is great. So, I carry on and stay positive and patient and strong.
I've thought long and hard and under my current circumstances I have to stand down from Team Management of the Middlesex League. I don't have enough energy or fitness or confidence or concentration to do a whole day and travelling and then to do corrections before submitting.
Like I say, it has been a hard decision to make, but it is the right decision going forward. I am sad. But that's life!!! Yours in sports NEELAM.
From her Brother IMTIAZ – NEELAM is in good spirits, despite her ongoing daily challenges, loves receiving all of your messages and gifts. Unfortunately, due to current COVID-19 restrictions, we are unable to see NEELAM, but we pray that once lockdown is finished we will see her again.
For all of you wanting to send her cards etc, please send to the nursing home, as she will be there for the foreseeable future. Forest Care Village, 20 Cardinal Ave, Borehamwood, WD6 1EP
SBH METROPOLITAN LEAGUE STATISTICS – Part 2 to follow next week, which will includes all Club and SBH team wins from 1967.
ATW CROSS COUNTRY SERIES NEXT RACE – The next race is on Saturday 27 March at Merchant Taylor's School, Sandy Lodge, Northwood HA6 2HT. The races are for Under 11, 13, 15 & 17s. This is the link for all details including entries – https://activetrainingworld.co.uk/events/atw-cross-country-series-round-3-21st-feb/
UPDATE ON PROPOSED TRACK AND FIELD FIXTURES – National Athletic League dates have been agreed – Sunday 6 June, Sunday 4 July, Sunday 8 August and Saturday 28 August – 4 club divisions – we are in Premier London North with Harrow, Newham and Woodford – Probability that most / all fixtures will be at StoneX Stadium. London Inter Club Challenge dates agreed Saturday 26 June, Saturday 31 July and Saturday 21 August all at StoneX Stadium.
Provisional UK Youth Development League dates are; Sunday 2 May, Sunday 30 May, Sunday 27 June, Saturday/Sunday 4/5 September National Final
Provisional Middlesex Young Athletes League dates are; Finsbury Park, Saturday 15 May – Perivale, Sunday 20 June – Parliament Hill and Sunday 18 July – StoneX Stadium
Provisional Eastern Young Athletes League dates are; Sunday 13 June, Sunday 4 July, Sunday 18 July, Sunday 1 August and Final Sunday 12 September (venues to be confirmed).
The SCVAC Veterans League dates are still to be announced.
2021 LEE VALLEY INDOOR TRACK AND FIELD MEETINGS – Currently Lee Valley is closed.
2021 INDOOR TRACK AND FIELD MEETINGS – During the first week of January UK Athletics issued a Preliminary list of fixtures for 2021, this is the list – 2021-Fixtures-Calender-15.01.21
Non Lee Valley fixtures – Currently the following competitions are taking place, March 19-21 World Championships (Nanjing, China), 24-28 European Masters Championships (Braga, Portugal) – April 6-12 World Masters Championships (Edmonton, Canada).
BIRMINGHAM 2022 COMMONWEALTH GAMES – Well there is just 531 days to the Opening Ceremony, you may wish to sign up to receive their Newsletter. Link – https://www.birmingham2022.com/register-your-interest/. Tickets will be on sale later this year, and can only be purchased through the official Commonwealth Games website, this is the link to register – https://www.birmingham2022.com/the-games/tickets/. This is the link to the current schedule for the 25 events – https://images.birmingham2022.com/wp-content/uploads/2021/01/11441664_CWGs_Daily_Competition_Schedule_FINAL.pdf.
ATHLETICS take place at the Alexander Stadium 2-7 August, with the Marathons on 30 July. There will be 59 medal events including a fully integrated Para Sport programme. TRIATHLON and PARA TRIATHLON take place at Sutton Park 29 and 31 July. The Individual races contest a 750m swim, 20km cycle, 5km run, and the Team races contest a 250m swim, 7km cycle, 1.5km run. Link to all events – https://www.birmingham2022.com/the-games/sports/?utm_source=workflow&utm_medium=email&utm_campaign=popup_work_flow_send_welcome_autoresponder_pop_up_footer_form&utm_content=2021-02-05
Shaftesbury's ANGUS MCKENZIE was appointed as Competition Manager (Athletics) last year, and the article on him can be found in the 26 November SBH Newsletter.
PROCEDURES FOR USING STONEX STADIUM FROM JEREMY SOTHCOTT – The Stadium is now subject to the lockdown guidelines recently set by the Government and is therefore closed to all athletes except "Elite" athletes as certified by UKA/EA.
SBH SUBSCRIPTIONS 2020-2021 – SBH Treasurer GEOFF MORPHITIS has sent me the following regarding subscriptions.
The Club AGM took place virtually at 19.30 on Tuesday 24 November. One of the resolutions which was passed dealt with Club Subscriptions as follows. "The Annual Membership Fee for new members from 1 December 2020 will increase to £50. Existing members who have paid their membership fee for year ended 30 September 2020 will be considered as having also paid their fee for the year ended 30 September 2021.
In other words, in recognition of the disruption caused by Covid-19, these members will have 2 years membership for the price of one." Therefore, I'm now asking athletes who have not paid their subscription for the year ended 30/09/20 (£45) to pay, so as to qualify for the 2 for 1 concession together with the England Athletics Registration Fee of £15 for 2020/21. The total is £60 and should be paid NOW to; ACCOUNT NAME: SHAFTESBURY BARNET HARRIERS, BANK: HSBC, ACCOUNT NUMBER: 41308378, SORT CODE: 400426 – Please let me know when payment is made. Thanks GEOFF
UPDATE ON SBH FIXTURE CARD – We are in the process of finalising the 2021 Summer Fixture Card
CAN YOU HELP PLEASE – During the period when all competitions are suspended, I will do my upmost in keeping the Newsletter information and other content going.
I would welcome any contributions From Yourselves, any impending marriages, or additions to the family, any running or competing incidents, also past warm weather training/holidays (No Club 24 please). Currently the response has been excellent, but if you have anything that could make it into next week's Newsletter – please email me.
THE FOLLOWING SBH DOCUMENTS/INFORMATION CAN EITHER BE VIEWED, DOWNLOADED OR PRINTED 
SBH 2021 Summer Fixture Card, and will be publishing a draft  in the coming weeks.
Cross Country Team Managers Details – http://sbharriers.co.uk/athletics/cross-country/team-managers/
Road Running/Relay Team Managers Details – http://sbharriers.co.uk/athletics/road-running/team-managers/
THE FOLLOWING INFORMATION OF INTEREST CAN BE FOUND ON THE SBH HOME PAGE BY USING THIS LINK, THEN SELECT THE LEFT OR RIGHT ARROW – http://sbharriers.co.uk/
Shaftesbury Barnet Harriers Club Hoody, information on how to purchase one, please go to the bottom of this Newsletter.
STONEX STADIUM EAST STAND INDOOR AREA – Currently closed.
SBH MIDWEEK JUMPS CLUB AT STONEX STADIUM (FORMERLY BARNET COPTHALL STADIUM) – Currently Suspended.
STEEPLECHASE TRAINING AT STONEX STADIUM (FORMERLY BARNET COPTHALL STADIUM) – Currently Suspended.
PARKRUN 5K RESULTS – Currently Suspended
PARKRUN – Can you make sure that you are registered as 'Shaftesbury Barnet Harriers', as the link I use to select all results only shows SBH athletes. If anyone is also officiating can you please contact me, and advise me where and when.
PHOTOGRAPH'S – From time to time we have photographs of our members taken at meetings or presentations which we would like to use both on the website or incorporated within our report to our local newspaper. Can you please let me know if you do NOT want your photograph to be published. Also, I would appreciate if you could send me any photographs, which I can then publish on the website and newsletter.
CLUB EMBROIDERED RED HOODIES – Currently there are now over 750 Hoodies in circulation, this is the link giving details on how you can order your Club Hoody for £35, which includes having your name embroidered on the front Club Hoodies Updated 01-07-19
FACEBOOK – Photographs can be found on the SBH page.
CURRENT DISTRIBUTION OF SHAFTESBURY INFORMATION – Currently I notify members (by email) using "MailChimp". The reason I changed, was in November 2017 "Gmail" put a limit of 100 addresses that users could send to in a 24-hour period, and currently I send to approximately 850 members each issue.
On seeking technical advice "MailChimp" was recommended as the best way for SBH to go forward. There is one thing you should be aware off is that when you receive an email from me, the footer at the bottom has 4 options, of which one is "Unsubscribe Me From List". Could I ask you not to select this as if you do you will be automatically removed from my distribution list.
SBH PRIVACY STATEMENT – In becoming a member, SBH will collect certain information about you. Can you please read the attached 'Privacy Statement' which contains Information on General Data Protection Regulations – SBH Privacy Statement Final April 2018
STONEX STADIUM (FORMERLY BARNET COPTHALL STADIUM) – Main Switchboard telephone number is 020 3675 7250.
CHARGES FOR USING STONEX STADIUM (FORMERLY BARNET COPTHALL STADIUM) – Currently the Stadium is closed.
ALAN WELLER – SBH NEWSLETTER EDITOR AND WEBMASTER