Happy Birthday this week to Sarah Bangura, Dick Bober, Sophie Bowen, Asher Brooks, Richard Charles, Ojie Edoburun, Nadia Harper, Richard Horton, Ashok Mathur, Sophia Obi, Sarah Parsons, Sophia Staab, Carl Vidgen
Downloads – The following documents can be viewed, downloaded or printed
Loughborough International Results –    Loughborough International 22-05-16
Cardiac Screening –    Cardiac Screening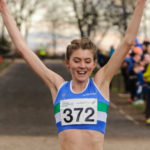 BETH POTTER IS RIO BOUND – Congratulations to BETH who was third (32:05.37) in the Night of 10,000 PBs on 21 May, to just miss her personal best, and gained an automatic place in Brazil as she was the second British athlete to finish. BETH already had the qualifying time and backed that up with another sub-32:15 clocking.
In the Senior Men's race KOJO KYEREME V40 ran a season's best (30:53.1) in finishing in 16th place, which ranks him UK No.1 V40 in 2016.
LOUGHBOROUGH INTERNATIONAL – Which is one of the seasons outstanding events, took place at Bedford on 22 May, with Shaftesbury athletes competing for England, GB Juniors and Scotland.
England ended up victorious with (178 points), GB Juniors 2nd (140 points), Loughborough 3rd (140 points) and Scotland 6th (96 points)
100m – SM CONFIDENCE LAWSON (England) 5th (10.41 w1.4), Guest A ZANSON PLUMMER U20 4th (10.65 w0.3)
100m – SW Guest A STEFFI WILSON U23 5th (SB 11.93 w0.9) and is ranked UK No.7 U23 in 2016, Guest B PAGE FAIRCLOUGH U20 7th (SB 12.04 w0.6) taking .11 of a second off her 27 April time, and is ranked UK No.9 U20 in 2016
200m – SM OJIE EDOBURUN U23 1st (PB 20.50 w4.0) taking .63 of a second off his 2014 time, Guest A ANTONIO INFANTINO 2nd (20.88 w2.6), CONFIDENCE LAWSON 6th (21.16 w2.6), Guest B GERALD MATTHEW U20 4th (PB 21.25 w1.0) taking .14 of a second off his 1 May time, and is ranked UK No.5 U20 in 2016
200m – SW Guest C STEFFI WILSON U23 2nd (SB 24.50 w2.7) taking .14 of a second off her 28 February time
400m – SW Guest A LILY BECKFORD U20 5th (55.39)
800m – SM ANTHONY WHITEMAN V40 6th (SB 1:50.86) taking .11 of a second off his 14 May time, and is ranked UK No.1 V40 in 2016
3000m – SW SOPHIA PARVIZI-WAYNE U20 8th (SB 9:45.89) taking .37 of a second off her 3 February time, and is ranked UK No.10 U20 in 2016
400m Hurdles – SM SEB RODGER 1st (50.48)
400m Hurdles – SW Guest A PHILIPPA LOWE (HCA) 1st (PB 58.03) taking .47 of a second off her 2015 time, and is ranked UK No.5 in 2016, GEMMA ROUS (HCA) 5th (61.19)
High Jump – SM DAVID SMITH (Scotland) 1st (2.21m)
Long Jump – SM JAMES MCLACHLAN (HCA Scotland) 8th (7.23m w0.5)
Discus 1kg – SW JADE LALLY (England) 1st (60.50m)
Discus 2kg – SM ZANE DUQUEMIN 1st (SB 60.97m) adding 1.07m to his 21 April throw, and is ranked UK no.2 in 2016, GREGORY THOMPSON U23 5th (SB 54.49m) and is ranked UK No.3 U23 in 2016, ANGUS MCINROY (Scotland) 6th (SB 52.78m) adding 2.75m to his 7 May throw, and is ranked UK No.10 in 2016
Hammer 4kg – SW RACHEL HUNTER (Scotland) 4th (SB 60.96m) adding 2.18m to her 13 May throw, and is ranked UK No.6 in 2016, REBECCA KEATING U20 (GB Juniors) 8th (PB 57.96m) adding 79cm to her 2015 throw, and is ranked UK No.1 U20 in 2016
Hammer 7.26kg – SM CHRIS BENNETT (Scotland) 2nd (73.32m)
Javelin 600g – SW JO BLAIR (HCA England) 1st (PB 54.91m) adding 34cm to her 2015 throw, and is ranked UK No.2 in 2016
For the remaining newsletter information and results