Happy Birthday from this Thursday 26 November to Clifford Barley, Amy Bream, Ariel Carmel, Gregory Dunson, Seyi Fari, Oliver Greenstein, Bobbi Harrison, Malika Hislop-Ellis, Tosin Jokosenumi, Neo Mohammadian, Rory Muir, Jacob Nustedt, Milan Trajkovic, Pascaline Wangui, Fergus Watson, Katie Webb and Lucy Woodward
UPDATE ON NEELAM KADERBHOY FROM HER BROTHER IMTIAZ KADERBHOY – Thank you all for your continued love and support of my beautiful big sister. NEELAM has been doing extremely well, constantly wanting to go for walks, eating amazingly healthily and staying incredibly strong in mind and body which I will forever be in awe of.
I have learnt over the past few weeks, and gained a fascinating insight into NEELAM'S athletics life. In particular over 4 decades in the sport how she has inspired countless female athletes in particular those of Asian or ethnic origin, where especially in the 80's and 90's athletics and sport wasn't a top priority. Combined with an incredible amount empathy and love for the athletes she has coached over the years, many parents have recounted stories for which they will be eternally grateful for the profound impact that NEELAM has had on their child's life.
NEELAM'S impact on the sport was also recognised at the London Council Awards Night last Thursday 19 November. NADIA WILLIAMS, who is a close friend, fellow Shaftesbury Barnet Harriers and on the London council, summarized NEELAM'S contribution to the sport she loves. You can watch again at: youtu.be/WJb7FQAB50U
Please also accept my apologies if I have not responded to phone calls and messages.  It has been a stressful and tiring passage of time and will continue to be the case for the coming weeks and months. It is without doubt the hardest journey to be on, for NEELAM and especially for those closest to me who prop me up daily with a good dose of love and affection and the occasional kick up the backside! It is genuinely mentally and emotional exhausting being in this situation and I/we thank you for your understanding and empathy in focusing purely on showing nothing but love and support for NEELAM'S.  The constant deliveries of turtles, rum chocolates, M&S treats, (which I have also enjoyed, sorry!, but NEELAM'S did give me permission), the phots and videos that you share with NEELAM'S ensure that she is constantly smiling and feeling the love. Also, a very happy birthday to SALMA, who despite taking care of my dad as he fronts up to his own challenges, continues to be a source of love, guidance and support to us all. Please keep the love coming for NEELAM.
SHAFTESBURY BARNET HARRIERS 130TH ANNUAL GENERAL MEETING 2020 – Took place last Tuesday 24 November on Zoom. The meeting which was managed by STEVE MARSHALL, took place without any hiccups. There were 31 attendees on Zoom.
Chairman JOHN KELLY opened the meeting by welcoming all those present, then proceeded with the Agenda
1 – Apologies for absence – COLETTE HURLEY.
2 – Minutes of the AGM held on 26 November 2019 – DAVE BEDFORD gave an update on subsequent meetings held with SARACENS, with DAVE and BRYAN SMITH representing the Club. 1 – Progress of the re-building the West Stand – It is planned to have any Asbestos removed by the end of 2020, in 2021 a contact will be placed with builder in January, main works to commence in June with a completion in July 2022. 2 – From January 2021 (to be finalised) the indoor facility under the East Stand will used by the NHS as a Covid Vaccination Centre, and it is anticipated that it will closed to the club for a period of 4-8 months! There were no other comments, the minutes were proposed and seconded.
3 – Matters Arising – There were none.
4 – Annual Report for the year ended 30 September 2020 – General Secretary PHILIP CUNNINGHAM gave a brief update on yet another successful year for the club. He emphasised the fact that due to Covid-19 our athletes still produced outstanding performances throughout the period., including completing a full 2019-2020 cross country season. At the last Club Council meeting it was decided that as there would be no Club Best Performance Awards for the year, we would award medals to athletes who have produced top 6 age group rankings in 2020 (see full list in Annual Report). We organised a ThrowsFest meeting on 11 July at Barnet Copthall Stadium following the first lockdown; the first licensed athletics fixture in the UK. We had over 1600 participants at our subsequent 7 licensed meetings at Lee Valley. We wish to thank our Officials and Volunteers plus the Parents for their dedication throughout the year. The report was proposed and seconded.
GEOFF MORPHITIS advised that a special award will be presented to NEELAM KADERBHOY, the Coronation Cup which is for Outstanding Services to the club.
5 – Accounts and the Treasurers Report for the year ended 30 September 2020 – Treasurer GEOFF MORPHITIS gave a detailed report on our expenditure and outgoings for the year, overall we have a reasonably healthy bank balance. The accounts were proposed and seconded.
6&7 – Election of Officers – Chairman JOHN KELLY opened by thanking (myself) ALAN WELLER whose 3 years as President has come to an end, and welcomed new President GEOFF WILLIAMS to the role. GEOFF addressed the meeting by looking forward in meeting you, during 2021.
The list of Club officers were presented en-bloc, GEOFF MORPHITIS advised that EDDIE KING has taken up the role of Women's Masters Cross Country and Road Team Manager, we wish him every success in the coming Year. The list was then proposed and seconded.
8 – Election of Vice Presidents – There were no comments, the list was proposed and seconded.
9 – Election of Life Members – No new Life Members proposed.
10 – Proposals –There were 2 proposals submitted for consideration at the AGM. The first proposal was considered in two parts 1 – Existing members who have paid their membership fee for year ended 30 September 2020 will be considered as having also paid their fee for the year ended 30 September 2021. In other words, in recognition of the disruption caused by Covid-19, these members will have 2 years membership for the price of one. 2 – The Annual Membership Fee for new members from 1 December 2020 will increase to £50. The England Athletics fee of £15 will remain payable in the normal way. GEOFF MORPHITIS told the meeting that our current Membership Fee was below most of the top UK clubs. The proposals were proposed and seconded and agreed. 2. Change to constitution due to name change of stadium – Rule 1 The name of the Club shall be Shaftesbury Barnet Harriers, hereinafter called the Club whose headquarters are at The Clubhouse, Allianz Park, Greenlands Lane, Hendon, London, NW4 1RL. DAVE BEDFORD stated that SARACENS were close to agreeing a new SPONSOR. This being the case, it was agreed that as when it happens, Club Secretary PHILIP CUNNINGHAM will have the authority to change Rule 1 with the new Stadium names. The proposals were proposed and seconded and agreed.
11 – Any Other Business – Future promotions, firstly Boxing Day races, STEVE MARSHALL has been reviewing this, and dependant on which Tier we are in, also the facilities within the stadium. We will advise the members in the very near future. 2021 cross country races, DAVE BRADLEY has also been reviewing the possibility of holding races early in the new year at Barnet Copthall. One aspect he will be reviewing is with UK Athletics regarding their Covid regulations, which at our T&F meetings, some of them were not very practical.
The meeting closed at 8.40pm
All 5 documents referred to in the above notes can be found on the Home Page of the SBH Website,
NICHOLAS SAVVA SECURES A PLACE ON THE YOUTH TALENT PROGRAMME – Congratulations, we are delighted to be able to NICHOLAS a place on the 2020-22 Youth Talent Programme (YTP). There has once again been a lot of interest and applications for the programme and the level of athletes on the programme is very high. Your selection is testament to the great work you are both clearly doing and the relationship you have built with TY HOLDEN as an athlete-coach pair
The YTP is the first step on the England Talent pathway designed to add value to the athlete and coach plan and help understand self, developing a broad range of skills, abilities and behaviours needed for senior success.
We hope you are all looking forward to an exciting, eventful and successful season and look forward to helping you achieve this qualification.
Many thanks, DON WAGNER Performance Pathway Manager, British Athletics.
NICHOLAS joined us in October 2017. In 2018 he was an ever present in the EYAL and MYAL and Indoors won a 200m Bronze Medal in the Southern Championships and made the final of the 60m England Championships. He had a PB in the 60m (7.45) and 200m (23.51) ranking him UK No. 7 U15. 2019 NICHOLAS concentrated on the 400m, winning Silver Medals in the Hertfordshire and Southern Championships, finishing the season with a PB (51.56).
NICHOLAS currently holds 3 Club Records, firstly in 2018 the Under 15 300m (36.72) also a member of the Under 15 4x100m squad (44.06) when winning the 2018 UK Club Connect relays. In 2019 also a member of the Under 17 4x400m squad (3:27.81) when winning the UK YDL League Final in Manchester.
CONGRATULATIONS TO DINA SILVERMAN AND BINI BLOOM – DINA and BINI are both recipients of the 2020 DANIEL SACKS Memorial Award Winners. Photograph of DINA with her Memorial Award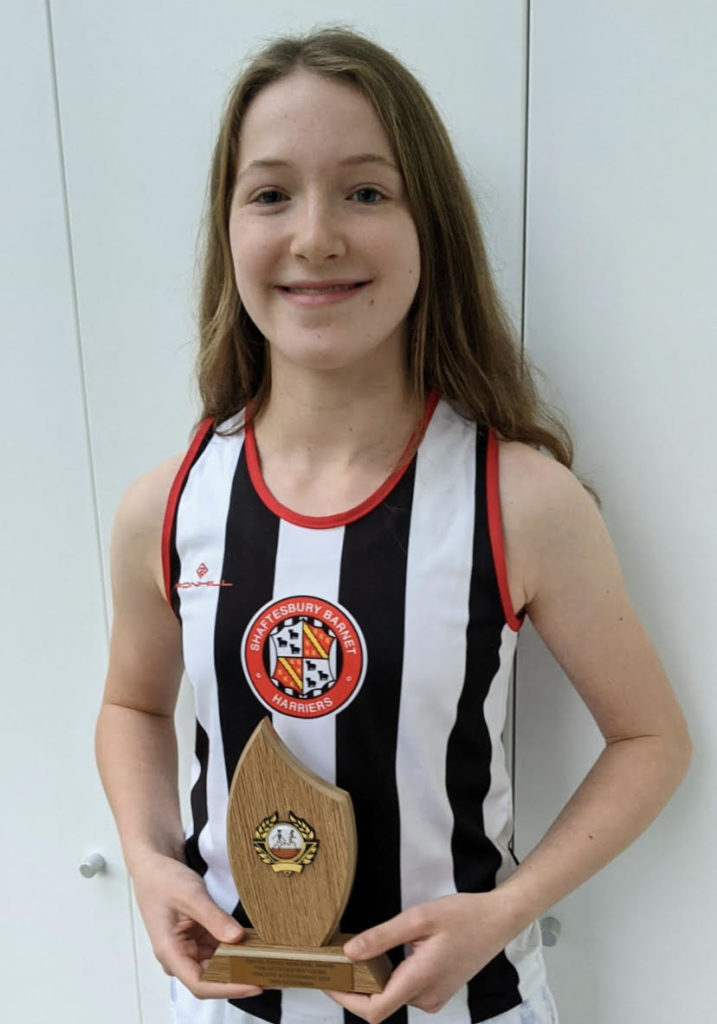 It has been a year like no other with the Covid pandemic, but in a surviving end of season races DINA ran a personal best 800m (2:25.46) ranking her UK No.9 U13 in 2020. Haberdashers Aske's pupil DINA, maintained her motivation during the summer by training up to four times a week with her SBH clubmates: sprints on Tuesdays and Thursdays, middle-distance on Wednesdays and trail runs on Sundays. Also, worthy of recognition of this and previous years is BINI who has been a regular in the SBH EYAL teams, and has a personal best in the 800m (2:05.43).
SBH SUBSCRIPTIONS 2020-2021 – SBH Treasurer GEOFF MORPHITIS has sent me the following regarding subscriptions.
Dear Member – I hope you're fit and well during these difficult times. The Club has continued to function providing Covid-19 secure coaching at Barnet Copthall (formerly Allianz Park) on a limited basis from mid-June. We also promoted 7 Track & Field competitions during the period July to September. Six of these were LICC meetings at Lee Valley.
We're working on the promotion of a number of Cross Country races at Barnet Copthall during the period December through to March in compliance with the England Athletics and Government guidelines applicable at the time.
The Club AGM will take place virtually at 19.30 on Tuesday 24 November (full login details will be distributed shortly). One of the resolutions on the order paper will deal with Club Subscriptions. Following the recent decision of the SBH Council, the proposal is as follows; "The Annual Membership Fee for new members from 1 December 2020 will increase to £50. Existing members who have paid their membership fee for year ended 30 September 2020 will be considered as having also paid their fee for the year ended 30 September 2021. In other words, in recognition of the disruption caused by Covid-19, these members will have 2 years membership for the price of one." Therefore, I'm now asking athletes who have not paid their subscription for the year ended 30/09/20 (£45) to pay, so as to qualify for the 2 for 1 concession together with the England Athletics Registration Fee of £15 for 2020/21. The total is £60 and should be paid NOW to;
ACCOUNT NAME : SHAFTESBURY BARNET HARRIERS, BANK : HSBC, ACCOUNT NUMBER : 41308378, SORT CODE : 400426 – Please let me know when you make the payment. Thanks GEOFF
PROFILE ON ANGUS MCKENZIE – ANGUS joined Shaftesbury in 1979. ANGUS and his wife MANDY currently live in Ongar, Essex.
Since 2012 ANGUS has undertaken contracts with UK Athletics and Local Organising Committees as Field of Play Group Leader, Technical Operations Manager and Assistant Competition Manager to deliver 2012 Olympic and Paralympic Games, Glasgow 2014 Commonwealth Games, World Athletics and Para-Athletics Championships 2017, World Indoor Championships 2018, European Indoor Athletics Championships, Glasgow, 2019.
He has been appointed as Competition Manager (Athletics) for the upcoming Birmingham 2022 Commonwealth games. 
Prior to him Joining Shaftesbury, ANGUS was a member of Edinburgh Southern, Harriers and was an outstanding multi event athlete.   In one of his main events, the 110m Hurdles, he competed in the 1973 European Junior Championships winning a bronze medal in 14.46 (300th of a sec behind the winner). As a Junior he competed for GB in hurdles and long jump, Captaining the GB team against Sweden. The following year represented Scotland in the Commonwealth Games in Christchurch, New Zealand (14.94) 110m H and 4x100m relay.
In 1975 competing in the Southern Counties Championships in the High Jump he jumped to fame as the first British Athlete to clear the old 7-foot barrier (2m14cm. the equivalent of 7 feet and a quarter of an inch). ANGUS was a talented all-rounder who competed for Great Britain in the individual events of 110m Hurdles, High Jump, Decathlon and Long Jump.
He had a spell of inactivity until 1980 when at the Inter Counties he finished 3rd in the 110m Hurdles with a personal best (14.28), he also won the Long Jump with another personal best (7.57m). His final race was in 1981 running the 100m (10.40 w3.0) in an International in Greece against Greece, Israel and Luxembourg.
In 1984 ANGUS was a member of the Great Britain 4-man Olympic Bobsleigh team, which took place in Sarajevo, Yugoslavia (now Bosnia and Herzegovina). The team of MALCOLM LLOYD, HOWARD SMITH, ANGUS and PETER BRUGNANI, finished in a creditable 15th place with an overall time of (3:25.34) for the 4 runs. The event was dominated by the East German's who finished 1st and 2nd with Switzerland finishing 3rd.
Best moment in sport – Becoming the first GB athlete to clear 7 feet in the High Jump and Guinness Book Record.
Worst moment – Tearing my Achilles tendon which held me back from improving my 10.4 100m time.
Favourite Country – For Holidays Canada.
Favourite City – Vancouver
Favourite Food/Snack – Friday night is Curry night in my household
Music/Artist – My head is still back in the 70/80s.  Disco music.
Favourite Film – The Matrix series
Hobbies – Taking my dogs out for daily walks.
Dislikes – People who has a disregard for the environment
Likes – The commitment a great many voluntary sports coaches have in helping others achieve the best performances possible.
THE MAKING OF 'CHARIOTS OF FIRE' PART 3 OF 4 – Many thanks to TOM MCNAB for another excellent article, part 3 describes his experience once filming commenced, and TOM'S career as an actor was put to the test.
I have often been asked how the opening scene of "Chariots of Fire" came about, if it had been derived from any other source, if only because British Olympic teams did not have training camps until about fifty years later. And even when they did occur, it is unlikely that our team would have collectively splashed through the waves in their training!
My answer is that the credit- scene came as a direct product of COLIN WELLAND'S love of the Olympic baton-relay sequence in LENI RIEFENSTAHL'S magnificent film "Olympia," showing a young Greek runner, holding his baton high, striding through the waves. And I had showed it to COLIN because that sequence had continued to inspire me throughout my life in sport.
Of course, our opening sequence was massively enhanced by the music of the Greek composer VANGELIS, though none of the cast were to hear it until the film opened a year later. It took place on a cold, windswept beach in St. Andrews on April 28/29, 1980 with our actors scattered amongst a pack of athletes from St. Andrews University.
St. Andrews? I can almost hear you say. But I thought that it was supposed to be Broadstairs in Kent? No, that is where poetic license comes in. So no, there was no 1924 Olympic training camp, and therefore no Broadstairs.
It took two days, and dozens of "takes" in that bitter East wind to get those unforgettable images in the can, then it was off to Crieff Hydro with our "Chariots" battalion, to film the Highland Games sequence in which ERIC LIDELL would be introduced. And yes, when we got to the Games field two days later, it was just as my pathetic little drawing had suggested, as the film's set-designers had produced a perfect copy. Yes, there it all was, the two mountains above the meandering stream, the dancing platform, the pegged grass track, the competitor's tents, even the cows in the adjoining field. Yes, it was all exactly as I had imagined. We were now all ready to go.
That first morning, the population of Crieff arrived in droves, their athletic brothers and sons having been recruited to jump and throw, or race in the 220 yard handicap in which our man ERIC would provide the athletics world with a first hint of his talent. That was fine, but my immediate concern was that the cameramen did not appear to be filming the rich diversity of a Highland Games, its throwing, its jumping, its dancing its piping. I pointed this out to HUGH HUDSON, but he did not appear to be unduly concerned.
But my moment of triumph, that was yet to come, in IAN CHARLESON'S address to the assembled crowd. For, a few moments into it, in the adjoining field there was suddenly, as if on cue, the loud moo of a cow. Ever the actor, IAN grinned, paused and continued to address his audience. It was a truly magic moment, though my request for some tangible recognition for my cow was ignored.
Then on trundled our ragged regiment to Edinburgh, to Goldenacre, home of Heriots Rugby Club, and the site of my first athletic success in triple jump back in 1951 at the Scottish Schools championships. Here we would produce a magic moment in ERIC LIDELL'S athletics career, when in a 440 yard race against Irish runners, he had been knocked over at the first curve, had go back on his feet and won the race.
But strangely, for no good reason, now the race was to be against the French. Thus, every time I lecture in France I am invariably denounced by indignant Frenchmen, rightly claiming that they were guiltless.  Indeed, one even observed that a week before an Irish tug of war team had been disqualified for pushing.
But this was the way it was to be, and I had appointed RON SYLVESTER, a leading Highland Games sprinter, to give IAN CHARLESON a wee dunt on the first curve. This would be no problem for RON, as there were no lanes on bumpy Games tracks and sprints were therefore a full-contact sport.
"He'll go down, Tom, "he said "I promise you that" "Aye Ron, "I said, "But just you remember that he's got to get up. IAN'S got the Olympic Games next week. "It is at this point worth mentioning that my own skills as an actor had not gone unnoticed, because I had been appointed as Official Starter in this memorable race. Indeed, I had even been given responsibility for two lines of dialogue.
Those unforgettable lines were- "Gentlemen, get to your marks ". (I had sneakily added the word "gentlemen") "Get set". Pause. Then I would fire the starting-pistol. "Action, TOM, "shouted HUGH HUDSON, and I walked forward towards RON and his colleague. The two men were now stripped off. But both now wore black berets. "Who on earth told you to wear these berets?" I asked. RON SYLVESTER pointed towards HUGH HUDSON. I strode over to HUGH. "Why don't you go all the way with these lads? "I said. "What do you mean, TOM?" "I mean why don't you just give the two of them onions around their necks and a bicycle? This is supposed to be a really moving moment, in the film, but you're going to have ERIC running past two guys wearing hats. They'll be falling all over themselves from here to Chatanooga." Off came the berets, and on went the race.
It had all turned out well. But behind my aggressive approach to HUGH HUDSON had been the words of DAVID PUTTNAM after the Highland Games. He had heard that my advice to HUGH on the lack of field events had been ignored. "No, TOM, let me make this clear "he said. "If you have any problems in the future with HUGH, then just you come to me. And you will win the argument. You are in charge of the film's athletic content" So, I was now on top of the world, I was somebody. But then, alas, out of the blue came a crushing blow to all my hopes of a Thespian career. Because, with the day's filming now over, I immediately ripped off my sticky moustache and threw it to the ground. The props lady was immediately at my side. "No, don't do that TOM," she said. Your moustache, it's worth eighty pounds! "she said.
Eighty pounds! And I had been paid a mere seventeen for my one-take performance. My moustache had been worth four times as much as me.
KEW GARDENS TO HOST BRITISH OLYMPIC MARATHON TRIALS – The following article was published on the Athletics Weekly website recently.
The 26 March event to be held on fast, flat course in an area of London renowned for its running heritage and tradition. British Olympic marathon contenders will battle for places in the team for Tokyo on a flat, fast course at Kew Gardens in Richmond, south-west London, next spring. The trials races will take place on Friday morning of 26 March as part of the Richmond Runfest weekend. The course is a 5.5km loop, does not have any significant elevations, is sheltered from the wind and is believed to be fast enough for athletes to hit the Olympic qualifying marks of (20:11:30 Men) and (2:29:30 Women). Usually British athletes find themselves battling for major championship selection in the Virgin Money London Marathon. But after the coronavirus-hit 2020 season a decision has been made to stage a domestic dust-up of Olympic hopes at the world-famous botanical gardens and its surrounding roads. With the expectation that the coronavirus is going to be prevalent through the winter, the Olympic marathon trials event will be staged in a similar fashion to the recent London Marathon with athletes held in a bio-bubble and small fields of around 30 men and 30 women in two separate races. There are also obvious comparisons with the standalone US Olympic marathon trials that have taken place in recent years in Atlanta (2020), Los Angeles (2016), Houston (2012) and New York (2011) with the latter, in the city's Central Park, on a similar multi-lap course to the one planned for Kew Gardens. Athletics Weekly understands that Dorney Lake in Buckinghamshire and various motor racing and horse racing courses were considered but one of the appeals of Kew Gardens is that it can be incorporated into an already-established event – with the Richmond Marathon scheduled for 27 March and AIR 10km on 28 March. In a statement, UKA said: "The venue was selected due to its ability to minimise issues that may arise as a result of the current pandemic. Following lengthy consultations across a host of stakeholders, the need to stage a race that could continue to be deemed viable under the potential of tightening Covid restrictions was a priority."
British Athletics will tap into the expertise of former London Marathon race director DAVID BEDFORD as technical director, with TOM BEDFORD as race director at an event that will also double as the British marathon championships for 2021. Among the likely contenders are CHARLOTTE PURDUE and CHRIS THOMPSON, both of whom have run at Richmond Runfest in the past (pictured below), plus JONNY MELLOR and BEN CONNOR, who both broke the Olympic qualifying standard in London this month. JESS PIASECKI, STEPH TWELL, LILY PARTRIDGE and STEPH DAVIS will hope to return to form to challenge NATASHA COCKRAM and NAOMI MITCHELL – the latter two being the top Brits in London last month. Added to this entries could include DEWI GRIFFITHS, TISH JONES and DEREK HAWKINS (CALLUM HAWKINS is the only British marathoner who is pre-selected for Tokyo).
TOM BEDFORD, who is also race director of the Richmond Runfest, believes the area has a strong claim to be the unofficial home of endurance running in Britain too. "Iten in Kenya is 'the home of champions'," he says, "but the Borough of Richmond has the rightful claim to be the home of British distance running. My old man (DAVE BEDFORD, former world 10,000m record-holder) used to train in the area despite being a north London boy. "With Bushy Park, Richmond Park and Wimbledon Common it's the best for hilly running and lots of different types of training all in one place. All the top agents have based themselves there like KIM MCDONALD and now RICKY SIMMS with PACE. MO FARAH is one of the many top athletes who went to St Mary's. "CHRIS BRASHER (London Marathon co-founder) lived there and they created the London Marathon in one of the pubs just off Richmond Park. PAUL SINTON-HEWITT invented parkrun there at Bushy Park. It's a real epicentre for the sport and the greenest borough in London too." Shortly after London 2012, BEDFORD set up the Richmond Running Festival in order to keep the Olympic legacy going in the area. A launch event saw Farah doing interviews and since then the event has grown over the past seven years. "Like London Marathon, the idea was formed over a beer," says BEDFORD. "We thought that we could create an Olympic legacy for Richmond. Last year, before Covid, we had 10,000 finishers raising £2.5 million. It's significantly grown from a one-day event to a weekend event."
ASK THE PHYSIO – PLANTAR FASCIITIS – The following article was published on the Athletics Weekly website recently. In the first of his regular columns, renowned physiotherapist and best-selling author PAUL HOBROUGH takes a closer look at the foot condition plantar fasciitis.
WHAT IS PLANTAR FASCIITIS? – The plantar fascia is a band of connective tissue that starts at the base of the calcaneus bone (heel bone) and extends forwards along the base of the foot. It divides into slips that attach to the short ligaments of the metatarsal heads (the long bones that meet the base of the toes). The plantar fascia helps support the long arch in the foot and also protects the foot.
WHAT DOES IT FEEL LIKE? – The most common way to discover plantar fasciitis – better known these days in medical circles as plantar fasciopathy – is when you first step out of bed in the morning and it feels like you have stood on a stone. Once you have checked for gravel on your bedroom floor and not found any, start to consider this injury. The pain is most likely to be just as your medial longitudinal arch (the arch on the inside of your foot) leaves the heel bone. If you feel the underside of your heel bone, run your finger just into the beginning of the arch on the medial side and press in. This is the start of the plantar fascia and the site of greatest pain.
WHAT HAPPENS? – When you first feel the pain, a few steps later it will have eased off completely. This is why I call it the 'dark destroyer', because in the early days of the injury you feel a sharp pain for just a few steps and then it goes away for the rest of the day. You will most likely forget you even felt anything and even go for your run that day without any pain. However, the dark destroyer will return the next morning and the morning after that and so on. Over time, it will take a few more steps for the pain to abate and you will start to feel it when you get up from your desk or the couch. Within a fairly short time scale, the pain will occur several times a day and become worse the morning after those days on which you have run. If this continues, it will soon interrupt your running. It is my experience that those people who take expert advice early on have fewer issues, get better more quickly and lose less overall time from their running programme. There are also measures you can take, even without this issue ever having darkened your door, to stave it off or to provide some repair when the first danger signs appear.
PAUL'S 10-POINT PLAN FOR PLANTAR FASCIOPATHY – 1 No barefoot walking – 2 Write the alphabet with your foot in the morning/after a rest, before taking a step – 3 Wear some off-the-shelf insoles to help maintain a good foot arch and offer some support – 4 Gently stretch the gastrocnemius (upper part of your calf ) against a wall –not off a step – 6 x day 30-40 sec
5 Gently stretch the soleus muscle (lower part of your calf ) as per the gastrocnemius but with a bent knee – 6 Wear a strassburg sock at night to bring the big toe into extension
7 Gentle gastrocnemius strengthening on alternate days 4 x 25 calf raises – 8 Gently strengthen the soleus as per the gastrocnemius, but with a bent knee
9 Pull your big toe into extension when at rest (eg whilst watching the TV at night) – 10 Aqua jog, cross train, strength train but do not run with pain
A GRADUAL RETURN TO RUNNING – The rule of thumb is not to run if you can press on the sore area and get pain greater than you would feel with the other foot (assuming only one side is affected). You can return to running, with caution, after this milestone has been reached. The recommended return to running would be 5 x 3 minutes with gentle stretching between sets. Do not try to run extra slowly but choose a happy, steady pace instead. Use the following system to decide if you can complete each session and when to increase your intervals: You need the pain to be under a 4 out of 10 on the visual analogue pain scale (0 = no pain, 10 = the most pain you can imagine). Whatever the pain level is when you start, however, this cannot rise or you must stop. If the pain isn't getting any worse then you can continue. If you can manage to complete all five of the three-minute runs then wait a full day before trying again. Assuming you manage again then, on the third run, you would  increase the time from three minutes to four minutes. If this is fine for the next two runs (still a day apart) then you would increase to 5 x 5 minutes. However, if you do not manage to complete the 5 x 3 minutes, then wait two days and try again. Keep this process going until you have managed to complete 5 x 3 minutes then start to climb through the rehab running programme as per the process above. Once you have completed five sets of the 5 x 5 on alternate days you can start to increase your running time, reducing the rests until you are once again continuously running again and pain-free. Then – and only then – can you return to sessions. Consider not using spikes for the first few times you return to the track. Plantar fasciitis can be an injury that lingers for years if not treated correctly. Whilst the above process sounds like it takes a long time, it is well worth the effort as the short cut will undoubtedly result in a prolonged period of no running.
SHOCKWAVE THERAPY – There is a well-researched treatment option that I ensure all my patients with this, or similar injuries, are offered. Shockwave therapy is a healing accelerator which has an 82% success rate* when it comes to plantar fasciopathy. This involves having six weeks of targeted shockwave to the plantar fascia, generating a pressure wave and acoustic wave at the same time to increase microscopic circulation, stimulate the stem cell activity and help rejuvenate the soft tissues that make up the structure. Some studies demonstrate a 40% faster return to play when shockwave therapy is used compared to standard treatment protocols alone. *requires 'Focused shockwave therapy', not necessarily Radial Pressure Wave (RPW) which is commonly referred to as radial shockwave therapy. RPW can still be effective but does not have supporting evidence for 82% success rates.
ATW CROSS COUNTRY SERIES NEXT RACE – The second race will take place Merchant Taylor's School, Sandy Lodge, Northwood HA6 2HT on Saturday 19 December.
Timetable – 2K Under 11 start – 12:00 pm, 3K Under 13 start – 12:30 pm, 4K Under 15 start – 1:10 pm, 5K Under 17 start – 1:50 pm, 8K Senior/U20 start – 3:00 pm.
Here is the link which went live last Tuesday – https://activetrainingworld.co.uk/project/atw-cross-country-series-round-2-19th-december-2020/
The third race is on Sunday 10 January and the link for that should come out in mid December.
LONDON YOUTH GAMES, VIRTUAL CROSS COUNTRY – If you're in the U11 to U17 age groups, here's a way to stay active with others while keeping your distance – and earn some kudos for your Borough to boot. Run your distance in the Nike x London Youth Games Virtual Cross Country competition and record your time to score points for your Borough.
The competition is open to all young Londoners from 21 November to 6 December across four age groups: U11, U13, U15 and U17. Points are scored for participation and performance.
The link to enter results on the London Youth Games website will be live from 21 November and runners have until 6 December to get involved.
If you head to https://www.londonyouthgames.org/virtual-games/ you will find all the information you need to get involved. There's also safety guidance on https://www.londonyouthgames.org/wp-content/uploads/2020/11/Nike-x-LYG-Virtual-Cross-Country-Safety-Guidance.pdf
If runners want to participate there will be a form for them to fill out once the event has gone live, including letting LYG know which Borough they are representing, and there will also be a chance to upload proof of their time (if they want to).
UPDATE ON SBH FIXTURE CARD – Currently all Cross Country and Road Relay fixtures for 2020 are either Cancelled or Postponed, This update shows the status of all cross country fixtures as of the 10 November 2020 – SBH Winter Card Fixtures 2020-2021 Updated 10-11-20
NOVEMBER 2020 RACES – Currently there are minimal results on the Power of 10, if anyone competes especially virtually please let me know.
SOUTH OF ENGLAND ATHLETIC ASSOCIATION 2020/2021 CHAMPIONSHIP UPDATE – SEAA were hopeful of staging some Cross Country and Indoor Track & Field events during this coming winter, even though it looked as if we should only be able to cater for the younger age groups.  However, the news that the Country is to go into Lockdown from this Thursday does throw these aspirations into doubt. If Government guidelines after the lockdown permit, we hope to put in place the following events.
Cross Country – Cross Country Relays, London Championships, Master & Inter Counties Championships have been postponed until the New Year.  The Association hopes that it will be possible to stage some Cross Country events in February/March 2021. 
Road Relays – At present the date for the 12/6 Stage and 5K Road Relays remains the same; Sunday 28 March 2021. 
Track & Field – It is hoped that some Indoor Covid Games can take place dates scheduled for these events are 16/17 January & 6/7 February next year.  Due to the restrictions on numbers we may have to use more than one venue.
As we enter another lockdown, we just want to reassure our athletes and officials that we shall do our utmost to stage some competition (In line with England Athletics guidance).  We shall review the situation and publish any further news as soon as we can. In the meantime, we do hope everyone stays safe and well JOHN GANDEE SEAA Competition Chairman.
CAN YOU HELP PLEASE – During the period when all competitions are suspended, I will do my upmost in keeping the Newsletter information and other content going.
I would welcome any contributions From Yourselves, any impending marriages, or additions to the family, any running or competing incidents, also past warm weather training/holidays (No Club 24 please). Currently the response has been excellent, but if you have anything that could make it into next week's Newsletter – please email me.
PROCEDURES FOR USING BARNET COPTHALL STADIUM (FORMERLY ALLIANZ PARK) FROM JEREMY SOTHCOTT – Due to the new Covid-19 Lockdown regulations Barnet Copthall is closed, and will re-open on  Thursday 3 December. Coaches will be in touch with their athletes through WhatsApp groups. Further updates from JEREMY SOTHCOTT will appear in future newsletters.
THE FOLLOWING SBH DOCUMENTS/INFORMATION CAN EITHER BE VIEWED, DOWNLOADED OR PRINTED 
SBH 2020-2021 Winter Fixture Card updated  10-11-20, Currently all Cross Country and Road Relay fixtures for 2020 are either Cancelled or Postponed. An update on 2021 Fixtures will be published in early December 2020 – SBH Winter Card Fixtures 2020-2021 Updated 10-11-20
Cross Country Team Managers Details – http://sbharriers.co.uk/athletics/cross-country/team-managers/
Road Running/Relay Team Managers Details – http://sbharriers.co.uk/athletics/road-running/team-managers/
THE FOLLOWING INFORMATION OF INTEREST CAN BE FOUND ON THE SBH HOME PAGE BY USING THIS LINK, THEN SELECT THE LEFT OR RIGHT ARROW – http://sbharriers.co.uk/
Barnet Copthall Stadium (Fomerly Allianz Park) Membership, which gives SBH members 10% discount on entry to the Barnet Copthall stadium – Membership details and Form can be either printed or downloaded
Shaftesbury Barnet Harriers Club Hoody, information on how to purchase one, please go to the bottom of this Newsletter
SBH MIDWEEK JUMPS CLUB AT BARNET COPTHALL STADIUM (FORMERLY ALLIANZ PARK) – Currently Suspended. From 2 December please contact CLYDE GORDON on 07753 985525/clyde67@hotmail.co.uk for further information on High Jump and Pole Vault days and times.
STEEPLECHASE TRAINING AT BARNET COPTHALL STADIUM (FORMERLY ALLIANZ PARK)  – Currently Suspended.
PARKRUN 5K RESULTS – Currently Suspended
PARKRUN – Can you make sure that you are registered as 'Shaftesbury Barnet Harriers', as the link I use to select all results only shows SBH athletes. If anyone is also officiating can you please contact me, and advise me where and when.
PHOTOGRAPH'S – From time to time we have photographs of our members taken at meetings or presentations which we would like to use both on the website or incorporated within our report to our local newspaper. Can you please let me know if you do NOT want your photograph to be used. Also, I would appreciate if you could send me any photographs, which I can then publish on the website and newsletter.
CLUB EMBROIDERED RED HOODIES – Currently there are now over 750 Hoodies in circulation, this is the link giving details on how you can order your Club Hoody for £35, which includes having your name embroidered on the front Club Hoodies Updated 01-07-19
FACEBOOK – Photographs can be found on the SBH page.
CURRENT DISTRIBUTION OF SHAFTESBURY INFORMATION – Currently I notify members (by email) using "MailChimp". The reason I changed, was in November 2017 "Gmail" put a limit of 100 addresses that users could send to in a 24-hour period, and currently I send to approximately 850 members each issue.
On seeking technical advice "MailChimp" was recommended as the best way for SBH to go forward. There is one thing you should be aware off is that when you receive an email from me, the footer at the bottom has 4 options, of which one is "Unsubscribe Me From List". Could I ask you not to select this as if you do you will be automatically removed from my distribution list.
SBH PRIVACY STATEMENT – In becoming a member, SBH will collect certain information about you. Can you please read the attached 'Privacy Statement' which contains Information on General Data Protection Regulations – SBH Privacy Statement Final April 2018
BARNET COPTHALL STADIUM (FORMERLY ALLIANZ PARK) – Main Switchboard telephone number is 0203 675 7250.
CHARGES FOR USING BARNET COPTHALL STADIUM (FORMERLY ALLIANZ PARK) – Currently the stadium is closed until the 3 December.
ALAN WELLER