Happy Birthday from this Thursday 18 March Sydney Allen, Zoe Davis, Antonio Infantino, Abi Jeffery, Jade Lally, Finn MaccArthy, William Ryle-Hodges, Sam Scheer and Louis Ubaka
WEBINAR ON SBH TRIPLE JUMPERS ALL COACHED BY FRANK ATTOH – This is a fantastic opportunity to hear from the 3 best ever triple jumpers who were all members of SBH, who were all Olympians and who were all coached by our very own FRANK ATTOH. 
The webinar is next Saturday 20 March at 14.00. Click on the link below and register ASAP – https://englandathletics-org.zoom.us/webinar/register/WN_vo-I8-8pSny6Ifgijo_0qQ 
In this feature webinar we have the privilege of three world-class female triple jumpers, all of which recorded lifetime bests over 15m. In this webinar, we will be accompanied by YAMILE ALDAMA, ASHIA HANSEN and DR TRECIA-KAYE SMITH.
The webinar will be hosted by England Athletics Event Group Lead for Jumps and Combined Events, DARREN RITCHIE. Joining us in the session are the athletes' coaches FRANK ATTOH and ASTON MOORE.
TOPICS INCLUDE
• Athletes careers;
• Where did it all start / summary of the journey / highlights
• What were your main strengths and weaknesses in three domains; technical, physical, behavioural
• Lessons learned / messages to young athletes
• Video reviews
• Questions from the audience 
YAMILE ALDAMA started competing in high jump and heptathlon events, but in 1994 she tried triple jump and two years later qualified for the Olympic team for 1996 Summer Olympics.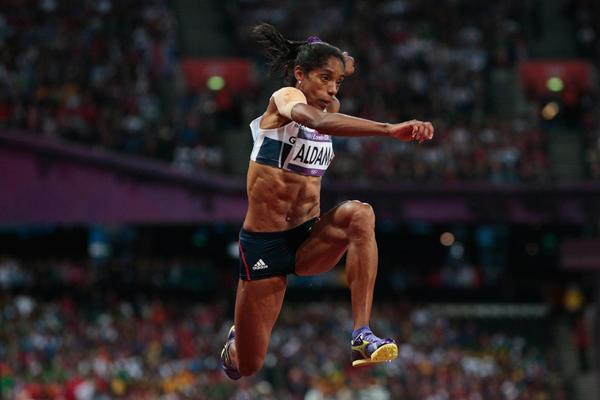 Two years later she won silver medal at the 1999 World Championships in Seville. The next year at the 2000 Summer Olympics she finished in 4th position, thus cementing her place as an elite triple jumper. In 2004, YAMILE came 5th at the 2004 Summer Olympics. That year, she also broke the Sudanese triple jump record achieving (15.28m). After taking 4th place at the 2005 World Championships, YAMILE went on to compete at the 2007 and 2009 World Championships, and the 2008 Summer Olympics. In 2011, YAMILE represented Great Britain at the World Championships where she finished 5th place. The following year, YAMILE became the IAAF World Indoor Champion in Triple Jump, in Istanbul. In 2012, YAMILE competed in the 2012 Olympics, less than a month short of 40 years old, finishing 5th.
ASHIA HANSEN started in sports at around the age of 9 taking part in most sports from football, cricket to Netball, swimming, and athletics, where she originally started out as a sprinter/long jumper before becoming a triple jumper.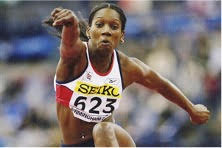 ASHIA started triple jumping in 1993 and got her first senior GB vest in Helsinki 1994, the same year she broke the British Record by 1cm (14.09m). ASHIA went on to represent GB&NI at the 1996 Olympics in Atlanta, where she came 4th. In 1998, she broke the world indoor record with a jump of (15.16m), and went on to win gold medals at the World Indoor Championships, Maebashi 1999 and 2003 in Birmingham. Although many of her wins came from the indoor season, she still had a successful outdoor career with championship titles at the Commonwealth Games in Kuala Lumpur 1998 and Manchester 2002, and the European Championships in Munich 2002. 
TRECIA-KAYE SMITH competed for the University of Pittsburgh from 1996–1999 and was a seven-time NCAA national champion (two outdoor and three indoor long jump titles and one outdoor and one indoor triple jump title), 15-time All-American, a 14-time Big East Conference champion, and a 15-time Eastern College Athletic Conference champion. TRECIA was named to the NCAA Division 1 Silver Anniversary Indoor Team and a "NCAA Division 1 Most Outstanding Student-Athlete".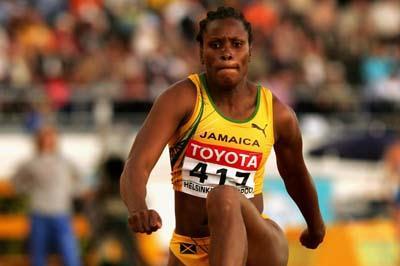 Her personal best is (15.16M), and she almost equalled that result at the 2005 World Championships where she won the gold medal with (15.11m). TRECIA won triple jump at the 2009 Jamaican Championship with (14.43 m), qualifying for her fifth World Championships in Athletics. She retained her Commonwealth triple jump title at the 2010 Commonwealth Games, and she was given the DAVID DIXON AWARD for her performance. 
This will be an excellent opportunity for all coaches and athletes to get an insight into how to become a world class jumper. Don't miss it. Take care and stay safe.
UPDATE ON VOLUNTEERS FROM RAY POWELL – Hope that you are all keeping well, and are slowly getting your jabs.
The original list that I sent out for races did not include the Westminster miles on Sunday 30 May, which is the same Bank Holiday weekend as the Vitality 10k which is the next day Monday 31 May.
This is normally one of the races we cover, and London Marathon have now confirmed that they would like us to cover our normal duties.
It is the same meeting place, Green Park volunteer hub, time 8am, Lunch and kit will be supplied and finish time is usually around 3.30-4pm. It is probably the most hectic of all the events, in which we cover 34 – 1 mile races, but also the most enjoyable.
Thank you to all the reply's I have had to date, this is the current situation of volunteers required.
Westminster Mile Sunday 30 May – 20 volunteers required – 2 at present (Clare and myself)
Vitality 10k Monday 31 May – 20 volunteers required – 17 at present
Standard Chartered City Race  Monday 19 July – 25 volunteers required – 16 at present
Big Half Marathon Sunday 22 August (new date) – 30 volunteers required – 7 at present
London Mini Marathon Sunday 3 October – 62 volunteers needed – 34 at present
I know that some of the races are a way off, but if you feel that you can help, please let me know now, as it makes the planning a lot easier. Please contact CLARE & RAY at ray571m@btopenworld.com
DEMOLITION OF STONEX STADIUM WEST STAND – The Demolition element is well under way, and is due for completion on the 23 April. Many of you will have happy memories of all those events and meetings that have taken place since the stand was built in 1964. So hold back those tears, as the 2 photographs will probably be the last time you will see the West Stand standing.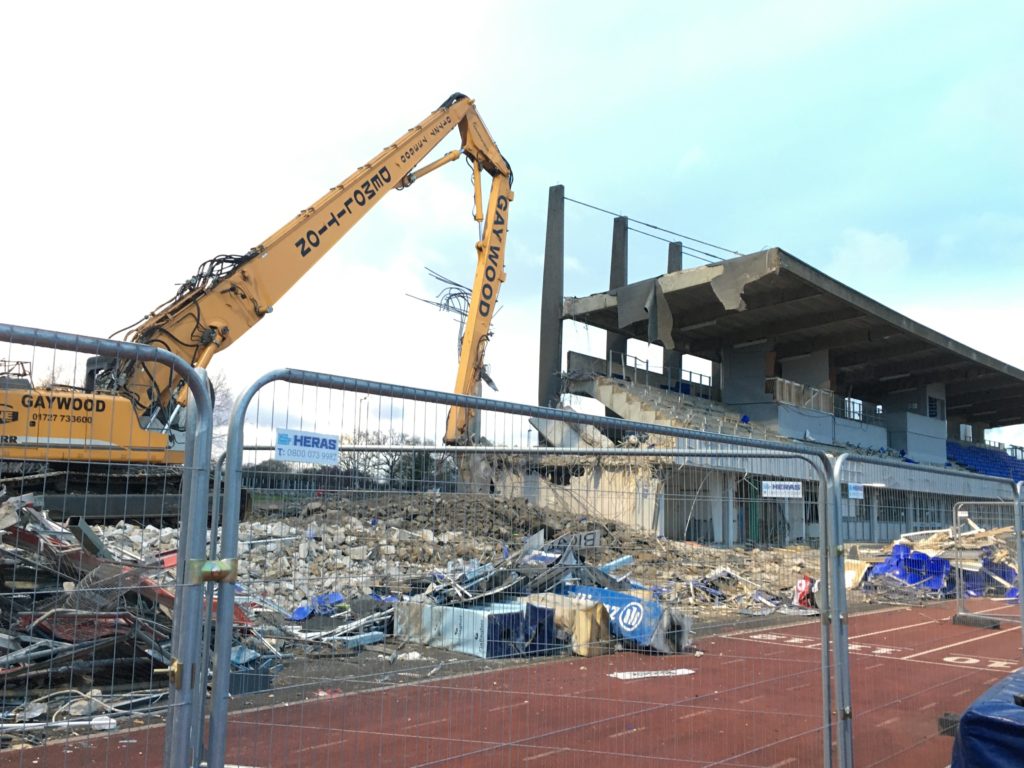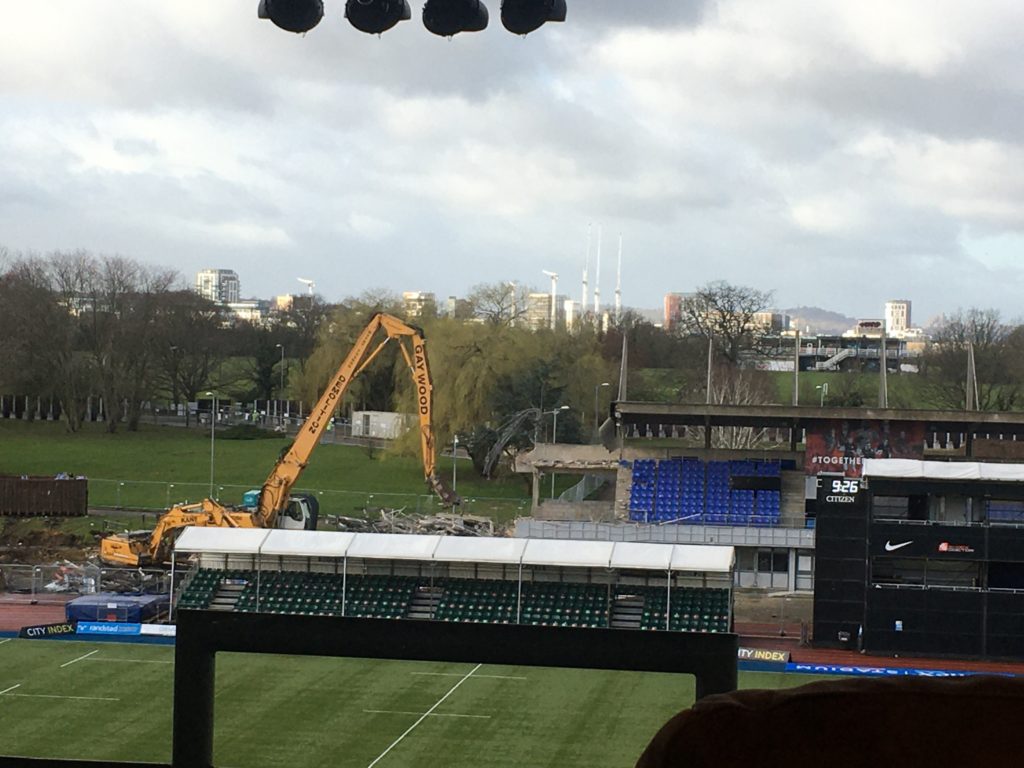 SYDNEY TRACK CLASSIC OPEN OUTDOOR MEETING – Took place in Sydney, Australia on 13 March.
Discus 1kg – SW JADE LALLY 3rd (SB 59.36m) adding 16cm to her 3 March throw, and is ranked UK No.1 in 2021
JAAA QUALIFICATION OUTDOOR TRIALS – Took place at Kingston, Jamaica on 13 March.
100m – SM 7 ZHARNEL HUGHES 1st (SB 10.14 w-0.1) taking .21 of a second off his 27 February time, and is ranked UK No.1 in 2021
UPDATE ON PROPOSED TRACK AND FIELD FIXTURES – Subject to DCMS, Sport England, UKA and EA guidance.
UK Youth Development League (Under 17 and 20 Men/Women) dates are as follows – Sunday 30 May at Bannister Stadium, Harrow – Sunday 27 June at Perivale Park, Greenford – Sunday 25 July at Ridlins Athletic Track, Stevenage – Sunday 5 September at StoneX Stadium.
National Athletic League (Senior Men/Women) dates are as follows – Sunday 6 June at Lee Valley (host SBH), Sunday 4 July at StoneX Stadium (host Harrow), Sunday 8 August at Woodford (host WGEL), Saturday 28 August at StoneX Stadium (host SBH) – 4 club divisions – we are in Premier London North with Harrow, Newham and Woodford.
The Middlesex Young Athletes League (Under 11, 13, 15 Boys/Girls and 17 Men/Women) provisional dates are as follows – Saturday 22 May (Finsbury Park) plus Sunday 23 May (Perivale), Saturday 5 June (Finsbury Park) plus Sunday 6 June (Perivale or Parliament Hill), Saturday 3 July (Perivale or Parliament Hill), Sunday 18 July (StoneX Stadium).
Eastern Young Athletes League (Under 13, 15 Boys/Girls and 17 Men/Women) dates are still to be announced.
London Inter Club Challenge (All age-groups Men/Women including Under 11 Boys/Girls) dates are as follows – Saturday 31 July and Saturday 21 August both at StoneX Stadium. Further dates to be added soon.
SCVAC Veterans League (35+ and above Men/Women) dates are still to be announced.
GERALD ALTERMAN SHOOTS TO THE TOP – It all started in 1981. My daughters, LISA and VIKKI, pupils at Moat Mount School in Mill Hill were competing for the school at Copthall when they were spotted by GERRY ELMORE who invited them to train with Shaftesbury. So twice a week my then wife, ROSALIND, and I took the girls to Copthall and whilst they trained, we sat in the cafeteria drinking gallons of coffee and eating countless bars of chocolate.
One evening someone approached us and introduced himself as JOHN WRIGHT, timekeeper, and asked if we would consider becoming club helpers/officials. We asked what was involved and what the Club needed. He replied that "we could do with field judges and a starter". ROSALIND went on the field and as I liked the idea of playing with guns, I opted for the starter role. Guns were readily available back then, so I spoke with someone in a gun shop in Totteridge Lane, chose a couple of weapons and applied for a Firearms Certificate.
Unlike today when you can become an official on Monday and be level 4 by Friday (not really, it just seems like it), back then you had to sit an examination and eventually be invited to the lofty heights of Grade 1, often by sitting a further exam. So, I sat the starter/marksman exam and awaited my fate. Whilst waiting for the results, I started some races for the Club with my new guns and thoroughly enjoyed the experience. I was working with a Grade 1 starter whose name I cannot now recall – BILL something I think – and during our third meeting together he asked what grade I was. I told him I was still waiting for the results of the examination and that was the last race I started for the rest of the meeting! I eventually got my results; I had passed with sufficiently high marks so that I didn't have to sit the advanced test.
After a few years at Club level, I was invited to the County Championships and after several years became a Grade 1 starter. I should add that over the years the Grades (4 to 1) became Levels, then back to Grades from 1 to 4 and are now again Levels 1 to 4, to be in line with World Athletics (formerly IAAF). As I progressed through the Grades, I was invited to South of England meetings and I still recall my first visit to Crystal Palace. It was the largest athletics stadium that I had been to and I likened coming out of the officials' room onto the field of play to what I imagined it would be like coming out of the tunnel at Wembley. What a sorry state that stadium is in now!
I continued to officiate for the Club as a starter and whatever else was needed on the day, both at Copthall and away at other venues. In the early days, to get experience I took my guns with me and asked the host club if it was possible to do some starting. The answer was often in the affirmative. I remember one meeting at Bournemouth when having asked if I could start, I was introduced to a rather elderly gentleman who a few minutes before the first race asked if I could manage on my own as he was not feeling too well and wanted to go home. So much for learning my craft from an experienced starter!
ROGER SIMONS was our meeting organiser who organised the British Athletics League final and the UK Women's League Plate final at Copthall. Back then these were prestigious events with international athletes competing for their clubs and was even televised. My job was to be the liaison between the team managers, results and TV by running changes in declarations around. I recall DALEY THOMPSON being hounded by spectators (yes, we had them back in the day) and to get away from them he 'hid' behind ROSALIND who was a mere 5'2"! When ROGER decided to retire from organising our meetings, I was asked to take over which I did for several years.
TERRY BROWN was our official's secretary so he and I worked closely together, not just for our home meetings but for away ones too. After something like 12 years TERRY decided he'd had enough and somehow, I took over his role as well; so now I was organising our home meetings and finding officials for home and away meetings. I did these jobs for some 10 or 12 years until I decided that I didn't want to sit on the telephone every night leading up to a meeting checking that our officials were still available and, where necessary, calling in favours or otherwise coercing officials to come out and play.
My officiating for the Club dwindled over the years as being level 4 I was invited to National meetings the dates for which often clashed with Club dates, but I still turned out when I could. At some stage, many years ago, NIGEL BAILEY who organised the England meetings decided that there should be a seeding policy to ensure consistency at their meetings. For some reason, I was invited to a meeting in Birmingham to discuss the policy. I knew absolutely nothing about seeding but not only helped formulate the policy, which I now update from time to time, but I also was involved with the writing of the computer program with Simon Fennell.
For a short time, JOHN WRIGHT and I served on the Middlesex County Committee but due to lack of time I retired from that role. When the Tri-Region Groups were set up, I joined the starting and marking team as the representative for London. I'm still there as there isn't a level 4 starter to take over from me.
Over the years, I have officiated in various capacities at many meetings but the ones that will always stand out in my mind are the 2002 Commonwealth Games in Manchester, the 2012 Olympic and Paralympic Games, the Athletics World Cup and being the chief starter at the inaugural Invictus Games when I had the pleasure of meeting and chatting with Prince HARRY.
They say that things come around in a circle and they do. I am still involved at County, Regional and National levels but I am again back as the Club's Officials Secretary working alongside ROSALIND ZEFFERTT, the Officials Co-ordinator. This time though, DAVE BRADLEY is looking after the meeting organising.
BRITISH OLYMPIC 10,000m TRIALS HEAD TO BIRMINGHAM – The following article was published on the Athletics Weekly website recently. Photograph by MARK SHEARMAN.
University of Birmingham could see athletes like MO FARAH racing for Olympic selection on June 5 following cancellation of Highgate event. After the cancellation of the Night of the 10,000m PBs at Highgate in north London this year, the British Olympic trials and European 10,000m Cup will now be held at the University of Birmingham track on the same date of 5 June. However, despite coronavirus restrictions gradually lifting, entries will be invitation only and there are unlikely to be spectators. Key contenders are likely to include US-based Brits MARC SCOTT and SAM ATKIN, while among the women STEPH TWELL is missing the marathon trials this month to focus on 10,000m. Another intriguing possible entrant would be MO FARAH, too, as the 10-time global track champion wants to run this distance in Tokyo but needs to post a qualifying time as he has not raced 10,000m since winning the world title in London in 2017.
"We are delighted to have reached an agreement with the University of Birmingham to bring the Müller British Athletics 10,000m Championships and the European 10,000m Cup to Birmingham," said KATIE BRAZIER, competitions and events director at British Athletics. "Following consultation with athletes and coaches, as well as other key stakeholders, it is fantastic news tha European Athletics interim president DOBROMIR KARAMARINOV said: "We are pleased we have been able to work with British Athletics to find an alternative venue for the 2021 European 10,000m Cup and we want to thank the University of Birmingham for stepping forward at this late stage. "The European 10,000m Cup is one of the most prestigious and long-running fixtures on the European calendar. This year's event will have an even greater significance as it also serves as an excellent opportunity for athletes aiming to qualify for the Tokyo Olympics later this summer."
DARREN CAMPBELL AND TIM BENJAMIN OVERSEE BRITISH SPRINTS AND RELAYS – The following article was published on the Athletics Weekly website recently.
Sprints and relays role to be shared but the search continues for a new British Athletics head of endurance. CHRISTIAN MALCOLM, the head coach of British Athletics, will be joined in the national squad in coming months by two former sprints team-mates from South Wales – DARREN CAMPBELL and TIM BENJAMIN.
CAMPBELL has been appointed head of short sprints and relays whereas BENJAMIN has been named head of long sprints and relays.
The job of head of sprints and relays has traditionally been done by one person – most recently STEPHEN MAGUIRE – but the governing body says: "The decision to split the role into long and short sprints was taken recognising the specialist expertise both candidates bring to this event group. Both roles are part time but offer full time coverage."
Both MALCOLM and BENJAMIN represented Cardiff and Wales during their careers and were coached by JOCK ANDERSON and LINFORD CHRISTIE. With a 400m best of 44.56 from 2005, Benjamin sits No.9 on the UK all-time rankings and he retired about 12 years ago. Photograph of DARREN by MARK SHEARMAN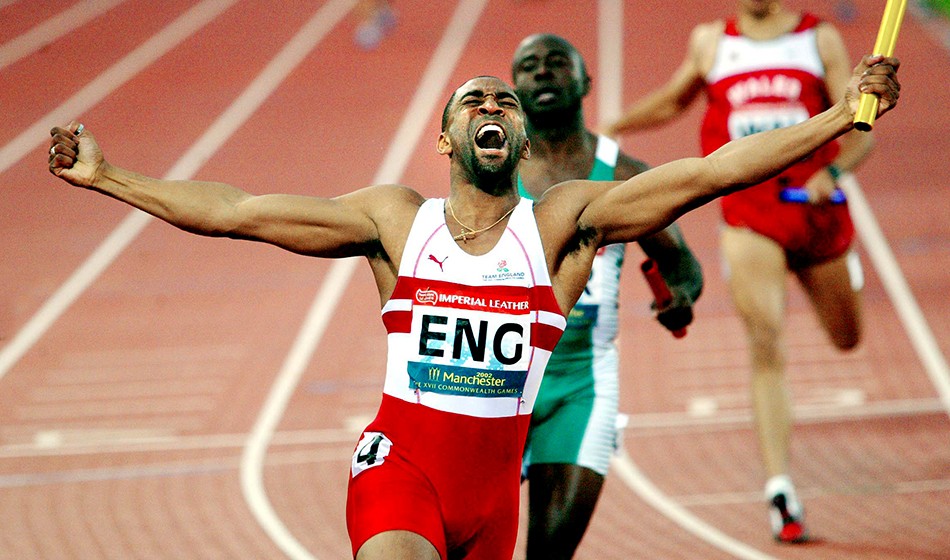 CAMPBELL, meanwhile, has strong South Wales links too and won the European 100m title and Olympic 4x100m gold and 200m silver during his career.
However, the search for a successor to BARRY FUDGE as head of endurance has not been successful and British Athletics say that ROB DENMARK (below) will continue to do the role on an interim basis until after the Tokyo Olympics.
A statement read: "A wider and longer term strategy for endurance will be driven via a wide consultation across a range of stakeholders. CHRIS JONES will be seconded with the agreement of Welsh Athletics on a two-day a week basis to lead on this project in conjunction with CHRISTIAN MALCOLM and (performance director) SARA SYMINGTON." Photograph of TIM by MARK SHEARMAN
On the sprints and relays news, MALCOLM said: "These are great appointments for the sport. DARREN and TIM bring a wealth of experience to the roles following their successful careers in and out of the sport. I am pleased to bring them into the team as we continue to support athletes and coaches to achieve their goals during 2021 and beyond."
BENJAMIN said: "I am delighted to be offered this role alongside DARREN. I've remained a big fan of athletics throughout my retirement and had always wanted an opportunity to give back to my sport. I've had 11 years in the commercial world yet my heart has always been here.
"I had a great competitive career and have worked with world-class coaches such as JOCK ANDERSON, TONY LESTER, COLIN JACKSON and LINFORD CHRISTIE. I've been exposed to so many differing approaches and I've also made my fair share of errors as an athlete which means I can bring this insight and experience to help support the athletes and coaches I work with in this role."
CAMPBELL said: "I'm really pleased to accept this role and work with TIM, CHRISTIAN and SARA. I felt like it was the right time to get involved with the sport again. I'm excited by the new leadership and the new direction it's headed in by putting the athlete first.
"I've had experience across the board competing, coaching, mentoring and mediating and understand what the athletes and their coaches will be looking for. When I was competing, I don't feel we always got what we needed, and support wasn't offered properly. I know I can bring that experience and help to ensure athletes have what they need to be successful.
"I'm looking forward to putting my energy into this, giving encouragement to the athletes so they can perform when they need to."
GB QUALIFICATION STANDARDS FOR TOKYO OLYMPICS 2021 – These are the following World Athletics qualification standards for al GB athletes:
Men – 100m (10.05), 200m (20.24), 400m (44.90), 800m (1:45.20), 1500m (3:35.00), 5000m (13:13.50), 10000m (27:28.00), 3000m Steeplechase (8:22.0), 110m Hurdles (13.32), 400m Hurdles (48.90), High Jump (2.33), Pole Vault (5.80), Long Jump (8.22), Triple Jump (17.14), Shot Put (21.10), Discus (66.00), Hammer (77.50), Decathlon (8350), Marathon (2:11.30).
Women – 100m (11.15), 200m (22.80), 400m (51.35), 800m (1:59.50), 1500m (3:35.00), 5000m (15:10.00), 10000m (31:25.00), 3000m Steeplechase (9:30.00), 100m Hurdles (12.84), 400m Hurdles (55.40), High Jump (1.96), Pole Vault (4.70), Long Jump (6.82), Triple Jump (14.32), Shot Put (18.50), Discus (63.50), Hammer (72.50), Heptathlon (6420), Marathon (2:29.30).
The final date that all standards are to be achieved is Sunday 27 June, the Marathon date is Monday 29 March. Team selection for all events is on Monday 28 June, and the Marathon on Tuesday 30 March.
Link for the full GB selection policy document – 2020-2021-Olympic-Games-Selection-Policy-October-2020
NEELAM KADERBHOY – Hi  GEOFF,  Hope you and family are all keeping well. I'm stable.
I've got use to the Home. It takes me a while to settle into a new environment. It is a nice Home to be in and the bonus is that it's in Borehamwood.
It sounds like a very time- consuming process that you have to deal with regarding the club. It was a nice bonus to see that I scraped in to the top ten for number of years at the club.
Are you free tomorrow afternoon or evening or Tuesday onwards. I can call you. I still talk slowly and stammer a lot and words I think I can say, I can't say. I miss everyone and everything.
Hi to all.
Yours in sports,
NEELAM 🏃‍♀️👟🌻
Good evening NEELAM and really sorry that it has taken me so long to reply. It has been difficult to try and organise a Track & Field season due to the Covid restrictions but at long last we have just agreed dates and venues for the NAL, YDL and MYAL where Jacqui is now team managing until you fully recover.
Work has started on the demolition of the West Stand at the Stadium. All the youngsters went back to school on Monday and we're planning to return to training and coaching at the Stadium from Monday 29 March. We would then have nearly 2 months before our first meeting.
I look forward to hearing from you at your convenience.
Take care and stay safe.
GEOFF – SBH
ATW CROSS COUNTRY SERIES NEXT RACE – The next race is on Saturday 27 March at Merchant Taylor's School, Sandy Lodge, Northwood HA6 2HT. The races are for Under 11, 13, 15 & 17s. This is the link for all details including entries – https://activetrainingworld.co.uk/events/atw-cross-country-series-round-3-21st-feb/
2021 LEE VALLEY INDOOR TRACK AND FIELD MEETINGS – Currently Lee Valley is only open for elite athletes.
BIRMINGHAM 2022 COMMONWEALTH GAMES – Well there is just 531 days to the Opening Ceremony, you may wish to sign up to receive their Newsletter. Link – https://www.birmingham2022.com/register-your-interest/. Tickets will be on sale later this year, and can only be purchased through the official Commonwealth Games website, this is the link to register – https://www.birmingham2022.com/the-games/tickets/. This is the link to the current schedule for the 25 events – https://images.birmingham2022.com/wp-content/uploads/2021/01/11441664_CWGs_Daily_Competition_Schedule_FINAL.pdf.
ATHLETICS take place at the Alexander Stadium 2-7 August, with the Marathons on 30 July. There will be 59 medal events including a fully integrated Para Sport programme. TRIATHLON and PARA TRIATHLON take place at Sutton Park 29 and 31 July. The Individual races contest a 750m swim, 20km cycle, 5km run, and the Team races contest a 250m swim, 7km cycle, 1.5km run. Link to all events – https://www.birmingham2022.com/the-games/sports/?utm_source=workflow&utm_medium=email&utm_campaign=popup_work_flow_send_welcome_autoresponder_pop_up_footer_form&utm_content=2021-02-05
Shaftesbury's ANGUS MCKENZIE was appointed as Competition Manager (Athletics) last year, and the article on him can be found in the 26 November SBH Newsletter.
REDEVELOPMENT OF THE EXISTING WEST STAND – SARACENS have appointed RAYNER ROWEN CONSTRUCTION to carry out the demolition and rebuild of the old West Stand. The demolition element commenced on Monday 22 February and completion is planned for 6 May 2022.
Demolition is planned to commence on 22 February with completion due on 23 April. This is a Link to the first Monthly Newsletter for the redevelopment, which shows site access and the initial site activities – C-0045 – West Stand Monthly Newsletter – February 2021 Rev A
PROCEDURES FOR USING STONEX STADIUM FROM JEREMY SOTHCOTT – The Stadium is now subject to the lockdown guidelines recently set by the Government and is therefore closed to all athletes except "Elite" athletes as certified by UKA/EA. However, it is due to re-open to Club members only from Monday 29 March under strict conditions. Check with your Coach for details.
SBH SUBSCRIPTIONS 2020-2021 – SBH Treasurer GEOFF MORPHITIS has sent me the following regarding subscriptions.
The Club AGM took place virtually at 19.30 on Tuesday 24 November. One of the resolutions which was passed dealt with Club Subscriptions as follows. "The Annual Membership Fee for new members from 1 December 2020 will increase to £50. Existing members who have paid their membership fee for year ended 30 September 2020 will be considered as having also paid their fee for the year ended 30 September 2021.
In other words, in recognition of the disruption caused by Covid-19, these members will have 2 years membership for the price of one." Therefore, I'm now asking athletes who have not paid their subscription for the year ended 30/09/20 (£45) to pay, so as to qualify for the 2 for 1 concession together with the England Athletics Registration Fee of £15 for 2020/21. The total is £60 and should be paid NOW to; ACCOUNT NAME: SHAFTESBURY BARNET HARRIERS, BANK: HSBC, ACCOUNT NUMBER: 41308378, SORT CODE: 400426 – Please let me know when payment is made. Thanks GEOFF
UPDATE ON SBH FIXTURE CARD – We are in the process of finalising the 2021 Summer Fixture Card
CAN YOU HELP PLEASE – During the period when all competitions are suspended, I will do my upmost in keeping the Newsletter information and other content going.
I would welcome any contributions From Yourselves, any impending marriages, or additions to the family, any running or competing incidents, also past warm weather training/holidays (No Club 24 please). Currently the response has been excellent, but if you have anything that could make it into next week's Newsletter – please email me.
THE FOLLOWING SBH DOCUMENTS/INFORMATION CAN EITHER BE VIEWED, DOWNLOADED OR PRINTED 
SBH 2021 Summer Fixture Card, and we will be publishing a draft  in the coming weeks.
Cross Country Team Managers Details – http://sbharriers.co.uk/athletics/cross-country/team-managers/
Road Running/Relay Team Managers Details – http://sbharriers.co.uk/athletics/road-running/team-managers/
THE FOLLOWING INFORMATION OF INTEREST CAN BE FOUND ON THE SBH HOME PAGE BY USING THIS LINK, THEN SELECT THE LEFT OR RIGHT ARROW – http://sbharriers.co.uk/
Shaftesbury Barnet Harriers Club Hoody, information on how to purchase one, please go to the bottom of this Newsletter.
STONEX STADIUM EAST STAND INDOOR AREA – Currently closed.
SBH MIDWEEK JUMPS CLUB AT STONEX STADIUM (FORMERLY BARNET COPTHALL STADIUM) – Currently Suspended.
STEEPLECHASE TRAINING AT STONEX STADIUM (FORMERLY BARNET COPTHALL STADIUM) – Currently Suspended.
PARKRUN 5K RESULTS – Currently Suspended
PARKRUN – Can you make sure that you are registered as 'Shaftesbury Barnet Harriers', as the link I use to select all results only shows SBH athletes. If anyone is also officiating can you please contact me and advise me where and when.
PHOTOGRAPH'S – From time to time we have photographs of our members taken at meetings or presentations which we would like to use both on the website or incorporated within our report to our local newspaper. Can you please let me know if you do NOT want your photograph to be published. Also, I would appreciate if you could send me any photographs, which I can then publish on the website and newsletter.
CLUB EMBROIDERED RED HOODIES – Currently there are now over 750 Hoodies in circulation, this is the link giving details on how you can order your Club Hoody for £35, which includes having your name embroidered on the front Club Hoodies Updated 01-07-19
FACEBOOK – Photographs can be found on the SBH page.
CURRENT DISTRIBUTION OF SHAFTESBURY INFORMATION – Currently I notify members (by email) using "MailChimp". The reason I changed, was in November 2017 "Gmail" put a limit of 100 addresses that users could send to in a 24-hour period, and currently I send to approximately 850 members each issue.
On seeking technical advice "MailChimp" was recommended as the best way for SBH to go forward. There is one thing you should be aware off is that when you receive an email from me, the footer at the bottom has 4 options, of which one is "Unsubscribe Me From List". Could I ask you not to select this as if you do you will be automatically removed from my distribution list.
SBH PRIVACY STATEMENT – In becoming a member, SBH will collect certain information about you. Can you please read the attached 'Privacy Statement' which contains Information on General Data Protection Regulations – SBH Privacy Statement Final April 2018
STONEX STADIUM (FORMERLY BARNET COPTHALL STADIUM) – Main Switchboard telephone number is 020 3675 7250.
CHARGES FOR USING STONEX STADIUM (FORMERLY BARNET COPTHALL STADIUM) – Currently the Stadium is closed.
ALAN WELLER – SBH NEWSLETTER EDITOR AND WEBMASTER