Happy Birthday from this Thursday 4 March Page Fairclough, Joshua Faulds, Larissa Giles, Fiona Groom, Eva Higson, Patrick Jacobs, Ebenezer Joseph, Cameron Knight, Cecilia Martinez-Nunez, Lily Parris, Indira Patel, Louisa Pitsialis, Glen Quayle, Sarah Shamia, Dian Taylor and Ruby Vinton
RETURN OF ATHLETICS – The Government announced on Monday that from the 29 March at the earliest, the restrictions on sports will ease further with organised outdoor sport permitted. We are now awaiting England Athletics guidance.
EAVION RICHARDSON IS NOW IN THE U.S.A – EAVION told me that she is currently studying for her masters in Sport and Recreation management at the University of Iowa. EAVION competed for the second time this year (12.58m), after tearing her hamstring in December when coming 2nd at the Big Ten championships.
The University of Iowa was founded in 1847, it is the state's oldest institution of higher education and is located alongside the picturesque Iowa River in Iowa City.
A member of the Association of American Universities since 1909 and the Big Ten Conference since 1899, the University of Iowa is home to one of the most acclaimed academic medical centres in the country, in 2020 was ranked No.1 academic medical centres for the 29th consecutive year. The total student enrolment for 2020 is 31,730.
LOUGHBOROUGH ELITE OUTDOOR WINTER THROWS – Took place at Loughborough on 28 February.
Discus 2kg – SM NICK PERCY 1st (SB 60.95m) and is ranked UK No.1 in 2021
Hammer 7.26kg – SM CHRIS BENNETT 2nd (SB 72.81m) and is ranked UK No.2 in 2021
JAAA QUALIFICATION OUTDOOR TRIALS – Took place at Kingston, Jamaica on 27 February.
100m – SM 6 ZHARNEL HUGHES 1st (SB 10.37 w-3.8) and is ranked UK No.1 in 2021
BIG TWELVE INDOOR CHAMPIONSHIPS – Took place at Lubbock, Texas, USA on 27 February.
Shot 7.26kg – SM GEORGE EVANS (Kansas University) 6th (PB 17.79m) adding 58cm to his 2019 put, and is ranked UK No.2 in 2021
TEXAS QUALIFIER OUTDOOR MEETING – Took place at Austin, Texas, USA on 26-27 February.
1500m – SW B LIZZIE BIRD 6th (SB 4:21.19) and is ranked UK No.9 in 2021
BIG TEN CONFERENCE INDOOR CHAMPIONSHIPS – Took place at Geneva, Ohio, USA on 25-27 February.
Triple Jump – SW A EAVION RICHARDSON (University of Iowa) 1st (SB 12.58m) and is ranked UK No.3 in 2021
SBH METROPOLITAN LEAGUE STATISTICS PART 2 – Includes all club Team wins from 1966 up to 2020. Initially races were limited to certain age-groups only, and subsequent years changes were made. Below is the timeline on how the league developed.
TIMELINE OF THE METROPOLITAN LEAGUE HISTORY – Identifies the main changes that took place from 1966 until 2016.
From October 1966, the Senior Men's race incorporated U17, U20 and Veteran age-groups, but only Senior Men were identified in the results – the Under 17 Men's race incorporated the Under 15 Boys, but only Under 17 Men were identified in the results.
From October 1972, the Under 13 Boys had their own separate race.
From October 1973, the Veteran Men were identified in the Senior Men's results
From October 1982 until February 1984, the Under 15 Boys were identified in the Under 17 Men's results.
From October 1984 until February 2007, the Under 15 Boys were then not identified in the Under 17 Men's results.
From October 1994, Women entered the league, initially the Senior Women's race incorporated U17, U20 and Veteran age-groups, but only Senior Women were identified in the results – the Under 15 Girls race included Under 13 Girls, but were not identified as Under 13 in the results.
From October 2000, the Veteran Women were identified in the Senior Women's results.
From October 2007, the Under 13 Girls had their own separate race – the Under 17 Men and Under 17 Women had their own separate race, which incorporated the Under 15 Boys and Under 15 Girls, and both were identified in the results – the Under 20 Men and Under 20 Women were identified in the Senior Men's and Senior Women's results.
From October 2014, the Under 11 Boys and Under 11 Girls were incorporated into the league, October 2016 was when the first team results were introduced.
Firstly, In the 18 February edition of the Newsletter, I published the Individual wins for all clubs. The results showed the Combined Totals for SBH Men was (220 wins) and Women (96 wins) giving a total of (316 wins). The next 4 Clubs totals were Woodford Green (202 wins), Ealing, Southall & Middlesex (159 wins), Highgate Harriers (153 wins) and Thames Valley Harriers (139 wins)
Part 2 below shows team wins for all age-group, and includes SBH and the Top 3 teams wins.
The top 5 team wins for the Men for the period 1966 to 2020 were, 1st Woodford Green (38 wins),2nd SBH (32 wins), 3rd Verlea (28 wins), 4th Ealing, Southall & Middlesex (15 wins) and Thames Valley Harriers (15 wins). The top 5 team wins for the Women for the period 1994 to 2020 were, 1st Highgate Harriers (15 wins), 2nd London Heathside and Woodford Green (11 wins), 4th SBH (9 wins), 5th Hillingdon (6 wins). The top 5 team wins for the combined total for the Men and Women were, 1st Woodford Green (49 wins),2nd SBH (41 wins), 3rd Verlea (30 wins), 4th Highgate Harriers (27 wins), 5th London Heathside (24 wins).
Under 11 Boys From 2014 to 2020 Season (4 Seasons)
SBH 1 win (17/18)
The Top 2 team wins – 1st Woodford Green (3 wins 16/17, 18/19, 19/20), 2nd SBH (1 win 17/18)
Consecutive wins – 2 Woodford Green (18/19, 19/20)
Under 11 Girls From 2014 to 2020 Season (4 Seasons)
SBH 0 wins
The Top team win – 1st Woodford Green (4 wins 16/17, 17/18, 18/19, 19/20)
Consecutive wins – 4 Woodford Green (16/17, 17/18, 18/19, 19/20) 
Under 13 Boys From 1972 to 2020 Season (48 Seasons)
SBH 17 wins (72/73, 74/75, 75/76, 77/78, 78/79, 79/80, 81/82, 83/84, 84/85, 85/86, 86/87, 87/88, 88/89, 11/12, 12/13, 13/14, 19/20)
The Top 3 team wins – 1st SBH (17 wins), 2nd Ealing, Southall & Middlesex (9 wins), 3rd Herts Phoenix (5 wins)
Consecutive wins – 6 SBH (83/84, 84/85, 85/86, 86/87, 87/88, 88/89) 
Under 13 Girls From 1994 to 2020 Season (26 Seasons)
SBH 2 wins (13/14, 14/15)
The Top 3 team wins – 1st Ealing, Southall & Middlesex and Woodford Green (5 wins), 3rd Hillingdon (3 wins), 4th SBH (2 wins)
Consecutive wins – 5 Ealing, Southall & Middlesex (01/02, 02/03, 03/04, 04/05, 05/06), 3 Woodford Green (17/18, 18/19, 19/20), 2 SBH (13/14, 14/15) 
Under 15 Boys and Under 17 Men From 1966 to 2020 Season (61 Seasons)
SBH 9 wins (68/69, 78/79, 80/81, 85/86, 86/87, 87/88, 10/11, 11/12, 19/20)
The Top 3 team wins – 1st Woodford Green (10 wins), 2nd SBH (9 wins), 3rd Ealing, Southall & Middlesex and Hillingdon (8 wins)
Consecutive wins – 4 Woodford Green (81/82, 82/83, 83/84, 84/85), 4 Ealing, Southall & Middlesex (00/01, 01/02, 02/03, 03/04), 3 SBH (85/86, 86/87, 87/88)
Under 15 Girls and Under 17 Women From 2007 to 2020 Season (13 Seasons)
SBH 6 wins (10/11, 15/16, 16/17, 17/18, 18/19, 19/20)
The Top 3 team wins – 1st SBH (6 wins), 2nd Herts Phoenix (3 wins), 3rd Ealing, Southall & Mid St Mary's Richmond (3 wins), 1st SBH (6 wins)
Consecutive wins – 5 SBH (15/16, 16/17, 17/18, 18/19, 19/20), 3 Herts Phoenix (11/12, 12/13, 13/14), 3 St Mary's Richmond (07/18, 08/09, 09/10) 
Senior and Under 20 Men From 1966 to 2020 Season (61 Seasons)
SBH 5 wins (72/73, 87/88, 89/90, 05/06, 07/08)
The Top 3 team wins – 1st Thames Valley Harriers (14 wins), 2nd Woodford Green (13 wins), 3rd Highgate Harriers (8 wins), 5th SBH (5 wins)
Consecutive wins – 8 Highgate Harriers (12/13, 13/14, 14/15, 15/16, 16/17, 17/18, 18/19, 19/20), 5 Thames Valley Harriers (73/74, 74/75, 75/76, 76/77, 77/78)
Senior and Under 20 Women From 1994 to 2020 Season (26 Seasons)
SBH 0 wins
The Top 3 team wins – 1st Highgate Harriers (11 wins), 2nd London Heathside (4 wins), 3rd Hillingdon (3 wins)
Consecutive wins – 7 Highgate Harriers (02/03, 03/04, 04/05, 05/06, 06/07, 07/08, 08/09), 3 London Heathside (17/18, 18/19, 19/20) 
Veteran Men From 1979 to 2020 Season (41 Seasons)
SBH 0 wins
The Top 3 team wins – 1st Verlea (16 wins), 2nd London Heathside (11 wins), 3rd Woodford Green (8 wins)
Consecutive wins – 8 Verlea (84/85, 85/86, 86/87, 87/88, 88/89, 89/90, 90/91, 91/92), 8 London Heathside (07/08, 08/09, 09/10, 10/11, 11/12, 12/13, 13/14, 14/15)
Veteran Women From 2001 to 2020 Season (19 Seasons)
SBH 1 win (01/02)
The Top 3 team wins – 1st London Heathside (7 wins), 2nd Highgate Harriers (4 wins), 3rd Serpentine (3 wins)
Consecutive wins – 4 Highgate Harriers (07/08, 08/09, 09/10, 10/11)
Link to the relevant documents – TEAM1 Metropolitan League Men Team Positions – TEAM2 Metropolitan League Women Team Positions – TEAM3 Metropolitan League Summary Of Men Team Wins (From File TEAM1) – TEAM4 Metropolitan League Summary Of Women Team Wins (From File TEAM2) – TEAM5 Metropolitan League Summary Of Men & Women Team Wins (From Files TEAM3 & 4) – TEAM6 Summary Of Men & Women Team & Individual Wins (From Files IND7 & TEAM6)
Finally, apologies but this is it.  The top 5 combined totals for the Men and Women Individual and Team Wins are – 1st SBH (357 wins), 2nd Woodford Green (251 wins), 3rd Highgate Harriers (180 wins), 4th Ealing, Southall & Middlesex (179 wins), 5th Thames Valley Harriers (159 wins).
TOKYO DREAMING NO MORE – A LETTER TO MY SPORT – The following article was published on the Athletics Weekly website recently. Shaftesbury's Olympic bronze medallist MARILYN OKORO announces her retirement with a message to athletics. MARILYN OKORO winning the 2013 British 800m title. Photograph by MARK SHEARMAN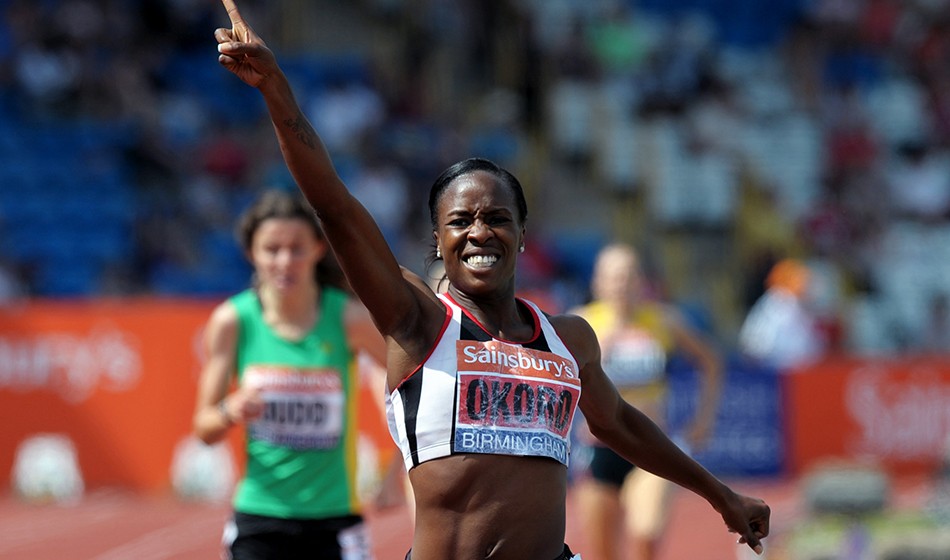 Dear Track and Field,
Thank you for all the memories and lessons and even more so, the very many blessings! I started this year sure of one thing and one thing only and that was: it was time to let go, in order for me to continue to GROW!
Hindsight is both a blessing and a curse. The former because it helps give you the processing and coping skills to accept the closure needed to move on to what's next, yet still a curse because you start to think of all the things you shoulda, woulda, coulda done differently! But hey, that is life, and I endeavour every day to channel those feeling into a positive outlet by giving back as much as possible to the next generation, in the hope that they will go on to 'Dream Bigger' and 'Achieve Greater'. Surprisingly, my decision to retire was rather uneventful. The final run of the final week of the year 2020, and what a year that was! Most say a year to forget but for me it will be the year to remember because by the end of it, it positioned me to find the greatest gift there is in life, MY PEACE. I took off my trainers that day and I just knew I would not be putting them on again any time soon… and it felt absolutely brilliant!
Read More: MARILYN OKORO moves on to her next gold medal hunt – I can tell you it has been seven whole years for me to free myself from this entanglement with Track and Field, this dynamic, fast-paced, diverse and all-encompassing chasm of fun and euphoria, hard work and discipline and not forgetting the inevitable heartbreak. And so, my 'thank yous'. The words alone will never be enough nor can I possibly begin to mention everyone to whom I owe so much and who has played a part no matter how big or small to my incredible journey. If you are not directly mentioned please take this entire letter as a warm and sincere 'thank you' (and send a WhatsApp to cuss me later!). 
Good old GEORGE! The stalwart of Shaftesbury Barnet Harriers, legendary track and field coach. The catalyst and coach to so many stellar careers. I am humbled I got to call you coach, but so much more than that, you were the father figure and mentor I needed in those early years to ensure I stayed in the sport and made it to where I am today. They say you never forget your first, and I will never forget the life you paved the way for me, GEORGE HARRISON. Thank you will never suffice! In the same breath I would like to say a huge thank you to my club since day one, Shaftesbury Barnet Harriers. #Upthestripes. Thank you for the experiences, the sessions, the competitions and the bonds. What a family. I am blessed to have met and trained with so many incredible people who from the beginning took me in as one of their own. A special mention to STEF and NADEEM who nurtured and continue to mentor me to this day. Also GEOFF MORPHITIS, thank you for always having my back! 'A club is for life, not just the competition' and I will treasure my vest with great pride always.
AYO FALOLA. I can hear your bellowing laugh now saying 'what took you so long, girl?'! I pray you are looking down and proud because as you said to me many a time after a beasty session or race, 'go shock 'em, MAZ' and I believe we did just that, quite a fair few times! Thank you for your crazy faith. Rest in easy, Coach AYO. 
UK Athletics and British Athletics. A governing body like no other, charged with the most difficult of tasks, to lead and steer a sport with so many moving parts and disciplines, personalities and characters. There is so much I did not understand about the world I was entering as a young 18-year-old just running a foot race as fast as she could. As much as I delivered for our team, I know I have not been the easiest soldier at times, but that's the beauty of our sport – we all come in different shapes and sizes, colours, creeds and frames of references. There will never be one size to fit all, that is the spice of track and field. Still, you continue to steer the ship and ensure British track and field remains vibrant and inviting and I know you will continue to do everything in your power to ensure British track stars are among the most celebrated and admired across the globe. For that, I will forever be a proud British athlete and do all I can to continue the legacy of British track and field. CHERRY ALEXANDER and KAREN FORBES – my 'Girls' – thank you for always fighting my corner! The Fans. Where would we be without our fans? Our biggest and best supporters, always there come rain or shine. Whether live of virtual you are there cheering us on to push ourselves. I know I speak on behalf of many athletes when I say we often owe our final push in the closing stages of competition to the ROAR and spirit of our fans – there is simply nothing that can replicate that feeling! Special mentions to the British Athletes Supporters Club for all you do to support our team!
To my friends and family, my TRIBE, for supporting and championing me, for loving and being proud of MARILYN OKORO the athlete, but always putting first 'MAZ' the human, mood swings and all (sorry guys!). You accept me win or lose, medal or no medal. You are there in the highs and most significantly, in the lows, always there to pick me up, dust me off and simply love me – thank you! You all have front row seats to the reality of an elite athlete journey. Thank you for grounding me and keeping me humble and, on many an occasion, going!
My 'SISTAS in Track' GEMMA (BENNETT), MONTELL (DOUGLAS), ZAINAB (CEESAY), NUSRAT (CEESAY), SANDRA (ALENEME) LAURA (WALTON nee LANGOWSKI), TASHA (DANVERS), CHRISTINE (OHUROUGU), ANYIKA (ONOURA), DONNA (FRASER), JENNY (MEADOWS), HAZEL (CLARK), TAMSYN (MANOU), KENIA (SINCLAIR). You know what your friendship and support means to me. Our sisterhood weighs more than gold. Respect to my 'Bros in track', ABS (BAHARI), SAMSON (ONI) ANDY (TURNER), DWAIN (CHAMBERS), CHRISTIAN (MALCOLM) and MARLON (DEVONISH). I couldn't ask for better examples of strong, successful and nurturing male role models – I appreciate you! To all I have had the immense privilege to be on a national team with and especially my relay girls, thank you for the memories (and medals) that will last a life time.
LEE MCCONNELL, KELLY SOTHERTON, JENNY MEADOW and MARILYN OKORO after winning silver at the 2011 European Indoor Championships in Paris. Photograph by MARK SHEARMAN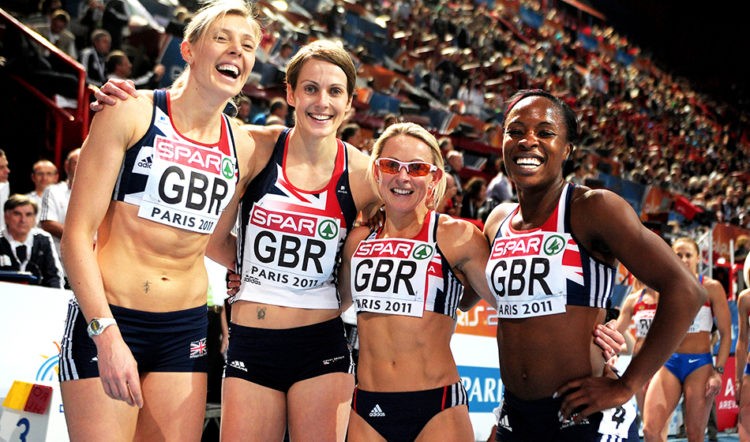 Thank you JOY and DANIEL, my brother and sister. My cheerleaders, always there. It's not easy having a sporting sibling but you guys are always 'my why', so thank you for putting up with me and the many disruptions to our lives, although it did come with some perks too, right?! As family isn't always blood, I must extend mentions to BENJAMIN MCGUINNESS – a best friend like no other, no matter where I am in the globe, you are there! THE MINTRIDGE FOUNDATION led by my amazing friend and inspiration ALEX WALLACE (founder), incredible to see how are far we have come to harness the power of sporting role models and unlock the potential of so many young minds and budding sports stars of the future! Forever your deputy! This brings me on to the fan favourite, MAMMA OKORO. My mummy, my biggest fan. The beginning was tough, you were my very first 'NO', but what a fuel you were. I only ever meant to make you proud. It's funny now because you are taking this retirement harder than me! From you I learned what strength really looked like, like a true Nigerian Mother, thank you for teaching and equipping me for the fight!
Last but by no means least, thank you ATHLETES, British and worldwide. You share my crazy passion for a sport that comes with zero guarantees, I am in awe of all of you. Sportsmen and women who dedicate their lives to chasing their dreams. I can only say this – it won't be easy, in fact that word doesn't exist in sport. Learn to love the bits you hate and accept that in the process you will gain the biggest learnings about your craft but more importantly, yourself. Know that you are never alone, there is always someone who cares, is willing to listen and if you are reading this and feel this is not your reality then I am here to say I personally nominate myself because I know all too well how lonely it can get, but the reality is no one achieves greatness alone. It takes a village, a community and peer-to-peer support and compassion. So, find your tribe and hold them close, savour the wins big and small, stay present and learn from the losses, never stop being a student of your craft and never be afraid to use your voice! I see you, I hear you and I champion you! Remember track is only a fraction of the life you have waiting beyond your sport, so don't be afraid to start with the end in mind and prepare for the moment when you can 'sport' no more.
'It won't be easy but in the end it was oh so worth it'. No regrets, just lessons. Thank you, Track and Field!
Yours in Sport – MARILYN OKORO – Olympic bronze medallist
RETURN OF PARKRUN IN ENGLAND SET FOR 5 JUNE – The following article was published on the Athletics Weekly website recently. Photograph taken by REBECCA BURNS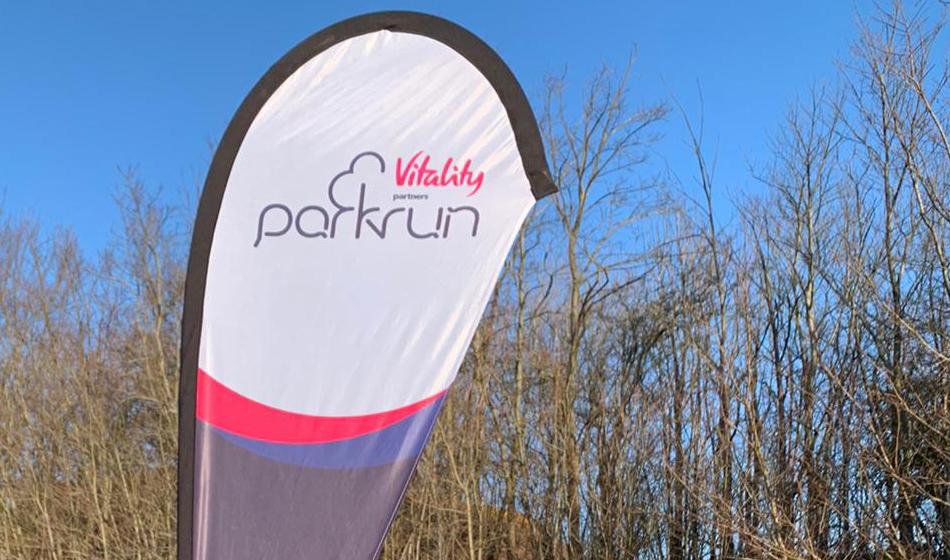 After more than a year in limbo due to the pandemic, parkrun plots its long-awaited comeback for June 5 whereas junior parkrun should start on 11 April. The popular series of weekly 5km parkrun events are set to resume in England on 5 June. With Government restrictions lifting, the events could technically re-start much earlier, but parkrun organisers are taking a safety-first approach that gives event organisers and landowners plenty of time to prepare. Plus, after being without the Saturday morning ritual for almost an entire year, waiting another three months does not seem too bad.
Junior parkrun over 2km, however, is set to make its return on 11 April – one week after the busy Easter weekend period – for just 4-10-year-olds to begin with. Children aged 11 will have to be patient for a little longer, but they will be able to volunteer or spectate to start with. "Excitingly, for the first time in six months, we now see a realistic timeframe for the return of 5km events in England," said NICK PEARSON, chief executive of parkrun. Attempts last autumn to bring parkrun back in late October were scuppered by a second wave of the coronavirus which ultimately led to an English lockdown in November. But now there is more optimism about a successful return. However, parkrun are taking things carefully.
"Unlike junior parkrun, which can return in phases, our 5km events need to all come back at the same time, with the definition of 'all' probably being something north of 90%," PEARSON explained via a statement. "This is due to the relatively large attendances, and significant opportunity for tourism, meaning that if only a subset of 5km events opened they would very likely be overwhelmed with unmanageable levels of attendance." He added: "Based on the published guidance, our 5km events could technically return from Saturday 4 April. However, due to the other national restrictions in place, the expected level of infection at that time, and a number of our 5km events regularly exceeding 1000 participants, we do not believe it would be appropriate for them to return this early."
The situation is not as clear in Scotland, Wales or Northern Ireland, though. "As things stand we are unable to pinpoint a date for returning either junior or 5km parkrun across these three devolved nations, but we continue to work closely with relevant authorities and stakeholders to understand when it may be appropriate," said PEARSON.
When parkrun is back, too, there are likely to be bans on high fives and spitting, plus courses might be tweaked to create larger start and finish areas. Pre-race briefings will be shorter and hand sanitisers will be available to volunteers, while a contactless scanning process for finishing tokens will be introduced. The news will be well received in the running world as the last parkrun events in the UK were on 14 March last year. If the 5 June return is met, it means there are less than 100 days to go before it restarts.
DAVE BEDFORD'S TOP 20 RACES PART 1 of 2 – The following article was published on the Athletics Weekly website recently.
Part 1 a snapshot of DAVE'S history, his training schedule, followed by the first five of DAVE'S top twenty races.
STEVE SMYTHE remembers a British legend and chooses 20 of his best or most famous competitions
Half a century ago, Britons dominated the 5000m and 10,000m lists in the way Kenyans and Ethiopians do now. The 1970 world rankings revealed the UK had the fastest three and four of the six fastest 5000m runners and the top two and four of the fastest seven at 10,000m. They also had six of the top nine at two miles.
IAN STEWART headed the 5000m – and you can read more about him here – but it was DAVE BEDFORD who topped the 10,000m.
This year BEDFORD celebrates the 50th anniversary of his biggest win and the publication of the DAVE BEDFORD STORY. Not too many 21-year-old athletes have had a book detailing their life and career.
However, back in the early 1970s when Crystal Palace was struggling to take over the mantle from White City as Britain's premier athletics venue, Bedford is largely credited for bringing the crowds flocking back.
With his Mexican bandit looks and moustache, red socks and long stride and aggressive and flamboyant front-running and his boast of upcoming special deeds, Bedford made the headlines with his vibrant personality and a string of brilliant performances. He was unable to translate some of those incredible record runs into medals on the track but he had plenty of success and 50 years on is not forgotten among track fans of the 1970s.
If only a fully fit BEDFORD had the shoes now available, a full London Stadium and pacer lights, he might have beaten YOBES ONDIEKI to the first sub-27 10,000m by over 20 years.
While most will remember his world record 10,000m but question his ability to win races, it's worth recalling he won both the International Cross Country junior and senior titles when they were effectively the world titles.
And winning five successive AAA 10,000m titles was no easy matter when British athletes had the greatest depth of any distance nation. He did not prove as successful in major Games but without him you wouldn't have got up to then the fastest and greatest European, Olympic and Commonwealth 10,000m races and a total re-writing of the world all-time lists in those championship races. At the end of 1974, 13 of the top 16 10,000m performers of all time came in races where BEDFORD did all the hard work!
Many believe he could have done better with different tactics – the speed coming later when the others were tired – rather than the speed coming early and then the races getting progressively slower. Of course, it is possible that the likes of VAATAINEN in 1971 and VIREN in 1972 would have won whatever tactics were used.
In all three of his big championship 10,000m races, BEDFORD went into the races as fastest in the knowledge that hardly any of his rivals had times in his vicinity and the belief he was going to go much faster than he had before – especially in 1972 and 1974.
He was actually remarkably consistent in his three big Games races but there is no denying that while the likes of VIREN might have been unbeatable, he did lose to some runners not at his level such as the ultra consistent MARIANO HARO, who beat him in both big races in 1971 and 1972, who could never run the sort of times that BEDFORD was potentially capable of.
Unfortunately injury meant it was a short international track career, many believing the relentless 150 and 200 mile training weeks took their toll on his body and he thought the injuries even affected his ability in some of his biggest races.
BEDFORD made a huge contribution to the sport after he retired. He later became the President of the International Athletes' Club, secretary of the British Athletics Federation and AAA of England and a fantastically successful race director of the London Marathon, was heavily involved in the organisation of the 2012 Olympic marathon and also served the IAAF's road running commission. He was appointed OBE in the 2014 New Year Honours for services to athletics and charitable fundraising. DAVE at the finish area of the London Marathon.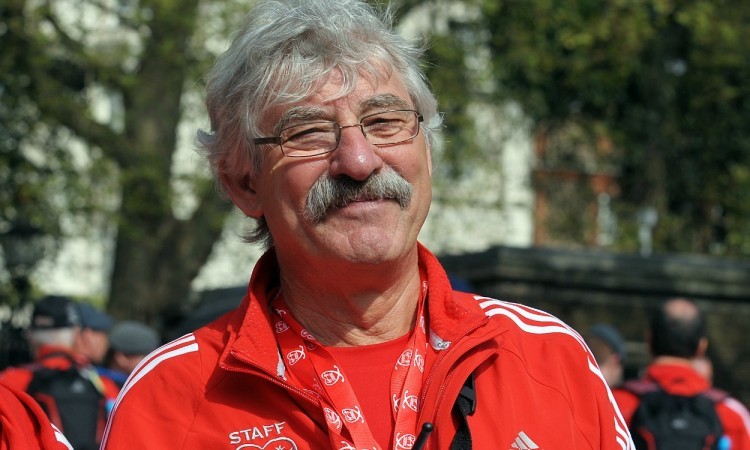 His son TOM bettered his father in that he won an English Schools title (at steeplechase in 2002) and also ran a sub-2:20 marathon and he is the organiser of this year's Olympic trials marathon.
For me, DAVE BEDFORD was a huge presence. I started running in 1969 after he was already a 19-year-old British 10,000m record-holder. As he was absent from both the 1969 Europeans and 1970 Commonwealths, the first time I saw him on television, and I was really aware of him, was when he was a shock winner of the 1970 AAA 10,000m.
I started getting AW shortly after that when he had regained the GB record at the end of the 1970 season and then over the next year he went from being relatively unknown to being the most exciting runner in the world and one of the best known sportsmen in Britain and the glossy DAVE BEDFORD STORY came out and at all of 65p it was a must for all aspiring young runners.
Just to get a picture of his personality and humour but also his gruelling training, in 1971 he answered the AW Questionnaire not long after his senior International win.
What performance has given you the most pleasure?
Breaking 100m, 200m and 400m personal bests all in one race. I ran 14 and 28 en route to a 55!
How many days a week do you train?
7 days – 3 sessions per day (morning, lunchtime and evening).
How long are your training sessions?
30 minutes to 3 hours.
Please give details of a typical week's training in winter?
Monday: am 8 miles. Lunch: 6 miles. pm 16 miles steady.
Tuesday: am 8 miles. Lunch: 6 miles. pm 14 miles inc 30x200m hill and fartlek.
Wednesday: am 8 miles. Lunch: 6 miles. pm 16 miles inc 5 x 1M efforts.
Thursday: am 8 miles. Lunch: 6 miles. pm 12x400m (62) with 200m recovery, 12x300m (47) with 100m recovery, 12x200m (32) with 100m recovery.
Friday: am 8 miles. Lunch: 6 miles. pm 8 miles steady.
Saturday: am 15 miles. Afternoon: (watching QPR – quite a strain!). pm 10 miles steady.
Sunday: am 20-25 miles from Lauriston (Wimbledon). pm: 5-10M on country
Most of running on road. Approx weekly mileage: 200
Please give details of any weight training?
Lifting pints is the nearest I get to this.
What are your targets?
Olympic, European, Commonwealth golds and world records.
He did at least achieve the latter and compiling his best races (and ploughing through nearly a 1000 AW's) brought back some great memories to me and hopefully will be of some interest to others too and hopefully nothing too major has been missed due to a few missing copies!
1 AAA Championships 10,000m, Crystal Palace, July 13 1973
1st (27:30.8)world record
As he had not publicised any record attempt or shown any form that suggested anything special was likely, only 3500 fans were present on the Friday night for a programme of predominantly heats but clearly he had a target as he powered through 1600m in 4:17.4. Surprisingly as he was operating at 26:45 pace, he still had four takers. Even at 3000m (8:08.4) – the second fastest ever split after his Olympic opening, TONY SIMMONS, SEPPO TUOMINEN and BERNIE PLAIN remained.
The latter two soon dropped off but at 4000m, SIMMONS surprised BEDFORD by going by and leading before BEDFORD went ahead again and pushed on through the fastest ever halfway time of (13:39.4) with Simmons (13:41.0) also running a time previously unsurpassed even by CLARKE and BEDFORD.
At 6000m he lapped fellow International cross-country winner MIKE TAGG, who tried to briefly help BEDFORD. From 6400m to 8400m and needing 67 second laps, BEDFORD astonishingly reeled off five successive exact 67.0 laps.
At 8000m, he had been 15 seconds up on VIREN'S equivalent but clearly was not going to finish like VIREN did but he had a 19 second buffer at 9km and perhaps more importantly was 10 seconds quicker at that point than CLARKE had ever run.
While he had slowed to a 67.8 four out, knowing the record was almost certainly his, his last three got faster and a 60.8 final circuit was wildly received by a stadium of 10,000m aficionados as he took over seven seconds off VIREN'S world mark and 16 seconds off his own British (and former European) record.
It was the first world record set in London by a Briton since CHRIS CHATAWAY beat VLADIMIR KUTS in an epic 5000m in 1954.
DAVE BEDFORD celebrates his world 10,000m record with coach BOB PARKER at Crystal Palace in 1973.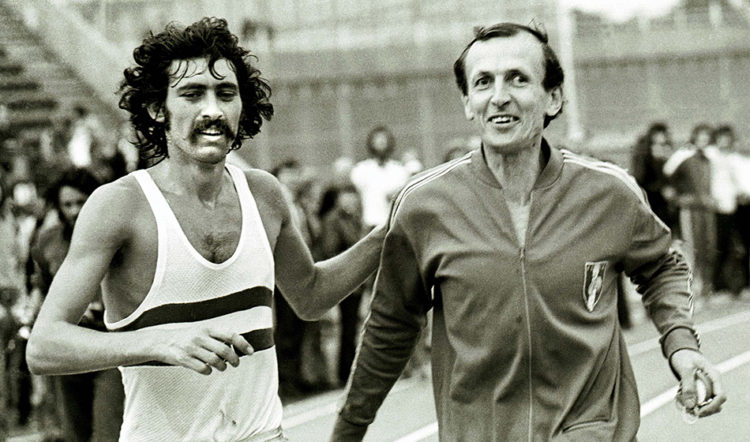 SIMMONS (28:19.4) and PLAIN (28:30.2) survived their suicidal starts to set PBs despite slowing 40 seconds on their second half's. BEDFORD'S lap times were: 63.0, 64.4, 64.9, 65.1, 65.8, 66.4, 66.2, 66.2, 66.6, 66.0, 65.4, 66.0, 66.8, 66.2, 67.2, 67.8, 67.0, 67.0, 67.0, 67.0, 67.0, 67.8, 66.0, 65.2 and 60.8.
In the press conference he said: "I planned this from about a week ago. When I left home I was nervous. I've been confident in the past and it has not come off.  I had four weeks of really good training and it began to click and last week I knew it was on. Recently I did a session of 2 x 6 laps and I did 6:24 and 6:25 with a jog in between and I wanted to go through in 6:30 tonight (he did 6:29.6). I was conscious of the lap times and got worried with 8 or 9 laps to go as it was feeling quite hard but it should be at that pace! I knew if I kept to 67s I should get the record and kept pushing them as hard as I could."
The following day (to appease the large home crowd) he ran in the 5000m and was 6th in (13:47.54) in a race won by BRENDAN FOSTER (13:23.8).
2 AAA Championships 5000m and 10,000m (Inc Olympic Trials), Crystal Palace, July 14 & 15, 1972
1st (13:17.2) (European & UK record & UK all-comers' record) & 1st (27:52.4)
As he was primarily targeting the 10,000m at Munich, he almost did not compete at this Friday night event but made a late decision to compete and then ignored coach BOB PARKER'S instructions to just do enough to make the Olympic team. He started fast and was four seconds up on CLARKE'S world record pace at 1000m (2:35.0) and 2000m (5:12.4) and this was enough to move him clear of his final challengers STEWART and MCCAFFERTY, who had battled for Commonwealth gold in 1970.
He was through 3000m in an unprecedented (7:53.6) (3.4 seconds up on CLARKE'S time) but the gap was down to 1.4 seconds at 4000 (10:38.6) as the laps had dropped from 63s to nearer 66. He narrowly fell behind CLARKE'S time with 600m to go and was still only 0.7 of a second down with 200m to go and he was only able to claw a tenth back in his last 200m as his time fell 0.6 short of CLARKE'S seven-year-old (13:16.6) despite a lively 59.6 last lap.
MCCAFFERTY, who at one stage was closing down BEDFORD in the last 800m, set a Scottish record (13:19.8) to go third all-time on the world lists. A subdued STEWART (13:24.2) ensured his selection ahead of HARO (13:26.0) and teenager BLACK (13:28.0) who would have comfortably made any other country's Olympic team.
His lap times: 61.6, 62.4, 62.8, 62.6, 63.0, 63.8, 65.4, 65.2, 65.8, 66.0, 65.8, 62.4 and 30.0 for the final 200m.
Just 19 hours after his European 5000m mark, he was back in action to secure selection at his premier event. In front of a fervent 20,000 crowd he ignored sizzling hot conditions.
He was through 3000m on world record pace in (8:12.4) (27:20 tempo) and was only a few seconds down on CLARKE'S time at 5000m (13:47.6). He did ease back on the second half but still won by 46 seconds from Commonwealth winner LACHIE STEWART (28:38.8). The three runners most favoured to complete the team – TAGG, SIMMONS and LANE all dropped out due to the combination of the pace and heat.
Surprisingly the third spot on the British team went to DAVE HOLT (28:42.0), who had been told to run in the B race as the A race was limited to 30 but he defied officials to ensure Munich selection.
3 GB v France (inc AAA Championships) 10,000m, Portsmouth, July 10, 1971
(27:47.0) (European record) (6M; 26:51.6 (European record)
He took an astonishing 17 seconds off JURGEN HAASE'S European record despite the temperature being in the 80s and it being on a dusty cinder track and suffering badly from blisters because of the track and the heat. The first lap was a too slow 70.0 and the second a too fast 59.0 but he was well ahead of schedule for Clarke's (27:39.4) world record after a (2:40.0) opening kilometre.
He was still ahead at 3000m (8:09.0) and 5000 (13:45.2) and at 8000m (22:09.2) was still four seconds up on CLARKE'S split. Thereafter, he was not quite able to maintain the tempo dropping from 67 to around 69 seconds but finished with a 64 and he won by a staggering 52 seconds from Lane (28:39.6) who also secured his European team spot.
His lap times were 70.0, 59.0, 63.6, 65.0, 65.8, 66.6, 66.4, 67.2, 67.2, 67.4, 67.2, 66.6, 67.0, 66.4, 67.4, 66.8, 67.2, 67.2, 66.8, 68.4, 69.2, 68.2, 68.8, 67.2 and 64.4. DAVE on his way to the European Record.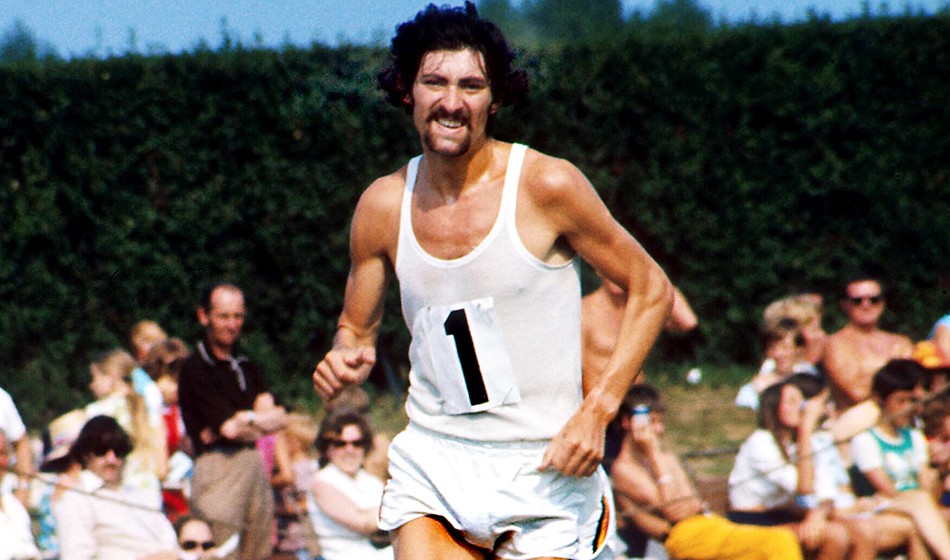 4 International Cross-Country Championships, San Sebastian, Spain, March 20 1971
1st (38:42.8)
After being just an injured 95th the previous year, he proved himself the greatest cross-country in the world with some ease breaking clear after a kilometre and he ran away from the field winning by 22 seconds from TREVOR WRIGHT (39:05.2) with Kiwi EDDIE GRAY in third. The quality of the field is illustrated by the eighth to 12 places of major track or country medallists MARIANO HARO, IAN STEWART, ROD DIXON, PEKKA PAIVARINTA and GASTON ROELANTS. England (56 points) won the team race incredibly easily from Belgium (174).
5 Southern Senior and Junior Cross-Country Championships, Parliament Hill, February 7 1970
Senior 9M: 1st (45:50), Junior 6M, (32:12)
On an astonishing unparalleled afternoon (having already trained in the morning and then done a long warm up), he first destroyed the senior field over nine miles winning by almost a minute from steeplechase international BILL MULLETT (46:45) and BOB HOLT (47:01).
Twenty minutes later he set off in the junior race and though struggling up the first hill, he was soon well clear of the field and he won by a minute from LANE (33:13), who went on finish a very close second in the National Junior and would be in Britain's 10,000m team alongside BEDFORD in Helsinki 1971 and win the World Student Games cross-country title in 1972.
NEELAM KADERBHOY – For all of you wanting to send her cards etc, please send to the nursing home, as she will be there for the foreseeable future. Forest Care Village, 20 Cardinal Ave, Borehamwood, WD6 1EP
A FEW MORE VOLUNTEERS REQUIRED – RAY POWELL still requires a further 2-3 volunteers for the London Marathon Big Half on Sunday 25th April. Meeting time is 6.30am and finish at 11am, kit and lunch supplied. Nearest station is Tower Hill / Tower Gateway.
Please contact CLARE & RAY at ray571m@btopenworld.com
ATW CROSS COUNTRY SERIES NEXT RACE – The next race is on Saturday 27 March at Merchant Taylor's School, Sandy Lodge, Northwood HA6 2HT. The races are for Under 11, 13, 15 & 17s. This is the link for all details including entries – https://activetrainingworld.co.uk/events/atw-cross-country-series-round-3-21st-feb/
UPDATE ON PROPOSED TRACK AND FIELD FIXTURES – National Athletic League dates have been agreed – Sunday 6 June, Sunday 4 July, Sunday 8 August and Saturday 28 August – 4 club divisions – we are in Premier London North with Harrow, Newham and Woodford – Probability that most / all fixtures will be at StoneX Stadium. London Inter Club Challenge dates agreed Saturday 26 June, Saturday 31 July and Saturday 21 August all at StoneX Stadium.
Provisional UK Youth Development League dates are; Sunday 2 May, Sunday 30 May, Sunday 27 June, Saturday/Sunday 4/5 September National Final
Provisional Middlesex Young Athletes League dates are; Finsbury Park, Saturday 15 May – Perivale, Sunday 20 June – Parliament Hill and Sunday 18 July – StoneX Stadium
Provisional Eastern Young Athletes League dates are; Sunday 13 June, Sunday 4 July, Sunday 18 July, Sunday 1 August and Final Sunday 12 September (venues to be confirmed).
The SCVAC Veterans League dates are still to be announced.
2021 LEE VALLEY INDOOR TRACK AND FIELD MEETINGS – Currently Lee Valley is closed.
2021 INDOOR TRACK AND FIELD MEETINGS – During the first week of January UK Athletics issued a Preliminary list of fixtures for 2021, this is the list – 2021-Fixtures-Calender-15.01.21
Non Lee Valley fixtures – Currently the following competitions are taking place, March 19-21 World Championships (Nanjing, China), 24-28 European Masters Championships (Braga, Portugal) – April 6-12 World Masters Championships (Edmonton, Canada).
BIRMINGHAM 2022 COMMONWEALTH GAMES – Well there is just 531 days to the Opening Ceremony, you may wish to sign up to receive their Newsletter. Link – https://www.birmingham2022.com/register-your-interest/. Tickets will be on sale later this year, and can only be purchased through the official Commonwealth Games website, this is the link to register – https://www.birmingham2022.com/the-games/tickets/. This is the link to the current schedule for the 25 events – https://images.birmingham2022.com/wp-content/uploads/2021/01/11441664_CWGs_Daily_Competition_Schedule_FINAL.pdf.
ATHLETICS take place at the Alexander Stadium 2-7 August, with the Marathons on 30 July. There will be 59 medal events including a fully integrated Para Sport programme. TRIATHLON and PARA TRIATHLON take place at Sutton Park 29 and 31 July. The Individual races contest a 750m swim, 20km cycle, 5km run, and the Team races contest a 250m swim, 7km cycle, 1.5km run. Link to all events – https://www.birmingham2022.com/the-games/sports/?utm_source=workflow&utm_medium=email&utm_campaign=popup_work_flow_send_welcome_autoresponder_pop_up_footer_form&utm_content=2021-02-05
Shaftesbury's ANGUS MCKENZIE was appointed as Competition Manager (Athletics) last year, and the article on him can be found in the 26 November SBH Newsletter.
REDEVELOPMENT OF THE EXISTING WEST STAND – SARACENS have appointed RAYNER ROWEN CONSTRUCTION to carry out the demolition and rebuild of the old West Stand. The works commenced on Monday 15 February and completion is planned for 6 May 2022.
Demolition is planned to commence on 22 February with completion on 23 April. This is a Link to the first Monthly Newsletter for the redevelopment, which shows site access and the initial site activities – C-0045 – West Stand Monthly Newsletter – February 2021 Rev A
PROCEDURES FOR USING STONEX STADIUM FROM JEREMY SOTHCOTT – The Stadium is now subject to the lockdown guidelines recently set by the Government and is therefore closed to all athletes except "Elite" athletes as certified by UKA/EA.
SBH SUBSCRIPTIONS 2020-2021 – SBH Treasurer GEOFF MORPHITIS has sent me the following regarding subscriptions.
The Club AGM took place virtually at 19.30 on Tuesday 24 November. One of the resolutions which was passed dealt with Club Subscriptions as follows. "The Annual Membership Fee for new members from 1 December 2020 will increase to £50. Existing members who have paid their membership fee for year ended 30 September 2020 will be considered as having also paid their fee for the year ended 30 September 2021.
In other words, in recognition of the disruption caused by Covid-19, these members will have 2 years membership for the price of one." Therefore, I'm now asking athletes who have not paid their subscription for the year ended 30/09/20 (£45) to pay, so as to qualify for the 2 for 1 concession together with the England Athletics Registration Fee of £15 for 2020/21. The total is £60 and should be paid NOW to; ACCOUNT NAME: SHAFTESBURY BARNET HARRIERS, BANK: HSBC, ACCOUNT NUMBER: 41308378, SORT CODE: 400426 – Please let me know when payment is made. Thanks GEOFF
UPDATE ON SBH FIXTURE CARD – We are in the process of finalising the 2021 Summer Fixture Card
CAN YOU HELP PLEASE – During the period when all competitions are suspended, I will do my upmost in keeping the Newsletter information and other content going.
I would welcome any contributions From Yourselves, any impending marriages, or additions to the family, any running or competing incidents, also past warm weather training/holidays (No Club 24 please). Currently the response has been excellent, but if you have anything that could make it into next week's Newsletter – please email me.
THE FOLLOWING SBH DOCUMENTS/INFORMATION CAN EITHER BE VIEWED, DOWNLOADED OR PRINTED 
SBH 2021 Summer Fixture Card, and will be publishing a draft  in the coming weeks.
Cross Country Team Managers Details – http://sbharriers.co.uk/athletics/cross-country/team-managers/
Road Running/Relay Team Managers Details – http://sbharriers.co.uk/athletics/road-running/team-managers/
THE FOLLOWING INFORMATION OF INTEREST CAN BE FOUND ON THE SBH HOME PAGE BY USING THIS LINK, THEN SELECT THE LEFT OR RIGHT ARROW – http://sbharriers.co.uk/
Shaftesbury Barnet Harriers Club Hoody, information on how to purchase one, please go to the bottom of this Newsletter.
STONEX STADIUM EAST STAND INDOOR AREA – Currently closed.
SBH MIDWEEK JUMPS CLUB AT STONEX STADIUM (FORMERLY BARNET COPTHALL STADIUM) – Currently Suspended.
STEEPLECHASE TRAINING AT STONEX STADIUM (FORMERLY BARNET COPTHALL STADIUM) – Currently Suspended.
PARKRUN 5K RESULTS – Currently Suspended
PARKRUN – Can you make sure that you are registered as 'Shaftesbury Barnet Harriers', as the link I use to select all results only shows SBH athletes. If anyone is also officiating can you please contact me, and advise me where and when.
PHOTOGRAPH'S – From time to time we have photographs of our members taken at meetings or presentations which we would like to use both on the website or incorporated within our report to our local newspaper. Can you please let me know if you do NOT want your photograph to be published. Also, I would appreciate if you could send me any photographs, which I can then publish on the website and newsletter.
CLUB EMBROIDERED RED HOODIES – Currently there are now over 750 Hoodies in circulation, this is the link giving details on how you can order your Club Hoody for £35, which includes having your name embroidered on the front Club Hoodies Updated 01-07-19
FACEBOOK – Photographs can be found on the SBH page.
CURRENT DISTRIBUTION OF SHAFTESBURY INFORMATION – Currently I notify members (by email) using "MailChimp". The reason I changed, was in November 2017 "Gmail" put a limit of 100 addresses that users could send to in a 24-hour period, and currently I send to approximately 850 members each issue.
On seeking technical advice "MailChimp" was recommended as the best way for SBH to go forward. There is one thing you should be aware off is that when you receive an email from me, the footer at the bottom has 4 options, of which one is "Unsubscribe Me From List". Could I ask you not to select this as if you do you will be automatically removed from my distribution list.
SBH PRIVACY STATEMENT – In becoming a member, SBH will collect certain information about you. Can you please read the attached 'Privacy Statement' which contains Information on General Data Protection Regulations – SBH Privacy Statement Final April 2018
STONEX STADIUM (FORMERLY BARNET COPTHALL STADIUM) – Main Switchboard telephone number is 020 3675 7250.
CHARGES FOR USING STONEX STADIUM (FORMERLY BARNET COPTHALL STADIUM) – Currently the Stadium is closed.
ALAN WELLER – SBH NEWSLETTER EDITOR AND WEBMASTER