SHAFTESBURY BARNET HARRIERS NEW KIT – Following a series of consultation with various Team Managers and Athletes, we have now decided on what we believe to be a smart and hard wearing kit. Each item will have 'Shaftesbury Barnet Harriers' on the back, we are also hoping to have our name on the leggings and track suit bottoms.
Release date will be advised shortly, including costs.
The first photograph shows HAMZA KADIR who is holding the PETER COE trophy for Under 17 Men, which he won at the BMC Grand Prix in Oxford on 23 July 2016. HAMZA won in a personal best (4:18.07) which moved him up to UK No.1 U17, in 2nd place was RICKY LUTAKOME of Sutton who was the UK No.1 at the time. HAMZA is wearing a new T shirt.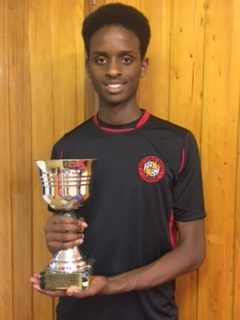 Tracksuit top and bottom with distinctive red flash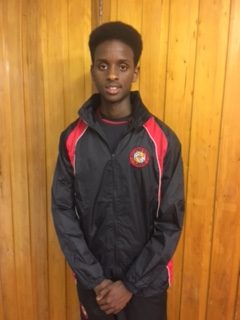 Casual top and leggings