Happy Birthday this week to Abbas Adejonwo, Isabella Brunskill, Charlotte Byrnes, Louis Davis, Zane Duquemin, Theodore Evans, Amit Ginsbourg, Clifford Golding, Mia Groom, Jamie Harper, Daisy Harvey-Dew, Olive Harvey-Dew, Mahiis Hersi, Neelan Kaderbhoy, Bob Mallows, Marilyn Okoro, Louis Octave, Nicholas Savva, Abigaelle Tombe, Dave Weightman and Ben Wills
THE FOLLOWING SBH DOCUMENTS/INFORMATION CAN EITHER BE VIEWED, DOWNLOADED OR PRINTED
2018-2019 Winter Fixture Card Updated 06-09-18 – http://sbharriers.co.uk/fixtures-results/fixture-cards/
2018-2019 Winter Club Points and Club Championship Races Issued 27-08-18 – http://sbharriers.co.uk/fixtures-results/fixture-cards//
Cross Country Team Managers – http://sbharriers.co.uk/athletics/cross-country/team-managers/
Road Running Team Managers – http://sbharriers.co.uk/athletics/road-running/team-managers/
THE FOLLOWING INFORMATION OF INTEREST CAN BE FOUND ON THE SBH HOME PAGE BY USING THIS LINK, THEN SELECT THE LEFT OR RIGHT ARROW – http://sbharriers.co.uk/
Allianz Park Membership, which gives SBH members 10% discount on entry to the Allianz Park stadium – Membership details and Form can be either printed or downloaded
Shaftesbury Barnet Harriers Club Hoody, information on how to purchase one
SBH MIDWEEK JUMPS CLUB AT ALLIANZ PARK FROM 19.00 TO 21.00 – The current arrangements and until further notice are that Pole Vault training is on Monday's and High Jump training is on Wednesday's. Please contact the session administrator CLYDE GORDON clydeg67@hotmail.co.uk in advance and let him know you're planning to attend.
128TH SHAFTESBURY BARNET HARRIERS ANNUAL GENERAL MEETING – We have been advised by Saracens that the East Stand at Allianz Park will not be available on Tuesday 20 November. Therefore the AGM will now Take Place on Tuesday 27 November.
START FITNESS METROPOLITAN LEAGUE CHANGE OF VENUES –  We have just been advised that due to the unavailability of Uxbridge in January, the 1 December fixture will now be at Uxbridge, and the 12 January fixture  will now be at Wormwood Scrubs.
NEW MARATHON WORLD RECORD – On a glorius Sunday morning ib Berlin, the greatest marathon runner od all time became that bit greater. Already the winner of his past eight marathons – including Olympic gold in Rio and three victories in London. The only thing to elude ELIUD KIPCHOGE was DENNIS KIMETTO'S world record of 2 hours, 2 minutes and 57 seconds in Berlin in 2014.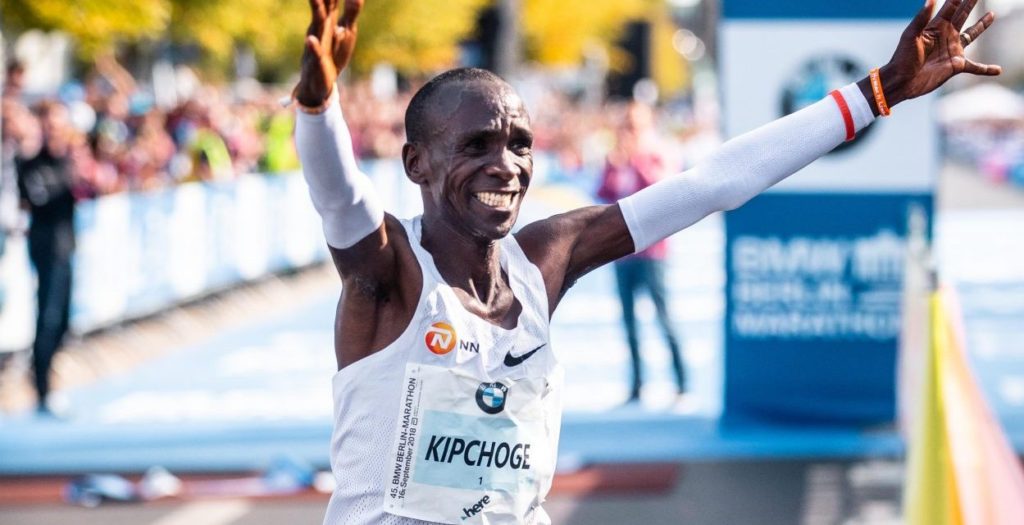 KIPCHOGE 33, did not just beat it, he destroyed it, shattered it. Put it so far out of reach it is difficult to envisage anyone surpassing it for years to come. His incredible winning time was 78 seconds better than the previous mark – the first time the world record had been lowered by more than a minute in a race for 39 years and the single greatest improvement for 51 years.
JOY OGUNLEYE AND REBECCA JEGGO – On Saturday 8 September both JOY and REBECCA had an amazing experience competing at the Great North City Games.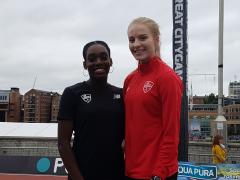 The event was held on a purpose-built track at the iconic Gateshead quayside. This included some of the top athletes from the UK as well as the Diamond league circuit, with whom JOY and REBECCA stayed at the same hotel as on the Friday.  They enjoyed dinner with GB sprinter RICHARD KILTY, before meeting others including MO FARAH and GREG RUTHERFORD. Both REBECCA and JOY qualified for the event based on their performance at the English Schools championships in July and competed over the unusual distance of 150m straight.
In the first heat REBECCA finished second in a time of 17.90 qualifying for the "A" final later in the day. In heat two JOY finished third, qualifying for the "B" final with a time of 18:28.
After a short turn around, and in worsening weather conditions, JOY improved her time to 18:27, finishing second in this "B" race. Later in the afternoon after what was a very wet and nervy start line, and on the third attempt after an athlete disqualification, REBECCA finished third in her final in an improved time of 17:76.
PORTSMOUTH THROWS FESTIVAL OPEN MEETING – Took place on 16 September
Discus 1.75kg – U20M CAMERON CAMPBELL 1st (40.42m), EVAN CAMPBELL 2nd (38.67m)
WORLD MASTERS CHAMPIONSHIPS – Took place in Malaga, Spain from 4-16 September
5000m – 12/9 M40 A Final KOJO KYEREME 4th (15:05.39)
IONA COLLEGE PADDY DOYLE MEET OF CHAMPIONS – Took place in Bronx, New York, USA on 14 September
8000m XC – SM JAMIE DEE U20 (Iona College) 2nd (25.03)
HIGHGATE HARRIERS OPEN MEETING – Took place at Parliament Hill on 12 September
100m – SX1 GILAD NACHSHEN U15 5th (12.22 w-1.1), 2  KENE PINNOCK U15 1st (12.23 w-0.9)
400m – SX1 GILAD NACHSHEN U15 3rd (PB 54.60) taking 1.26 seconds off his 1 January time, and is ranked UK No.7  U15 in 2018, 1 LEO RONCARATI U15 3rd (PB 59.75), 3 BLUEBELL COOKE U17 5th (62.25)
Shot 5kg – SM SEBASTIAN CORBO U17 1st (11.37m)
Discus 2kg – SM MICHAEL NICHOLLS F44 1st (PB 42.04m)
PARKRUN 5K RESULTS – 15 SEPTEMBER – BROCKWELL PARK – EUAN MACKENZIE 4th (18.13) 3rd parkrun – GREAT LINES MEDWAY – CLIFF GOLDINGV60 68th (23.57) 45th parkrun – KINGSTON – EMMA ARCHER V40 16th (20.13) 22nd parkrun – OAK HILL – JUDE MIRANDA U17 1st (New PB 17.43) 5th parkrun, JOSEPH HEATHER U17 4th (New PB 18.28) 21st parkrun, FREYA STAPLETON U17 6th (First Time 18.38) 38th parkrun, JOANNE MIRANDA U15 10th (New PB 19.50) 5th parkrun, DYLAN HEPWORTH U17 11th ( 19.56) 31st parkrun, STUART SINGER V55 16th (21.09) 223rd parkrun, JEREMY SOTHCOTT V50 42nd (22.39) 22nd parkrun,  BRADLEY SINGER 116th (27.03) 85th parkrun – ROTHER VALLEY – ANDREW HOLMES V50 109th (First Time 25.01) 13th parkrun – STEVENAGE – RUSSELL DEVITT V65 98th (25.49) 125th parkrun – UPTON HOUSE – HUGH RICHARDS V70 129th (28.07) 97th parkrun
PARKRUN – Can you make sure that you are registered as 'Shaftesbury Barnet Harriers', as the link I use to select all results only shows SBH athlet4s. If anyone is also officiating can you please contact me, and advise me where and when.
UPCOMING FIXTURES FOR THE NEXT 4 WEEKS
The current Winter Fixture Card can be found on the SBH website – http://sbharriers.co.uk/fixtures-results/fixture-cards/ – also the contact details for all Team Managers can be found here – http://sbharriers.co.uk/ and then select "Athletics"
SOUTHERN SENIOR MEN'S AND WOMEN'S AND YOUNG ATHLETES ROAD RELAYS – Takes place on Sunday 23 September at the Crystal Palace National Sports Centre, Ledrington Road, London (Satnav SE19 2BB).
Start times 10.45am U13 Boys (4 Legs of 3000m), 10.50am U13 Girls (3 Legs of 3000m), 11.35am U15 Boys (4 Legs of 3000m), 11.40am U15Girls (3 Legs of 3000m), 12.25pm U17 Women (3 Legs of 3000m), 12.30pm U17 Men (4 Legs of 4500m), 1.30pm Senior and Veteran Women (4 Legs of 4500m), 2.30pm Senior Men (6 Legs of 6000m), 2.30 Veteran Men (4 Legs of 6000m).
Entries Closed
Note: You will have to be pre-entered by your respective Team Manager
NORTH WEST LONDON LEAGUE – The first fixture of five takes place on Saturday 29 September, the race headquarters is The Tir Chonaill Gaels Club, Berkeley Fields, Berkeley Avenue, Greenford (Satnav UB6 0NZ). Directions – turn off Greenford Road (A4127), opposite the entrance to the Glaxo Factory. The playing fields are at the end of Berkeley Avenue, and there is parking in the Clubhouse or in adjacent roads.
The Race HQ pavilion facilities will not be open until 11.00am. Toilet facilties not available until then.
Start Times –12.00noon U11 Girls, 12.15pmapproximately U11 Boys & U13 Girls, 12.35pm approximately U13 Boys & U15 Girls, 1.00pm approximately U15 Boys & U17 Women, 1.25pm approximately U17 Men
Note: You do not have to be pre-entered, just turn up and run. Will any of our Female athletes please see JEREMY SOTHCOTT who will give you a race number
NATIONAL YOUNG ATHLETES ROAD RELAY – Takes place on Saturday 6 October at Sutton Park, Sutton Coldfield, Town Gate Entrance, Birmingham (Satnav B73 6BU).
Start times 11.00am U13 Boys, 11.05am U13 Girls, 11.50am U15 Boys, 11.55am U15 Girls, 12.30pm U17 Men, 12.35pm U17 Women.
Entries Close Friday 28 September
Note: You will have to be pre-entered by your respective Team Manager
 
NATIONAL MEN'S 6 STAGE AND WOMEN'S 4 STAGE ROAD RELAY – Takes place on Saturday 6 October at Sutton Park, Sutton Coldfield, Town Gate Entrance, Birmingham (Satnav B73 6BU).
Start times 2.00pm Senior Men, 2.10pm Senior Women.
Men's entry dependant on the Southern Road Relay Result (being in the first 25).
Entries Close Friday 28 September
Note: You will have to be pre-entered by your respective Team Manager
START FITNESS METROPOLITAN LEAGUE – The first fixture of five takes place on Saturday 13 October at Claybury, Essex. Changing is at Ashton Playing Fields Track, 588 Chigwell Road, Woodford Green, Essex (Satnav IG8 8AA). Changing rooms and Showers available Ashton Playing Fields from 11.15am, although hot water tends to be limited.
Parking – Approximately 150 spaces at Ashton Playing Fields and limited parking on Roding Lane North and nearby residential roads. Please DO NOT park on grass verges, look out for any restrictions and do not block access.
HQ to Course – 10 minutes from Ashton Playing Fields to Claybury Park, Roding Lane North.
Course Description – Parkland setting, undulating course, with one steep climb per large lap, on grass and woodland paths.
Public Transport – Woodford underground station (Central Line) is 10 minutes walk away from Ashton Playing Fields. If you get off an eastbound train, you need to walk under the pedestrian subway and walk downhill, down Snakes Lane East. Bus numbers 275 and W14 stop at the gates to Ashton Playing Fields.
Directions From Major Roads – From the eastbound A406, branch left and merge onto the A1400 (signposted Gants Hill). At Charlie Brown's roundabout, take the first left exit onto the A113 (signposted Chigwell). Go straight ahead through three sets of traffic lights (including a crossing set for pedestrians) and turn left into Ashton Playing Fields just after you go under a road bridge.
Start Times 12.40pm U11 (Over 9) Boys (1.5km), 12.45pm U11 (Over 9) Girls (1.5km), 12.55pm U13 Boys (3km), 1.00pm U13 Girls (3km), not before 1.20pm U17 Men and U15 Boys (4km), not before 1.25pm U17 Women and U15 Girls (4km), not before 1.55pm U20, Senior and Veteran Women (6km), not before 2.35pm U20, Senior and Veteran Men (8km).
Note: You do not have to be pre-entered, just turn up and run.
Please collect your race numbers from the respective team managers – JEREMY SOTHCOTT (Boys) and JO KENT (Girls)
Please go to Start Fitness Metropolitan League web site www.metleague.co.uk for course maps, and any other final information.
PHOTOGRAPH'S – From time to time we have photographs of our members taken at meetings or presentations which we would like to use both on the website or incorporated within our report to our local newspaper. Can you please let me know if you do NOT want your photograph to be used. Also I would appreciate if you could send me any photographs, which I can then publish on the website and newsletter.
FACEBOOK – Photographs can be found on the SBH page.
CURRENT DISTRIBUTION OF SHAFTESBURY INFORMATION – Currently I notify members (by email) using "MailChimp". The reason I changed, was in November last year "Gmail" put a limit of 100 addresses that users could send to in a 24-hour period, and currently I send to approximately 850 members each issue.
On seeking technical advice "MailChimp" was recommended as the best way for SBH to go forward. There is one thing you should be aware off is that when you receive an email from me, the footer at the bottom has 4 options, of which one is "Unsubscribe Me From List". Could I ask you not to select this as if you do you will be automatically removed from my distribution list.
SBH PRIVACY STATEMENT – In becoming a member, SBH will collect certain information about you. Can you please read the attached 'Privacy Statement' which contains Information on General Data Protection Regulations – SBH Privacy Statement Final April 2018
SARACENS SPORT FOUNDATION – Little athletics programme is an athletics 'Multi Skills' programme for children aged 4-9 years. The programme is designed to teach children fundamental movement skills of athletics – running, jumping and throwing. The sessions are game based and as of September there will be a progression throughout the term.
LAP runs on a Tuesday and Thursday from 4.30-5.30pm – Term time only.
1st Legacy athletics club is a pathway club for children aged 10-15 years new to athletics. Children are introduced to all the different athletics disciplines and have the opportunity to develop running, jumping and running skills that we hope they will then go onto use as a participant in the formal athletics club structure or in any other sport for activity they choose to progress to. The lead coach is Gintare Dargeviciute who brings a wealth of experience and knowledge to the club.
1st Leg AC runs on a Tuesday and Thursday from 5.00–6.00pm – Term time only.
For full and contact details use this link to the SBH website – http://sbharriers.co.uk/
ALLIANZ PARK – Main Switchboard telephone number is 0203 675 7240.
CHARGES FOR USING ALLIANZ PARK – The current charges for using Allianz Park are as follows – Adult Daily entry fee £4.00 – Junior (U16) Daily entry fee £2.00 – Concession (Students in full time education, unwaged and Over 65) Daily entry fee £2.20.
As a member of Shaftesbury Barnet Harriers you can apply for membership of Allianz Park, this is a the link for all information and application form Allianz Park Membership Form 2017 Any official coach of Shaftesbury Barnet Harriers gains entry free of charge.
Charges for those with a membership card are as follows – Adult Daily entry fee £3.60, Monthly fee £24.00 – Junior (U16) Daily entry fee £1.80, Monthly fee £12.00 – Concession (Students in full time education, unwaged and Over 60) Daily entry fee £1.80, Monthly fee £12.00.
Please use this link to view all membership details and application form (which you can print) – Allianz Park Membership Form 2017
All Allianz Park membership enquiries should be directed towards Emma Gouge at emmagouge@saracens.net her direct phone number is 0203 675 7252, or Becky Hall at beckyhall@saracens.net her direct phone number is 0203 675 7240
ALAN