Happy Birthday from this Thursday 8 April to Ben Bellisario, Charlie Cutler, Bradley Goater, Charlotte Johnston, Julian Lamy, Alessa Lewis, Phoebe Music, Dereece O'Callaghan, Amelia Onyems and Ray Powell
RECENT NEW MEMBER – We wish you a very warm welcome, and a happy, healthy and successful time with Shaftesbury to AIDAN GAFFEY and LOUISE LOCKWOOD
EASTERN YOUNG ATHLETES LEAGUE, CHANGE OF VENUE – The first fixture on Sunday 4 July will now take place at Hemel Hempstead, and not Watford as previously published.
MIDDLESEX COUNTY TRACK AND FIELD DATES – Have just been published, and are as follows – Saturday 24 July for Under 13 and Under 15 at Lee Valley – Monday 30 August for Under 17, Under 20 and Seniors at Lee Valley.
UPDATE FROM RAY POWELL – RAY has been informed by London Marathon, that the Westminster mile on Sunday 30 May and the Vitality 10k on Monday 31 May – are no longer taking place. They are hoping that the events can be re-scheduled for later in the year, but as yet no new dates have been fixed. I thank you for your patience, and if and when the new dates are released. I will let you know straight away RAY.
UPDATED ON 4 APRIL, ON VOLUNTEERS FROM RAY POWELL – Hope that you are all keeping well, and are slowly getting your jabs.
Standard Chartered Great City Race Tuesday 20 July – 25 volunteers required – 19 at present – 6 more required.
Big Half Marathon Sunday 22 August – 30 volunteers required – 13 at present – 17 more required.
London Mini Marathon Sunday 3 October – 62 volunteers needed – 40 at present – 22 more required.
I know that some of the races are a way off, but if you feel that you can help, please let me know now, as it makes the planning a lot easier. Please contact CLARE & RAY at ray571m@btopenworld.com
SOUTHERN TRACK AND FIELD CHAMPIONSHIPS 2021 – These are the dates and information for the Southern Track and Field fixtures for June to September, as issued on 23 March.
SOUTHERN U20 AND SENIOR CHAMPIONSHIPS – Takes place on Saturday 12 June and Sunday 13 June, venue to be confirmed. Also includes the Under 15/17 Men and Women 3000m Championships on Saturday 12 June.
Please Note: For all information including entering yourself online please use this link – http://seaa.org.uk/index.php/events/track-and-field
Closing Date Tuesday 1 June 
SOUTHERN COMBINED EVENTS U15, U17, U20 AND SENIOR CHAMPIONSHIPS – Takes place on Saturday 3 July and Sunday 4 July at the Horspath Athletics Track, Horspath Road, Oxford (Satnav OX4 2RR).
Events: U15 Girls Pentathlon (Saturday), U15 Boys Pentathlon (Sunday), U17, U20 & Senior Women Heptathlon, U17 Men Octathlon, U20 & Senior Men Decathlon. Guests are welcome.
Please Note: For all information including entering yourself online please use this link – http://seaa.org.uk/index.php/events/track-and-field
Closing Date Tuesday 22 June
SOUTHERN U13, U15 AND U17 CHAMPIONSHIPS – Takes place on Saturday 21 August and Sunday 22 August at the Weir Archer Athletics Centre, Kingston Upon Thames, Surrey (Satnav KT1 3PB).
Please Note: For all information including entering yourself online please use this link – http://seaa.org.uk/index.php/events/track-and-field
Closing Date Tuesday 10 August 
SOUTHERN U15 AND U20 INTER COUNTY CHAMPIONSHIPS – Takes place on Saturday 11 September at the Horspath Athletics Track, Horspath Road, Oxford (Satnav OX4 2RR).
Please Note: You will be selected by your respective County Team Manager.
Closing Date Tuesday 31 August
Link to the full Southern Track and Field Prospectus dated 23 March 2021 – 2021 Southern Outdoor Track & Field Prospectus 23.3.21 (1) (1)
BETH POTTER "SHELL-SHOCKED" BY PODIUM 5K WONDER RUN – The following article was published on the Athletics Weekly website recently.
After running faster than BEATRICE CHEPKEOCH'S women's world record, 29-year-old Brit says she thought the timing clock had broken at Barrowford event. After slicing 43 seconds off her 5km PB with a (14:41) clocking that beat BEATRICE CHEPKEOCH'S world record time by two seconds, BETH'S mobile phone has not surprisingly been going crazy this weekend. To clear her head, the morning after her race she escaped for an easy three-and-a-half hour bike ride with a coffee stop halfway. Then she chatted to AW about her stunning performance at the Podium 5km in Barrowford, Lancashire, on Saturday (3 April) before tackling a short run in the evening.
For those saying her fabulous run was due to super shoes, they should consider the amount of training she does. Sandwiching an AW interview between two training sessions on a so-called easy day is nothing unusual for the hard-working Scot. In total, each week she typically completes five bike rides, five swims, four runs, a couple of gym sessions and some yoga – totalling 25-30 hours.
The Glasgow-born endurance athlete's talent is unquestionable too. In 2016 she ran in the 10,000m at the Olympics and 12 months later she won the women's race at the Night of the 10,000m PBs during a transition to becoming a full-time triathlete based in Leeds. She is in great form as well with a big triathlon victory at the London Aquatics Centre a few days before the Podium 5km.
Still, BETH was as surprised as anybody by her time on Saturday. She entered the race on a relative whim and had asked organiser CHRIS BARNES if she could move into the sub-15:30 race. She would have been satisfied to break her PB of (15:24) and never expected (14:41).
It is not only faster than PAULA RADCLIFFE'S UK record of (14:51) but a couple of seconds quicker than CHEPKEOCH'S world record set in Monaco in February. However due to stringent World Athletics criteria necessary to approve a record, it is unlikely – but not impossible – that it will be ratified.
"I thought it was a joke," Potter told AW on the moment she saw her finishing time. "I needed someone to confirm to me what it was that I'd run.
"I thought the clock was out! I was shell shocked to be honest."
When did it dawn on her that the result was real? "Everyone who was there watching was saying 'you did it, it's true' so then I began to believe it a bit," she says. "I thought (15:15) would be a really good run for me because I've been focusing on other parts of my training this year. And so I asked to run in the (15:30) race because I wanted to be pushed all the way."
Potter settled into a group of male runners and was swept along around the 1km laps. "I was at the back of the boys at the start and it went off fast and I knew I had to commit otherwise I was going to be in no man's land. I got into a bit of a rhythm and I was in a bit of a daze.
"I couldn't believe the times that were being read out at the kilometre marks. I only broke three minutes for a kilometre the other night for the first time this year.
"Even when I went through with one lap to go I thought the clock was wrong as I worked out I was due to run 14-something but could hardly believe it."
FULL RESULT – 5000m – A KIERAN CLEMENTS 8th (SB 13.57) and is ranked UK No.8 in 2021, B BETH POTTER 16th (PB 14.41) taking 43 seconds off her 2020 time, and is ranked UK No.1 in 2021, C LIZZIE BIRD 18th (SB 16.07) and is ranked UK No.8 in 2021
PURE ATHLETICS SPRING INVITATIONAL OUTDOOR MEETING – Took place in Clermont, Florida, USA on 4 April.
100m – SM 1.3 ANTONIO INFANTINO 2nd (10.36 w2.4), 2.1 ANTONIO finished 4th (SB 10.31 w1.0) taking .01 of a second off his 27 March time
200m – SM 1 ANTONIO INFANTINO 2nd (20.48 w1.6)
TRAFFORD OPEN OUTDOOR MEETING – Took place in Stretford on 3 April.
Discus 2kg – SM A NICK PERCY 2nd (60.13m)
PARKRUN 5K – Took place in Perry Lakes, Perth, Australia on 3 April.
5K –  STUART MOORE V60 92nd (30.33)
STANFORD INVITATIONAL OUTDOOR MEETING – Took place in Palo Alto, California, USA on 2-3 April.
5000m – SM JAMIE DEE (Iona College) 6th (PB 13:46.78) taking 5.16 seconds off his 2020 time, and is ranked UK No.4 in 2021
10000m – SM CHARLIE HICKS U23 (Stanford University) 1st (PB 28:25.29) and is ranked UK No.1 U23 in 2021
BIG NORTHFLORIDA INVITATIONAL OUTDOOR MEETING – Took place in Jacksonville, Florida, USA on 2-3 April.
Long Jump – SW B EAVION RICHARDSON (University of Iowa) 9th (5.69m w3.0)
Triple Jump – SW EAVION RICHARDSON (University of Iowa) 3rd (12.52m w1.3)
ST ALBANS 10K ROAD RACE – Took place in St Albans on 2 April.
10K – KEVIN WALDEN V35 69th (SB 38.09), TIM PARKIN V40 120th (SB 41.42) 541 runners finished
COMEBACK 5000m OUTDOOR MEETING – Took place in Battersea Park on 31 March.
5000m – SX 6 JEREMY DEMPSEY U23 1st (PB 14:18.81) taking 25.27 seconds off his 2017 time, and is ranked UK No.5 U23 in 2021, DYLAN EVANS 4th (PB 14:23.87), TOM BUTLER 7th (PB 14:29.65) taking .84 of a second off his 2019 time, SX 7 HENRY MCLUCKIE U20 4th (PB 13:56.20) taking 53.97 seconds off his 2019 time, and is ranked UK No.1 U20 and UK No.7 in 2021
JAKE SHELLEY LOOKING FORWARD TO THE FUTURE – Hi ALAN, I hope you are well. I just wanted to send a quick update on our men's distance squad in case you wanted to include it in your newsletter. Within 1 week of races in the UK recommencing, there were six Shaftesbury Barnet Harriers who ran under 14:30 for 5000m/5km, including three under 14:00.
Those were: JAMIE DEE, 13:46 at Stanford – HENRY MCLUCKIE, 13:56 at Battersea – KIERAN CLEMENTS, 13:57 at Podium 5k – JEREMY DEMPSEY, 14:18 at Battersea – DYLAN EVANS, 14:23 at Battersea TOM BUTLER, 14:29, also at Battersea.
We are all very excited with this progress and what it could mean for our squad's chances once team events like the National XC, and the relays start up again, and when you factor in all of the other talented young distance runners who have also improved over the past 18 months. I am personally inspired by how well all the guys are running and how they have stuck at their training through a tough winter with very little in the way of races to aim for/be motivated by – Up the stripes JAKE
JAKE joined Shaftesbury in October 2003, aged 12, and was a student at Mill Hill County High School until 2009. Following this he qualified to take up a placement at Oxford University, where he studied for a MBiochem degree in Molecular and Cellular Biochemistry from 2009-2013. During this time JAKE competed regularly in our cross country and track and field teams, and in 2011 he finished 11th in the Southern and National Cross Country Championships, and 5th In the 1500m at the England U23 Championships. He then decided to further his athletic and academic career, by crossing the pond to the USA, and settled on the University of New Mexico, taking a Masters Degree in Exercise Physiology from 2013 to 2015. From 2017 to present JAKE has undertaken a Doctor of Philosophy PhD in Anti-Doping at Kingston University, he is also employed by England Rugby as Anti-Doping Programme Officer.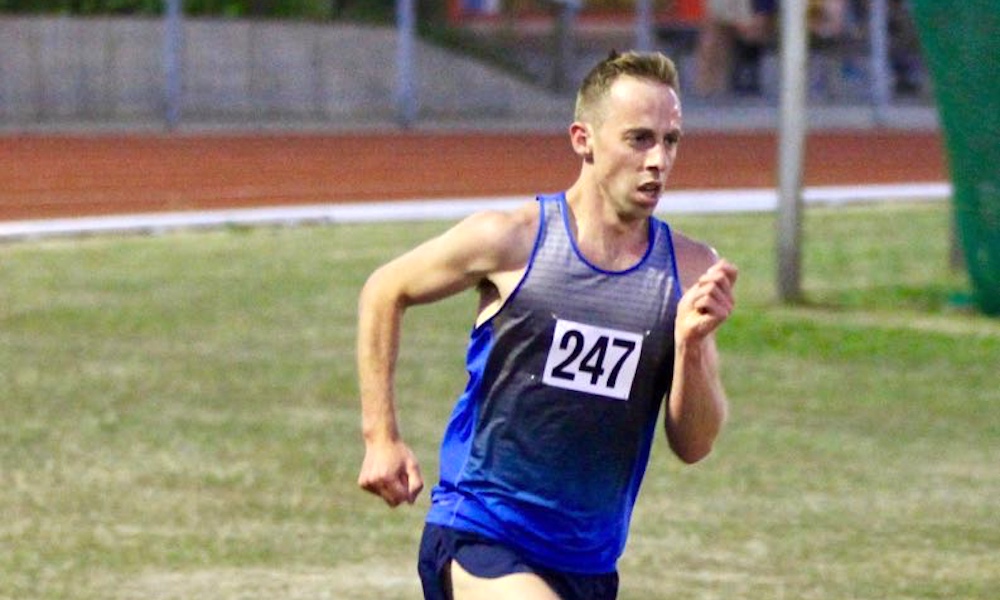 Since returning in 2016 JAKE has been a regular member of our Road Relay squad, and latterly in 2020, ran a personal best (13.46) at the Armagh 5k and (29.40) at the Chichester 10k.
MARTIN GREY REMEMBERS 'KEN' – MARTIN contacted me recently regarding his early memories of ARTHUR KENDALL.
Just before I left school in 1959, shortly before my 16th birthday, my father phoned the AAA office to find a local athletics club near to where we lived in Stanmore, so that I could continue with my passion for running. By chance it was KEN who answered the phone during his lunchtime spell away from his proper job to help out the AAA. He knew just the right club for me — Shaftesbury Harriers!!
I travelled to Headstone Manor, Harrow on my bike and was made very welcome by TONY SUNDERAND, VIC GILLICK, KEN TOLLADY, KEITH MACKAY, IAN LANDLESS, and many others. Sadly, my father never knew about this as he died that day whilst I was at Headstone. KEN himself was also there with a small magazine in his hand which he gave me to keep — Athletics Weekly. I think he also gave me one or two more without asking for any payment — 6d (2 1/2 pence). It is important to know that before KEN arrived at Headstone, after he had already been to Shaftesbury's other tracks at Parliament Hill Fields, and Maccabi, Hendon and did all the travelling on public transport — on Sundays!
We will never forget moments and people like this. Best Regards, MARTIN
INTERNATIONAL RUNNING CHALLENGE AT CLUB LA SANTA, LANZAROTE – Takes place at the end of November, at Club La Santa, Lanzarote. The challenge in 2021 is the 31st edition, which consists of 4 races on consecutive days, with different distances and terrain. The event attracts some 500 to 600 competitors, of which at least 50% normally are from the UK. There are many groups from clubs all over England, and for some years, EAMON MARTIN has taken a group of athletes from his Basildon club.
Club La Santa is located on the north of the island, and is surrounded by the rugged coastline. The complex has some 400 apartments, with many sports facilities. These include an 8-lane track, Olympic and leisure pools, tennis courts, lagoon with free surf boarding lessons and mountain bikes. There is also an on-site Scuba Diving school. The restaurant is extremely good and inexpensive, also a large nightclub with evening entertainment.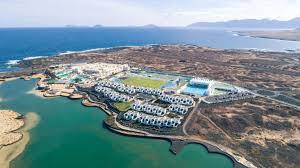 In 2001, NEELAM KADERBHOY, DEREK SURREY and Myself, embarked on our first challenge. It was late November on a very cold Friday morning, the flight was from Luton Airport and after a 4-hour flight we arrived at Arricefe airport, with sunshine and 70 degrees. The transfer to the North of the Island was just over 1 Hour to reach Club La Santa.
Saturday was the day before the races commenced, so DEREK had the bright idea of seeing the area on Mountain Bikes. I believe we were out for some 4 hours, although we stopped for a beer in the village of La Santa. Following this we then cycled up to the village of La Gomera which was about a 2 mile climb uphill, then turned onto a dirt track to head back home. I would say it was not the worst experience I had, but hurtling downhill on a very rough track was not good fun, we eventually arrived back safely.
Sunday was the start of the 4-day challenge;
Day 1 – 10K Vince Regan Memorial Classic Road Run, on a 2-loop course around the lagoon, on asphalt roads toward the villages of La Santa and Caleta de Caballo.
Day 2 – 13K Ridge Run, taking you on both dirt trails and asphalt roads around one of the big volcanoes near to Club La Santa.
Day 3- 5K Beach Race, buses take you to the beach in Puerto del Carmen on the South side of the island, where you run 2 laps on very soft sand.
Day 4 – 21K La Vuelta de Tinajo, in which you start at Los Dolores Church in Mancha Blanca, also on the South side of the island. The start takes you 2k uphill, then around the volcanic "Montaña de Tinache", through Tinajo and back to Club La Santa on both asphalt and dirt tracks, finishing with 300m of the track in the Stadium. Photograph of the Beach Race.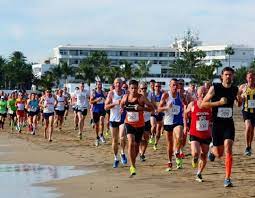 The races went quite well, with DEREK leading the way, finishing 5th in the 60-64 age-group. NEELAM I believe finished in the top 20 in the 30-34 age-group. I managed to finish Day 4, although my knee was hurting with probably 5 miles to go.
We went on a further 3 occasions, 2002, 2004 and 2005. In 2002 DEREK, had now moved up to the 65-69 age-group, and had an almighty tussle with a German athlete KARL. He had beaten DEREK in the first 2 races, DEREK pulled back some 20 seconds on the beach run. On the final day KARL just got the better of DEREK, to take the title by just over 20 seconds. In 2004 and 2005 I was now a spectator, and DEREK had been suffering with an injury over those 2 years.
In 2004, prior to going, the news had had reported an estimated 100 million locusts have forced tourists and locals to abandon beaches in the Canary Islands. The insects have swarmed into the island of Fuerteventura and Lanzarote after devastating crops across regions of Africa and the Mediterranean. The ground in the Canaries, was blanketed in the pink, 7cm (3in)-long creatures.
When we arrived, the roads were covered in dead locusts, and apparently, the majority of them had died, although at Club La Santa there were still a few of them on the balcony of our apartment.
A SHORT STORY ON RAY POWELL – If you have seen RAY run over the past years, he will have the black & white vest on, plus a pair of yellow patterned shorts (his trademark). You will see by the photograph, that he wishes to change his image. If you have any suggestions on what he should wear, I will pass it on.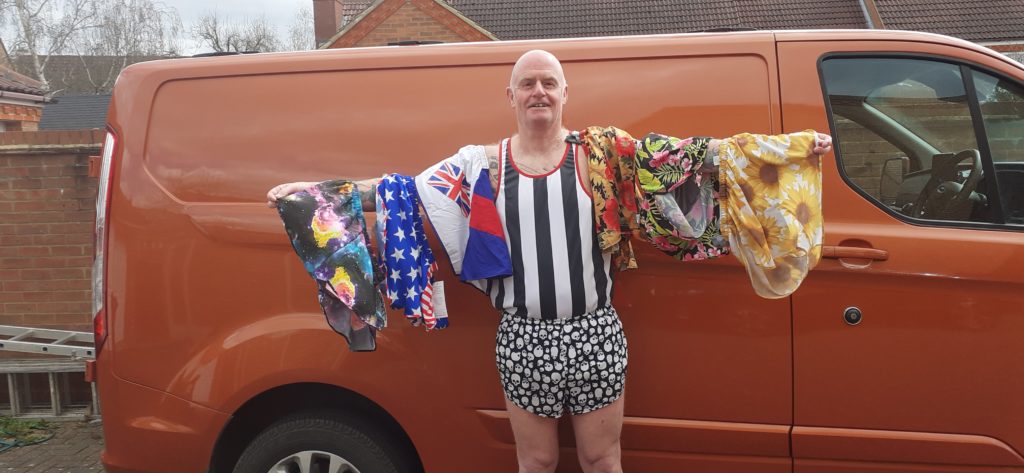 HAYWARD FIELD READY FOR ACTION – The following article was published on the Athletics Weekly website recently.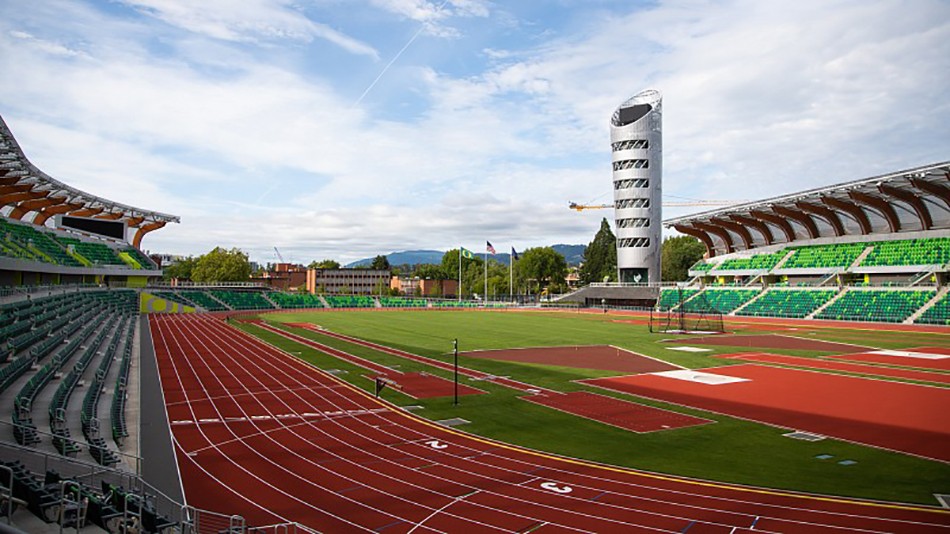 Track and field competition is back in Oregon this weekend with athletes enjoying the experience of a newly-built state-of-the-art stadium ahead of next year's World Championships. Hayward Field makes a much-anticipated return to staging top-class athletics events this weekend and the famous venue in Oregon now boasts an impressive new design ahead of hosting next year's World Athletics Championships. Construction began in 2018 to renovate the stadium and, after the grand opening was delayed by the pandemic, the action will begin with the Hayward Premiere meeting today (2 April). The impressive new arena has 12,650 permanent seats – which are expandable to nearly 25,000 – and it is designed with athletes in mind, but also for the spectator experience. There are no restricted views, for instance, whereas a large proportion of the seats are deliberately and uniquely packed around the finish line area. Crucially, it has been built with only one sport in mind too – track and field athletics – and unlike most other stadia it is not a multi-sport venue.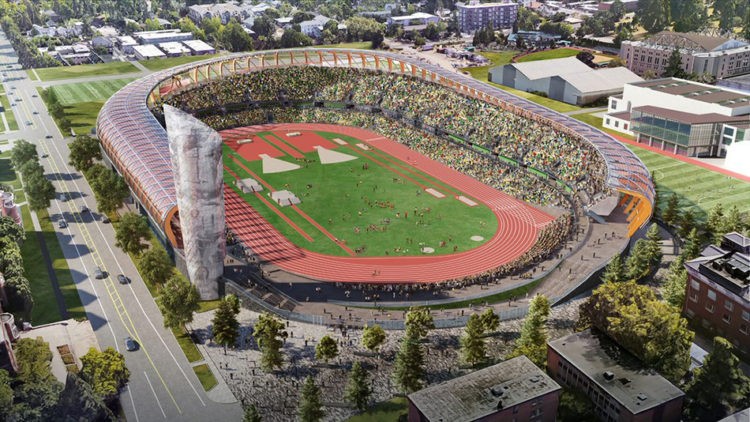 This means that in addition to the main outdoor synthetic track running surface and seating, the underbelly of the arena is dedicated to training areas with an indoor six-lane 140m long straight track and areas to jump and throw, plus of course strength and conditioning rooms. Even the spectator concourse is marked out with lines and can be used for running. It is estimated to have cost around $270m and was largely funded by Nike founder PHIL KNIGHT. Some fans have not enjoyed the idea of the historic Hayward Field grandstands being bulldozed to make way for a new stand. But the new venue certainly looks impressive and after this weekend's Hayward Premiere meeting it stages the West Coast Classic (17 April), Oregon Relays (23-24 April), and Oregon Twilight (7 May). After this there is the NCAA Championships (9-12 June), the US Olympic Trials (18-27 June) and Prefontaine Classic (21 August) followed of course next year by the World Athletics Championships on 15-24 July.
LATEST UPDATE ON 2021 TRACK AND FIELD FIXTURES 1 APRIL – Subject to DCMS, Sport England, UKA and EA guidance. Changes from last week's Newsletter are as follows, MYAL dates updated and the LICC 4 fixtures now confirmed.
National Athletic League (Senior Men/Women) dates are as follows – Sunday 6 June at Lee Valley (host SBH), Sunday 4 July at StoneX Stadium (host Harrow), Sunday 8 August at Woodford (host WGEL), Saturday 28 August at StoneX Stadium (host SBH) – 4 club divisions – we are in Premier London North with Harrow, Newham and Woodford. 
UK Youth Development League (Under 17 and 20 Men/Women) dates are as follows – Sunday 30 May at Bannister Stadium, Harrow, Sunday 27 June at Perivale Park, Greenford, Sunday 25 July at Ridlins Athletic Track, Stevenage, Sunday 5 September at StoneX Stadium – 5 club divisions – we are in London West with Harrow, Dacorum and Tring, Hillingdon, Stevenage and Team West London (TVH + ESM).
Middlesex Young Athletes League (Under 11, 13, 15 Boys/Girls and 17 Men/Women) confirmed dates are as follows – Saturday 22 May (Finsbury Park) field events, Sunday 23 May (Perivale) track events, Saturday 5 June (Finsbury Park) track events, Sunday 6 June (Perivale) field events, Sunday 27 June (Parliament Hill TBC).
Eastern Young Athletes League (Under 13, 15 Boys/Girls and 17 Men/Women) – Sunday 4 July at Hemel Hempstead, Sunday 15 August at StoneX Stadium, Sunday 12 September at Watford – 6 club divisions – we are with Dacorum and Tring, HAWCS, Herts Phoenix, St Albans and Watford.
London Inter Club Challenge (All age-groups Men/Women including Under 11 Boys/Girls) dates for – Round 1 will be held on Saturday 12 June and Sunday 13 June at Lee Valley Athletics Centre for U15, U17 and U20 age-groups. This open meeting will form the basis for selection for the Middlesex Schools team to compete at the English Schools Championships in Manchester on 9, 10 and 11 July. Rounds 2,3 and 4 are as follows, Saturday 10 July, Saturday 31 July, Saturday 21 August all at StoneX Stadium.
SCVAC Veterans League (35+ and above Men/Women) dates are still to be announced.
ATW CROSS COUNTRY SERIES NEXT RACE – The race scheduled for Saturday 27 March at Merchant Taylor's School, Sandy Lodge, Northwood HA6 2HT, did not take place. The race has been rescheduled for Saturday 10 April, and are for Under 11, 13, 15 & 17s. This is the link for all details including entries – https://activetrainingworld.co.uk/event/atw-cross-country-series-round-2-3-10th-april-2021/
GB QUALIFICATION STANDARDS FOR TOKYO OLYMPICS 2021 – These are the following World Athletics qualification standards for all GB athletes:
Men – 100m (10.05), 200m (20.24), 400m (44.90), 800m (1:45.20), 1500m (3:35.00), 5000m (13:13.50), 10000m (27:28.00), 3000m Steeplechase (8:22.0), 110m Hurdles (13.32), 400m Hurdles (48.90), High Jump (2.33), Pole Vault (5.80), Long Jump (8.22), Triple Jump (17.14), Shot Put (21.10), Discus (66.00), Hammer (77.50), Decathlon (8350), Marathon (2:11.30).
Women – 100m (11.15), 200m (22.80), 400m (51.35), 800m (1:59.50), 1500m (3:35.00), 5000m (15:10.00), 10000m (31:25.00), 3000m Steeplechase (9:30.00), 100m Hurdles (12.84), 400m Hurdles (55.40), High Jump (1.96), Pole Vault (4.70), Long Jump (6.82), Triple Jump (14.32), Shot Put (18.50), Discus (63.50), Hammer (72.50), Heptathlon (6420), Marathon (2:29.30).
The final date that all standards are to be achieved is Sunday 27 June, the Marathon date is Monday 29 March. Team selection for all events is on Monday 28 June, and the Marathon on Tuesday 30 March.
Link for the full GB selection policy document – 2020-2021-Olympic-Games-Selection-Policy-October-2020
BIRMINGHAM 2022 COMMONWEALTH GAMES – Well there is just 531 days to the Opening Ceremony, you may wish to sign up to receive their Newsletter. Link – https://www.birmingham2022.com/register-your-interest/. Tickets will be on sale later this year, and can only be purchased through the official Commonwealth Games website, this is the link to register – https://www.birmingham2022.com/the-games/tickets/. This is the link to the current schedule for the 25 events – https://images.birmingham2022.com/wp-content/uploads/2021/01/11441664_CWGs_Daily_Competition_Schedule_FINAL.pdf.
ATHLETICS take place at the Alexander Stadium 2-7 August, with the Marathons on 30 July. There will be 59 medal events including a fully integrated Para Sport programme. TRIATHLON and PARA TRIATHLON take place at Sutton Park 29 and 31 July. The Individual races contest a 750m swim, 20km cycle, 5km run, and the Team races contest a 250m swim, 7km cycle, 1.5km run. Link to all events – https://www.birmingham2022.com/the-games/sports/?utm_source=workflow&utm_medium=email&utm_campaign=popup_work_flow_send_welcome_autoresponder_pop_up_footer_form&utm_content=2021-02-05
Shaftesbury's ANGUS MCKENZIE was appointed as Competition Manager (Athletics) last year, and the article on him can be found in the 26 November SBH Newsletter.
REDEVELOPMENT OF THE EXISTING WEST STAND – SARACENS have appointed RAYNER ROWEN CONSTRUCTION to carry out the demolition and rebuild of the old West Stand. Work commenced on Monday 22 February and completion is planned for 6 May 2022.
Demolition commenced on 22 February with completion due on 23 April. This is a Link to the first Monthly Newsletter for the redevelopment, which shows site access and the initial site activities – C-0045 – West Stand Monthly Newsletter – February 2021 Rev A
PROCEDURES FOR USING STONEX STADIUM FROM JEREMY SOTHCOTT – The Stadium is now subject to the lockdown guidelines recently set by the Government. It re-opened on Monday 29 March under strict conditions. Check with your Coach for details.
SBH SUBSCRIPTIONS 2020-2021 – SBH Treasurer GEOFF MORPHITIS has sent me the following regarding subscriptions.
The Club AGM took place virtually at 19.30 on Tuesday 24 November. One of the resolutions which was passed dealt with Club Subscriptions as follows. "The Annual Membership Fee for new members from 1 December 2020 will increase to £50. Existing members who have paid their membership fee for year ended 30 September 2020 will be considered as having also paid their fee for the year ended 30 September 2021.
In other words, in recognition of the disruption caused by Covid-19, these members will have 2 years membership for the price of one." Therefore, I'm now asking athletes who have not paid their subscription for the year ended 30/09/20 (£45) to pay, so as to qualify for the 2 for 1 concession together with the England Athletics Registration Fee of £15 for 2020/21. The total is £60 and should be paid NOW to; ACCOUNT NAME: SHAFTESBURY BARNET HARRIERS, BANK: HSBC, ACCOUNT NUMBER: 41308378, SORT CODE: 400426 – Please let me know when payment is made. Thanks GEOFF
UPDATE ON SBH FIXTURE CARD – We are in the process of finalising the 2021 Summer Fixture Card
CAN YOU HELP PLEASE – During the period when all competitions are suspended, I will do my upmost in keeping the Newsletter information and other content going.
I would welcome any contributions From Yourselves, any impending marriages, or additions to the family, any running or competing incidents, also past warm weather training/holidays (No Club 24 please). Currently the response has been excellent, but if you have anything that could make it into next week's Newsletter – please email me.
THE FOLLOWING SBH DOCUMENTS/INFORMATION CAN EITHER BE VIEWED, DOWNLOADED OR PRINTED 
SBH 2021 Summer Fixture Card, and we will be publishing a draft  in the coming weeks.
Cross Country Team Managers Details – http://sbharriers.co.uk/athletics/cross-country/team-managers/
Road Running/Relay Team Managers Details – http://sbharriers.co.uk/athletics/road-running/team-managers/
THE FOLLOWING INFORMATION OF INTEREST CAN BE FOUND ON THE SBH HOME PAGE BY USING THIS LINK, THEN SELECT THE LEFT OR RIGHT ARROW – http://sbharriers.co.uk/
Shaftesbury Barnet Harriers Club Hoody, information on how to purchase one, please go to the bottom of this Newsletter.
STONEX STADIUM EAST STAND INDOOR AREA – Currently closed.
SBH MIDWEEK JUMPS CLUB AT STONEX STADIUM (FORMERLY BARNET COPTHALL STADIUM) – Contact CLYDE GORDON on 07753 985525.
STEEPLECHASE TRAINING AT STONEX STADIUM (FORMERLY BARNET COPTHALL STADIUM) – Currently Suspended.
PARKRUN 5K RESULTS – Currently Suspended
PARKRUN – Can you make sure that you are registered as 'Shaftesbury Barnet Harriers', as the link I use to select all results only shows SBH athletes. If anyone is also officiating can you please contact me and advise me where and when.
PHOTOGRAPH'S – From time to time we have photographs of our members taken at meetings or presentations which we would like to use both on the website or incorporated within our report to our local newspaper. Can you please let me know if you do NOT want your photograph to be published. Also, I would appreciate if you could send me any photographs, which I can then publish on the website and newsletter.
CLUB EMBROIDERED RED HOODIES – Currently there are now over 750 Hoodies in circulation, this is the link giving details on how you can order your Club Hoody for £35, which includes having your name embroidered on the front Club Hoodies Updated 01-07-19
FACEBOOK – Photographs can be found on the SBH page.
CURRENT DISTRIBUTION OF SHAFTESBURY INFORMATION – Currently I notify members (by email) using "MailChimp". The reason I changed, was in November 2017 "Gmail" put a limit of 100 addresses that users could send to in a 24-hour period, and currently I send to approximately 850 members each issue.
On seeking technical advice "MailChimp" was recommended as the best way for SBH to go forward. There is one thing you should be aware off is that when you receive an email from me, the footer at the bottom has 4 options, of which one is "Unsubscribe Me From List". Could I ask you not to select this as if you do you will be automatically removed from my distribution list.
SBH PRIVACY STATEMENT – In becoming a member, SBH will collect certain information about you. Can you please read the attached 'Privacy Statement' which contains Information on General Data Protection Regulations – SBH Privacy Statement Final April 2018
STONEX STADIUM (FORMERLY BARNET COPTHALL STADIUM) – Main Switchboard telephone number is 020 3675 7250.
CHARGES FOR USING STONEX STADIUM (FORMERLY BARNET COPTHALL STADIUM) – Currently the Stadium is closed.
ALAN WELLER – SBH NEWSLETTER EDITOR AND WEBMASTER