Happy Birthday from this Thursday 1 April to Ena Akpata, Dominic Bannister, Grant Brown, Phillip Crout, Abigail Edwards, Richard Goodman, Phillipa Lowe, Alfredo Melao, Paul Simons, Claire Spurway, Tim Underhill and Amelia Wills
RECENT NEW MEMBERS – We wish you a very warm welcome, and a happy, healthy and successful time with Shaftesbury to RAPHAEL AARON, EMILY DUNNE, ALANNAH FASHANU, JOSHUA FISHER, ABDIRAHIM HAMUD, NICOLE MCGOVERN, EFE UWAIFO and EVE WRIGHT
MIDDLESEX YOUNG ATHLETES LEAGUE – Just clarifying why there are consecutive dates for the first two fixtures. On Saturday 22 May (Finsbury Park) the events are field events only, Sunday 23 May (Perivale) the events are track events only. On Saturday 5 June (Finsbury Park) the events are track events only, and Sunday 6 June (Perivale) the events are field events only. This will enable 'social distancing' to be achieved far easier.
LATEST UPDATE ON 2021 TRACK AND FIELD FIXTURES 1 APRIL – Subject to DCMS, Sport England, UKA and EA guidance. Changes from last week's Newsletter are as follows, MYAL dates updated and the LICC 4 fixtures now confirmed.
National Athletic League (Senior Men/Women) dates are as follows – Sunday 6 June at Lee Valley (host SBH), Sunday 4 July at StoneX Stadium (host Harrow), Sunday 8 August at Woodford (host WGEL), Saturday 28 August at StoneX Stadium (host SBH) – 4 club divisions – we are in Premier London North with Harrow, Newham and Woodford. 
UK Youth Development League (Under 17 and 20 Men/Women) dates are as follows – Sunday 30 May at Bannister Stadium, Harrow, Sunday 27 June at Perivale Park, Greenford, Sunday 25 July at Ridlins Athletic Track, Stevenage, Sunday 5 September at StoneX Stadium – 5 club divisions – we are in London West with Harrow, Dacorum and Tring, Hillingdon, Stevenage and Team West London (TVH + ESM).
Middlesex Young Athletes League (Under 11, 13, 15 Boys/Girls and 17 Men/Women) confirmed dates are as follows – Saturday 22 May (Finsbury Park) field events, Sunday 23 May (Perivale) track events, Saturday 5 June (Finsbury Park) track events, Sunday 6 June (Perivale) field events, Sunday 27 June (Parliament Hill TBC).
Eastern Young Athletes League (Under 13, 15 Boys/Girls and 17 Men/Women) – Sunday 4 July at Watford, Sunday 15 August at StoneX Stadium, Sunday 12 September at Watford – 6 club divisions – we are with Dacorum and Tring, HAWCS, Herts Phoenix, St Albans and Watford.
London Inter Club Challenge (All age-groups Men/Women including Under 11 Boys/Girls) dates for – Round 1 will be held on Saturday 12 June and Sunday 13 June at Lee Valley Athletics Centre for U15, U17 and U20 age-groups. This open meeting will form the basis for selection for the Middlesex Schools team to compete at the English Schools Championships in Manchester on 9, 10 and 11 July. Rounds 2,3 and 4 are as follows, Saturday 10 July, Saturday 31 July, Saturday 21 August all at StoneX Stadium.
SCVAC Veterans League (35+ and above Men/Women) dates are still to be announced.
UPDATED ON 29 MARCH, ON VOLUNTEERS FROM RAY POWELL – Hope that you are all keeping well, and are slowly getting your jabs.
The date for the Standard Chartered Great City Race was incorrectly sent by London Marathon, it is Tuesday 20 July. The response so far,  has been very good but we still require more volunteers please.
Westminster Mile Sunday 30 May – 20 volunteers required – 16 at present – 4 more required.
Vitality 10k Monday 31 May – 20 volunteers required – we have a full team, thank you.
Standard Chartered Great City Race Tuesday 20 July – 25 volunteers required – 6 more required.
Big Half Marathon Sunday 22 August – 30 volunteers required – 13 at present – 17 more required.
London Mini Marathon Sunday 3 October – 62 volunteers needed – 40 at present – 22 more required.
I know that some of the races are a way off, but if you feel that you can help, please let me know now, as it makes the planning a lot easier. Please contact CLARE & RAY at ray571m@btopenworld.com
ATW CROSS COUNTRY SERIES NEXT RACE – The race scheduled for Saturday 27 March at Merchant Taylor's School, Sandy Lodge, Northwood HA6 2HT, did not take place. The race has been rescheduled for Saturday 10 April, and are for Under 11, 13, 15 & 17s. This is the link for all details including entries – https://activetrainingworld.co.uk/event/atw-cross-country-series-round-2-3-10th-april-2021/
QUEENSLAND TRACK CLASSIC OUTDOOR MEETING – Took place in Brisbane, Australia on 27 March.
Discus 1kg – SW JADE LALLY 2nd (58.24m)
THE FLORIDA INTERNATIONAL OUTDOOR MEETING – Took place in Miramar, Florida, USA on 27 March.
100m – SM 1 ANTONIO INFANTINO 2nd (SB 10.32 w2.7)
100m – SW 1 LINA NIELSEN 1st (PB 11.56 w3.4) taking .41 of a second off her 2018 time
200m – SM 1 ANTONIO INFANTINO 3rd (SB 20.38 w2.5)
200m – SW 1 LINA NIELSEN 2nd (PB 23.13 w1.3) taking .90 of a second off her 2016 time, and is ranked UK No.1 in 2021
BIG TEN INVITATIONAL OUTDOOR MEETING – Took place in Bloomington, Indiana, USA on 26-27 March.
Long Jump – SW B EAVION RICHARDSON (University of Iowa) 6th (SB 5.86m w2.4)
ORU INVITATIONAL OUTDOOR MEETING – Took place in Tulsa, Oklahoma, USA on 26-27 March.
Discus 2kg – SM GEORGE EVANS (Kansas University) 1st (50.77m)
Hammer 7.26kg – SM GEORGE EVANS (Kansas University) 3rd (PB 53.92m) and is ranked UK No.9 in 2021
MELBOURNE CLASSIC OUTDOOR MEETING – Took place in Melbourne, Australia on 25 March.
Discus 1kg – SW JADE LALLY 2nd (55.67m)
JO NEWALL OFFICIAL OF THE YEAR 2018 – I have been a volunteer in one form or another since my early twenties, originally as a Tawney Owl with a Brownie pack in Finchley until I started a family. Once my daughter was old enough to start Brownies, I joined with her as a pack helper in Edgware. After about 18 months the presiding 'Brown Owl' decided to retire and I was persuaded to take on the role, which I did for the next 12 years. I also decided that as the pack leader it would be a good idea to learn some first aid (back then it wasn't mandatory). I took a course with the local St John Ambulance and soon after joined them but continued as Brown Owl. A few years later, I started running the SJA Badger Sett (children from 6- 11).
Unfortunately, in 1997 my husband, SID, suffered a stroke and something had to give. I had to choose between Brownies, Badgers and St John. Badgers won as going out on First Aid duties was something Sid and I could still do together; we spent a lot of time at Copthall Stadium assisting with events being held there – mainly athletics.
Towards the end of the 2015 I decided for various reasons that It was time to step back from St John and at the last athletics meeting of the season in the officials' room, I let DAVE BRADLEY know that I would not be around the following year and jokingly said "perhaps I'll become an official because I'd miss the biscuits". GERALD came to hear of my remark and the next thing I knew I was enrolled on officiating courses – Health & Safety and, as GERALD is a Starter/ Marksman, he suggested I might like to try these disciplines rather than track or field. Little did I know what I was getting myself into!
I went to the Tri-Counties meeting at Lee Valley intending to shadow the marking team, but when I arrived, I was asked to fill in as one team member had had to withdraw – nothing like being thrown in at the deep end! But it was a fantastic learning experience having to remember what to check, who to signal and when, where to find athlete information I needed. It made, what sounded so daunting during the course, come to life and although I made some mistakes it was the best way to learn and to try not to make them again. Since that day in 2016 I have officiated at many meetings, not only at Copthall but all over the country at club, league and county level. Since I qualified at level 3, I am now able to work at national meetings, but not always in discipline.
One of the more enjoyable non-discipline jobs I have done is working in a call room as there you get to meet officials and athletes from all disciplines, joining in with the banter while checking kit etcetera.
As a novice starter, I had to use the orange, blocked barrelled guns which, if taken care of, will last about two years but are temperamental. I always felt more confident when using the guns of a senior starter (thanks GERALD). Having worked through the levels and held level 3 for over a year I am now entitled to use open barrelled guns at all meetings where I am selected to start.
I still think it very strange that some misguided person thought it ok to let me loose with a firearm. I've not shot any one yet, but……
Endurance events didn't figure high in my mindset as I prefer working on solid ground and not squelching around in mud, snow and rain but I was persuaded to give it a go and found I quite enjoyed it. It's an amazing sight watching several hundred runners charging up the hill at Parliament Hill Fields – and managing not to get trampled to death in the stampede.
I was honoured to receive the SBH Official of the Year award in 2018 just weeks after obtaining my level 3 as a starter.
All in all, I think becoming a technical official has certainly been one of my best decisions and one that I would recommend any one to try.
MEMORIAL SERVICE FOR ARTHUR J.C. KENDALL B.E.M 1906-1984 – Was Held on Thursday 27 September 1984 at St Mary-at-Finchley Parish Church N3 at 3pm. The address was presented on behalf of Shaftesbury Harriers by HUGH STARKEY.
When I last met KEN, it was just like the other times. Copthall. A Southern League track fixture in mid-June this year. He was standing against the sort of bar in the pavilion with a clip-board. He wasn't in charge. But I was sure he knew what was going on. You could rely on that. KEN always knew what was going on. He looked diffident. He always looked diffident – You, whoever you were, were always the important person. KEN made you feel important. Valued. "Ah, hello HUGH " "Hello KEN. Good to see you. How are you, better I hope?" "Uh yes, thank you." Not talkative, KEN. Kept to the point, the minimum of conversation really. Even when you worked really closely with him, I gather. "Uh DAVE'S got the numbers. He's out there. Are you entering the Southern this year? I've got a form." That was KEN. Any of my team mates would have dismissed my chances of making the Southern with a wry laugh. KEN wasn't like that. KEN had faith. KEN wanted athletes to aim high, to achieve their best. KEN not only suggested a goal, he made it possible; seem natural even. He had the form ready. For years, come to think of it, I received a Middlesex entry form, a Southern entry form and some years a AAA entry form through the post. When I moved house, I still got the forms. Talking to other people.
I now realize this was not just a special favour for me. It was a special favour but not just for me. Think of the work – all those envelopes to all those athletes, addressed by hand. Yes, but think of thinking of doing it, what that means. Thinking that this individual, and that one and the other would find it easier to enter the championships if they received a form direct without having to ask for it. And that was KEN. The anonymous, helpful, thoughtful gesture. No not gesture. This was no token. Nothing half-hearted. This was a way of thinking of athletics administration. You start with the athlete; you see what he needs and you enable it to happen. Enabling things to happen was perhaps KEN'S special gift and it was done by unstinting hard work, careful and skilful administration and personal contact with individuals. This is an occasion when, amongst other things, members of Shaftesbury Harriers can remember and reflect on the legacy that KEN has left us.
For a start, there is the club itself. Shaftesbury Harriers is a name now known throughout Britain and on the continent where this very weekend our Young Athletes, KEN'S special concern of recent years, are competing in the European club championship in Belgium. Shaftesbury Harriers. We carry the name with pride. But it is no doubt in large measure due to KEN that the name and the club still survive because in the early thirties the club was not strong and there was talk of an amalgamation. But KEN took things as ever by the scruff of the neck. Within two years of joining the club he was its secretary and on taking over he entered the club in the Middlesex and Southern track leagues for its first ever inter -club track matches. HAROLD ASHTON wrote in his history of the club: "In 1933 ARTHUR KENDALL became Hon Secretary and the club extended its activities and successes began to come; it is no exaggeration to say that the club that we know today is based on the groundwork and inspiration of KEN." We are here today to remember and give thanks for that.
Communication with individuals was the basis of KEN'S approach, as I have said. For those of you who are not aware of the fact it will come as no surprise to learn that it was KEN who in 1939 had the idea of producing a Shaftesbury Harriers Quarterly and who did most of the initial work of preparing it for duplication. His first editorial expresses vividly his idea of what are our sport is and should be all about. "We feel that we are making a distinctly progressive move…" (Yes, that was KEN, never standing still, not a traditionalist) "a distinctly progressive move in producing Shaftesbury Harriers Quarterly as we anticipate that it will assist in maintaining the spirit of comradeship that exists among our members and that it will help old members and our many friends to keep in touch with the club". What a testimony to that far- sighted vision that so many of us, members and friends of the club are gathered here today. And KEN took further, practical steps to maintain that contact and that spirit of friendship. He personally wrote to all those members dispersed on active service in the last war and kept track of them, until he too was mobilised and sent to West Africa. In the same spirit he undertook to write to many former members in all parts of the world to invite contributions to the club house appeal. He had a prodigious and tidy memory. He never seemed to need to write himself notes of the tasks he promised or set himself to do. But his word was enough. A promise from KEN to write to the Borough or send someone an entry form was enough. The task was invariably done.
KEN was himself no mean athlete, of course. He was the first Shaftesbury Harrier to run for Middlesex. The various club trophies that have passed through my hands over the years are all notable for the number of AJC KENDALL'S inscribed on them. "Dogged" is a word used to describe his running. A dogged runner" determined and persistent. For many people ARTHUR KENDALL was the epitome of Shaftesbury Harriers. Generations of athletes have been introduced to the club, helped and encouraged through the various stages of their athletic careers by KEN. Sometimes his unseen hand caused cheques to be discreetly written for a youngster to go on a coaching course or be enabled to have the right equipment. No fuss, just the generous gesture, the thoughtful, encouraging action, the concern with the young, the ordinary athlete, the grass roots. Some were encouraged to play a part in the administration of the club and KEN trusted people to do a job. He never thrust himself forward but he was always there prepared to step in to fill a gap. Thus in the seventies after his retirement he was club treasurer. Even this year he was taking entries for the club '10'. At committee meetings, he was, as you would expect, quiet, letting others talk out issues but then he would intervene. He would summarize the discussion and his words carried the weight of experience and the philosophy of one whose main concern is for the athlete, the grass roots of the sport. KEN was always worth listening to.
KEN was somehow always there. He never took a holiday, not one that would make him miss a weekend fixture, until 1972. His words then are revealing "I was away from home for nearly six months and covered about 32000 miles … The boat trips I found distinctly boring, largely I suppose because I am not used to so much idleness." The astonishing thing is that this phenomenal worker chose to use his energies not for his own aggrandisement, not for empire building or personal glory but for the benefit of young people mostly of modest sporting achievement. It there was a clash of fixtures on a Saturday, he would choose to support the Young Athletes by preference, otherwise the Southern League team would have his support, last of all he would choose the more glamorous British League or International fixture where likely as not he would take on an essential but almost unnoticed task. It is faxinating to read KEN'S obituaries of two former members written in 1967. Of ERNIE REAVELL:  "He was an unassuming official who was always ready to help and made many friends in athletics." of FRANK SWALLOW: "After his retirement he was in great demand as an Official at various school meetings as he was popular with young people". We may be forgiven a smile at the appropriateness of those words to this occasion today. And as a tribute the Club is naming its boys race after Arthur Kendall.
And so, as a club, we celebrate today the life and the example of someone to whom all of us here have reason to be immensely grateful. And we can picture KEN at his most typical, on his beloved Hampstead Heath, exposed to all the elements, surrounded by young people in black & white striped vests giving out the safety pins.
Link to the Order of Service – Order Of Service Arthur Kendall Memorial and a brief history including KEN's memorial fund by GEOFF MORHITIS Arthur Kendall Memorial Service Address also early photograph's of KEN, apologies for the quality SBH Arthur Kendall BEM 22.03.21
MUSEUM OF WORLD ATHLETICS LAUNCHED ONLINE – The following article was published on the Athletics Weekly website recently. Photograph taken by MUSEUM OF WORLD ATHLETICS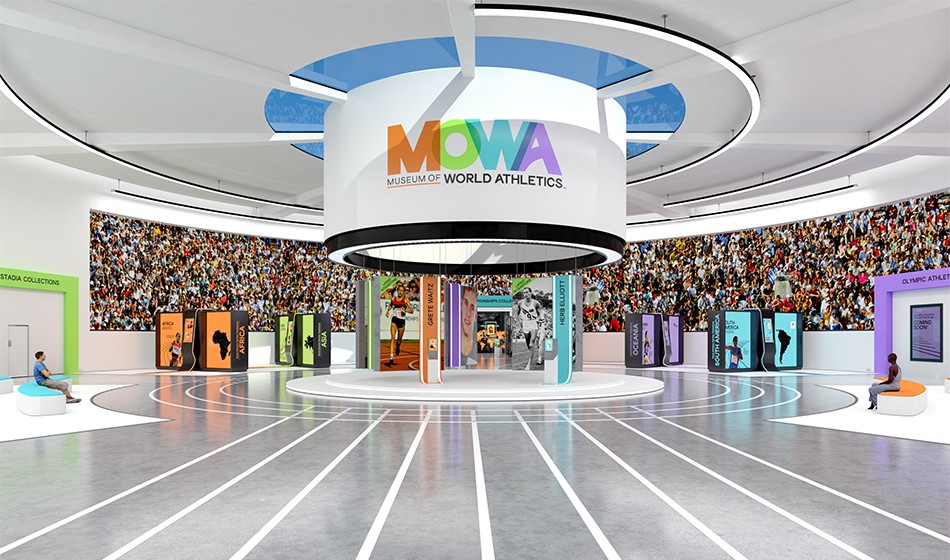 Over the years there have been various attempts to keep the history of the sport alive. Athletics has a strong presence, of course, in the Olympic Museum in Lausanne, whereas the Olympic Museum in Barcelona was a temporary home to an IAAF centenary exhibition in 2012.
Similarly, a shopping centre in Doha housed a World Athletics collection of memorabilia for six months in the run-up to the 2019 World Championships in the Qatari city. Then there is the National Track & Field Hall of Fame in New York, which was founded almost half a century ago.
In Britain, a group of enthusiasts have worked hard in recent years to maintain a collection of primarily written material such as old programmes, books and of course magazines like AW. There have been temporary exhibitions, too, such as at Alexander Stadium during the Diamond League in Birmingham. But plans to build a bricks and mortar museum at the Olympic Park in London in 2012 did not materialise, which means of course that much of the historical material is currently inaccessible to fans.
During the past year, of course, museums have been largely inaccessible anyway due to the pandemic. Given this, World Athletics has created an online museum to allow fans to immerse themselves in the history of the sport without stepping outside their own homes.
The Museum of World Athletics – or MOWA for short – features 3D images of shoes, clothing and equipment, plus medals and more. It has evolved following the creation of the World Athletics heritage initiative in 2018 "to honour, preserve and promote the sport's history" and includes attractive computer-generated images combined with actual high-quality photographs of various items and artefacts.
It's goal? To excite, educate and entertain.
"It has been born out of necessity," CHRIS TURNER from World Athletics heritage department admits. "Covid-19 caused the cancellation of our plans for public events in 2020 and so the answer was simple: to go online."
World Athletics president SEB COE adds: "We're not only the first international sports federation to launch a 3D sports museum online but MOWA is the first virtual sports museum of any kind in the world."
The museum includes items such as GRETE WALTZ'S racing shoes from her heyday in the early 1980s and the singlet and number that HERB ELLIOTT wore when winning the Olympic 1500m title in a world record in 1960, Photograph of HERB ELLIOTT singlet 1960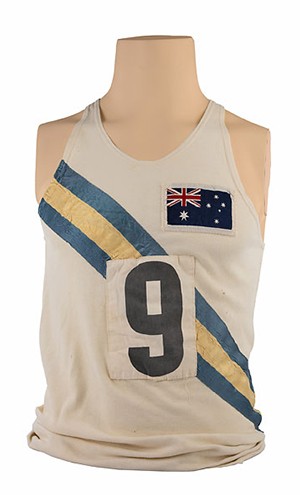 A World Championships collection room is a focal point of the museum as it opens this week, but World Athletics plan to unveil an Olympic Games section in July followed by a section for road running, race walking, indoor athletics and cross-country in the autumn.
AW enjoyed an exclusive and extensive tour around the museum several days ago in advance of the official launch. Afterwards, World Athletics president COE spoke with enthusiasm about the initiative and he enjoyed a short chat with middle-distance legend ELLIOTT via video from Australia plus WAITZ'S husband and coach JACK in Norway. As part of the launch today (March 15) a heritage plaque has also been awarded in honour of ELLIOTT'S coach, PERCY CERUTTY.
So, what is the MOWA experience like? Pretty good, I have to say. A bit like reading this article online in comparison to flicking through the pages of a printed magazine, some people will inevitably prefer the idea of visiting a museum in person rather than viewing items digitally. But during the pandemic we have little option and World Athletics has made a fine job.
There is a section focusing on the ancient history of athletics and how it has developed in the past 3000 years. Iconic artefacts from every continent are on display too. However, the focal point so far is, not surprisingly, the World Championships area where everything from CARL LEWIS'S singlet through to MO FARAH'S racing spikes are on view. Read More: Our 5 favourite artefacts in MOWA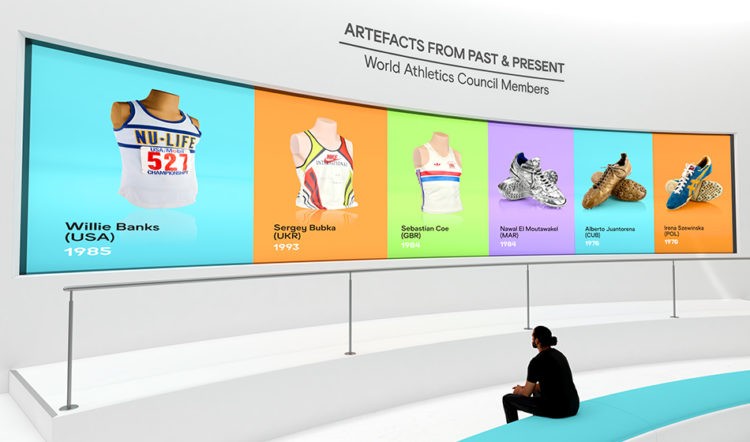 There are a few sound effects but instead of the shrill and arguably irritating music that visitors to the Diamond League website have found in recent years, it is the quiet rumble of footsteps and light chatter that you would find ordinarily in a museum.
The sound effects aren't intrusive and make it feel very authentic. Add to this the general design – which includes images of make-belief visitors and even the same style of toilets that you would find in a real-life museum – and at times it really does feel like you are there.
If you grew up playing Space Invaders and Pacman, you will be blown away with the graphics. If you are part of the Fortnite generation, you will feel right at home.
Much of the technology involved in the MOWA is down to a company called dcSPORT, which is headed up by JASON GARDENER, the former world and European indoor 60m champion.
GARDENER'S team took 36 photos of each artefact at successive 10-degree angles to create the 3D element. The pictures were high quality, too, so that if you zoom in you can see every scratch or mark on the footwear or apparel.
GARDENER says: "We wanted it to be a stunning visual, immersive, engaging and enjoyable place to visit. To be part of this big project where anyone with internet access can tap into this rich history is amazing."
Many athletics moments last only a few minutes or even seconds, but their memory endures forever. Consider the blur of a 60m sprint, for example, or a shot putter spinning or sliding across a throws circle, or a triple jumper bounding into a pit. These feats of athleticism are over in a flash but the MOWA will allow them to endure for years to come.
Not only is MOWA impressive but it will inevitably grow in coming months and years if it can continue to get hold of interesting material. "MOWA is a myriad of marvellous memories and moments which few other sports can match," says TURNER. "But we are entirely dependent on the generous donations from athletes."
To check out the museum, CLICK HERE
MEN AND WOMEN WANT DIFFERENT CROSS-COUNTRY DISTANCES – The following article was published on the Athletics Weekly website recently. Photograph by MARK SHEARMAN.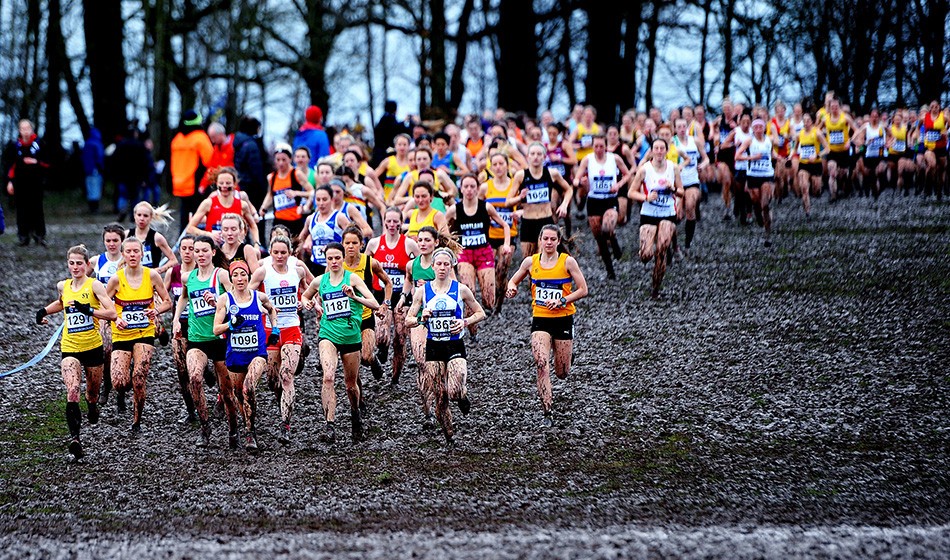 Early findings from UK Athletics survey shows women generally prefer to race 8km and men like 10km – and in separate races too. Female cross-country runners want to race over 8km and men prefer the 10km distance. Individual races for men and women are better than a mixed race. And when it comes to organising cross-country events, grassroots competition providers probably know best. Those are the findings so far from the cross-country questionnaire which was released by UK Athletics at the start of this year.
After more than 10,000 responses the governing body says the reaction has been so overwhelming and detailed that "cross country would benefit from a wider strategy to be produced that recognises the event's unique characteristics and requirements".
So, no immediate decisions will be made when it comes to racing distances and gender equality over the country. Instead, Welsh endurance coach CHRIS JONES will work with interim head of endurance ROB DENMARK to create a new "endurance sub-group of competition working group" with a goal of making "enhancements, greater investment in cross country, and in turn a more cohesive community that believes equity is important and can be addressed in the most practical way without impacting the integrity of the event".
On the early findings from the survey, UKA listed three key points in a statement:
» A majority of respondents showed preference for separate male and female races to maintain value and exposure and quality of racing and although some respondents felt that equity could be achieved through one mixed race, this was not a majority preference.
» There was a difference in preference of distance between men and women though, with the majority of women preferring 8km and men seeing 10km as the optimum racing distance.
» And while more than half of respondents think guidance from national governing bodies is important, there was an even greater preference for competition providers at a local level to determine how best to deliver cross country competition most effectively.
Read More: Thousands respond to gender equality survey
UKA said their survey also gave them insight into finding improved courses in future, raising the profile of cross country and "creating a product that is welcoming to all".
GB QUALIFICATION STANDARDS FOR TOKYO OLYMPICS 2021 – These are the following World Athletics qualification standards for all GB athletes:
Men – 100m (10.05), 200m (20.24), 400m (44.90), 800m (1:45.20), 1500m (3:35.00), 5000m (13:13.50), 10000m (27:28.00), 3000m Steeplechase (8:22.0), 110m Hurdles (13.32), 400m Hurdles (48.90), High Jump (2.33), Pole Vault (5.80), Long Jump (8.22), Triple Jump (17.14), Shot Put (21.10), Discus (66.00), Hammer (77.50), Decathlon (8350), Marathon (2:11.30).
Women – 100m (11.15), 200m (22.80), 400m (51.35), 800m (1:59.50), 1500m (3:35.00), 5000m (15:10.00), 10000m (31:25.00), 3000m Steeplechase (9:30.00), 100m Hurdles (12.84), 400m Hurdles (55.40), High Jump (1.96), Pole Vault (4.70), Long Jump (6.82), Triple Jump (14.32), Shot Put (18.50), Discus (63.50), Hammer (72.50), Heptathlon (6420), Marathon (2:29.30).
The final date that all standards are to be achieved is Sunday 27 June, the Marathon date is Monday 29 March. Team selection for all events is on Monday 28 June, and the Marathon on Tuesday 30 March.
Link for the full GB selection policy document – 2020-2021-Olympic-Games-Selection-Policy-October-2020
BIRMINGHAM 2022 COMMONWEALTH GAMES – Well there is just 531 days to the Opening Ceremony, you may wish to sign up to receive their Newsletter. Link – https://www.birmingham2022.com/register-your-interest/. Tickets will be on sale later this year, and can only be purchased through the official Commonwealth Games website, this is the link to register – https://www.birmingham2022.com/the-games/tickets/. This is the link to the current schedule for the 25 events – https://images.birmingham2022.com/wp-content/uploads/2021/01/11441664_CWGs_Daily_Competition_Schedule_FINAL.pdf.
ATHLETICS take place at the Alexander Stadium 2-7 August, with the Marathons on 30 July. There will be 59 medal events including a fully integrated Para Sport programme. TRIATHLON and PARA TRIATHLON take place at Sutton Park 29 and 31 July. The Individual races contest a 750m swim, 20km cycle, 5km run, and the Team races contest a 250m swim, 7km cycle, 1.5km run. Link to all events – https://www.birmingham2022.com/the-games/sports/?utm_source=workflow&utm_medium=email&utm_campaign=popup_work_flow_send_welcome_autoresponder_pop_up_footer_form&utm_content=2021-02-05
Shaftesbury's ANGUS MCKENZIE was appointed as Competition Manager (Athletics) last year, and the article on him can be found in the 26 November SBH Newsletter.
REDEVELOPMENT OF THE EXISTING WEST STAND – SARACENS have appointed RAYNER ROWEN CONSTRUCTION to carry out the demolition and rebuild of the old West Stand. Work commenced on Monday 22 February and completion is planned for 6 May 2022.
Demolition commenced on 22 February with completion due on 23 April. This is a Link to the first Monthly Newsletter for the redevelopment, which shows site access and the initial site activities – C-0045 – West Stand Monthly Newsletter – February 2021 Rev A
The day has come, the West Stand has now been reduced to a pile of rubble. JEREMY SOTHCOTT sent me these pictures after it's final demise.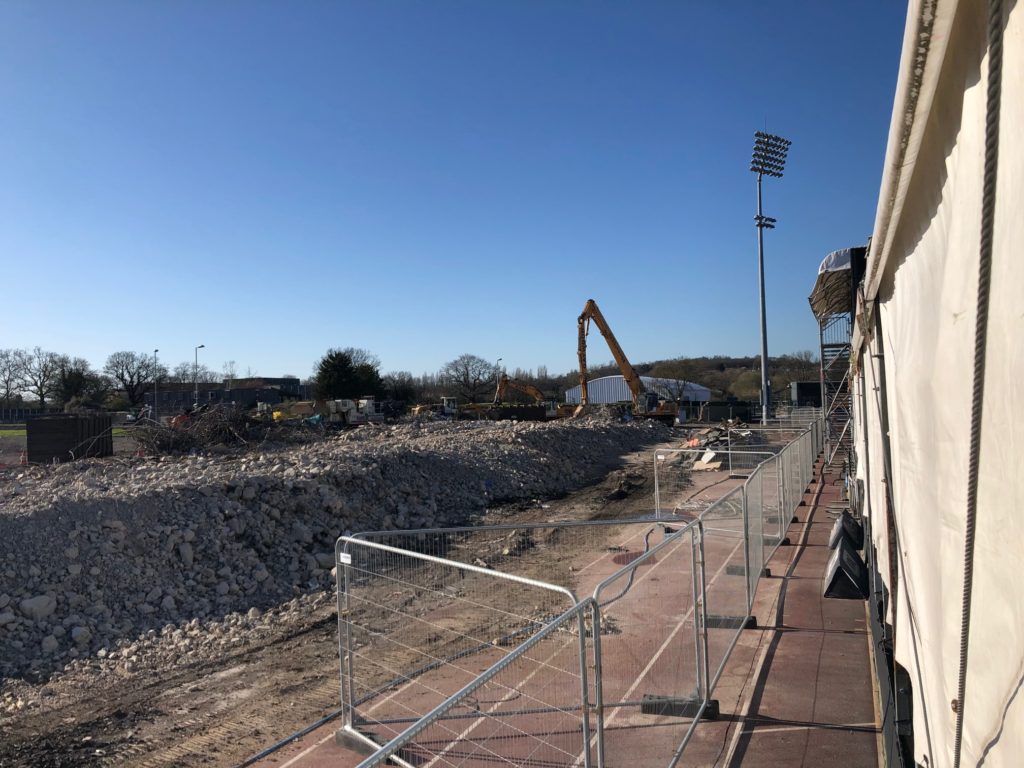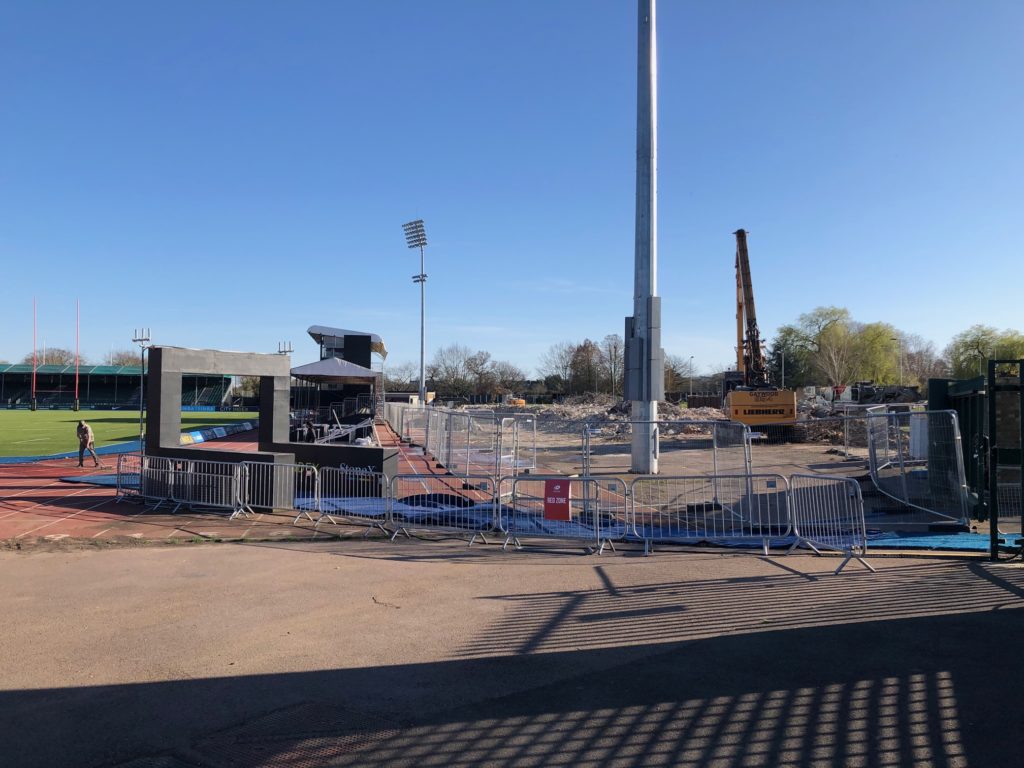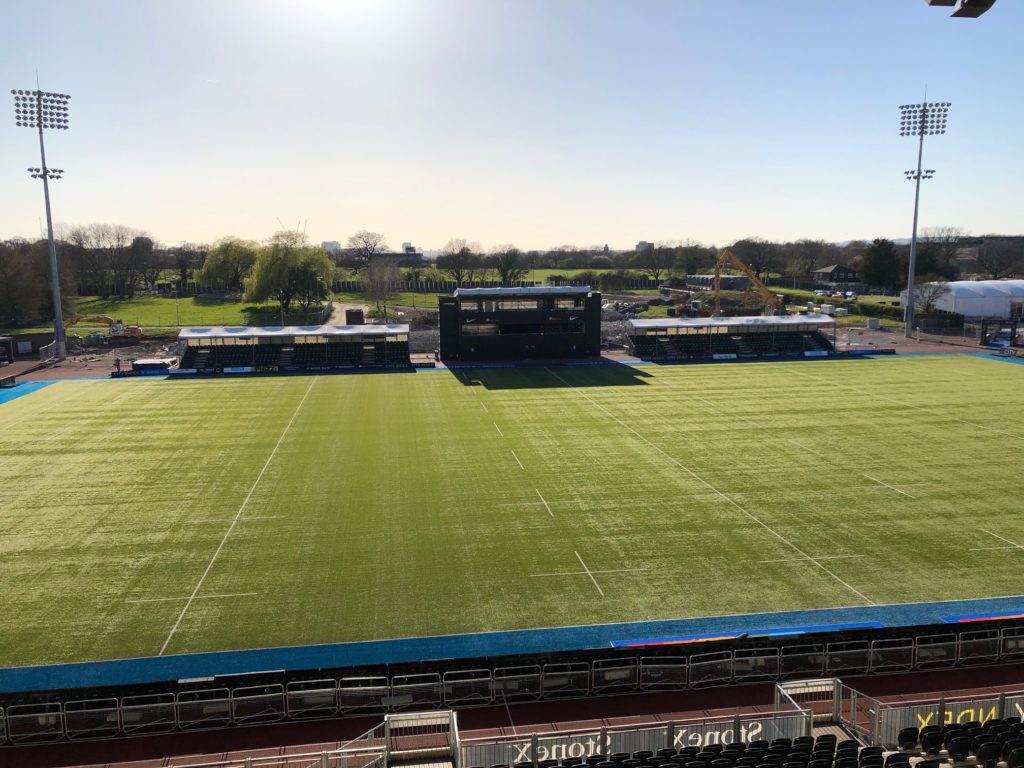 PROCEDURES FOR USING STONEX STADIUM FROM JEREMY SOTHCOTT – The Stadium is now subject to the lockdown guidelines recently set by the Government. It re-opened on Monday 29 March under strict conditions. Check with your Coach for details.
SBH SUBSCRIPTIONS 2020-2021 – SBH Treasurer GEOFF MORPHITIS has sent me the following regarding subscriptions.
The Club AGM took place virtually at 19.30 on Tuesday 24 November. One of the resolutions which was passed dealt with Club Subscriptions as follows. "The Annual Membership Fee for new members from 1 December 2020 will increase to £50. Existing members who have paid their membership fee for year ended 30 September 2020 will be considered as having also paid their fee for the year ended 30 September 2021.
In other words, in recognition of the disruption caused by Covid-19, these members will have 2 years membership for the price of one." Therefore, I'm now asking athletes who have not paid their subscription for the year ended 30/09/20 (£45) to pay, so as to qualify for the 2 for 1 concession together with the England Athletics Registration Fee of £15 for 2020/21. The total is £60 and should be paid NOW to; ACCOUNT NAME: SHAFTESBURY BARNET HARRIERS, BANK: HSBC, ACCOUNT NUMBER: 41308378, SORT CODE: 400426 – Please let me know when payment is made. Thanks GEOFF
UPDATE ON SBH FIXTURE CARD – We are in the process of finalising the 2021 Summer Fixture Card
CAN YOU HELP PLEASE – During the period when all competitions are suspended, I will do my upmost in keeping the Newsletter information and other content going.
I would welcome any contributions From Yourselves, any impending marriages, or additions to the family, any running or competing incidents, also past warm weather training/holidays (No Club 24 please). Currently the response has been excellent, but if you have anything that could make it into next week's Newsletter – please email me.
THE FOLLOWING SBH DOCUMENTS/INFORMATION CAN EITHER BE VIEWED, DOWNLOADED OR PRINTED 
SBH 2021 Summer Fixture Card, and we will be publishing a draft  in the coming weeks.
Cross Country Team Managers Details – http://sbharriers.co.uk/athletics/cross-country/team-managers/
Road Running/Relay Team Managers Details – http://sbharriers.co.uk/athletics/road-running/team-managers/
THE FOLLOWING INFORMATION OF INTEREST CAN BE FOUND ON THE SBH HOME PAGE BY USING THIS LINK, THEN SELECT THE LEFT OR RIGHT ARROW – http://sbharriers.co.uk/
Shaftesbury Barnet Harriers Club Hoody, information on how to purchase one, please go to the bottom of this Newsletter.
STONEX STADIUM EAST STAND INDOOR AREA – Currently closed.
SBH MIDWEEK JUMPS CLUB AT STONEX STADIUM (FORMERLY BARNET COPTHALL STADIUM) – Contact CLYDE GORDON on 07753 985525.
STEEPLECHASE TRAINING AT STONEX STADIUM (FORMERLY BARNET COPTHALL STADIUM) – Currently Suspended.
PARKRUN 5K RESULTS – Currently Suspended
PARKRUN – Can you make sure that you are registered as 'Shaftesbury Barnet Harriers', as the link I use to select all results only shows SBH athletes. If anyone is also officiating can you please contact me and advise me where and when.
PHOTOGRAPH'S – From time to time we have photographs of our members taken at meetings or presentations which we would like to use both on the website or incorporated within our report to our local newspaper. Can you please let me know if you do NOT want your photograph to be published. Also, I would appreciate if you could send me any photographs, which I can then publish on the website and newsletter.
CLUB EMBROIDERED RED HOODIES – Currently there are now over 750 Hoodies in circulation, this is the link giving details on how you can order your Club Hoody for £35, which includes having your name embroidered on the front Club Hoodies Updated 01-07-19
FACEBOOK – Photographs can be found on the SBH page.
CURRENT DISTRIBUTION OF SHAFTESBURY INFORMATION – Currently I notify members (by email) using "MailChimp". The reason I changed, was in November 2017 "Gmail" put a limit of 100 addresses that users could send to in a 24-hour period, and currently I send to approximately 850 members each issue.
On seeking technical advice "MailChimp" was recommended as the best way for SBH to go forward. There is one thing you should be aware off is that when you receive an email from me, the footer at the bottom has 4 options, of which one is "Unsubscribe Me From List". Could I ask you not to select this as if you do you will be automatically removed from my distribution list.
SBH PRIVACY STATEMENT – In becoming a member, SBH will collect certain information about you. Can you please read the attached 'Privacy Statement' which contains Information on General Data Protection Regulations – SBH Privacy Statement Final April 2018
STONEX STADIUM (FORMERLY BARNET COPTHALL STADIUM) – Main Switchboard telephone number is 020 3675 7250.
CHARGES FOR USING STONEX STADIUM (FORMERLY BARNET COPTHALL STADIUM) – Currently the Stadium is closed.
ALAN WELLER – SBH NEWSLETTER EDITOR AND WEBMASTER