Happy Birthday from this Thursday 10 September to Niah Akintokun, Jacob Berkeley, Olive Coles, Sebastiano Corbo, Jack Crabtree, Jessica Emery, Connor Flynn, Gerald Fox, Clyde Gordon, Michael Harper, Nene Harrison, Dylan Hepworth, Hamza Kadir and Ben Kelly
RECENT NEW MEMBER – We wish you a very warm welcome, and a happy, healthy and successful time with Shaftesbury to CLAUDIA BACKHAUS
SOUTHERN ROAD RELAYS CANCELLED – The following was posted on the SEAA website on 8 August. Unfortunately, the SEAA Road Relays scheduled for Sunday 20 September at Crystal Palace have now been cancelled. It was hoped that with the guidelines changing daily it would have been possible to hold a Road Relay event but regretfully this was not possible under the present Government and UKA guidelines. SEAA are still planning to hold Cross Country Championships, starting with the Relays on 17 October, as well as Indoor Track & Field Championships.  All dependent of course on the guidelines to be issued by England Athletics shortly.
John Gandee SEAA Competition Chairman
MULLER BRITISH CHAMPIONSHIPS – Took place at Sportcity on 4-5 September.
A successful Championships for the club, with 2 National Champions. Firstly SCOTT LINCOLN who had won the previous 5 Shot Put Championships back to 2015, our second Champion in the Discus was NICK PERCY who retained the title he won last year, his other previous wins were in 2016 and 2017. There were Silver Medals from LINA NEILSEN (400m Hurdles), MARK PEARCE (3000m Steeplechase), JADE LALLY (Discus), CHRIS BENNETT (Hammer) and DANIEL BAINBRIDGE (Javelin). We also won 5 Bronze Medals from REBECCA JEGGO (200m), ELLIE BAKER (800m), HAYLEY MCLEAN (400m Hurdles), ETHAN WALSH (Pole Vault) and ANGELA BARRETT (Triple Jump).
100m – SM H3 OJIE EDOBURUN 1st (10.49 w1.0), in Semi-Final 1 OJIE finished 2nd (SB 10.35 w2.0) taking .04 of a second off his 25 August time, and is ranked UK No.5 in 2020, in the Final OJIE won the Silver Medal (10.43 w1.2)
100m – SW H3 REBECCA JEGGO U23 (HCA) 2nd (11.85 w-0.3), in the Final REBECCA finished 7th (11.87 w2.1)
200m – SW H1 REBECCA JEGGO U23 (HCA) 2nd (24.69 w2.2), HANNAH FOSTER U20 3rd (24.79 w2.2), in the Final REBECCA won the Bronze Medal (24.51 w0.3), HANNAH finished 6th (24.88 w0.3)
800m – SW H1 ELLIE BAKER U23 1st (2:05.37), in the Final ELLIE won the Bronze Medal (2:04.80)
1500m – SM H1 JEREMY DEMPSEY U23 7th (SB 3:50.83)
400m Hurdles – SW H1 LINA NIELSEN 1st (58.39), H2 HAYLEY MCLEAN 2nd (57.96), in the Final LINA won the Silver Medal (SB 56.99) taking .49 of a second off her 13 August 2020, and is ranked UK No.2 in 2020, HAYLEY won the Bronze Medal (57.79)
3000m Steeplechase – SM Straight Final MARK PEARCE won the Silver Medal (PB 8:33.61) taking 9.02 seconds off his 2019 time, and is ranked UK No.2 in 2020, KRISTIAN IMROTH U20 5th (SB 9:08.19) and is ranked UK No.1 U20 in 2020
Pole Vault – SM Straight Final ETHAN WALSH won the Bronze Medal (5.05m)
Triple Jump – SW Straight Final ANGELA BARRATT (2nd Claim) won the Bronze Medal (12,72M W0.5), JAZZ SEARS U20 4th (SB 12.53m w-0.7) adding 4cm to her 2 February jump, and is ranked UK No.2 U20 in 2020
Shot 7.26kg – SM Straight Final SCOTT LINCOLN (HCA) won the Gold Medal (19.65m)
Discus 1kg – SW Straight Final JADE LALLY won the Silver Medal (57.20m), SHADINE DUQUEMIN won the Bronze Medal (52.52m)
Discus 2kg – SM Straight Final NICK PERCY won the Gold Medal (59.74m)
Hammer 7.26kg – SM Straight Final CHRIS BENNETT won the Silver Medal (68.84m)
Javelin 800g – SM Straight Final DANIEL BAINBRIDGE U23 won the Silver Medal (70.50m)
LICC/UKA CLUB CONNECT RELAYS AND HURDLES MEETING – Took place at Lee Valley on 5 September.
Congratulation to all our teams on a superb day. The Boys/Mens teams defended their overall title with 2 wins and a 2nd place.
4x100m Relay – U13B H2 SBH 1st (SB 50.93) and are ranked UK No.1 U13 team in 2020 OBINNA NWOKEJI (2nd Claim), JOSEPH WHEELER-HENRY, AUSTIN WARD, OMID HAQUE, in the A Final SBH won the Gold Medal (50.95) OBINNA NWOKEJI (2nd Claim), JOSEPH WHEELER-HENRY, AUSTIN WARD, OMID HAQUE.  Photograph taken by TY HOLDEN of OMID HAQUE anchoring the Under 13 Boys team to an excellent win.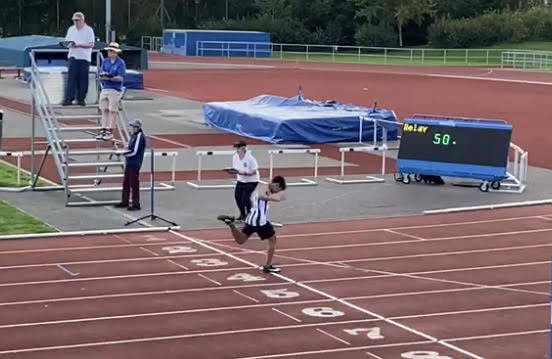 4x100m Relay – U13G H1 SBH 1st (SB 54.19) and are ranked UK No.2 U13 team in 2020 ANGEL MCLEOD, BUCHI ODIAKA, SIENNA CORBYN, JESSICA GIBBS, in the A Final SBH won the Gold Medal (54.30) ANGEL MCLEOD, BUCHI ODIAKA, SIENNA CORBYN, JESSICA GIBBS. Photograph taken by TY HOLDEN of the Under 13 Girls team.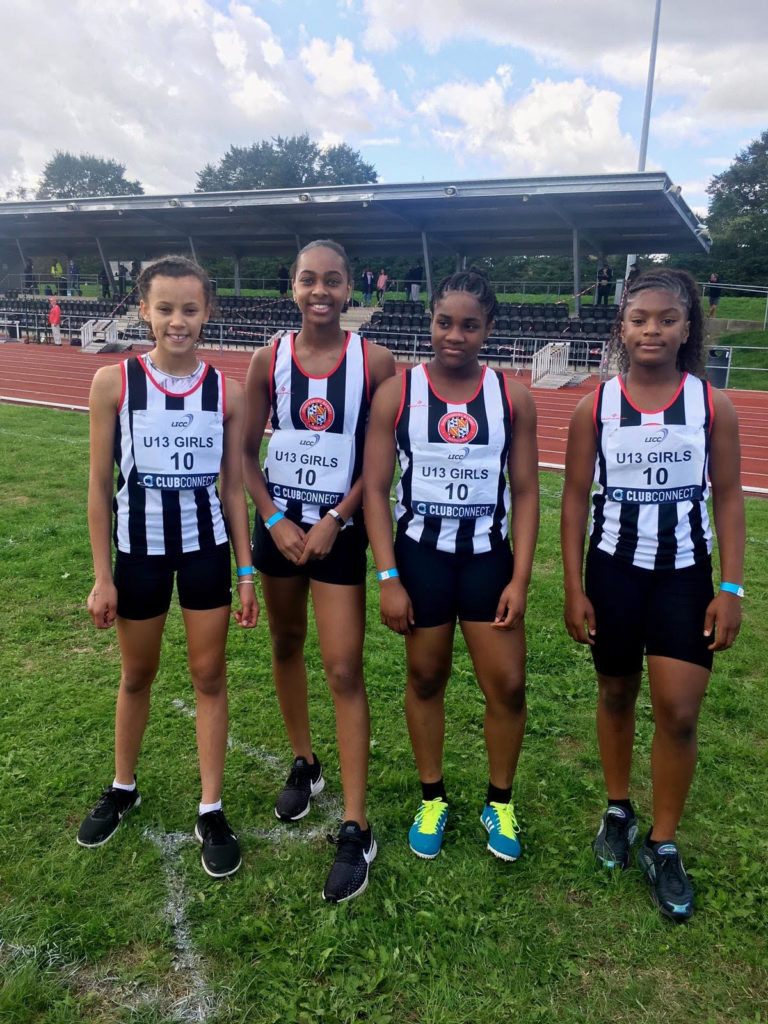 4x100m Relay – U15B H1 SBH "A" 4th (SB 46.20) EBUKA NWOKEJI (2nd Claim), ZICO JONES, SAUGAT PUN, MALACHI AMADI, H2 SBH "B" 4th (50.18) SAMUEL OJO, VICTOR ODIAKA, CAMERON KNIGHT, JADEN AULIS, in the A Final SBH "A" won the Silver Medal (SB 45.98) taking .22 of a second off their H1 time, and are ranked UK No.4 U15 team in 2020 EBUKA NWOKEJI (2nd Claim), ZICO JONES, SAUGAT PUN, MALACHI AMADI, in the B Final SBH "B" won the Bronze Medal (51.16) SAMUEL OJO, VICTOR ODIAKA, CAMERON KNIGHT, JADEN AULIS
4x100m Relay – U15G H2 SBH 1st (SB 50.92) LOLA MCCANN-EZEKIEL, TOSIN JOKOSENUMI, ANNA ROSE, NIA FORBES-AGYEPONG, in the A Final SBH won the Bronze Medal (SB 50.92) equalling their H1 time, and are UK No.4 U15 team in 2020 LOLA MCCANN-EZEKIEL, TOSIN JOKOSENUMI, ANNA ROSE, NIA FORBES-AGYEPONG
4x100m Relay – U17M H1 SBH "A" 1st (SB 43.69) REMI JOKOSENUMI, MARIO DEBRESCU, NICHOLAS SAVVA, EMMANUEL DURUIHEOMA, H2 SBH "B" 2nd (43.84) TANAWAT RAVENG, BRADLEY UKPETENAN, NNAMDI NDUKE, ERNEST BARNES, in the Final SBH "A" won the Gold Medal (SB 42.69) taking 1 second off their H1 time, and are ranked UK No.1 U17 team in 2020 REMI JOKOSENUMI, MALACHI AMADI, NICHOLAS SAVVA, EMMANUEL DURUIHEOMA, SBH "B" finished 4th (44.16) TANAWAT RAVENG, BRADLEY UKPETENAN, NNAMDI NDUKE, ERNEST BARNES. Photograph taken by TY HOLDEN of EMMANUEL DURUIHEOMA anchoring the Under 17 Mens team to an excellent win.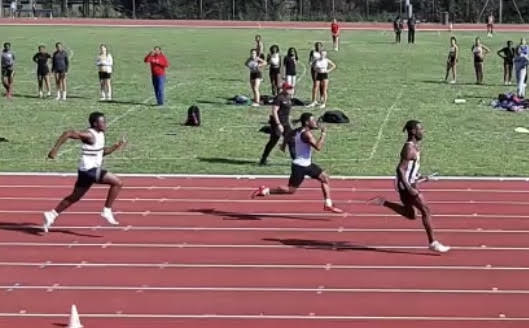 4x100m Relay – U17W H1 SBH "A" 3rd (SB 49.80) and are ranked UK No.5 U17 team in 2020 AMBER STONE, SEMI ATIBA, LEA REYNA-FARIA, ALEXIA SAUNDERS, H2 SBH "B" 6th (51.34) ALINA COFIE, SOPHIE FORBES-LAIRD, KACEY WALTERS, KEIRA GILMAN, in the A Final SBH "A" finished 5th (50.27) AMBER STONE, SEMI ATIBA, LEA REYNA-FARIA, ALEXIA SAUNDERS, in the B Final SBH "B" finished 3rd (51.88) ALINA COFIE, SOPHIE FORBES-LAIRD, KACEY WALTERS, KEIRA GILMAN
4x100m Relay – U20M H2 SBH 2nd (SB 42.71) MICAH FORBES-AGYEPONG, TARIQ WILD, JULIEN PRIEST, JAMI SCHLUETER, in the Final SBH won the Bronze Medal (SB 42.26) taking .45 of a second off their H2 time, and are ranked UK No.3 U20 team in 2020 MICAH FORBES-AGYEPONG, TARIQ WILD, JULIEN PRIEST, JAMI SCHLUETER
4x100m Relay – U20W H1 SBH 4th (SB 50.93) and are ranked UK No.4 U20 team in 2020 TRINITY O'CONNOR, VICTORIA GODFREY, MARLI JESSOP, IONA NEWBEGIN, in the Final SBH (DNS)
75m Hurdles – U15G H1 AZARIA NWANKWO 3rd (SB 12.30 w-2.0) taking .23 of a second off her 1 August time, H3 KAREN APOLOT 3rd (PB 12.24 w0.9) taking .21 of a second off her 1 August time, H4 EVA CHALISEY 6th (PB 14.07 w-1.1), ALICE MUSGROVE 7th (SB 15.15 w-1.1)
80m Hurdles – U17W H1 ALINA COFIE 4th (PB 12.35 w-0.7), H2 MANON BAINES 5th (PB 14.15 w1.0)
100m Hurdles – U17M H1 RUBEN HEDMAN 2nd (PB 13.45 w-1.4) taking .32 of a second off his 2019 time, and is ranked UK No.4 U17 in 2020, H2 KEELAN FARRELL 5th (PB 15.63 w-0.1)
LICC U20, SENIOR AND MASTERS OPEN MEETING – Took place at Lee Valley on 6 September.
100m – SX 2 TARIQ WILD U20 3rd (SB 10.95 w1.1) taking .14 of a second off his 2 August time, EMMANUEL DURUIHEOMA U17 4th (10.96 w1.1), MORGAN WEBSTER U23 5th (PB 10.98 w1.1) taking .02 of a second off his 24 August time, DECARE DAVIES U20 6th (PB 11.17 w1.1) taking .24 of a second off his 2018 time, 4 OSCAR LAURENS U17 3rd (SB 12.11 w-0.5), 5 GIBRIL MANSARAY 2nd Equal (SB 12.74 w0.3) taking .09 of a second off his 23 August time, THOMAS FISHER U23 2nd Equal (PB 12.74 w0.3) taking .01 of a second off his 2 August time
400m – SX 1 COLUMBA BLANGO T20/F20 1st (SB 48.36) taking .64 of a second off his 18 January time, and is ranked UK No.1 T20 in 2020, 3 GILAD NACHSHEN U17 5th (54.48), 5 SEBASTIANO CORBO U20 2nd (56.18) taking .56 of a second off his 22 August time, 7 SOPHIE FORBES-LAIRD U17 2nd (60.59), 8 MANON BAINES U17 2nd (PB 62.70)
800m – SX 1 SAM WIGGINS U23 2nd (1:53.50), FINN HARVEY U20 3rd (PB 1:53.90) taking 2.39 seconds off his 2019 time, JOVAN ZIGIC 6th (1:57.99), 2 LIAM DEE 2nd (1:55.20), 4 JUDE MIRANDA U20 2nd (2:00.45), DYLAN EVANS 6th (PB 2:02.19), 5 BINI BLOOM U20 7th (PB 2:05.43) taking 1.22 seconds off his 2019 time, SAMUEL GREENSTEIN U17 8th (PB 2:05.61) taking 8.61 seconds off his 2019 time, 5 ASH FOWKES-GAJAN U17 2nd (2:03.76), ALEX LYTRIDES U20 5th (PB 2:04.95) taking .78 of a second off his 16 August time, 7 GIANLEO STUBBS U15 3rd (PB 2:05.18) taking 11.77 seconds off his 2019 time, 8 JOANNE MIRANDA U17 6th (PB 2:15.61) taking 2.23 seconds off her 15 August time, 9 SCARLETT KENT U20 3rd (2:18.37), HANNAH RIDLEY 4th (2:21.60), EMILY HATHAWAY U20 5th (2:22.18), 12 LISA WEBB V50 6th (2:39.39)
3000m – SX 1 MUKHTAR MUSA U17 3rd (SB 8:48.14) and is ranked UK No.3 U17 in 2020, JOSH EDWARDS U20 5th (PB 8:51.04) taking 27.76 seconds off his 2019 time, BEN WINFIELD U20 7th (SB 9:01.55), THEO MACHIN-PALEY U17 7th (PB 9:10.55) taking 1.43 seconds off his 2019 time, LUCA STUBBS U17 8th (PB 9:17.79) taking 6.43 seconds off his 2018 time, 2 DANIEL GREENSTEIN U20 1st (PB 9:12.28) taking 14.65 seconds off his 2019 time, 3 ELENA RONCARATI U17 8th (PB 11:13.43)
Long Jump – SX JOSH WOODS U20 1st (SB 6.81m w0.7) adding 3cm to his 23 February jump, ALEXA EICHELMAN U23 4th (4.94m w0.0)
Triple Jump – SX CHARLIE KNOTT U20 4th (PB 12.49m w0.3) adding 2.07m to his 2016 jump
Shot 4kg – SW NENE HARRISON V35 3rd (10.03m)
Shot 6kg – U20M JAMES ISAACS U17 2nd (PB 12.66m)
Discus 1kg – SX A JADE LALLY 1st (SB 58.95m) adding 19cm to her 18 July throw, and is ranked UK No.1 in 2020, SHADINE DUQUEMIN 3rd (SB 54.82m) adding 1.25m to her 23 August throw, and is ranked UK No.3 in 2020, B KATIE WEBB U17 6th (30.45m), SARAH RIDLEY 7th (SB 26.72m)
Discus 1.75kg – U20M GABRIEL LAMB U17 1st (PB 37.53m)
Discus 2kg – SM A NICK PERCY 1st (59.28m) 
CITY OF PORTSMOUTH TRACK MEETING – Took place at Portsmouth on 6 September.
100m – SX 6 CEAKE MADDIX U23 1st (SB 11.58 w2.0)
200m – SX 9 CEAKE MADDIX U23 2nd (24.05 w1.6)
NEWHAM AND ESSEX BEAGLES SPRINT MEETING – Took place at Stratford on 6 September.
100m – SM B1.7 NENGI OSSAI V45 2nd (11.23 w1.8), B2.7 NENGI finished 3rd (11.23 w3.0)
ROSALIND ZEFFERTT ABSAILING LONDON'S AIR AMBULANCE – On Sunday 13 September, SBH Assistant Officials Secretary, active SBH official and a regular competitor in Masters events, ROSALIND will be absailing from the Royal London Hospital's helipad, 17 floors up to the ground below. ROSALIND has taken on this challenge in aid of the charity which runs the London Air Ambulance.
I know that I can't handle heights but I suppose as a novice pole vaulter, abseiling is the logical next step for Rosalind – is it?
Can you please support this very worthwhile cause by making a donation, no matter how small, which will help London's Air Ambulance to save more lives by keeping the helicopter in the air and the rapid response cars on the road.
By providing intervention as quickly as possible after injury, London's Air Ambulance Charity aims to give patients the best chance of survival, and best quality of life, after trauma. I'm sure you all joining me in wishing ROSALIND the best of luck and good weather.
Just click on the link to get through to the donations page;  https://fundraising.londonsairambulance.org.uk/fundraisers/rosalindzeffertt
RUNNERS RELISH RETURN OF PARKRUN NEXT MONTH IN ENGLAND – The following was published on the Athletics Weekly Website.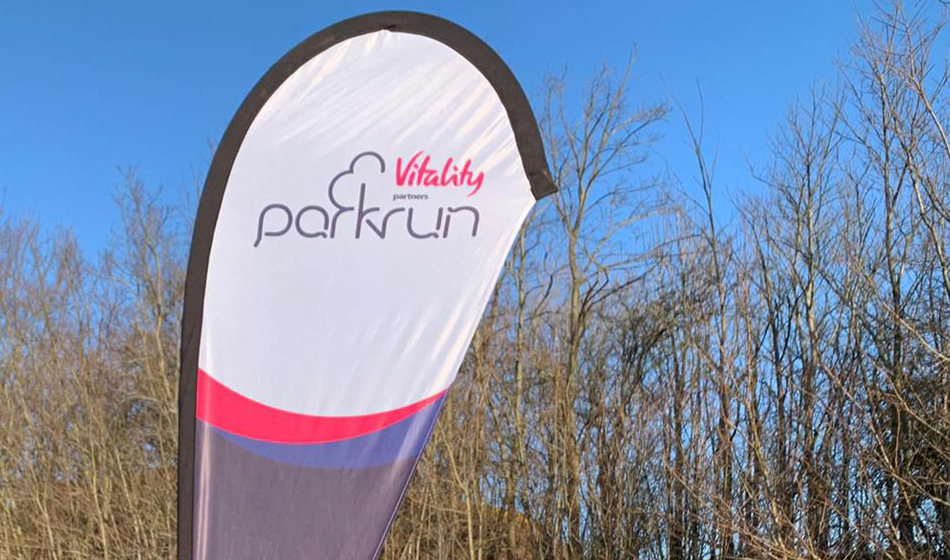 Popular 5km series has not been staged in UK since mid-March due to coronavirus but is planning its comeback at the end of October. After a six-month enforced break due to the coronavirus pandemic, parkrun will make a welcome return at the end of next month, initially in England only. Guidelines in Scotland, Wales and Northern Ireland mean it will not return in those countries quite so soon partly due to limits on numbers but if the English events get off the ground successfully then it could open the floodgates for parkrun to resume in the other home countries, not to mention more road and trail running events potentially. An exact date for the return of the events in England has not been arranged, but October 24 and October 31 look most likely. These also represent about 40% of all parkrun events in the UK. Nick Pearson, chief executive of parkrun, told AW: "We are ready to go and this is a moment where we are definitively coming back and the end of October is, we think, the earliest that we think we can get everything in place such as the volunteer teams, the training, the communication, the understanding and the support and all the mechanisms. "End of October is the target. That doesn't mean it can't be earlier. It also doesn't mean it can't be a week or so later."
Read More: Fastest and toughest UK parkruns
What will parkrunners find different at events in the post-pandemic world? The start area will see the main changes, with organisers reluctant to allow participants to gather on the start line for a long period of time. Event briefings will be shorter than in the past and the traditional announcements relating to parkrun tourists or those completing a significant milestone will be made at another time elsewhere or maybe just online. "Briefings will be limited to health and safety necessities and not the colourful individualism that you historically find at your briefing," said Pearson. "At the finish more scanners and a change in technology will mean the amount of time people spend queuing in those areas is reduced from where it was before. And we will discourage people from gathering in the park but outside of that it will be very much the same." In addition, some courses will be increased in size to make the start and finish areas bigger. So some events might be roughly 10% longer than 5km but never shorter. As for the prospect of English towns or cities going into lockdown due to a spike in the virus, Pearson explained that parkrun events are sometimes called off at late notice due to ice on the ground or strong winds, for example, so their teams are flexible enough to deal with such cancellations and a coronavirus regional spike would be no different. Founded in 2004 at Bushy Park in London, parkrun has grown swiftly into a cultural phenomenon. Each Saturday morning parkrun in the UK sees about 15,000 volunteers helping to stage events for around 175,000 walkers and runners. As the summer unfolded the parkrun community has grown more frustrated as they have seen other sports – some of which are full contact team games – return to competitive action. In addition to parkrun being held in the fresh air there is the fact it provides multiple physical and mental benefits for its participants. Indeed, in recent weeks, parkrunners have become more impatient after being starved of their parkrun pastime during the spring and summer and various experts have got involved in analysing the risks of its return. A study of outdoor transmission of coronavirus, for example, was commissioned by parkrun and undertaken by the Centre for Sport, Physical Education & Activity Research at Canterbury Christ Church University. It concluded that the risk of coronavirus passing from one person to another outdoors for low and that infection was more likely when people travelled on transport, spent periods of time in crowded indoor environments or breached natural social distancing and personal space. "We have resolved the risk issues in the best way that we can," said Pearson, who has been working hard behind the scenes with the DCMS, Sport England and others to get parkrun back up and running. "The public health need for us to be back is growing the whole time. The health inequalities are growing the whole time. There are tens of thousands of people out there who have parkrun as their only access point for social interaction. So we feel this great responsibility to support those people in a way that nothing else can support them." The news will be welcomed by thousands of runners and walkers, many of whom will now be planning which event to return to. They are not short of options. There are around 800 events in total in England alone and earlier this year we ran an article on the fastest and toughest courses here with Berkeley Green in Gloucestershire topping the list and Great Yarmouth North Beach being the slowest.
The parkrun 'records' of ANDY BADDELEY (13:48 from Bushy in 2012) and CHARLOTTE ARTER (15:49 from Cardiff in February this year) are also certain to come under renewed attack in coming months.
THE ATHLETICS LANDSCAPE – The following was written by TOM MCNAB, which he completed on 1 January 2020. This is Part 3 of 3.
What follows is my attempt to deal with some of the issues which I believe that athletics has to address, if we are to advance in the coming century.  Much of it based on personal experience, starting from the point when I first entered the sport. This is because many of our present problems have historical origins, and may thus have lessons for us.  To make them more digestible, I have presented them in a question/answer format.
Q Were you optimistic when there was a vast increase here in professional staff in the early part of the century?
A Yes, but I was naïve. Because we immediately dropped into the familiar trap, by creating legions of Club Support Officers, Liason Officers, Partnership programmes, County Networks, Flying Coaches.  Hundreds of thousands of car-miles, to little positive end.
Everything had to be "new"- that was the only way that the newcomers felt that they could make their mark. Thus, Five Star was replaced by Shine, we had two failed versions of Elevating Athletics, an Inter-City competition, 365, a sports-transfer Throws Initiative. The total cost was probably well over £4 million. All died the death, with no reviews, no effort to find out what lessons might be learnt.  And now we have something called "Funetics", and a promise of "ten thousand coaches ", both of which will almost certainly take the same path.
Q What was the Throws initiative?
A A 2011 UK Sport project which involved moving international representatives from one sport to another. It had worked well in cycling/ rowing, sports with strong physiological similarities. Strangely, in athletics throws were chosen and in the promotional literature candidates were offered the prospect of medals in the 2016 Olympics.
Q Starting from zero?
A Yes. MIKE MORLEY, one of our leading hammer coaches, immediately pointed out, in a caustic AW article, that this would mean that those choosing hammer would have to be throwing around seventy metres almost immediately, because that was what would be needed to reach seventy-six metres to medal in 2016.
Q But no one listened.
A Yes, and it was pretty much the same situation with all of the other throws. Throwers are like wine, they mature with age. This project was absolute nonsense from the start.
Q So what happened?
A The candidates were put through a range of quasi-scientific tests, bio-mechanical analyses, then taken off on warm-weather training camps. Tens of thousands of pounds of Lottery money were lavished on them. Then the Throws project simply vanished into the mist.
Q Was there ever any Report on it?
A Not to my knowledge. It was probably under the Official Secrets Act.
Q What about other strategies and initiatives?
A Immediately following the 2012 Olympics, England Athletics produced a very odd national strategy. It led with a verbal/ visual description of what a Club–day in 2013 might involve. Alas, the visual expression had more in common with an issue of the "Beano" than anything remotely resembling athletics. I include it an attachment.
In it, there are four races taking place on the track at the same time. In the hurdles race, several competitors appear to be running in the same lane. Meanwhile, out on a crowded infield, hammer and discus-throwers are busy hurling their implements into the ranks of javelin/shot groups at the other end. So, this would certainly have been an eventful Club day, though short-lived for some.
Q I'm not surprised-there are three hammers in the air at the same time!
A Yes, and three discus!  And over at the high jump, a lad is flopping over what appears to be a football crossbar, from an oddly-shaped runway, a mixture of a long and high jump approach.
Q And there is a triple jump runway which has no sand-pit!
A Meanwhile, outside the clubhouse stands a bus containing children for a Quadkids session But what is happening out on the infield, showing pole vault and hammer, has nothing remotely to do with Quadkids, which does not contain either event.
Q That pole- vault looks tricky- the crossbar has no supports!
A No, this is truly the stuff of nightmare, possibly reflected in the quote at the bottom of the page. "If we build it, they will come", from the movie "Field of Dreams".
Q You sound pessimistic.
A Both projects reflect a complete inability to relate to reality. What we now have is toxic, inward-looking organizations, unwilling to engage with those they exist to serve, even in elements such as coaching. Let me provide some practical examples. About ten years ago, we had a great coach, the Frenchman Rafelli, taking HOLLY BRADSHAW from zero to (4.87m). What he had done in Manchester was to create, without any support, a centre of excellence, yet his expertise has never been tapped, supported and repeated by UKA.
Q And ten years after she had left RAFELLI, BRADSHAW has not improved on that height.
A And then we have JOHN ANDERSON, who has coached ten times as many athletes as the entire UKA staff put together- never once in twenty years has he been consulted by them.
Q Did you receive any contact with UKA when GREG RUTHERFORD first emerged?
A Not a word. And what I have just described could be repeated a hundred times, a total failure to engage with the body of the kirk.
Q So what can be done?
A Unless there is a strong, groundswell of focused criticism from the membership, or a rigorous review by our funding agencies, then little will change. There is no good cause for optimism. It is worth observing that there was no groundswell of club- criticism when the ludicrous England Athletics comic-book strategy appeared back in 2012.
As things stand, we have only around four thousand senior athletes, a diminishing pool from whom our future population of coaches and officials will be drawn.  We therefore face a slow athletics anorexia.
Thus, senior county championships have vanished, and even our regional championships are now faint shadows of the past. Only around a quarter of our clubs have sufficient athletes to compete in our regional age-group leagues, and in Scotland no single club could field a team in our newly-formed national league. And at a recent Southern indoor age-group championship, event-boards went unmanned and there was no announcer. Reality is a bitch.
Q Let's go back to where we started- are we able to provide a good quality of teaching, coaching and competition throughout the nation?
A Not remotely, but the first step must surely be for our present situation to be recognized. And it is that for only a small fraction of our membership can we offer any quality of athletic experience; and by that I mean one which is both rich and challenging, in terms of coaching and competition. Because in the end, for a participant, staying in athletics is a matter of choice. It is usually a choice between one sport and another, in what is also now a highly-competitive world of increasing educational demands, mobiles and video-games.
And it is a world where there are more sports than ever available, where athletic young women are now pouring into netball, football and rugby, one in which there are five million Health Club members, evenly- divided between the sexes. There is everything to play for, and athletics will have to fight for its survival as a major sport.
Q And at performance-level?
A Every conceivable permutation has been deployed by UKA, from High Performance Centres, to the deployment of "magic" foreign coaches. The only constant has been to remove athletes from British coaches who had brought them to international-level, thus depriving them of invaluable experience. The discovery of athletes like RUTHERFORD and BRADSHAW surely tells us that there are others with similar potential out there. Our aim should be to try to make contact with them, and provide not only coaching, but also challenging competitive opportunities.
Bale's 2002 book "Geography of Sport" makes clear the massive disparity of opportunity which living in rural areas involves, one which applies fairly evenly throughout sports. Government funding and voluntary energy can do little more than cut down the odds, but there is no evidence that our governing bodies have done this, despite massive increases in funding.
Q Have you any answers to this issue?
A There will never be any absolute solution, any true equality, but a policy similar to that of the LTA twenty odd years back, might well lower the odds. They built around twenty basic indoor tennis-areas throughout the country. For us, this might mean being Lottery-granted to build a dozen primitive air-hall type facilities in rural areas. These would be attached to schools, and used by them during the day. It would mean that it would be possible for thousands more to train throughout the year in the technical events. The £2million that UKA spent on the pointless 2018 World Championships might have been a start, possibly two such centres.
Q And the £4million or more spent on duds like Shine, Elevating Athletics and 365?
A Yes. And though my air-hall proposal is a long shot, bringing in athletes from rural areas into existing indoor centres in winter, to work under experienced coaches, that is not. It will not solve the problem, but it will go some way to alleviating it.
Q Where does curricular physical education come in now?
A Nowhere. P.E has never created any means by which athletics can be effectively presented at curricular level.  All that seems to exist now is a school sports, which is essentially a survival of the fittest. P.E is a Dead Zone for most sports, in terms of providing a rich educational experience to all children, regardless of ability.
Q What about success at Olympic level?
A UKA have over the years produced one failed strategy after another to produce Olympic medals.  This being said, mere common sense should have told them that their 2011 attempt to take JESSICA ENNIS from family and coach to work at Lea Valley was wrong. What it served to show was a governing body's desperate to be associated with success, even if it had done nothing to produce it. And the sad story did not end in 2012. When CHARLES VAN COMMENEE departed, he left proposing an in-house replacement, a Performance Director with no background in athletics performance.
Q What about our present financial situation?
A It is dire, the direct product of UKA removing ALAN PASCOE'S company from its fund-raising role, and of a whole series of vanity projects. DE VOS and the members of our national committees must take direct responsibility for a £2 million loss on a 2018 World Cup vanity project, half a million pounds lost in unpaid VAT, and a disastrous relationship with the Nike Oregon Project.
Q Are we living off the income from fitness-runners?
A I am not certain, but we are to some degree doing so by association, because Sport England have been handed the health-related fitness brief by government, which could not find anywhere else to place it.
Q You haven't yet mentioned the HYDE-PETERS fiasco.
A I very much welcomed her appointment, and immediately offered my help. But I had at that point no knowledge of the Coventry Godiva issue, which the UKA's Health and safety department should surely have made known to UKA officers, prior to making the CEO appointment.
Q And CHRIS CLARKE'S immediate support for her?
A Unwise. Common sense demanded a sharp intake of breath and further investigation before making any comment.
Q But UK Sport tell us that they have always kept a close eye on the culture of UKA.
A My recent discussions with their partner Sport England would serve to contradict that. Because I found out that they knew nothing about the long list of failed initiatives, or the present toxic culture. It would therefore be remarkable if UK Sport were any better informed. The ZARA HYDE-PETERS fiasco, or something like it, was therefore inevitable.
Q So you are not optimistic?
A Not unduly. There has to be a rigorous review of UKA deployment of public funds. This will inevitably involve the removal of many professional positions. And with it the recruitment of staff sensitive to what is happening on the ground, dedicated to enriching and enhancing best practice. This would be a mixture of full-time national and part-time regional administrators and coaches.
Because cash has to be delivered out to the regions, much of it focused on teams of part-timers, devoted to specific areas like competition and coaching, and required to produce measurable results. But there will be no Golden Age. In my dealings with clubs and counties I have often been troubled by the low level of discussion.
But, much more difficult, there has to be a major culture-shift, away from inward-looking, self-serving cultures to those dedicated to service. That may prove to be much more difficult, and require pre-frontal lobotomy.
Because there will be no magic bullet, no quick fixes, but it will mean an intensity of scrutiny by our funders, light-years away from past practice.  One which will result in total transformation of the manner in which public funds are being deployed.
And, as I have said, it must result in two changes at governing body-level. The first will be to cut professional positions to a minimum, the second to give funding and greater responsibility to our voluntary sector at regional level.
Q What might be their role?
A One would be to employ a corps of experienced coaches and meet-organisers, people like ALAN WILLIAMS and CAROL JACKSON, to create a network of competitions, starting with Sports Hall in winter and Five Star in summer, for the 10-14s.
Then a series of specialist meetings at regional level, and possibly a new kind of Festival type meeting, aimed at attracting the general public. This being said, there are no easy answers. We will attract a big audience to our Olympic Trials, but next year, if the normal pattern obtains, we may be back to around two thousand, as occurred this year at the Nationals.
Q Festival?
A The Scottish Highland Games pull in over 250,000 spectators per year, and the Lakeland Games attract more than all of our regional and national championships put together. This is because they are both family-events, with fairgrounds, dance and music. We might try to do something similar, albeit in a different form, think outside the box.
Q Does this approach have any implications at international level?
A Six hundred European Highland Games pull in over two million spectators per year, more than all the World Athletics-based meetings and European national championships put together. Similarly, in the USA their Highland Games pull in more spectators than conventional track and field. There may surely be some lessons for World Athletics there.
Q What role does World Athletics play in making athletics popular at world-level?
A I have mentioned the support given to regional (i.e. Asian Games/ World Junior Championships etc.)   events by the IAAF, but they have struggled to secure sponsors for events like Diamond League, TV audiences have dropped, as have live audiences.
The USA will see a lift when the World Championships arrive there, but they have no adult competitive track and field population, and collegiate athletics no longer has national attention in terms of TV or live audiences. So, I do not see any positive long-term change there and there is little that World Athletics can do about it.  In Russia, athletics has no school or club-structure, with its surge in the post-war era driven from the top and strongly drug-based. Its tracks are decaying, public interest is dropping and it is difficult see any ray of light there.
Q So the USA and Russia, two of the world's largest nations, are either static or dropping away?
A Yes, and I see no way by which World Athletics can do much to help.
Q Back to home. Any final thoughts?
A Yes. Track and field athletics has never been evenly available, regardless of location, and never will.  And we must widen its definition by including competition, because the only purpose of coaching is to compete.  What we tried to do in coaching in the past was to lower the odds, by bringing athletes from rural areas to regional/national camps.  Greater government-funding replaced this with wandering bands of Club Support-officers, Flying Coaches, Consultation-sessions, all manner of box-ticking exercises. This must surely end.
Q And competition?
A At what I call the Pre-Athletic (9-12) period we have in Sports Hall Athletics the best winter expression of athletics ever created. And over the years we have seen the development of its summer expression, Five Star Athletics meetings, dedicated to personal achievement. These two programmes could be in place as a National competitive "diet" by next winter.
Q Any other final thoughts?
A Yes.  We must surely move away from committees, to greater use of the digital. This will mean using the social media as the means by which the sport communicates with itself. By this means successful local initiatives might be more evenly spread. And policies subjected to wider, informed discussion before they are placed before regional / national committees. But above all, at national level there has to be a change of mind-set, a willingness to accept criticism, a much greater generosity of spirit.
CAN YOU HELP PLEASE – During the period when all competitions are suspended, I will do my upmost in keeping the Newsletter information and other content going.
I would welcome any contributions From Yourselves, any impending marriages, or additions to the family, any running or competing incidents, also past warm weather training/holidays (No Club 24 please). Currently the response has been excellent, but if you have anything that could make it into next week's Newsletter – please email me.
ENGLAND ATHLETICS/ECCA/AREA LEAGUE CROSS COUNTRY UPDATE – The following was published by England Athletics on 28 August 2020.
England Athletics is pleased to announce that we have begun making steps towards a restricted return to Cross Country competition. On the 27 August 2020 we held a meeting with the Cross Country community, including the ECCA, the areas, and some league organisers to agree on the following proposed timeline for a return to Cross Country Competition:
Mid-September to mid-October – Pilot XC Competitions
5 October – Licence application process opens
17 October – Licensed Cross Country competition can resume
These dates are provisional and will be adapted if necessary, with any additional Government guidance that is issued.
Cross Country competition will be unable to resume in the traditional format, adaptations will have to be made based on the current circumstances regarding the virus. However, England Athletics believe this is an exciting step forward for the Cross-Country community and we are currently working on guidance with the named organisations to support competition providers in providing a safe return to adapted cross country competition.
We are aiming for a version of the guidance to be published for competition organisers on W/C 14 September 2020. It will be the decision of the competition provider whether they will host competitions given the restrictions within the guidance. The 2020/21 XC fixture dates are below. All cross-country dates will remain ring fenced until further notice. Due to the licensing timeline above all have agreed the first league fixture date in October will be cancelled. All licensed competitions will be published on the England Athletics website when licensing opens.
Cross Country fixture lists subject to change and race formats to be confirmed subject to guidance.
10 October League 1 Cancelled, 17 October Area XC Relays tbc, 31 October ECCA XC Relays, 7 November League 2, 28 November UK Cross Challenge & European Trials, 5 December League 3, 13 December European XC, Ireland, 9 January County XC Champs, 6 January League 4, 13 February League 5, 20 February CAU IC XC & World Trials, 6 March ECCA National XC, 13 March League 6, 20 March World XC Champs, Australia, 20 March English Schools XC Champs, 27 March SIAB Schools International.
All fixtures are subject to confirmation by event organisers and subject to government guidance updates.
2020/2021 METROPOLITAN LEAGUE UPDATE – The fixtures are as follows 10 October at Hainault, 7 November at Welwyn, 5 December at Alexandra Palace, 16 January at Ruislip, 13 February at Trent Park. We have been advised that the first 3 fixtures have now been Cancelled, and a decision later this year on how the fixtures will be restructured.
2020/2021 NORTH WEST LONDON LEAGUE UPDATE – The fixtures are as follows 28 September at Horsenden Hill, 24 October at Kingsbury and 21 November at Trent Park have been Cancelled. Brian Fowler will advise us later in the year how 2020/2021 fixtures will be restructured.
UPDATE ON PROCEDURES FOR USING ALLIANZ PARK FROM JEREMY SOTHCOTT – Which is now open to SBH members subject to the conditions below.
We have now negotiated the use of some Track & Field facilities with Saracens compliant with current guidance issued by the UK Government and England Athletics.
At the present time, the track & field groups will be limited to a maximum of five 'Competing Club Athletes' and one coach for each session e.g. 5 athletes on track and 5 athletes at the throws area.
Throws
Athletes should have their own implements. However, one implement of each weight will be left in the SBH store beside the sanitising equipment. Arrangements will have to be made in advance with TY HOLDEN.
Jumps
Following Government Guidelines up to 5 athletes with a suitably qualified coach can now undertake Jumps training utilising jump beds and sand pits. We have updated our guidance documents, based on information and advice from our partners and government, to include guidance specific to Jumps areas (such as Cleaning requirements before, during and after sessions). Athletes, coaches, clubs and venues must follow the latest guidance – please read our updated guidance documents at: 👉 https://bit.ly/2ATiU7R
The indoor track and the clubhouse gymnasium cannot be used.
Athletes invited to train by their coach must be sent the attached Allianz Park Track & Field Agreement in advance of starting training at Allianz Park. The athlete and parent (if under 16) to sign and return to me and TY before they can train.  Athletes should meet their coach promptly at their booking time outside the SBH Clubhouse where they will be asked to confirm that they do not have, and that no one in their household has, (or has had within the last 14 days) any of the symptoms of COVID-19.
The athletes will then be escorted using social distancing (2 metres) into the SBH Clubhouse to sign the attendance record with times in and out of the stadium (black A4 folder on photocopier).  There is also some hand sanitiser on the table for use. Athletes must follow the instructions of the coach and observe social distancing during warm-up, the session and cool down.
Stadium Booking details
Please let me and TY know the names of the athletes and your preferred time slots for the following week (Monday to Sunday) before 6pm on the Saturday. We will confirm the availability and distribute the schedule to Saracens and to all coaches.
Monday, Friday, Saturday and Sunday
All 1 hour 35 minute slots (Saturday & Sunday – last slot finishes at 7.20)
9.00 – 10.35, 10.45 – 12.20, 12.30 – 2.05, 2.15 – 3.50, 4.00 – 5.35, 5.45 – 7.20, 7.30 – 9.00
Tuesday, Wednesday and Thursday
There are 3 x 1 hour 35 minute slots and 7 x shorter 50 minute slots
9.15 – 10.50, 11.00 – 11.50, 12.00 – 12.50, 1.00 – 1.50, 2.00 – 2.50, 3.00 – 3.50, 4.00 – 4.50, 5.00 – 5.50, 6.00 – 7.25, 7.35 – 9.00
There is a 10 minute gap between each session for transitioning.
If you haven't got a key fob for gaining access through the clubhouse, then please contact GEOFF MORPHITIS Mobile: 07976 994302 who will arrange to issue one to you. Please do not enter the clubhouse until the coach/athletes from the previous session exit.  No parents will be permitted to enter the stadium unless there is a child protection issue i.e. one coach and one athlete aged under 18.
There is a single disabled toilet (unisex) that can be used within the indoor area.
When going in and out of the Clubhouse from the carpark please make sure the door handle is left in the upward locked position at all times.
Link to the SBH Athlete and Coach Track & Field Training Agreement, which will sent to all participating athletes, and then to be returned signed by the athlete and parent – SBH – Allianz Park Track & Field Areement During Lockdown Period
Please let me know if you have any questions – JEREMY SOTHCOTT Mobile: 07764 621424 email jeremy.sothcott@btinternet.com
ENGLAND ATHLETICS CORONAVIRUS HELP FOR ATHLETES – Many thanks to TUNJI who as reported on the 19 March newsletter is the father of NIAH AKINTOKUN. 
In these unprecedented times, I wanted to draw the club's attention to some of the great resources available online. England Athletics is expanding its campaign to support Athletics and Running for everyone @home, with a focus on 'Running @home' support and advice. The homepage can be accessed here
There are many webinars, interviews and tips from top coaches and athletes on how to stay conditioned and focused.
In addition, there are some fantastic videos for 4-11yr olds on the Funetics webpage put together in conjunction with England Athletics.  The videos demonstrate parents and children (aged 4-11) taking part in FUN activities based on fundamental core movement skills: running, jumping and throwing. Funetics is a programme that has been designed to reflect the requirements of the National Curriculum Key Stage 1 and 2. At this time when our children are currently schooling at home, we hope that these video activities will support the need for education to continue at home.  You can access the videos here   TUNJI AKINTOKUN MBE – Non Executive Director, England Athletics
THE FOLLOWING SBH DOCUMENTS/INFORMATION CAN EITHER BE VIEWED, DOWNLOADED OR PRINTED 
SBH 2020 Summer Fixture Card Front Sheet – Summer 2020 Fixture Card Front Sheet Final Issue 12-02-20
SBH 2020 Summer Fixture Card Fixtures, Updated 08-08-20 – Summer 2020 Fixture Card – Updated 08-08-20 With Current Information
Track and Field Team Managers Details – http://sbharriers.co.uk/athletics/track-field/team-managers/
Road Running Team Managers Details – http://sbharriers.co.uk/athletics/road-running/team-managers/
THE FOLLOWING INFORMATION OF INTEREST CAN BE FOUND ON THE SBH HOME PAGE BY USING THIS LINK, THEN SELECT THE LEFT OR RIGHT ARROW – http://sbharriers.co.uk/
Allianz Park Membership, which gives SBH members 10% discount on entry to the Allianz Park stadium – Membership details and Form can be either printed or downloaded
Shaftesbury Barnet Harriers Club Hoody, information on how to purchase one, please go to the bottom of this Newsletter
SBH MIDWEEK JUMPS CLUB AT ALLIANZ PARK – Please contact CLYDE GORDON on 07753 985525/clyde67@hotmail.co.uk for futher information on High Jump and Pole Vault days and times.
STEEPLECHASE TRAINING AT ALLIANZ PARK – Currently Suspended.
PARKRUN 5K RESULTS – Currently Suspended
PARKRUN – Can you make sure that you are registered as 'Shaftesbury Barnet Harriers', as the link I use to select all results only shows SBH athletes. If anyone is also officiating can you please contact me, and advise me where and when.
PHOTOGRAPH'S – From time to time we have photographs of our members taken at meetings or presentations which we would like to use both on the website or incorporated within our report to our local newspaper. Can you please let me know if you do NOT want your photograph to be used. Also, I would appreciate if you could send me any photographs, which I can then publish on the website and newsletter.
CLUB EMBROIDERED RED HOODIES – Currently there are now over 750 Hoodies in circulation, this is the link giving details on how you can order your Club Hoody for £35, which includes having your name embroidered on the front Club Hoodies Updated 01-07-19
FACEBOOK – Photographs can be found on the SBH page.
CURRENT DISTRIBUTION OF SHAFTESBURY INFORMATION – Currently I notify members (by email) using "MailChimp". The reason I changed, was in November 2017 "Gmail" put a limit of 100 addresses that users could send to in a 24-hour period, and currently I send to approximately 850 members each issue.
On seeking technical advice "MailChimp" was recommended as the best way for SBH to go forward. There is one thing you should be aware off is that when you receive an email from me, the footer at the bottom has 4 options, of which one is "Unsubscribe Me From List". Could I ask you not to select this as if you do you will be automatically removed from my distribution list.
SBH PRIVACY STATEMENT – In becoming a member, SBH will collect certain information about you. Can you please read the attached 'Privacy Statement' which contains Information on General Data Protection Regulations – SBH Privacy Statement Final April 2018
ALLIANZ PARK – Main Switchboard telephone number is 0203 675 7250.
CHARGES FOR USING ALLIANZ PARK – Currently the stadium is open for limited use.
ALAN WELLER