Happy Birthday from this Thursday 17 September to Abbas Adejonwo, Isabella Brunskill, Zane Duquemin, Kiera-Leigh Fender, Clifford Golding, Mia Groom, Daisy Harvey-Dew, Olive Harvey-Dew, Neelan Kaderbhoy, Bob Mallows, Marilyn Okoro, Euan Phillips, Nicholas Savva, Johnson Ugunniyi, Dave Weightman and Ben Wills
RECENT NEW MEMBER – We wish you a very warm welcome, and a happy, healthy and successful time with Shaftesbury to CATHERINE HIGGINS
SOUTHERN ROAD RELAYS CANCELLED – The following was posted on the SEAA website on 8 August. Unfortunately, the SEAA Road Relays scheduled for Sunday 20 September at Crystal Palace have now been cancelled. It was hoped that with the guidelines changing daily it would have been possible to hold a Road Relay event but regretfully this was not possible under the present Government and UKA guidelines. SEAA are still planning to hold Cross Country Championships, starting with the Relays on 17 October, as well as Indoor Track & Field Championships.  All dependent of course on the guidelines to be issued by England Athletics shortly.
John Gandee SEAA Competition Chairman
HUNTINGDONSHIRE INTRA-CLUB SERIES – Took place at St Ives on 14-15 September
300m – SX 3 SOPHIE FORBES-LAIRD U17 3rd (PB 41.7) taking .21 of a second off her 22 August time 
ISTAF BERLIN FESTIVAL – Took place at Berlin on 13 September
100m – SM OJIE EDOBURUN 6th (10.60 w0.4) 
3000m Steeplechase – SW LIZZIE BIRD 3rd (SB 9:55.21) and is ranked UK No.3 in 2020 
SOUTH OF ENGLAND ACADEMY THROWS FESTIVAL – Took place at Portsmouth on 13 September
Discus 2kg – SM D NICK PERCY 1st (60.22m)  
BIGISH HIGH JUMP MINI SERIES – Took place at Chelmsford on13 September
High Jump – SM KIMANI JACK U17 3rd (PB 1.99m) adding 4cm to his 2019 height, and is ranked UK No.2 U17 in 2020, BEN BELLISARIO U20 5th Equal (PB 1.94m) adding 4cm to his 2019 height, SX A OR SEGAL U17 1st (PB 1.85m) adding 4cm to his 15 March height 
COLCHESTER HARRIERS THROWS DEVELOPMENT MEETING – Took place at Colchester on 13 September
WT 11.34kg – SM OLIVER GRAHAM U20 1st (PB 19.54m) adding 1.03m to his 2018 throw
Hammer 5kg – SW PHILIPPA DAVENALL U23 1st (PB 56.02m) adding 4.73m to her 23 August throw
Hammer 6kg – SM OLIVER GRAHAM U20 1st (PB 65.89m) adding 1.79m to his 16 August throw, and is ranked UK No.2 U20 in 2020
Hammer 7.26kg – SM OLIVER GRAHAM U20 1st (PB 57.94m) adding 2.15m to his 23 August throw 
MILTON KEYNES JUMPS AND THROWS MEETING – Took place at Milton Keynes on 13 September
Shot 5kg – SM A JAMES ISAACS U17 1st (PB 15.52m) adding 80cm to his 1 August put, and is ranked UK No.3 U17 in 2020, GABRIEL LAMB U17 3rd (PB 11.20m) adding 7cm to his 11 July put
Discus 1kg – SX A KATIE WEBB U17 2nd (33.98m), B CLAUDIA KERRY-ROGER U17 (2nd Claim) 1st (37.94m)
Discus 1.5kg – U17M A GABRIEL LAMB U17 1st (PB 44.78m) adding 53cm to his 30 August throw, and is ranked UK No.5 U17 in 2020
WINDSOR, SLOUGH, ETON AND HOUNSLOW MIDDLES DISTANCE MEETING – Took place at Eton on 13 September
1500m Steeplechase – SW AMELIA WILLS U20 (2nd Claim) 4th (SB 5:28.25) and is ranked UK No.1 U20 in 2020
BFTTA OPEN MEETING – Took place at Dagenham on 12 September
100m – U13G 2 JESSICA GIBBS U13 1st (PB 13.41 w3.5) taking .53 of a second off her 23 August time, 3 SIENNA CORBYN U13 3rd (PB 13.55 w4.1) taking .21 of a second off her 23 August time
100m – U15B 3 ZICO JONES U15 6th (11.77 w1.6), 4 MALACHI AMADI U15 1st (PB 11.14 w2.9) taking .03 of a second off his 23 August time
200m – U13G 1 JESSICA GIBBS U13 1st (27.81 w3.2), SIENNA CORBYN U13 2nd (PB 28.25 w3.2) taking 1.82 seconds off her 2019 time
200m – U15B 1 JAYDEN KLEIN U15 4th (PB 26.02 w1.7) taking .72 of a second off his 14 March time, 2 MALACHI AMADI U15 1st (PB 22.50 w4.0) taking .17 of a second off his 23 February time
200m – SM 2 MORGAN WEBSTER U23 1st (PB 22.17 w1.3) taking .03 of a second off his 8 September time
300m – U15B ZICO JONES U15 1st (PB 37.48) taking .02 of a second off his 23 February time, and is ranked UK No.5 U15 in 2020
300m – U15G OLIVE HARVEY-DEW U15 3rd (47.82)
300m – U17W 2 MANON BAINES U17 6th (43.21)
400m – SX 2 COLUMBA BLANGO T20/F20 1st (49.69)
800m – U13B ARTHUR PHILLIPS U13 1st (PB 2:30.85) taking 10.75 seconds off his 2019 time
800m – U13G 2 PHOEBE MUSIC U13 6th (SB 2:51.68)
800m – U15B 1 DANIEL BANYARD U15 2nd (PB 2:22.71) 
ETC SEPTEMBER INVITATIONAL THROWS MEETING – Took place at Moulton on 12 September
Shot 3kg – U17W A CLAUDIA KERRY-ROGER U17 (2nd Claim) 5th (PB 10.44m) adding 59m to her 2018 put
Discus 1kg – SW A CLAUDIA KERRY-ROGER U17 (2nd Claim) 1st (PB 39.46m) adding 4.54m to her 30 August throw, and is ranked UK No.5 U17 in 2020, BJADE LALLY2nd (56.70m)
Discus 2kg – SM B NICK PERCY 1st (61.88m) 
4J STUDIOS OPEN MEETING – Took place at Meadowmill on 12 September
200m – SX A1 KRISHAWN AIKEN 1st (22.35 w1.9) 
NORFOLK OPEN MEETING – Took place at Norwich on12 September
Hammer 4kg – SX LUCY KOENIGSBERGER U20 3rd (SB 41.32m) 
SOUTH LONDON HARRIERS OPEN MEETING – Took place at Coulsdon on 12 September
800m – SX 9 ELLIE BAKER U23 5th (2:03.93) 
DASH SERIES – Took place at Bromley on11 September
High Jump – SW KACEY WALTERS U17 2nd (1.62m) 
POZNAN ATHLETICS GRAND PRIX – Took place at Poznan, Poland on 11 September
400m Hurdles – SW LINA NIELSEN 3rd (57.30)
PTS MEETING – Took place at Samorin, Slovakia on 11 September
400m Hurdles – SW HAYLEY MCLEAN 4th (57.67) 
JERSEY SUMMER THROWS SERIES – Took place at St Clement on 10 September.
Discus 1.75kg – EVAN CAMPBELL U20 1st (PB 43.27m) adding 67cm to his 10 March put, and is ranked UK No.10 U20 in 2020
Discus 2kg – NATHAN THOMAS U23 1st (42.27m), CAMERON CAMPBELL U23 2nd (38.50m)
HARROW 3000m RACE NIGHT AND LONG JUMP – Took place at Harrow on 10 September.
3000m – SX 5 MAX WINFIELD U17 6th (PB 9:53.12), 8 SAMUEL GREENSTEIN U17 8th (PB 9:02.70) taking 38.74 seconds off his 2019 time, DANIEL GREENSTEIN U20 10th (PB 9:05.00) taking 7.28 seconds off his 6 September time, 10 LIAM GARRETT U20 (2nd Claim) 4th (8:40.90)
CHELMSFORD SPRINTS OPEN MEETING – Took place at Chelmsford on 9 September
100m – SX 6 NENGI OSSAI V45 2nd (11.29 w2.0)
200m – SX 1 NENGI OSSAI V45 4th (SB 22.84 w1.7) taking .19 of a second off his 8 February time, and is ranked UK No.5 V45 in 2020
HIGHGATE HARRIERS MIDDLE DISTANCE OPEN MEETING – Took place at Parliament Hill on 9 September.
3000m – SX 6 ALEXANDER LEPRETRE (HCA) 4th (8:24.9)
CHARNWOOD OPEN MEETING – Took place at Loughborough on 9 September.
800m – SX 3 HANNAH RIDLEY 10th (2:21.05), 4 SAM WIGGINS U23 1st (1:53.16)
Shot 4kg – SW B SARAH RIDLEY 2nd (SB 10.04m) adding 38cm to her 8 February put
JAMAL LEWIS SIGNS FOR NEWCASTLE UNITED – JAMAL was a member of SBH during 2013-2014, having joined us from his local club Luton AC in 2013 until the end of 2014. JAMAL started his athletic career in 2009 with Luton AC as an Under 13, competing consistency in the EYAL in the 800m, during 2009 he also signed for Luton Town Football Club. His athletic career blossomed in 2012 winning the Southern Under 15 800m, 2nd in the England U15 800m Championships with a time of (1:59.32) ranking him UK No.4, and 3rd in the England U15 Schools 800m Championships, also he finished 5th in the England U15 Schools XC Championships.
He joined Shaftesbury at the end of July 2013 and his first race for club was the National Road Relays at Sutton Park, Birmingham on 13 October. What a debut with the team winning by 45 seconds, recording (35.51), 2nd were Aldershot, Farnham & District (36.36), 3rd Vale Royal (36.53). Leg 1 was a momentous battle with JAMAL recording the 5th fastest time of the day (11.51) just 1 second ahead of JAMES MCCARTHY of Chiltern Harriers (11.52), on Leg 2 JAMIE DEE increased our lead to 13 seconds, recording the 7th fastest time of the day (11.55), on the final Leg was ROBBIE LIGHTOWLER who extended our winning lead with a time of (12.05).
In 2014 we were all aware the football was going to be his future, and ran his last race in the UKYDL on the 27 July. He subsequently signed for Norwich City FC in August. JAMAL playing full back made his senior debut for Norwich against Brentford as a substitute in December 2017, and made his full debut on Boxing Day 2017 against Birmingham City. JAMAL made 28 appearances for Norwich City in the 2019-2020 Premier League, In August 2020 Norwich rejected a £10 million bid from Liverpool.  JAMAL signed a five-year contract with Newcastle United on 8 September 2020, and made his debut on 12 September 2020 in a 0-2 away win against West Ham.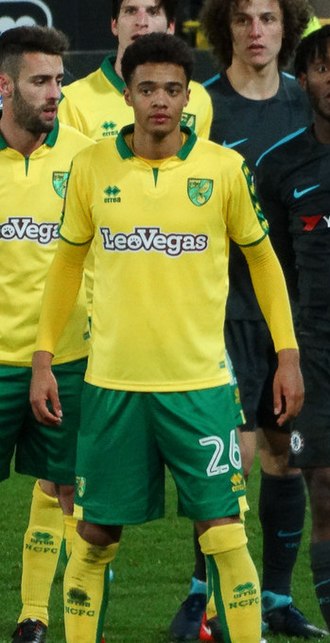 His career to date is 93 appearances for Norwich City and 13 appearances for Northern Ireland.
ROSALIND ZEFFERTT ABSEILING TO RAISE FUNDS FOR LONDON'S AIR AMBULANCE – On Sunday 13 September, SBH Assistant Officials Secretary, ROSALIND ZEFFERTT was due to abseil down from the heliport on the 17th floor of the Royal London Hospital. Unfortunately, the fundraiser was postponed at the last minute as a result of new Government guidance on Coronavirus. She will have another go when it's reinstated.
CHELMSFORD CROSS COUNTRY RELAYS – Takes place on 24/25 October. The U13, U15, U17 races will consist of three legs each of 3000mts take place on 24 October, and Seniors & U20 races will consist of four legs each of 3000mts take place on 25 October. The course is a single surface of grass with four small tarmac paths to cross so is suitable for spikes or trail shoes.
If you wish to be considered please contact your respective Team Manager, this is the link to the Chelmsford flyer which gives all details including Covid-19 regulations – Chelmsford XC Relays
CHRISTIAN MALCOLM NEW HEAD COACH OF THE BRITISH TEAM – The following was published on the athletics Weekly website recently. MALCOL M'S photograph by MARK SHEARMAN. As CHRISTIAN MALCOLM settles into his new role as head coach of the British team less than a year before the Tokyo Olympics, the 41-year-old ex-sprinter appears to have all the attributes for success. Knowledgeable, experienced and approachable, he is certain to be a popular choice with athletes and fans.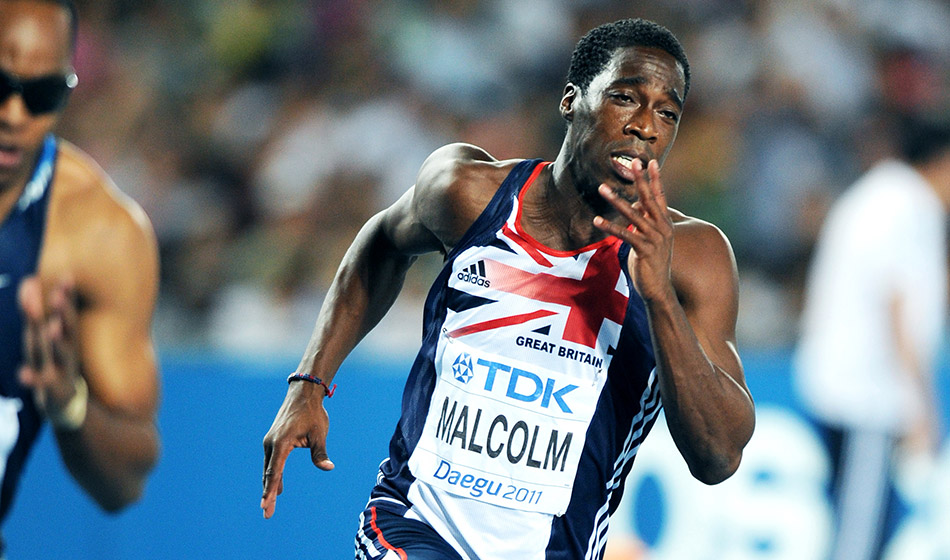 Just over 20 years ago I got the train down to South Wales to interview him for AW. After picking me up at the station in his white VW he took me to Newport Stadium where he spoke in relaxed, laid-back fashion about the European indoor 200m title he had won a few days beforehand, plus the world junior sprint double he had captured 18 months earlier. JOCK ANDERSON, his coach at the time, was also with us that day and described MALCOLM as "a bloody nuisance" when he first arrived at the athletics club as a 12-year-old full of raw talent and mischief. "But he was too nice a kid for me to ever tell him off," he added. In addition ANDERSON revealed that MALCOLM'S nickname was 'Flash'. Indeed, his turn of pace not only brought him world junior titles but earned football trials with Notts Forest and Queen's Park Rangers. His big passion was athletics, though. His art teacher at school was MERIEL DAVIES, the wife of Olympic long jump champion LYNN, whereas athletics coach ANDERSON subsequently stoked his ambition on the track. After choosing sprinting over soccer, he enjoyed a long and successful career without quite achieving true greatness. He finished a fine fifth in global 2000m finals in Sydney and Edmonton in 2000 and 2001, for example, in addition to making four Olympic teams and winning medals at European Championships and Commonwealth Games – the latter proudly wearing his Welsh vest. MALCOLM won his world junior titles before some of today's GB team were even born and he now joins a national governing body to work alongside Sara Symington, the recently-appointed performance director. Whereas MALCOLM has track and field running through his veins and possesses a wide range of contacts, Symington comes from outside the sport. So they should hopefully complement each other nicely.
No doubt MALCOLM will bring some of the ideas and philosophies from his past coaches such as ANDERSON and LINFORD CHRISTIE – the 1992 Olympic 100m champion. Surely MALCOLM will be far more at home – and effective – operating at trackside as opposed to working behind a desk, too. Full of easy charm and with teeth that would make SIMON COWELL envious, MALCOLM is a super-friendly character. Don't be too fooled by his easy-going nature, though, because behind the wide smile is a man who knows how cut-throat and competitive elite athletics can be. He realises what it takes to make the podium, but ideally dealing with Olympic hopefuls will only be part of his mission. When he was at his peak – running 10.11 and 20.08 for 100/200m at the turn of the millennium – the AW columnist TONY WARD used to ask on an almost weekly basis "who's in charge of coaching?" He was referring in particular to the wider world of athletics coaching – from elite level down to the grassroots club scene – and it is a question that UKA has historically struggled to answer, although hopefully they can now confidently point to MALCOLM and say, quite simply: "It's him!" Every champion – from DINA ASHER-SMITH to KATARINA JOHNSON-THOMPSON to MO FARAH – started life at an athletics club with a humble club coach. So it would be great to see Malcolm's job description spanning beyond the narrow, elite-oriented "Olympic programme" that his recent predecessors such as NEIL BLACK and CHARLES VAN COMMENEE have overseen. How can British athletics, for example, stem the ongoing bleed of talented teenagers who lose their form or quit completely once they reach the senior ranks? As a former sprints prodigy who was almost lost to football, MALCOLM is better placed than most to start solving this problem. The head coach should be a man that every coach in the UK looks to for inspiration and guidance, rather than the role simply being for someone who oversees the Lottery-funded elite. Taking such a prominent position in a country with such a rich athletics tradition, much will be expected of MALCOLM. Do not expect him to buckle under the pressure, though. As an athlete he experienced pressure at the highest level and always looked to be the coolest athlete on the track. If there are any doubts surrounding him, it is his ability to make ruthless decisions when necessary. At the World Championships in Doha I bumped into him on the roadside during the women's marathon and we chatted about old times – and his latest job Down Under – for some time as the female runners shuffled past us, struggling in the intense heat and humidity. Ironically and somewhat poignantly, UKA's performance director at the time, NEIL BLACK, was standing just metres away but no one could have predicted that less than a year later Black would no longer be with us and MALCOLM would be swapping his Athletics Australia uniform for British Athletics kit.
EURO CROSS IN DUBLIN CANCELLED – The following was published on the athletics Weekly website recently. 13 December meeting in Ireland has been called off due to the coronavirus pandemic. Photograph of the 2016 Euro Cross by MARK SHEARMAN.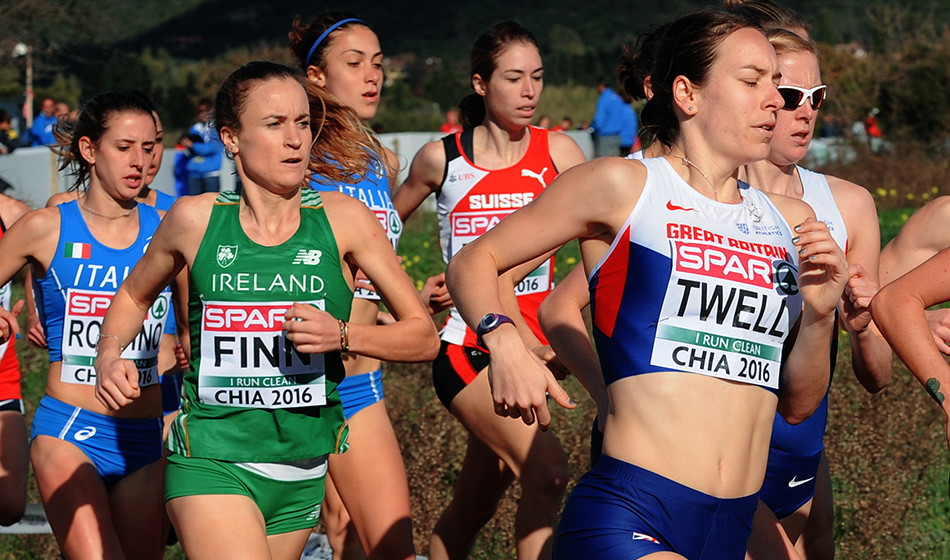 Back in 2001 Dublin was forced to abandon staging the World Cross Country Championships due to the foot-and-mouth outbreak and the event was moved to Belgium. Now lightning has struck twice with another disease – coronavirus – leading to the cancellation of the European Cross Country Championships on December 13. The event was due to be staged at the Sport Ireland campus at Abbotstown but travel restrictions mean the event has too much uncertainty surrounding it and the organising committee has abandoned attempts to stage it. The news will come as a bitter blow to British cross-country runners, who often dominate the Euro Cross and would have aimed to earn selection at the GB trial in Liverpool in late November. It is also bad news for cross-country running in general as the sport has been striving to get back into action this winter following the cancellation of next month's Cardiff Cross Challenge in South Wales. Read More: Milton Keynes could now kick off Cross Challenge series
The Irish Times reports that the Dublin organising committee says the event is off "due to too many uncertainties and existing sanitary restrictions in Ireland associated to the Covid-19 situation". European Athletics interim president DOBROMIR KARAMARINOV said: "Following the cancellation of the Paris 2020 European Athletics Championship a few months ago, this was the last opportunity for a major European Athletics event this year and cancelling it was not an option we chose lightly." Turin is currently due to stage the 2021 event but at the turn of the millennium after Dublin was forced to cede the 2001 World Cross it was later allowed to stage a successful 2002 championships at Leopardstown racecourse.
CAN YOU HELP PLEASE – During the period when all competitions are suspended, I will do my upmost in keeping the Newsletter information and other content going.
I would welcome any contributions From Yourselves, any impending marriages, or additions to the family, any running or competing incidents, also past warm weather training/holidays (No Club 24 please). Currently the response has been excellent, but if you have anything that could make it into next week's Newsletter – please email me.
ENGLAND ATHLETICS/ECCA/AREA LEAGUE CROSS COUNTRY UPDATE – The following was published by England Athletics on 28 August 2020.
England Athletics is pleased to announce that we have begun making steps towards a restricted return to Cross Country competition. On the 27 August 2020 we held a meeting with the Cross Country community, including the ECCA, the areas, and some league organisers to agree on the following proposed timeline for a return to Cross Country Competition:
Mid-September to mid-October – Pilot XC Competitions
5 October – Licence application process opens
17 October – Licensed Cross Country competition can resume
These dates are provisional and will be adapted if necessary, with any additional Government guidance that is issued.
Cross Country competition will be unable to resume in the traditional format, adaptations will have to be made based on the current circumstances regarding the virus. However, England Athletics believe this is an exciting step forward for the Cross-Country community and we are currently working on guidance with the named organisations to support competition providers in providing a safe return to adapted cross country competition.
We are aiming for a version of the guidance to be published for competition organisers on W/C 14 September 2020. It will be the decision of the competition provider whether they will host competitions given the restrictions within the guidance. The 2020/21 XC fixture dates are below. All cross-country dates will remain ring fenced until further notice. Due to the licensing timeline above all have agreed the first league fixture date in October will be cancelled. All licensed competitions will be published on the England Athletics website when licensing opens.
Cross Country fixture lists subject to change and race formats to be confirmed subject to guidance.
10 October League 1 Cancelled, 17 October Area XC Relays tbc, 31 October ECCA XC Relays, 7 November League 2, 28 November UK Cross Challenge & European Trials, 5 December League 3, 13 December European XC, Ireland, 9 January County XC Champs, 6 January League 4, 13 February League 5, 20 February CAU IC XC & World Trials, 6 March ECCA National XC, 13 March League 6, 20 March World XC Champs, Australia, 20 March English Schools XC Champs, 27 March SIAB Schools International.
All fixtures are subject to confirmation by event organisers and subject to government guidance updates.
2020/2021 METROPOLITAN LEAGUE UPDATE – The fixtures are as follows 10 October at Hainault, 7 November at Welwyn, 5 December at Alexandra Palace, 16 January at Ruislip, 13 February at Trent Park. We have been advised that the first 3 fixtures have now been Cancelled, and a decision later this year on how the fixtures will be restructured.
2020/2021 NORTH WEST LONDON LEAGUE UPDATE – The fixtures are as follows 28 September at Horsenden Hill, 24 October at Kingsbury and 21 November at Trent Park have been Cancelled. Brian Fowler will advise us later in the year how 2020/2021 fixtures will be restructured.
UPDATE ON PROCEDURES FOR USING ALLIANZ PARK FROM JEREMY SOTHCOTT – Which is now open to SBH members subject to the conditions below.
We have now negotiated the use of some Track & Field facilities with Saracens compliant with current guidance issued by the UK Government and England Athletics.
At the present time, the track & field groups will be limited to a maximum of five 'Competing Club Athletes' and one coach for each session e.g. 5 athletes on track and 5 athletes at the throws area.
Throws
Athletes should have their own implements. However, one implement of each weight will be left in the SBH store beside the sanitising equipment. Arrangements will have to be made in advance with TY HOLDEN.
Jumps
Following Government Guidelines up to 5 athletes with a suitably qualified coach can now undertake Jumps training utilising jump beds and sand pits. We have updated our guidance documents, based on information and advice from our partners and government, to include guidance specific to Jumps areas (such as Cleaning requirements before, during and after sessions). Athletes, coaches, clubs and venues must follow the latest guidance – please read our updated guidance documents at: 👉 https://bit.ly/2ATiU7R
The indoor track and the clubhouse gymnasium cannot be used.
Athletes invited to train by their coach must be sent the attached Allianz Park Track & Field Agreement in advance of starting training at Allianz Park. The athlete and parent (if under 16) to sign and return to me and TY before they can train.  Athletes should meet their coach promptly at their booking time outside the SBH Clubhouse where they will be asked to confirm that they do not have, and that no one in their household has, (or has had within the last 14 days) any of the symptoms of COVID-19.
The athletes will then be escorted using social distancing (2 metres) into the SBH Clubhouse to sign the attendance record with times in and out of the stadium (black A4 folder on photocopier).  There is also some hand sanitiser on the table for use. Athletes must follow the instructions of the coach and observe social distancing during warm-up, the session and cool down.
Stadium Booking details
Please let me and TY know the names of the athletes and your preferred time slots for the following week (Monday to Sunday) before 6pm on the Saturday. We will confirm the availability and distribute the schedule to Saracens and to all coaches.
Monday, Friday, Saturday and Sunday
All 1 hour 35 minute slots (Saturday & Sunday – last slot finishes at 7.20)
9.00 – 10.35, 10.45 – 12.20, 12.30 – 2.05, 2.15 – 3.50, 4.00 – 5.35, 5.45 – 7.20, 7.30 – 9.00
Tuesday, Wednesday and Thursday
There are 3 x 1 hour 35 minute slots and 7 x shorter 50 minute slots
9.15 – 10.50, 11.00 – 11.50, 12.00 – 12.50, 1.00 – 1.50, 2.00 – 2.50, 3.00 – 3.50, 4.00 – 4.50, 5.00 – 5.50, 6.00 – 7.25, 7.35 – 9.00
There is a 10 minute gap between each session for transitioning.
If you haven't got a key fob for gaining access through the clubhouse, then please contact GEOFF MORPHITIS Mobile: 07976 994302 who will arrange to issue one to you. Please do not enter the clubhouse until the coach/athletes from the previous session exit.  No parents will be permitted to enter the stadium unless there is a child protection issue i.e. one coach and one athlete aged under 18.
There is a single disabled toilet (unisex) that can be used within the indoor area.
When going in and out of the Clubhouse from the carpark please make sure the door handle is left in the upward locked position at all times.
Link to the SBH Athlete and Coach Track & Field Training Agreement, which will sent to all participating athletes, and then to be returned signed by the athlete and parent – SBH – Allianz Park Track & Field Areement During Lockdown Period
Please let me know if you have any questions – JEREMY SOTHCOTT Mobile: 07764 621424 email jeremy.sothcott@btinternet.com
ENGLAND ATHLETICS CORONAVIRUS HELP FOR ATHLETES – Many thanks to TUNJI who as reported on the 19 March newsletter is the father of NIAH AKINTOKUN. 
In these unprecedented times, I wanted to draw the club's attention to some of the great resources available online. England Athletics is expanding its campaign to support Athletics and Running for everyone @home, with a focus on 'Running @home' support and advice. The homepage can be accessed here
There are many webinars, interviews and tips from top coaches and athletes on how to stay conditioned and focused.
In addition, there are some fantastic videos for 4-11yr olds on the Funetics webpage put together in conjunction with England Athletics.  The videos demonstrate parents and children (aged 4-11) taking part in FUN activities based on fundamental core movement skills: running, jumping and throwing. Funetics is a programme that has been designed to reflect the requirements of the National Curriculum Key Stage 1 and 2. At this time when our children are currently schooling at home, we hope that these video activities will support the need for education to continue at home.  You can access the videos here   TUNJI AKINTOKUN MBE – Non Executive Director, England Athletics
THE FOLLOWING SBH DOCUMENTS/INFORMATION CAN EITHER BE VIEWED, DOWNLOADED OR PRINTED 
SBH 2020 Summer Fixture Card Front Sheet – Summer 2020 Fixture Card Front Sheet Final Issue 12-02-20
SBH 2020 Summer Fixture Card Fixtures, Updated 08-08-20 – Summer 2020 Fixture Card – Updated 08-08-20 With Current Information
Track and Field Team Managers Details – http://sbharriers.co.uk/athletics/track-field/team-managers/
Road Running Team Managers Details – http://sbharriers.co.uk/athletics/road-running/team-managers/
THE FOLLOWING INFORMATION OF INTEREST CAN BE FOUND ON THE SBH HOME PAGE BY USING THIS LINK, THEN SELECT THE LEFT OR RIGHT ARROW – http://sbharriers.co.uk/
Allianz Park Membership, which gives SBH members 10% discount on entry to the Allianz Park stadium – Membership details and Form can be either printed or downloaded
Shaftesbury Barnet Harriers Club Hoody, information on how to purchase one, please go to the bottom of this Newsletter
SBH MIDWEEK JUMPS CLUB AT ALLIANZ PARK – Please contact CLYDE GORDON on 07753 985525/clyde67@hotmail.co.uk for futher information on High Jump and Pole Vault days and times.
STEEPLECHASE TRAINING AT ALLIANZ PARK – Currently Suspended.
PARKRUN 5K RESULTS – Currently Suspended
PARKRUN – Can you make sure that you are registered as 'Shaftesbury Barnet Harriers', as the link I use to select all results only shows SBH athletes. If anyone is also officiating can you please contact me, and advise me where and when.
PHOTOGRAPH'S – From time to time we have photographs of our members taken at meetings or presentations which we would like to use both on the website or incorporated within our report to our local newspaper. Can you please let me know if you do NOT want your photograph to be used. Also, I would appreciate if you could send me any photographs, which I can then publish on the website and newsletter.
CLUB EMBROIDERED RED HOODIES – Currently there are now over 750 Hoodies in circulation, this is the link giving details on how you can order your Club Hoody for £35, which includes having your name embroidered on the front Club Hoodies Updated 01-07-19
FACEBOOK – Photographs can be found on the SBH page.
CURRENT DISTRIBUTION OF SHAFTESBURY INFORMATION – Currently I notify members (by email) using "MailChimp". The reason I changed, was in November 2017 "Gmail" put a limit of 100 addresses that users could send to in a 24-hour period, and currently I send to approximately 850 members each issue.
On seeking technical advice "MailChimp" was recommended as the best way for SBH to go forward. There is one thing you should be aware off is that when you receive an email from me, the footer at the bottom has 4 options, of which one is "Unsubscribe Me From List". Could I ask you not to select this as if you do you will be automatically removed from my distribution list.
SBH PRIVACY STATEMENT – In becoming a member, SBH will collect certain information about you. Can you please read the attached 'Privacy Statement' which contains Information on General Data Protection Regulations – SBH Privacy Statement Final April 2018
ALLIANZ PARK – Main Switchboard telephone number is 0203 675 7250.
CHARGES FOR USING ALLIANZ PARK – Currently the stadium is open for limited use.
ALAN WELLER