Happy Birthday from this Thursday 15 April to Victoria Godfrey, Scarlett Kent, Lauren Maltz, Lola McCann-Ezekiel, Kelly Mavididi, Dylan Michel, Tristan Procida, Robert Rigby, Sean Sutherland and Alan Weller
RECENT NEW MEMBERS – We wish you a very warm welcome, and a happy, healthy and successful time with Shaftesbury to RAPHAEL AARON, YASH GANDHI, NATANEL KARP and EITAN MOR
2021 SBH SUMMER FIXTURE CARD – Was issued by email on 11 April, and at the same time was posted on the SBH Website. This is the fixture card which you can open and print for future reference – Front Sheet SBH Summer 2021 Fixture Card Front Sheet – Issued 11-04-21 – Fixtures SBH Summer 2021 Fixture Card Fixtures – Issued 11-04-21
Details of all fixtures will be published on the SBH Weekly Newsletter, the first publication will be on the Thursday 7 May Newsletter, and will show fixtures for the following 4 weeks.
LEE VALLEY FIXTURES APRIL TO SEPTEMBER 2021 – The first Open Meeting is on Sunday 25 April, these are the full details.
LEE VALLEY OPEN MEETING – Takes place on Sunday 25 April at Lee Valley Athletics Centre, 61 Meridian Way, Edmonton, London (Satnav N9 0AR).
Age-groups Under 13 and above. Cost is £9 per event.
Timetable for track events – 25-04-21 Track Timetable (1) field events 25-04-21 Field Timetable (1)
Please Note: For all information including entering yourself online please use this link – https://www.visitleevalley.org.uk/athletics-events
Entries Close Sunday 22 April, Although An Event Could Be Full Soon, So Enter Early
The remaining fixtures can be found on their website https://www.visitleevalley.org.uk/athletics-events but entries are not open at present.
100m/200m Sprint Series – Wednesday 28 April (Closing date Sunday 25 April), Wednesday 9 June (Closing date Sunday 6 June), Wednesday 7 July (Closing date Sunday 4 July), Wednesday 4 August (Closing date Sunday 1 August), Wednesday 1 September (Closing date Sunday 29 August). Age-groups Under 13 and above.
Double 100m Sprint Series – Wednesday 26 May (Closing date Sunday 23 May), Wednesday 23 June (Closing date Sunday 20 June), Wednesday 21 July (Closing date Sunday 18 July), Wednesday 18 August (Closing date Sunday 15 August). Age-groups Under 13 and above.
5K Fest – Wednesday 12 May (Closing date Sunday 9 May). Age-groups Under 17 and above.
Regarding Closing Dates – An Event Could Be Full Maybe 1-2 Weeks Before The Meeting Date, So Enter Early.
LEE VALLEY APRIL OUTDOOR MEETING – Took place at Lee Valley on 10 April.
100m – SX 2 BRAD DAVIES-PUGH U20 2nd (PB 10.91 w1.9) taking .29 of a second off his 2019 time, and is ranked UK No.3 U20 in 2021, 10 ELYSE DUNCAN-BROWN U17 8th (SB 14.34 w0.7)
200m – SX 5 HAYLEY MCLEAN 4th (SB 25.45 w1.4)
400m – SX 1 COLUMBA BLANGO T20/F20 6th (SB 51.51), 2 HAYLEY MCLEAN 6th (SB 55.92)
ATW CROSS COUNTRY SERIES – The third race in the series took place at Merchant Taylor's School, Northwood on Saturday 10 April March.
Under 13 Boys –  ARTHUR PHILLIPS 10th (13.56), THOMAS CADWALLADER 13th (14.05) the winner was JAKE MEYBURGH of Windsor, Slough, Eton & Hounslow (12.28) 50 runners finished
Under 15 Boys –  TOMMY NARVAEZ 36th (19.34) the winner was BENJAMIN PECK of St Edmunds Pacers (14.17) 40 runners finished
Under 15 Girls –  LILI FOWKES-GAJAN 37th (22.56) the winner was ANNA JOLLIFFE of Bicester (16.33) 39 runners finished
Under 17 Men –  ASH FOWKES-GAJAN 7th (18.15) the winner was LEWIS SULLIVAN of St Edmunds Pacers (17.17) 27 runners finished
Under 20 Men –  ALEX LYTRIDES 2nd (31.16) the winner was MONTE WATSON of Highgate Harriers (30.03) 4 runners finished
Under 20 Women –  EMILY HATHAWAY 2nd (36.37) the winner was AMY KILLICK of Leighton Buzzard (33.16) 3 runners finished
Senior Men –  KEVIN WALDEN V35 17th (32.47) the winner was RICHARD SLADE of Chiltern Harriers (30.03) 36 runners finished, TIM PARKIN V40 18th (32.47) the winner was SIMON COOMBS of Herne Hill Harriers (29.41) 51 runners finished
SCOTTISH ATHLETICS SPRING THROWS OUTDOOR MEETING – Took place in Linwood on 10 April.
Hammer 7.26kg – SM CHRIS BENNETT 1st (SB 75.89m) adding 2.88m to his 28 February throw, and is ranked UK No.1 in 2021
TRAFFORD OUTDOOR MEETING – Took place in Stretford on 10 April.
Shot 7.26kg – SM SCOTT LINCOLN (HCA) 1st (SB 20.29m) adding 23cm to his 14 February put, and is ranked UK No.1 in 2021
PARKRUN 5K – Took place in Perry Lakes, Perth, Australia on 10 April.
5K – STUART MOORE V60 87th (30.11)
TOM BOLTS INVITATIONAL OUTDOOR MEETING – Took place in Columbia, Missouri, USA on 9-10 April.
Hammer 7.26kg – SM GEORGE EVANS (Kansas University) 7th (PB 55.24m) adding 1.32m to his 26 March throw
DAVE BRADLEY – YES, I DID ACTUALLY RUN – A while ago an esteemed member of the SBH establishment who had only known me as a team manager and meeting manager asked me if I had ever competed for the club. Swiftly resolving his shocking ignorance, I found him looking at me as if he could just about believe it. So, at the prompting of the Club Secretary and to avoid being asked such awkward questions again I have put together a few words about my near half century of association with SBH.
At school, I was small for my age and to avoid getting beaten up on the rugby pitch I did cross-country running. Moving to Sussex University I found that I could get in the team and was Secretary and then President. It resulted in my first press cuttings with pictures of our team in the Bognor Regis Observer as we won the Butlins Road Relay along the seafront. Our best result was 11th in the Hyde Park Road Relay where we had four good runners and two duffers including me. In my second summer, we had a track meeting and on a grass, track I ran close to 2 minutes for an 800m., and about 55 seconds for a 400m. These were obviously superior to my cross-country and so I trained for the 800m the next year, getting down to (1:58) in the UAU Final at Loughborough. I did not fare so well at the BUSF at Meadowbank, but we did do the Orienteering Championships on the way back. Finishing college in the summer of 1972 I happened to go to train at my local track – the Bannister, and found BOB PARKER'S squad. I was working away from home for quite a bit but generally trained with BOB'S squad and did cross-country and road during the winter. This included a trip to do the Nos Galan races in the year that JULIAN GOATER won it. I did alright in the Mile in the afternoon but after an evening of drinking the 4 miles did not go so well. The next season saw me competing in the lowly regions of the Southern League just as the MORPHITIS management started our surge to the upper echelons. My 800m times were nothing special for Shaftesbury Harriers (as it was then) so I did 400m races. Over the next couple of years my 800m times did not really come down, but I ended up running 50 seconds for the 400m. So, Bob introduced me to RON RODDEN, and now living in Ealing I trained with him as Shaftesbury moved up the leagues.  In 1976 I got down to 49 secs., and was our mainstay until we got into the BAL and ROY DICKENS arrived.  At the end of that year I did the 800 m in the GLC Champs. and ran a very surprising (1:55) to get 2nd. behind GUY MCCALLUM. So, it was back to the 800 m. for a year but I was not able to get under (1:55), and aiming to keep a place in the team I belatedly took up hurdling.  That enabled me score points for us when we won the GRE Gold Cup at Cwmbran in 1978. Those were good days running in the BAL, Gold Cup and for Middlesex and the SCAAA.  I did relay legs against DALEY THOMPSON and STEVE OVETT, and held ALLAN WELLS to a yard – in 4th. place over 400m. in a Gold Cup Semi, when he was still basically a long jumper. I posted my best hurdles time of (54.8) running for Middlesex in the Sefton Brancker Trophy in 1981, and actually won the "B" 400m Hurdles in the first BAL Div.1 match in 1982    After this, injuries curtailed competition but I had got involved in administration for SBH and others.   From 1977 – 82 I was the SBH Club Secretary and Statistician. I was the Middlesex Team Manager for 3 years, and have recently unearthed the plaque I have for managing the winning team at the 1983 CAU at Leicester.
At this time, I had been on ANDY NORMAN'S General Committee of the SCAA but was displaced by others of a more commercial disposition.  I had also been involved with the BAL organisation but also became disenchanted with it and so I decided to pack up formal involvement – for about 10 years. At this time DAVE BRYANT had been organising a "fun" team in the Southern League, but was moving away. So, in 1992 I came back as its team manager. We had a good 12 years, obtaining places in the BAL promotion match a couple of times but sensibly declining them. It was here that I first met CLYDE. We had not got a "B" 200m runner so I was quite surprised to see someone finishing the race for us. CLYDE had been doing the Discus and seeing that we had not got anyone at the start he put his spikes on and ran.  This was typical of the Southern League team which often finished off with a 4 x 400 relay team of steeplechasers and triple jumpers. We also used to have a good team on Thursday but after the BAL team was filled out we would be rather short. Unfortunately, the road congestion made travelling more and more difficult.
We concluded that a London based BAL "B" team competition would be more appropriate and started the London Inter-Club Challenge – the LICC. This also included an amount of open competition but the other clubs fell away and it is essentially an open competition now. It certainly fulfils the need for competition for all our members. After the LICC started our daughter started competition swimming and so I moved efforts to the Ruislip Northwood swimming squad and ended up being their competition secretary. Then she started secondary education and swimming took up too much time, but thankfully became interested in Throwing, and so she and I returned to the SBH Young Athletes team.
At this time GEOFF WILLIAMS, had been organising matches at Copthall but he was moving away. A new meeting manager was sought and I was unfortunately in the vicinity the time and so started something over a decade of meeting management. Of course, meetings rely on a whole range of volunteers who thankfully are a very decent bunch of people. The problem with being Meeting Manager is that anything and everything that can go wrong will come to you to be sorted out.   Thankfully our combined efforts have made Copthall an acknowledged home of top rate promotions – from the mayhem of LICC meetings, the free for all of Middlesex YAL, the very high quality of YDL, and the smart turnout at NAL meetings.    Apparently leading Officials look forward to invites to Copthall promotions. One reason is the refreshments which mean that they can eat and drink all day, and are affordable. It is worthwhile noting the meetings that we promoted last summer. Detailed arrangements were necessary to minimise the risks from Covid amid ever changing requirements. It was all rather fraught but the athletes and coaches who trained last year merited efforts to give them competition. I believe that we succeeded and other clubs based their arrangements on ours. It culminated in some 80 young relay teams contesting a UK championship. This year also presents challenges for early promotions but we will do our best to continue the good work.
MARILYN OKORO ENJOYING LIFE AS A FAN – The following article was published on the Athletics Weekly website recently. Photograph by MARK SHEARMAN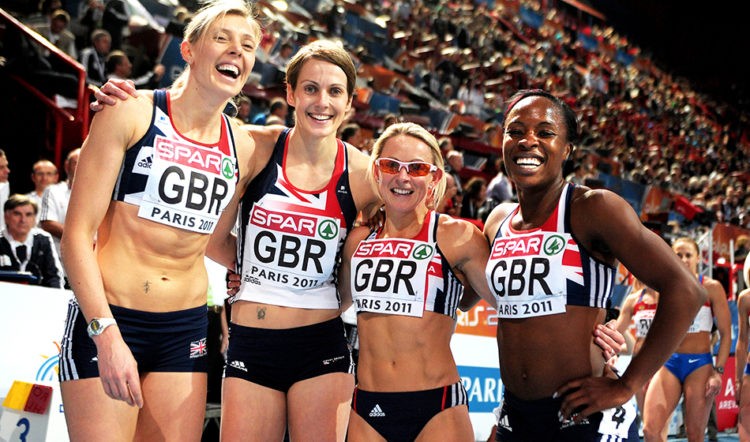 From ELLIOT GILES' British record-breaking run to the continued Scottish success, there has been plenty for MARILYN OKORO to cheer even though her own competitive athletics career has come to an end.
"I'm gutted I can't race them!" laughs the former British 800m No.1, as we discuss the latest spate of impressive performances by British athletes.
"I'm excited, but it reminds me of my era," adds the 2008 Olympic 4x400m bronze medallist, who ran her 800m best of 1:58.45 in 2008. "It was always exciting.
"I think because I have stepped away I can actually be a fan and truly explore. That's the beauty of athletics, it's just so dynamic and there's so many different disciplines.
"The crop of athletes coming though, I mean ELLIOT GILES just excites me. Did you see that run the other day?" she asks, referring to the 26-year-old's British indoor 800m record of (1:43.63) in Toruń. "And then JAMIE WEBB who finished just behind Giles.
"I'm really excited about the women's 800m. I'm always championing ADELLE TRACEY, and ELLIE BAKER is my Shaftesbury Barnet Harrier club-mate, but then the Scottish athletes – JEMMA REEKIE, wow. She is so tenacious. Obviously, LAURA MUIR. It's one thing making it to the top but staying there – she is doing an amazing job at consistency and delivering time after time.
"Then there's EILISH MCCOLGAN, and LYNSEY SHARP is making a comeback.
"Elsewhere HOLLY BRADSHAW is doing an amazing job in the pole vault," she adds, "and I love seeing how she uses her voice. JADE LALLY, a new mum, and she is competing out in Australia."
Announcing her retirement decision via an interview with AW last month, OKORO explained how she would be moving on to her next gold medal hunt – helping others, with a focus on athlete welfare.
"That's how I knew I was okay," she adds on her retirement decision, "because I'm watching athletics, enjoying it and not trying to jump in the TV."
GEOFF MORPHITIS sent me an article written by MARILYN – 'ME AND MY CLUB', which was in the April edition of Athletics Weekly. Although it has not been published on the Athletics Weekly website as yet. These are the 2 pages;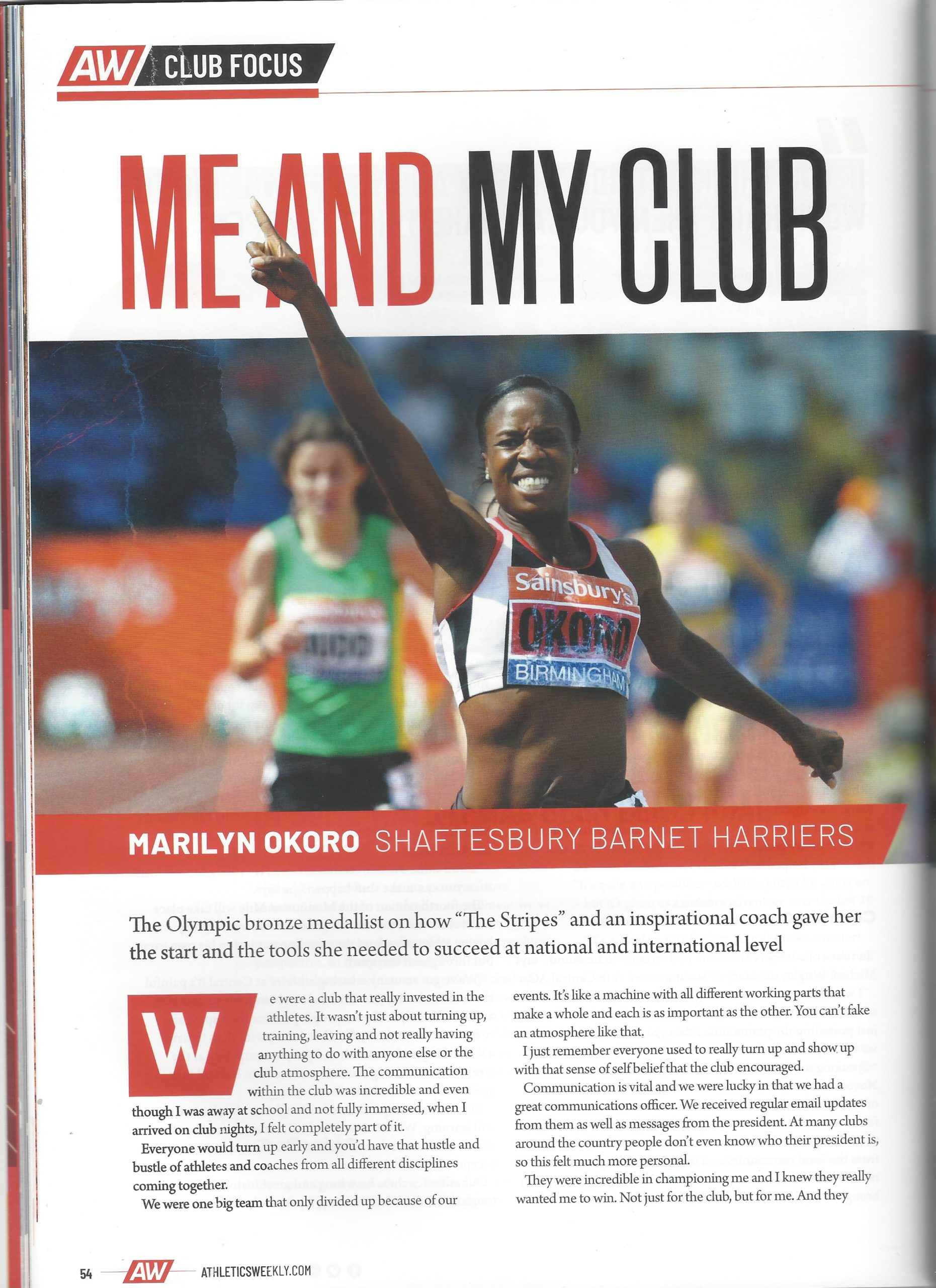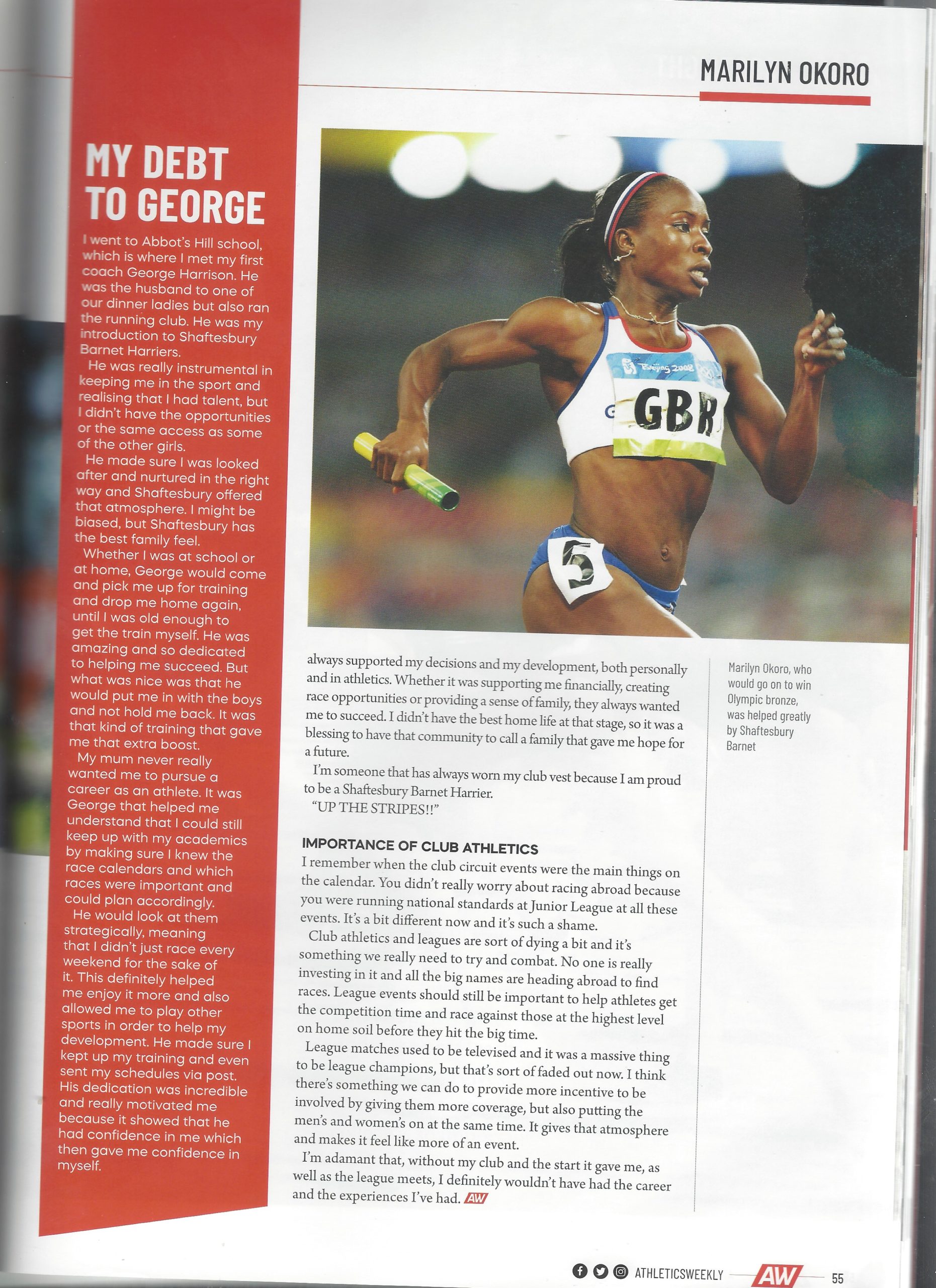 SLT ARENA GAMES – Was held at the Queen Elizabeth Aquatic Centre, Olympic Park on 27 March.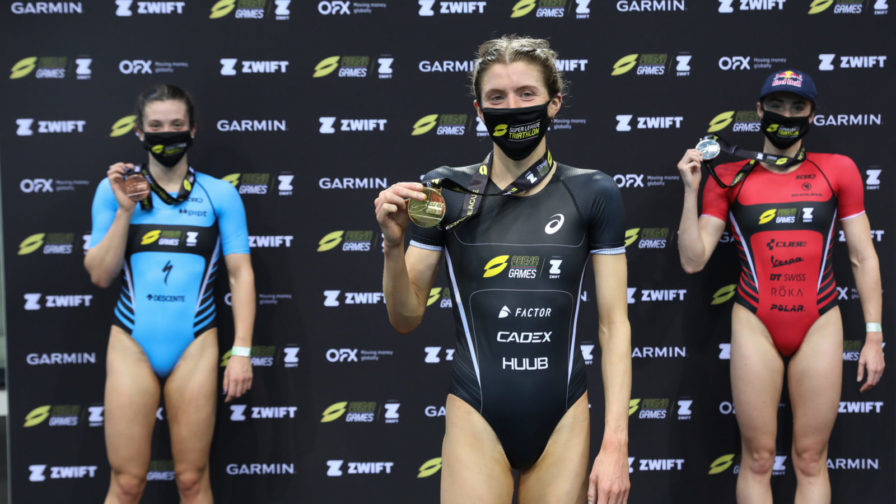 The Super League Triathlon Arena Games were held in a mix of virtual and real-life racing, using treadmills and exercise bikes, the competition was held in three stages which were as follows.
Stage 1 – 200m swim, 1km run, 4km bike, Stage 2 – 1km run, 4km bike, 200m swim, Stage 3 – 4km bike, 200m swim, 1km run. After each stage, there are 10 points awarded for the winner, 9 points for 2nd, 8 points for 3rd and so on. There is a short break between each stage.
All three on the podium were sitting on 18 heading into the final stage, with POTTER excelling in the first stage and CHARLES-BARCLAY winning the second. COLDWELL had finished second in both of these, giving her nine points respectively in each, while her compatriots both finished first and third in their races. Despite having to make up a three-second deficit on the run at the end of stage three, POTTER overturned CHARLES-BARCLAY for the win, claiming the maximum 10 points by seven seconds on the one-kilometre run.
Positions after Stage 1 BETH POTTER (10 points), SOPHIE COLDWELL (9), LUCY CHARLES-BARCLAY (8) – Stage 2 LUCY CHARLES-BARCLAY (10 points), SOPHIE COLDWELL (9), BETH POTTER (8) – Stage 3 BETH POTTER (10 points), LUCY CHARLES-BARCLAY (9), RACHEL KLAMER (8). Final Positions BETH POTTER 1st (28 points), LUCY CHARLES-BARCLAY 2nd (27), SOPHIE COLDWELL 3rd (25)
UPDATE FROM RAY POWELL – RAY has been informed by London Marathon, that the Westminster mile on Sunday 30 May and the Vitality 10k on Monday 31 May – are no longer taking place. They are hoping that the events can be re-scheduled for later in the year, but as yet no new dates have been fixed. I thank you for your patience, and if and when the new dates are released. I will let you know straight away RAY.
UPDATED ON 4 APRIL, ON VOLUNTEERS FROM RAY POWELL – Hope that you are all keeping well, and are slowly getting your jabs.
Standard Chartered Great City Race Tuesday 20 July – 25 volunteers required – 19 at present – 6 more required.
Big Half Marathon Sunday 22 August – 30 volunteers required – 13 at present – 17 more required.
London Mini Marathon Sunday 3 October – 62 volunteers needed – 40 at present – 22 more required.
I know that some of the races are a way off, but if you feel that you can help, please let me know now, as it makes the planning a lot easier. Please contact CLARE & RAY at ray571m@btopenworld.com
A SHORT STORY ON RAY POWELL – If you have seen RAY run over the past years, he will have the black & white vest on, plus a pair of yellow patterned shorts (his trademark). You will see by the photograph, that he wishes to change his image. If you have any suggestions on what he should wear, I will pass it on.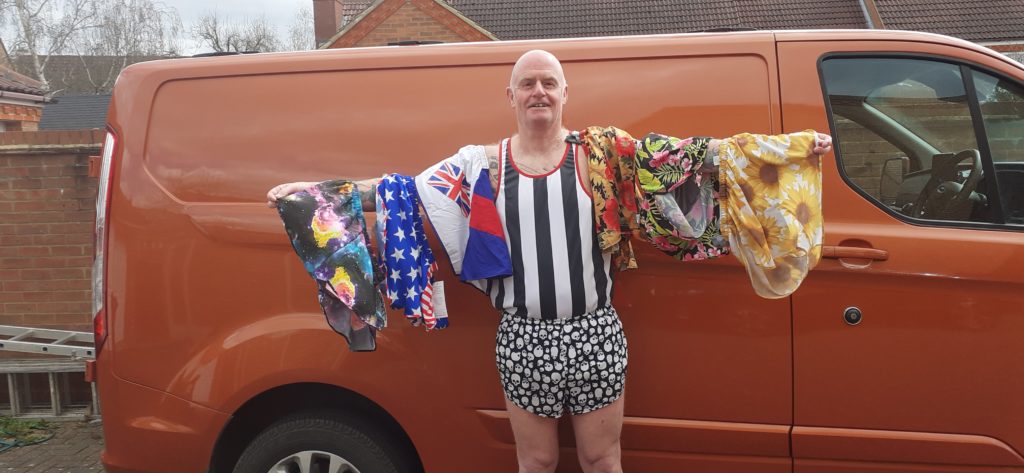 GB QUALIFICATION STANDARDS FOR TOKYO OLYMPICS 2021 – These are the following World Athletics qualification standards for all GB athletes:
Men – 100m (10.05), 200m (20.24), 400m (44.90), 800m (1:45.20), 1500m (3:35.00), 5000m (13:13.50), 10000m (27:28.00), 3000m Steeplechase (8:22.0), 110m Hurdles (13.32), 400m Hurdles (48.90), High Jump (2.33), Pole Vault (5.80), Long Jump (8.22), Triple Jump (17.14), Shot Put (21.10), Discus (66.00), Hammer (77.50), Decathlon (8350), Marathon (2:11.30).
Women – 100m (11.15), 200m (22.80), 400m (51.35), 800m (1:59.50), 1500m (3:35.00), 5000m (15:10.00), 10000m (31:25.00), 3000m Steeplechase (9:30.00), 100m Hurdles (12.84), 400m Hurdles (55.40), High Jump (1.96), Pole Vault (4.70), Long Jump (6.82), Triple Jump (14.32), Shot Put (18.50), Discus (63.50), Hammer (72.50), Heptathlon (6420), Marathon (2:29.30).
The final date that all standards are to be achieved is Sunday 27 June, the Marathon date is Monday 29 March. Team selection for all events is on Monday 28 June, and the Marathon on Tuesday 30 March.
Link for the full GB selection policy document – 2020-2021-Olympic-Games-Selection-Policy-October-2020
BIRMINGHAM 2022 COMMONWEALTH GAMES – Well there is just 531 days to the Opening Ceremony, you may wish to sign up to receive their Newsletter. Link – https://www.birmingham2022.com/register-your-interest/. Tickets will be on sale later this year, and can only be purchased through the official Commonwealth Games website, this is the link to register – https://www.birmingham2022.com/the-games/tickets/. This is the link to the current schedule for the 25 events – https://images.birmingham2022.com/wp-content/uploads/2021/01/11441664_CWGs_Daily_Competition_Schedule_FINAL.pdf.
ATHLETICS take place at the Alexander Stadium 2-7 August, with the Marathons on 30 July. There will be 59 medal events including a fully integrated Para Sport programme. TRIATHLON and PARA TRIATHLON take place at Sutton Park 29 and 31 July. The Individual races contest a 750m swim, 20km cycle, 5km run, and the Team races contest a 250m swim, 7km cycle, 1.5km run. Link to all events – https://www.birmingham2022.com/the-games/sports/?utm_source=workflow&utm_medium=email&utm_campaign=popup_work_flow_send_welcome_autoresponder_pop_up_footer_form&utm_content=2021-02-05
Shaftesbury's ANGUS MCKENZIE was appointed as Competition Manager (Athletics) last year, and the article on him can be found in the 26 November SBH Newsletter.
REDEVELOPMENT OF THE EXISTING WEST STAND – SARACENS have appointed RAYNER ROWEN CONSTRUCTION to carry out the demolition and rebuild of the old West Stand. Work commenced on Monday 22 February and completion is planned for 6 May 2022.
Demolition commenced on 22 February with completion due on 23 April. This is a Link to the first Monthly Newsletter for the redevelopment, which shows site access and the initial site activities – C-0045 – West Stand Monthly Newsletter – February 2021 Rev A
STONEX STADIUM NOW OPEN FROM 29 MARCH – StoneX Stadium is now open to Club members, under strict conditions. Check with your Coach for details.
SBH SUBSCRIPTIONS 2020-2021 – SBH Treasurer GEOFF MORPHITIS has sent me the following regarding subscriptions.
The Club AGM took place virtually at 19.30 on Tuesday 24 November. One of the resolutions which was passed dealt with Club Subscriptions as follows. "The Annual Membership Fee for new members from 1 December 2020 will increase to £50. Existing members who have paid their membership fee for year ended 30 September 2020 will be considered as having also paid their fee for the year ended 30 September 2021.
In other words, in recognition of the disruption caused by Covid-19, these members will have 2 years membership for the price of one." Therefore, I'm now asking athletes who have not paid their subscription for the year ended 30/09/20 (£45) to pay, so as to qualify for the 2 for 1 concession together with the England Athletics Registration Fee of £15 for 2020/21. The total is £60 and should be paid NOW to; ACCOUNT NAME: SHAFTESBURY BARNET HARRIERS, BANK: HSBC, ACCOUNT NUMBER: 41308378, SORT CODE: 400426 – Please let me know when payment is made. Thanks GEOFF
CAN YOU HELP PLEASE – During the period when all competitions are suspended, I will do my upmost in keeping the Newsletter information and other content going.
I would welcome any contributions From Yourselves, any impending marriages, or additions to the family, any running or competing incidents, also past warm weather training/holidays (No Club 24 please). Currently the response has been excellent, but if you have anything that could make it into next week's Newsletter – please email me.
THE FOLLOWING SBH DOCUMENTS/INFORMATION CAN EITHER BE VIEWED, DOWNLOADED OR PRINTED 
SBH 2021 Summer Fixture Card – SBH Summer 2021 Fixture Card Front Sheet – Issued 11-04-21 – SBH Summer 2021 Fixture Card Fixtures – Issued 11-04-21
Cross Country Team Managers Details – http://sbharriers.co.uk/athletics/cross-country/team-managers/
Road Running/Relay Team Managers Details – http://sbharriers.co.uk/athletics/road-running/team-managers/
THE FOLLOWING INFORMATION OF INTEREST CAN BE FOUND ON THE SBH HOME PAGE BY USING THIS LINK, THEN SELECT THE LEFT OR RIGHT ARROW – http://sbharriers.co.uk/
Shaftesbury Barnet Harriers Club Hoody, information on how to purchase one, please go to the bottom of this Newsletter.
STONEX STADIUM EAST STAND INDOOR AREA – Currently closed.
SBH MIDWEEK JUMPS CLUB AT STONEX STADIUM – Contact CLYDE GORDON on 07753 985525.
STEEPLECHASE TRAINING AT STONEX STADIUM – Currently Suspended.
PARKRUN 5K RESULTS – Currently Suspended
PARKRUN – Can you make sure that you are registered as 'Shaftesbury Barnet Harriers', as the link I use to select all results only shows SBH athletes. If anyone is also officiating can you please contact me and advise me where and when.
PHOTOGRAPH'S – From time to time we have photographs of our members taken at meetings or presentations which we would like to use both on the website or incorporated within our report to our local newspaper. Can you please let me know if you do NOT want your photograph to be published. Also, I would appreciate if you could send me any photographs, which I can then publish on the website and newsletter.
CLUB EMBROIDERED RED HOODIES – Currently there are now over 750 Hoodies in circulation, this is the link giving details on how you can order your Club Hoody for £35, which includes having your name embroidered on the front Club Hoodies Updated 01-07-19
FACEBOOK – Photographs can be found on the SBH page.
CURRENT DISTRIBUTION OF SHAFTESBURY INFORMATION – Currently I notify members (by email) using "MailChimp". The reason I changed, was in November 2017 "Gmail" put a limit of 100 addresses that users could send to in a 24-hour period, and currently I send to approximately 850 members each issue.
On seeking technical advice "MailChimp" was recommended as the best way for SBH to go forward. There is one thing you should be aware off is that when you receive an email from me, the footer at the bottom has 4 options, of which one is "Unsubscribe Me From List". Could I ask you not to select this as if you do you will be automatically removed from my distribution list.
SBH PRIVACY STATEMENT – In becoming a member, SBH will collect certain information about you. Can you please read the attached 'Privacy Statement' which contains Information on General Data Protection Regulations – SBH Privacy Statement Final April 2018
STONEX STADIUM (FORMERLY BARNET COPTHALL STADIUM) – Main Switchboard telephone number is 020 3675 7250.
CHARGES FOR USING STONEX STADIUM (FORMERLY BARNET COPTHALL STADIUM) – Currently the Stadium is closed.
ALAN WELLER – SBH NEWSLETTER EDITOR AND WEBMASTER