Happy Birthday from this Thursday 22 April to Nadav Boyd, William Gallo, Louise Lockwood, Andrew Millett,  Joe Purbrick, Jamal Rhoden-Stevens, Leo Roncarati, Mekhi Spence-Forde, Lucy Taylor, Odera Umeugoji, Tariq Wild, Ben Winfield and Gabriel Yiadom
RECENT NEW MEMBERS – We wish you a very warm welcome, and a happy, healthy and successful time with Shaftesbury to RAPHAEL AARON and PETER BAYVEL-ZAYATS
SBH ANNOUNCERS REQUIRED – GERALD ALTERMAN has sent me the following request.
As a result of the retirement of PETER MATTHEWS and TONY MILLER and the recent death of MARTIN ETCHELLS , we are very short of announcers for our Home fixtures.
England Athletics have told GERALD "we are today releasing a news story regarding a couple of workshops for announcing, during May and dependant on how that goes we may well have more people interested in developing skills at local level. These two workshops are more of an introduction and are informative about what skills are needed and sharing of good practise. ROB WALKER will be delivering these two workshops with ALISON POTTS on the 13 and 20 May, at 7pm-8.30pm, via Zoom.
I am sure we have a few budding STEVE CRAMs or GABBY LOGANs amongst you, therefore this is the link for you to sign up – https://www.englandathletics.org/officiating/development-opportunities/athletics-announcer-training/
TOKYO OLYMPIC GAMES ALL SCHEDULES – It is not long now before we take to the armchair for 19 days of sport, from Wednesday 21 July. When the games take place, Tokyo is 9 hours ahead of GMT time in London. This is the link to the schedule for all 46 competitions – https://tokyo2020.org/en/schedule/ Just click on any of the competitions, and their detailed schedule will be shown.
Regarding Athletics this is the schedule, which commences on Friday 30 July – https://tokyo2020.org/en/schedule/athletics-schedule
On the first day of Athletics, which is on Friday 30 July, Tokyo morning session commences from 09.00 to 12noon, which means in London the session commences at Midnight on Friday 30 July, and finishes at 3.00m. Their evening session commences from 19.00 to 21.00, which means in London the session commences at 10.00 on Friday 30 July, and finishes at 12noon. The following sessions times vary slightly.
2021 SBH SUMMER FIXTURE CARD – Was issued by email on 11 April, and at the same time was posted on the SBH Website. This is the fixture card which you can open and print for future reference – Front Sheet SBH Summer 2021 Fixture Card Front Sheet – Issued 11-04-21 – Fixtures SBH Summer 2021 Fixture Card Fixtures – Issued 11-04-21
Details of all fixtures will be published on the SBH Weekly Newsletter, the first publication will be on the Thursday 7 May Newsletter, and will show fixtures for the following 4 weeks.
LEE VALLEY OPEN MEETING – Takes place on Sunday 25 April at Lee Valley Athletics Centre, 61 Meridian Way, Edmonton, London (Satnav N9 0AR).
Age-groups Under 13 and above. Cost is £9 per event.
Timetable for track events – 25-04-21 Track Timetable (1) field events 25-04-21 Field Timetable (1)
Please Note: For all information including entering yourself online please use this link – https://www.visitleevalley.org.uk/athletics-events
Entries Close Thursday 22 April
The remaining fixtures can be found on their website https://www.visitleevalley.org.uk/athletics-events but entries are not open at present.
100m/200m Sprint Series – Wednesday 28 April (Closing date Sunday 25 April), Wednesday 9 June (Closing date Sunday 6 June), Wednesday 7 July (Closing date Sunday 4 July), Wednesday 4 August (Closing date Sunday 1 August), Wednesday 1 September (Closing date Sunday 29 August). Age-groups Under 13 and above.
Double 100m Sprint Series – Wednesday 26 May (Closing date Sunday 23 May), Wednesday 23 June (Closing date Sunday 20 June), Wednesday 21 July (Closing date Sunday 18 July), Wednesday 18 August (Closing date Sunday 15 August). Age-groups Under 13 and above.
5K Fest – Wednesday 12 May (Closing date Sunday 9 May). Age-groups Under 17 and above.
Regarding Closing Dates – An Event Could Be Full Maybe 1-2 Weeks Before The Meeting Date, So Enter Early.
LATEST RESULTS – The pace has stepped up, and you will see below, there were so many outstanding performances from all age-groups
FINSBURY PARK 100m SPRINTS OUTDOOR MEETING – Took place in Finsbury Park on 18 April.
100m – SM H1 JAYDEN KLEIN U17 4th (PB 12.4 w1.1) taking 1.14 seconds off his 2019 time, H3 ZICO JONES U15 3rd (SB 11.96 w-2.3) and is ranked UK No.1 U15 in 2021, DAVID BROOKS U20 6th (PB 12.80 w-2.3), H4 BRADLEY UKPETENAN U17 2nd (SB 12.24 w-1.0), H5 SAUGUT PUN U15 1st (PB 12.50 w-2.8) taking .03 of a second off his 2020 time, CAMERON KNIGHT U15 2nd (PB 12.75 w-2.8) taking .55 of a second off his 2019 time, JADEN AULIS U15 3rd (PB 13.11 w-2.8), OMEAD AULIS U15 4th (PB 13.18 w-2.8), AUSTIN WARD U15 5th (PB 13.97 w-2.8) taking 1.13 seconds off his 2019 time, H9 EMMANUEL DURUIHEOMA U20 1st (SB 11.42 w-1.1), H12 OSCAR LAURENS U17 4th (SB 11.77 w0.0) and is ranked UK No.9 U17 in 2021, in Semi-Final 2 OSCAR finished 5th (11.90 w-1.0), 4 EMMANUEL finished 2nd (SB 11.06 w0.0) taking .36 of a second off his H9 time, and is ranked UK No.9 in 2021, SAUGUT finished 5th (PB 12.29 w0.0) taking .21 of a second off his H5 time, and is ranked UK No.6 U15 in 2021, in the Final EMMANUEL finished 7th (11.40 w-0.6)
100m – SW H1 OLIVE HARVEY-DEW U15 3rd (SB 14.04 w0.0), ONYEBUCHI ODIAKA U15 4th (SB 14.25 w0.0), ANNALUCIA HARLLEY U15 5th (SB 14.54 w0.0), H3 ANNA ROSE U17 2nd (PB 12.78 w1.0) taking .47 of a second off her 2020 time, and is ranked UK No.7 U17 in 2021, LOLA MCCANN-EZEKIEL U17 3rd (PB 13.39 w1.0) taking .62 of a second off her 2019 time, H4 ELYSE DUNCAN-BROWN U17 7th (PB 13.91 w-0.7) taking .42 of a second off her 2019 time, NAOMI LAWAL U17 2nd (PB 14.11 w-0.7) taking .42 of a second off her 2020 time, in the Final ANNA finished 2nd (13.17 w-1.1), LOLA finished 5th (13.79 w-1.1), ELYSE finished 7th (PB 13.91 w-0.7) taking .26 of a second off her 2019 time, ELYSE finished 7th (14.13 w-1.1)
COLCHESTER THROWS OUTDOOR MEETING – Took place in Colchester on 18 April.
Shot 7.26kg – SM OLIVER GRAHAM U23 1st (PB 11.62m) equalling his 2019 put, and is ranked UK No.9 U23 in 2021
Hammer 4kg – SX PHILIPPA DAVENALL 1st (SB 61.95m) and is ranked UK No.5 in 2021
Hammer 7.26kg – SW OLIVER GRAHAM U23 1st (SB 61.34m) and is ranked UK No.6 U23 in 2021
THE OPENER OUTDOOR MEETING – Took place in Worthing on 18 April.
150m – SM 8 DOMINIC ASHWELL U23 3rd (PB 16.19 w1.4) and is ranked UK No.3 in 2021, ZANSON PLUMMER 4th (PB 16.24 w1.4) and is ranked UK No.4 in 2021
CAMBRIDGE LOCAL OUTDOOR MEETING – Took place in Cambridge on 17 April.
100m – SX 2 DITA JAJA U23 1st (SB 11.8 nwr)
400m – SX 1 SOPHIA DEMPSEY U20 4th (SB 69.4)
High Jump – SX CHARLIE KNOTT U20 1st (PB 2.08m) adding 3cm to his 2020 height, and is ranked UK No.1 U20 in 2021
LOUGHBOROUGH SPRING THROWS OUTDOOR MEETING – Took place in Loughborough on 17 April.
Shot 7.26kg – SM SCOTT LINCOLN (HCA) 1st (20.22m)
Discus 1kg – SW SHADINE DUQUEMIN 2nd (SB 54.93m) and is ranked UK No.4 in 2021, AMY HOLDER (2nd Claim) 3rd (SB 54.28m) adding 8.11m to her 28 February throw, and is ranked UK No.5 in 2021
Discus 2kg – SM NICK PERCY 2nd (SB 61.44m) adding 49cm to his 28 February throw, and is ranked UK No.2 in 2021, GREGORY THOMPSON 5th (SB 58.95m) and is ranked UK No.4 in 2021
Hammer 7.26kg – SM CHRIS BENNETT 1st (73.74m)
Javelin 800g – SM DANIEL BAINBRIDGE U23 1st (PB 72.71m) adding 3cm to his 2020 throw, and is ranked UK No.1 in 2021
WEST COAST CLASSIC OUTDOOR MEETING – Took place in Eugene, Oregon, USA on 17 April.
5000m – SM CHARLES HICKS U23 (Stanford University) 1st (PB 13:34.63) and is ranked UK No.1 U23 in 2021
VELOCITY FEST #9 OUTDOOR MEETING – Took place in Kingston, Jamaica on 17 April.
200m – SM 3 ZHARNEL HUGHES 1st (SB 20.14 w1.1) and is ranked UK No.1 in 2021
KETTERING TOWN APRIL OUTDOOR MEETING – Took place in Kettering on 17 April.
100m – SX 8 OBINNA NWOKEJI U15 (2nd Claim) 5th (SB 13.02 w-0.3), 10 EBUKA NWOKEJI U15 (2nd Claim) 6th (SB 12.16 w0.8) and is ranked UK No.2 U15 in 2021, 12 CALVIN SMITH U17 4th (SB 12.03 w2.4)
200m – SX 8 EBUKA NWOKEJI U15 (2nd Claim) 3rd (PB 24.89 w3.5) taking .45 of a second off his 2020 time, 11 CALVIN SMITH U17 4th (SB 23.07 w-0.4) and is ranked UK No.3 U17 in 2021
JESOLO GRAND PRIX OUTDOOR MEETING – Took place in Jesolo, Italy on 16-18 April.
400m – SM 2 COLUMBA BLANGO T20/F20 1st (SB 50.23) taking 1.28 seconds off his 6 April time, and is ranked UK No.1 T20 in 2021
TOM JONES MEMORIAL OUTDOOR MEETING – Took place in Gainesville, Florida, USA on 16-17 April.
1500m – SM 4 JAMIE DEE (Iona College) 10th (PB 3:48.54) taking 1.40 seconds off his 2019 time
VIRGINIA CHALLENGE OUTDOOR MEETING – Took place in Charlottesville, Virginia, USA on 16-17 April.
200m – SW 2 LINA NIELSEN 2nd (23.47 w1.1)
MICHAEL JOHNSON INVITATIONAL OUTDOOR MEETING – Took place in Waco, Texas, USA on 16-17 April.
Shot 7.26kg – SM GEORGE EVANS (Kansas University) 9th (15.48m)
Discus 2kg – SM GEORGE EVANS (Kansas University) 4th (SB 53.80m) adding 2.10m to his 20 March throw, and is ranked UK No.7 in 2021
Hammer 7.26kg – SM GEORGE EVANS (Kansas University) 7th (PB 56.72m) adding 1.48m to his 9 April throw
BRIAN CLAY INVITATIONAL OUTDOOR MEETING – Took place in Azusa, California, USA on 16-17 April.
400m – SM H1 MICHAEL OHIOZE 1st (PB 46.61) taking .54 of a second off his 2020 time, in the Final MICHAEL finished 2nd (PB 46.30) taking .31 of a second off his H1 time, and is ranked UK No.2 in 2021
HUSKER BIG 10 INVITATIONAL OUTDOOR MEETING – Took place in Prairie View, Texas, USA on 16-17 April.
Long Jump – SW B EAVION RICHARDSON (University of Iowa) 6th (5.73m)
AUSTRALIA TRACK & FIELD CHAMPIONSHIPS – Took place in Sydney, Australia on 12-19 April.
Discus 1kg – SW Q1 16/04 JADE LALLY 1st (54.12m) in the Final 18/04 JADE finished 3rd (SB 60.36m) adding 1.10m to her 13 March throw, and is ranked UK No.1 in 2021
DAVE THOMSON RECALLS HIS EARLY YEARS – Hi Alan, I've been meaning to send you a note tor some considerable time now to say thanks for all your hard work putting this together each week and especially for the nostalgic pieces and the special features – BOOTSIE, TOM MCNAB etc.
I haven't been an active athlete for a long time now, but I, like all athletes, love to look back occasionally to the good old days! Pre Covid I was meeting up with BOB MALLOWS, STEVE LOWE, DAVE BEDFORD, MIKE PUDDIFOOT and BRIAN STANDEN (TVH) for periodic dinners and reminiscing and I'm sure we will reconvene in due course.  Over the years I have lost most of my pictures from my running days so always keep an eye out to see what you reproduce. I have attached a couple I do have but am not entirely sure of the occasion or how well they will reproduce. I'm sure current readers would have many more to share – British and Southern League, 6 and 12 stage road relays, numerous road races, Boxing Day Run, and cross country events etc.
DAVE also sent me a team photograph, taken at the Metropolitan League at Claybury on 6 February 1988. Apologies but the photograph quality is slightly poor, between myself and a few others, we managed to identify most of the SBH faces. From Left to Right JOHN CHILD, GRAHAM GETTY, next head down! KEN TOLLADY (397), behind him JOHN KELLY, ABDUL SESAY, NORMAN FOX, RAY POWELL, RUSSELL DEVITT and DAVE ALLEN. Next is BRENDAN GALLAGHER with his son, MARTIN GREY, KINGSTON MILLS, NEIL WALKER and PHILIP CUNNINGHAM. The following 3 runners we are struggling to identify, but it could be MARIO DICESARE and LAURENCE FREEMAN. Next MARTIN SEARS (370), next 2 sorry, ANDREW SMITH, CHRIS WELCH and REG BLACK.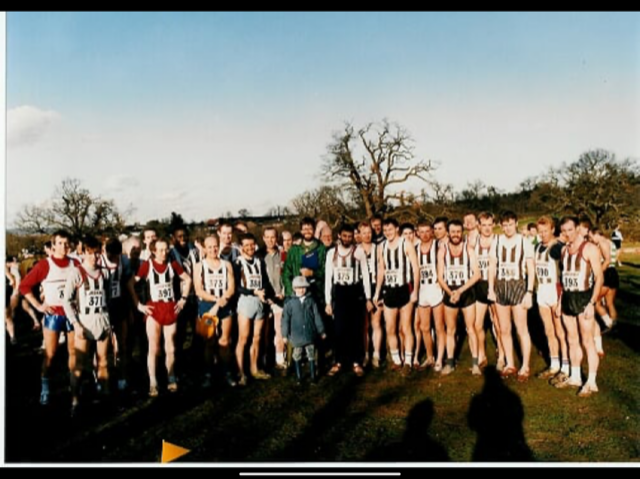 METROPOLITAN LEAGUE, SENIOR MEN 1960s TO THE 1980s – The first season of the Metropolitan League was 1966/1967, in which the Senior Men's team of Thames Valley Harriers, dominated the season by accumulating (5661 points) from the 5 races, with Ilford 2nd (4399) and Ealing & Southall 3rd (4227). TVH dominated the league, until the end of the 1970s, winning 11 team titles from the 14 seasons, and runners up in the remaining 3. Shaftesbury Harriers took the team title in 1972/1973, where we had an average of 20 runners for each race.
1980/1981 to 1985/1986 was dominated by Verlea with 4 wins, and North London 2 wins, with Shaftesbury Harriers finishing in mid table, and averaged around 15-17 runners in each race. 1986/1987 saw the influence of BRENDAN GALLAGHER'S in getting runners on the start line, beginning to make a difference. TVH won with (12450 points) and Shaftesbury 2nd (12211), with an increased turnout of 24, 23, 34, 27,30 runners. The tide had now turned, from 1987 to 1990 our numbers were averaging 30, with our first 12 to score runners generally in the top 50-60 finishers. 1987/1988 was our first win since 1972/1973, in the first fixture at Welwyn Garden City, the team finished a close 2nd to Woodford Green, moving on to Horsenden Hill we had our 1st win with London Irish just 100 points behind, our 12 to score positions were 1,2,6,7,15,17,20,31,36,37,38 and 44. Fixture 3 at Parliament Hill were finished 2nd, 31 points behind North London, in the final two fixtures at Ruislip and Claybury, London Irish were out in numbers, but we managed to win them both, finishing the season with (12450 points), 2nd London Irish (11563) and 3rd Woodford Green (11449).
1988/1989 due to various reasons we had a poor first and fifth fixtures at Wormwood Scrubs and Claybury, the other fixtures at Ruislip, Parliament Hill and Perivale, we finished 2nd, 1st, and 2nd. Woodford Green took the title (13171 points), 2nd TVH (12904) and 3rd SBH (12175).
The 80s came to an end in the 19898/1990 season, in which an up and coming Woodford Green team pushed us in all 5 fixtures. The first two fixtures at Welwyn Garden City and Ruislip, Woodford Green won from SBH by 80 and 61 points respectively. The remaining fixtures at Parliament Hill, Perivale and Hainault Forest produced wins for us, over Woodford Green. Which meant SBH had won for the second time in 3 years with (13111 points), Woodford Green 2nd (13025) and North London (10480).
Link to the SBH Individual position from 1987 to 1990 – Metropolitan League SBH Senior & Veteran Men 1987 to 1990
MANCHESTER INVITATIONAL PLANS GATHER PACE – Endurance runner MARC SCOTT, shot putter SOPHIE MCKINNA and discus thrower KIRSTY LAW are due to compete in the exciting new Manchester Invitational on Thursday 27 May. The throws look particularly strong with MCKINNA and LAW joined by hammer throwers CHRIS BENNETT, JESSICA MAYHO and OSIAN JONES, together with discus man GREG THOMPSON.
The British Athletics Supporters' Club is backing the event too and is providing £1000 for the performances of the day, which will be split between the top male and best female athlete. The meeting aims to provide timely competition for athletes one month out from the Müller British Championships and Olympic trials which will be staged at the same venue on 25-27June. It will also lay the platform for a Continental Tour event to be staged there next summer.
OUR SOCIAL LIFE – The following was published in the Shaftesbury Barnet Harriers Centenary Year book (1890-1990)
Our Social Life – Social activities have always figured prominently in the Shaftesbury calendar, changing with the times, and when there tended to be a lull, an insistent demand has soon made itself felt. In the early years, it was a 'Smoker' or a sing-song in the local. Into the thirties, following inter-club or pack runs, there was often a meal and a social evening. Dances have varied from formal ones at monthly intervals around 1930 to Christmas discos at Copthall that have crashed the sound barrier. The annual dinner and dance as a celebration and opportunity for reunion has maintained its tradition and regular support for many years.
In different vein, and perhaps more fitting for athletes, have been training-cum-social weekends, club rambles and coach outings to the sea. No Brighton Relay would have been complete without its convivial evening on the way home, and much of the social side arises spontaneously when a group of members gather together.
Bring your music – Some newspaper cuttings from the turn of the century, give an idea of what was happening then. Shaftesbury Harriers, 3rd November6 1900: This club holds its ace of their 11th season today – a three-mile handicap from headquarters, the Windsor Castle, East Finchley, at 4 p.m. Mr H.AUCKLAND has kindly presented the first prize, and together with Mr W.COLEY, will occupy the chair at the smoker to be held in the evening, and members are requested to bring their music – if only 'All the latest: twenty-four a penny'.And in 1901, "A three-mile open road handicap of a very successful character was brought off at Highgate last night … After the race a most enjoyable musical evening was spent at headquarters (Rose and Crown, Highgate) the attendance of competitors and friends numbering certainly, not less than 200. The prizes were distributed to the successful competitors, and a programme of some length and great variety was also enjoyed.
Take your Partners – In the 1932-33 Fixture Card appears "Club Dances Oct.29th, Dec.3rd, Jan.28th, Feb.25th, Mar.25th, May.27th, at the Gatehouse, Highgate Village. Trams and No.11 or Buses No.110 to Highgate Village".
At that period, dinner jackets, bow ties, and long dresses for ladies, while not obligatory, were fairly general. It was a chance to dress up. There would be a three or four-piece orchestra, a series of waltzes, quicksteps and foxtrots, and maybe a tango for those more expert than the usual run of Harriers. There were far less other entertainment, and hardly anyone had a car.
Beside the Seaside – During the 1950s club outings by coach were very popular. From a 1957 Club Magazine "Some 70 members and friends heaved sighs of relief when Sunday, June 2nd, dawned fine and clear. Two coaches eventually left Hendon Central bound for Littlehampton". This was the venue on other occasions, as was Walton-On-The-Naze. The sandy beaches were the attraction with plenty of opportunity for games and activity as a change from track training.
This part ought to come under coaching and training. But there is such an enjoyable and social side to it that it must be included in this chapter. Training weekends have been many and at various venues. They have been held at Tanner's Hatch and Ivinghoe Youth Hostels. The Athletics Training Centre at Timsbury Manor in the New Forest was visited on about a dozen occasions. Early spring at Winterton on the Norfolk coast was found to be bracing, to put it mildly, when some large parties went there, including Barnet Copthall Ladies and Parkside Ladies.
Nor should the "Homebrew Harriers", founded a few years ago and perpetuating an oft-recurring theme, be overlooked. Their athletics was adventurous, from road racing on the Continent to fell-running in the Peak District. The Homebrew Tankard is their commemoration, and their spirit shall not fade as long as …
Wining and Dining – The highlight of the social year is the Annual Dinner and Dance. Whether or not it was held in the very early years we do not know. It is certainly recorded from 1922 onwards without a break except for the war years.
In the early days, it was held in town, usually the West End. Pagani's in Great Portland Street was rather ornate and was used a number of times; then there was Anderton's in Fleet Street. The post-war Reunion Dinner in 1947 was at the Bridge House Hotel, London Bridge, so also was our Diamond Jubilee one in 1950. The Royal Hotel, Russell Square, and Bedford Corner Hotel both had a good run of a few years, while our 75th Anniversary in 1965 was at the Horseshoe, Tottenham Court Road.
After that we transferred nearer to the club area, with the Hendon Way Hotel, the Sparrowhawk, Edgware, and Traveller's Rest, Kenton, being patronised in turn. In 1987 we excelled ourselves with the Conference Centre Banqueting Hall at Wembley Stadium! But it was really just a little large.
The Dinner is an opportunity for Shaftesbury Barnet Harriers to invite guests from the world of athletics. We have had with us A.A.A. Administrators, Presidents and Secretaries from various governing bodies and from our neighbouring clubs, representatives from the Press and Television, and Olympic Champions and star athletes. We have also been pleased to welcome the Mayor of Barnet and leading members of Barnet Council.
In recent years, we have had on display a magnificent collection of trophies won by the different sections of the club, as well as our trophies to present to our champions. The Annual Dinner is truly a part of the continuing history of Shaftesbury Harriers.
HOW TO MASTER THE ART OF SPRINTING – The following article was published on the Athletics Weekly website recently.
Running as fast as possible is very elemental – we've all tried it at some stage. But what puts someone in the really fast lane?
USAIN BOLT reached nearly 29mph (12-12.34 metres a second) when he was flat out during his world record runs. He covered the 100m distance in around 41 steps with a stride frequency of about 4.5 per second. At maximum velocity, his feet will only have been in contact with the track surface for milliseconds, yet in that time he still had to overcome and impart maximal force. Then there's the small matter of getting a great start. Sprinters need to get away from the blocks with a lightning quick reaction and then get up to top speed at the right time.
Speed and genetics – It's often said that sprinters are born not made. That's only a half-truth but those blessed with a high percentage of fast-twitch muscle fibres at birth will definitely have greater speed potential than those possessing more of the enduring slow-twitch fibres. However, with the right training it's always possible to get faster. Sprinters' muscle mass is certainly greater when compared to middle and longer distance runners, however the fastest men and women don't need to be bulky – rather muscle needs to exhibit high contractile properties. Sprint training, especially weight training, can induce hypertrophy (an increase in muscular size through exercise), however gains in being able to express more power must be mitigated against the potential weight increase created by more muscle. All this will affect the sprinter's power to weight ratio.
Sprint distance and physiology – The 100m, 200m and 400m are all classified as sprints, however, ask a 100m athlete to "sprint" a 400m and they'll probably show an impressive turn of speed as they run away! Each distance relies on a different spread of energy system use. All the sprints are fundamentally anaerobic (without oxygen), meaning that the sprinter could not continue to generate a powerful sprint action for more than – at the very elite level – 49 seconds for women and 43 seconds for men. To get its sprint energy the body has to use stored chemicals and phosphates, such as creatine phosphate and adenosine triphosphate. There will be very little reliance on oxygen. It is the way the energy systems are trained which largely differentiates the sprinting that short and long sprinters do. In brief the immediate anaerobic system will provide energy for five to six seconds and relies on the body's stores of chemicals and phosphates, whilst the longer-term anaerobic system can supply energy for up to around 90 seconds. With the latter oxygen does enter the equation – however, no amount of sucking in of air will stay the execution of the longer-term anaerobic energy.
What is sprint speed? – Sprint speed is the product of technique, stride length and stride rate (frequency) and power (the force which is put through and returned by the track). An idea of stride frequency was provided earlier with BOLT and I will add that there's actually not that much variation of this between elite males and females. In fact, it's only the superior muscle mass of males and their ability to therefore produce greater power that makes them faster.
Technique – Sprint technique needs to be well-honed, resilient and constantly replicable. Look at Dina Asher-Smith in full flow – her speed seems effortless, yet it is obviously not. The sprinter needs to "run relaxed". Tension creates friction and friction will slow the "gliding and firing" of muscles. The working (agonist) and non-working muscles (antagonists) have to work like a fine Swiss watch to produce a winning sprint mechanism. Tension can also lead to lost races and pulled muscles. We've all seen the sprinter who ties up when pressed for the lead – learning how to sprint relaxed with great technique is crucial. Dina Asher-Smith (Getty)
Sprint power – Being able to produce immense amounts of power in millisecond ground contacts is a fundamental of sprint training. However, each part of the sprint race needs to be trained slightly differently. The key "parts" being the start and acceleration, maximum velocity and sprint endurance/maintenance.
Weights – Weight training is usually a must for sprinters – although there are some of the greats, such as Kim Collins, who did not place such a great emphasis on it. Weight training can improve acceleration in particular. Heavy load squats will create the slightly lower gears required to get up to maximum velocity very quickly. However, as I pointed out in the February issue of AW when looking at the long jump, strength for the sake of strength can be a blind alley. Specific, transferable strength is what's required. Crucially it's all about being able to recruit maximum numbers of fast-twitch motor units through lifting very heavy weights so they can then be used when sprinting. If the sprinter's training programme does not allow for integration and transition of weight gains into actual sprinting, then the sprinter will become a weightlifter and no sprint time improvements will result.
Plyometrics – Hopping, bounding and drop jump exercises are also crucial for sprinters. These drills are more suited to improving maximum velocity compared to weights. Together with weight training they develop what's known as leg stiffness, which means greater energy return and therefore speed.
Sprint endurance The length, duration, volume and intensity of various runs in training will differentiate the 100m and 200m sprinter from the 400m sprinter. The latter will obviously do more runs over 200m and between 500m compared to the 100m sprinter. They need to significantly increase their lactate tolerance.
Who should you be looking at? 100m USAIN BOLT – Although now retired the world's fastest human ultimately had little flaws when it came to sprinting. 200m DINA ASHER-SMITH – The Doha 200m world champion has silky smooth technique and holds this to the end. 400m WAYDE VAN NIEKERK – The 400m world record holder is the ultimate sustained speed one-lap glider.
Technique jargon buster, Heel recovery – You'll often hear coaches and sprinters talk about heel recovery. It refers to rear side mechanics – that's to say what happens behind the athlete's hips. During acceleration, a low heel recovery is seen to be beneficial as it kills unnecessary airtime and allows the foot to be pulled through more quickly and powerfully into each accelerative step.
Coach tip, Developing a good start and acceleration phase – Acceleration needs to be precise, powerful and fast. The best accelerating sprinters are able to impart the maximum amount of force on the track with maximum frequency in the shortest of ground contacts and with the optimum angles. Conditioning is key to being able to do this – but so too is working out an optimal acceleration phase for each individual sprinter. This can vary, for example, between 60m and 100m sprint races and even the time in the training phase. Spend time working on optimal acceleration. The sprinter needs to learn it and do it time after time and without distraction.
UPDATED ON 4 APRIL, ON VOLUNTEERS FROM RAY POWELL – Hope that you are all keeping well, and are slowly getting your jabs.
Standard Chartered Great City Race Tuesday 20 July – 25 volunteers required – 19 at present – 6 more required.
Big Half Marathon Sunday 22 August – 30 volunteers required – 13 at present – 17 more required.
London Mini Marathon Sunday 3 October – 62 volunteers needed – 40 at present – 22 more required.
I know that some of the races are a way off, but if you feel that you can help, please let me know now, as it makes the planning a lot easier. Please contact CLARE & RAY at ray571m@btopenworld.com
GB QUALIFICATION STANDARDS FOR TOKYO OLYMPICS 2021 – These are the following World Athletics qualification standards for all GB athletes:
Men – 100m (10.05), 200m (20.24), 400m (44.90), 800m (1:45.20), 1500m (3:35.00), 5000m (13:13.50), 10000m (27:28.00), 3000m Steeplechase (8:22.0), 110m Hurdles (13.32), 400m Hurdles (48.90), High Jump (2.33), Pole Vault (5.80), Long Jump (8.22), Triple Jump (17.14), Shot Put (21.10), Discus (66.00), Hammer (77.50), Decathlon (8350), Marathon (2:11.30).
Women – 100m (11.15), 200m (22.80), 400m (51.35), 800m (1:59.50), 1500m (3:35.00), 5000m (15:10.00), 10000m (31:25.00), 3000m Steeplechase (9:30.00), 100m Hurdles (12.84), 400m Hurdles (55.40), High Jump (1.96), Pole Vault (4.70), Long Jump (6.82), Triple Jump (14.32), Shot Put (18.50), Discus (63.50), Hammer (72.50), Heptathlon (6420), Marathon (2:29.30).
The final date that all standards are to be achieved is Sunday 27 June, the Marathon date is Monday 29 March. Team selection for all events is on Monday 28 June, and the Marathon on Tuesday 30 March.
Link for the full GB selection policy document – 2020-2021-Olympic-Games-Selection-Policy-October-2020
BIRMINGHAM 2022 COMMONWEALTH GAMES – Well there is just 531 days to the Opening Ceremony, you may wish to sign up to receive their Newsletter. Link – https://www.birmingham2022.com/register-your-interest/. Tickets will be on sale later this year, and can only be purchased through the official Commonwealth Games website, this is the link to register – https://www.birmingham2022.com/the-games/tickets/. This is the link to the current schedule for the 25 events – https://images.birmingham2022.com/wp-content/uploads/2021/01/11441664_CWGs_Daily_Competition_Schedule_FINAL.pdf.
ATHLETICS take place at the Alexander Stadium 2-7 August, with the Marathons on 30 July. There will be 59 medal events including a fully integrated Para Sport programme. TRIATHLON and PARA TRIATHLON take place at Sutton Park 29 and 31 July. The Individual races contest a 750m swim, 20km cycle, 5km run, and the Team races contest a 250m swim, 7km cycle, 1.5km run. Link to all events – https://www.birmingham2022.com/the-games/sports/?utm_source=workflow&utm_medium=email&utm_campaign=popup_work_flow_send_welcome_autoresponder_pop_up_footer_form&utm_content=2021-02-05
Shaftesbury's ANGUS MCKENZIE was appointed as Competition Manager (Athletics) last year, and the article on him can be found in the 26 November SBH Newsletter.
REDEVELOPMENT OF THE EXISTING WEST STAND – SARACENS have appointed RAYNER ROWEN CONSTRUCTION to carry out the demolition and rebuild of the old West Stand. Work commenced on Monday 22 February and completion is planned for 6 May 2022.
Demolition commenced on 22 February with completion due on 23 April. The next issue of their Newsletter is due to be sent to me within the next 2 weeks.
STONEX STADIUM NOW OPEN FROM 29 MARCH – StoneX Stadium is now open to Club members, under strict conditions. Check with your Coach for details.
SBH SUBSCRIPTIONS 2020-2021 – SBH Treasurer GEOFF MORPHITIS has sent me the following regarding subscriptions.
The Club AGM took place virtually at 19.30 on Tuesday 24 November. One of the resolutions which was passed dealt with Club Subscriptions as follows. "The Annual Membership Fee for new members from 1 December 2020 will increase to £50. Existing members who have paid their membership fee for year ended 30 September 2020 will be considered as having also paid their fee for the year ended 30 September 2021.
In other words, in recognition of the disruption caused by Covid-19, these members will have 2 years membership for the price of one." Therefore, I'm now asking athletes who have not paid their subscription for the year ended 30/09/20 (£45) to pay, so as to qualify for the 2 for 1 concession together with the England Athletics Registration Fee of £15 for 2020/21. The total is £60 and should be paid NOW to; ACCOUNT NAME: SHAFTESBURY BARNET HARRIERS, BANK: HSBC, ACCOUNT NUMBER: 41308378, SORT CODE: 400426 – Please let me know when payment is made. Thanks GEOFF
CAN YOU HELP PLEASE – During the period when all competitions are suspended, I will do my upmost in keeping the Newsletter information and other content going.
I would welcome any contributions From Yourselves, any impending marriages, or additions to the family, any running or competing incidents, also past warm weather training/holidays (No Club 24 please). Currently the response has been excellent, but if you have anything that could make it into next week's Newsletter – please email me.
THE FOLLOWING SBH DOCUMENTS/INFORMATION CAN EITHER BE VIEWED, DOWNLOADED OR PRINTED 
SBH 2021 Summer Fixture Card – SBH Summer 2021 Fixture Card Front Sheet – Issued 11-04-21 – SBH Summer 2021 Fixture Card Fixtures – Issued 11-04-21
Cross Country Team Managers Details – http://sbharriers.co.uk/athletics/cross-country/team-managers/
Road Running/Relay Team Managers Details – http://sbharriers.co.uk/athletics/road-running/team-managers/
THE FOLLOWING INFORMATION OF INTEREST CAN BE FOUND ON THE SBH HOME PAGE BY USING THIS LINK, THEN SELECT THE LEFT OR RIGHT ARROW – http://sbharriers.co.uk/
Shaftesbury Barnet Harriers Club Hoody, information on how to purchase one, please go to the bottom of this Newsletter.
STONEX STADIUM EAST STAND INDOOR AREA – Currently closed.
SBH MIDWEEK JUMPS CLUB AT STONEX STADIUM – Contact CLYDE GORDON on 07753 985525.
STEEPLECHASE TRAINING AT STONEX STADIUM – Currently Suspended.
PARKRUN 5K RESULTS – Currently Suspended
PARKRUN – Can you make sure that you are registered as 'Shaftesbury Barnet Harriers', as the link I use to select all results only shows SBH athletes. If anyone is also officiating can you please contact me and advise me where and when.
PHOTOGRAPH'S – From time to time we have photographs of our members taken at meetings or presentations which we would like to use both on the website or incorporated within our report to our local newspaper. Can you please let me know if you do NOT want your photograph to be published. Also, I would appreciate if you could send me any photographs, which I can then publish on the website and newsletter.
CLUB EMBROIDERED RED HOODIES – Currently there are now over 750 Hoodies in circulation, this is the link giving details on how you can order your Club Hoody for £35, which includes having your name embroidered on the front Club Hoodies Updated 01-07-19
FACEBOOK – Photographs can be found on the SBH page.
CURRENT DISTRIBUTION OF SHAFTESBURY INFORMATION – Currently I notify members (by email) using "MailChimp". The reason I changed, was in November 2017 "Gmail" put a limit of 100 addresses that users could send to in a 24-hour period, and currently I send to approximately 850 members each issue.
On seeking technical advice "MailChimp" was recommended as the best way for SBH to go forward. There is one thing you should be aware off is that when you receive an email from me, the footer at the bottom has 4 options, of which one is "Unsubscribe Me From List". Could I ask you not to select this as if you do you will be automatically removed from my distribution list.
SBH PRIVACY STATEMENT – In becoming a member, SBH will collect certain information about you. Can you please read the attached 'Privacy Statement' which contains Information on General Data Protection Regulations – SBH Privacy Statement Final April 2018
STONEX STADIUM (FORMERLY BARNET COPTHALL STADIUM) – Main Switchboard telephone number is 020 3675 7250.
CHARGES FOR USING STONEX STADIUM (FORMERLY BARNET COPTHALL STADIUM) – Currently the Stadium is closed.
ALAN WELLER – SBH NEWSLETTER EDITOR AND WEBMASTER